How to Make Butter Slime for Kids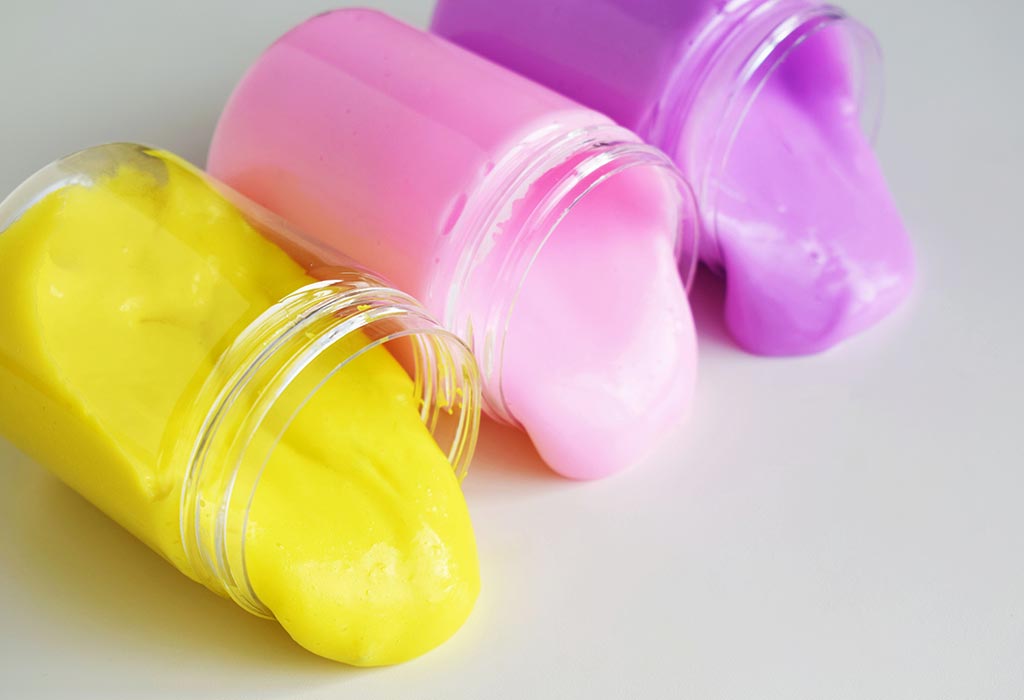 Making slime is a fun activity for kids. It is more like a science experiment, and you can explain the reactions to your kids as you make it. Made with ingredients that are not irritants to the skin, it can be a fun experiment to try with kids. The end product also provides them with hours of fun.
DIY butter slime does not actually have butter in it. It has a butter-like texture – hence the name. Not as stretchy as one would expect, butter slime is more moldable and fluffy. Butter slime needs clay for a moldable texture, and most butter slime that one makes at home has some amount of non-toxic clay in it.
Simple Butter Slime Recipes for Children
Butter slime ingredients for most recipes should be readily available in your craft cupboard and the pantry. Most of the recipes for butter slime do not give out a sticky texture which is a big selling point. There are several recipes that offer different kinds of sensory experiences. So go ahead and try it to provide a variety of experiences to your children. Each of these recipes is simple and easy to make. You do not need expensive ingredients, and with a few ingredients, you can make several batches of slime. Try one of these recipes to engage your kids for a wonderful experience.
1. Textured Butter Slime
The smoothness of the slime compares to textured beads and provides an awesome sensory feeling.
Ingredients
2-3 tablespoon dish soap
Foam beads
3 oz dried out playdough ( you could use homemade or store-bought)
Cornstarch (optional)
Steps
Pour 2 tablespoons of dish soap into a container with the 3 oz of playdough.
Begin mixing it gently.
If the mixture seems to get softer and not sticky enough, add some more tablespoons of dish soap. Alternatively, if the dough gets too sticky, then sprinkle some cornstarch.
Now add as many foam beads as you need. This will add to the texture.
Mix the beads and the dough. Get kids to stretch, mould, and play with the textured dough. It can even be cut with a butter knife.
2. Butter Slime
This recipe has a soft and buttery texture that makes it fun for kids.
Ingredients
8 oz of White Glue
1 teaspoon baby oil
2 tablespoon baby lotion
1 teaspoon baking soda
3 tablespoon water
1 tablespoon of contact lens solution ( the solution must contain boric acid and sodium borate)
Steps
Pour the 8 oz of white glue into a bowl.
Mix the baking soda in.
Add the water and mix thoroughly.
Add baby oil and lotion and mix well.
Add 1 tablespoon of contact lens solution and mix.
Pour the slime onto the table (it will still be sticky). You will need to add clay to take the stickiness away.
Add in small amounts of clay and fold over the slime. Knead until the slime is shiny and clay is thoroughly mixed. The more it is kneaded, the more it will start to feel like regular slime.
3. Butter Slime without Clay
No clay is needed in this recipe, and the consistency is just as soft and stretchy. A simple kitchen ingredient replaces the clay.
Ingredients
1/2 Cup of Washable PVA Clear Glue or White Glue
1/4-1/2 Cup of Liquid Starch
1/2 Cup of Water
Food colouring, confetti, glitter, and other fun mix-ins
Steps
In a bowl, add ½ cup water and ½ cup glue. Mix well to combine thoroughly.
Now add the colour, glitter, or confetti. When you add colour to white glue, the colour will lighten. Use clear glue for toned shades, and don't add too much glitter. Mix the glitter and colour into the water and glue mixture.
Pour in ¼ cup of liquid starch and stir well.
You will notice the slime start to form and pull away from the sides of the bowl. Keep stirring the mixture until a gooey blob of slime is formed. The liquid will disappear.
Now start kneading the slime. It will seem stringy at first, but you will notice the consistency change as you continue kneading.
Coat your hands in some liquid starch before picking up the slime. Remember, liquid starch will reduce the stickiness in the beginning but will eventually stiffen the slime.
How to Play with Butter Slime?
There are several plays to play with butter slime. From stretching to rolling to smashing, you can keep your kids engaged for hours with butter slime. Here are a few ways to encourage your kids to play with butter slime:
Use a butter knife and get kids to spread it. They could spread it on plastic food.
Smash the slime with a fork.
An excellent sensory activity, get kids to poke and knead it with their hands.
Get kids to stretch and pull it.
Bury one end of a straw into the middle of the slime, pinch where the straw is and blow to make a big bubble.
You can also make a bubble with your hands. Stretch the butter slime up and down and drop it from the top like a parachute.
What to Do if Your Butter Slime is Very Sticky and Not Smooth?
Do not deviate from the ingredients given in the recipe. If the slime butter is too firm and not smooth, then the consistency can be fixed. If you would want butter slime to pull and stretch smoothly, then add baby oil, baby lotion, and water to get a perfect consistency. If you want firmer slime, then add some corn starch or clay to remove the stickiness. Alternatively, if you find it very sticky, you can add some slime activator like borax. Make sure you add in small amounts and mix them thoroughly.
Precautionary Tips
Making butter slime is a science experiment, and one must take safety precautions whilst making it. It is an activity that must be adult-led, and kids must only watch the process. They can, however, play with the end product. A few safety and precautionary tips that one must follow are listed below:
Any chemicals and products must be handled only by adults
Only adults must mix and knead.
It is important to read and follow all the instructions on the labels of the product. Medical advice should be sought in case contact lens solution is accidentally consumed.
The project is not suitable for children under the age of 4.
Slime must not be consumed or put in the mouth. Adults and kids must wash their hands before and after playing with slime.
If there is any irritation or allergic reaction, seek medical advice immediately. If you have sensitive skin, make sure to wear gloves while making and playing with slime.
Slime is a science experiment, and both making and playing must be in moderation. Children must not be allowed to make their slime and play with it for extended periods.
It is really easy to make butter slime, and there's little to no mess left to clean up when playtime is over. Provide your child with a great opportunity for some sensory fun with butter slime – without a worry!
Also Read:
Best Slime Recipes For Your Kids
Exciting Winter Activities For Kids
Fun Learning Activities for Kids
?>