How to Find the Right Pair of Jeans to Look Slimmer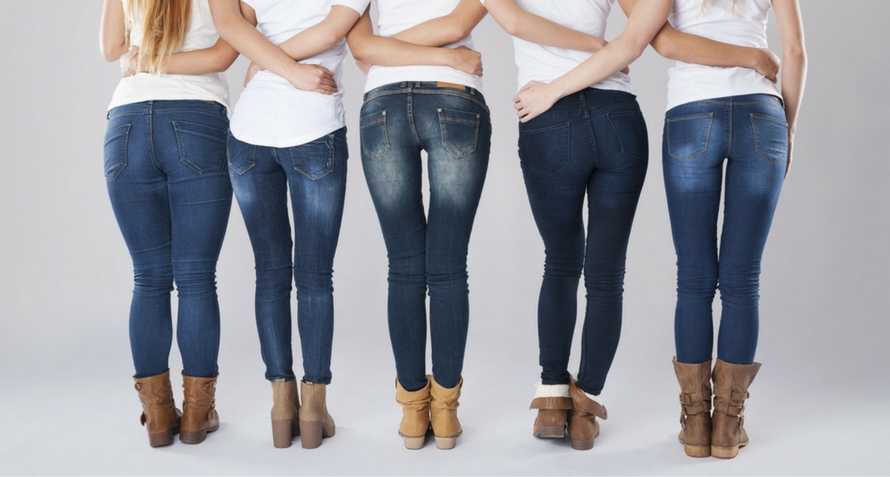 In this Article
Jeans, we get to choose from a myriad of options to find the perfect ones but what a task that can be! With this guide we can help you find the pair of jeans that hugs your waist, elongates your lovely legs and lifts that butt, giving you that sexy look you want!
It takes time to hit the weight you want to be or to tone your body the way you'd like to. If you are conscious of the way you look, the first thing to do is own it! Love your body and work towards a healthier lifestyle.
That said, we indulge in a little pick-me-up session on days we feel insecure about our bodies. And for a lot of people, that pick-me-up comes in the form of flattering outfits. You know, the pretty ones that make your bum look smackable and your waist look tiny! However, finding these outfits may not come as easy as the compliments that pour in when you wear them. Especially, finding the right jeans! if you struggle to find the correct pair of jeans or find that your jeans do not flatter your body, these tips to look slimmer in jeans may help you get the look you want without having to drop the pounds.
If you're thinking that finding the right size of jeans is all it takes to look your best in them, you might be surprised. These are some secrets collected by fashion experts and followed universally by celebrities. These will ensure some great photographs and a lot of saved time.
Ready to know them?
8 Secrets to Looking Slimmer in Jeans
1. Pick a Darker Wash
Jeans with a darker wash tend to look more classy than lighter or multiple toned jeans. They are versatile as well, can be worn with a shirt for a formal look and well as teamed with a cute t-shirt for a casual look. Darker jeans also give the illusion of slimmer thighs.
2. Rise "HIGHER"
High waist jeans when worn correctly can really it tuck in those love handles and other lumpy bits to give you a slimmer and smoother waist to hip line. It also elongates the body, making you appear taller.
While shopping for high rise jeans make sure you choose ones that have a waistband that ends just above the belly button. Choose a darker one-tone wash with a classic style one button and zip closure. Any higher than this, you might fall into the mom-jeans category.
3. Length Matters
If you want to appear skinnier in jeans, watch for jeans that end an inch or two below your ankles.
4. Find the Perfect Fit
Ill-fitting jeans can visually make you appear a lot larger than you are. This is why the perfect fit is something you should never compromise on.Make sure the jeans fit snug on your bottom, comfortable and not pinching the waist. Remember that sizing is different for different brands and denim blends so it is better to try on jeans instead of buying them online.
Stretch materials offer more of a body-hugging fit and will be more flexible for longer wears.
Also, it is important that you pick the right fit for your body type. An hourglass shaped figure might be more comfortable in jeans with some stretch or jeans designed especially for curves.
5. Wear Shoes that Work with Your Jeans
To look slimmer in your jeans, your shoes matter. A darker pair of jeans with darker pointed-toe heels or boots will give an illusion of longer legs.
6. Try Shapewear-Like Jeans
Rejoice that you live in a time where jeans that act as shapewear are available! Jeans with specially designed panels to tuck, lift and fit varied body shapes can make a huge difference to your appearance.
7. Make Use of Colour to Underplay Problem Areas
We already know that darker jeans will make you appear slimmer but if you want to maximize your slim appearance, your overall outfit must adhere to the same rule. Darker colours tend to conceal more. You could pair an all-black outfit with accessories that have a pop of colour. If you've got a larger bottom than top, you could wear black jeans with a sexy coloured top.
8. Invest in Better Quality Jeans
We're not saying that you need to spend a lot of money to get the perfect jeans. There are stores that sell high-quality jeans for bargain prices. You just have to find them! Higher-quality denim fits better and lasts longer too.
Remember, while it is reassuring when you look good in certain clothes, comfort should always be a priority. CLothes thta pinch or cut off circulation can be fatal for your health. Clothes are meant to fit over your natural body shape and not change it for long durations. Remember that you should always be able to sit, stand, walk, jump and dance comfortably in your jeans to avoid Tight Pant Syndrome. (Yes. It's a real thing!)
Goodluck on your perfect jean scouting journey. In our opinion it is always as important as finding a partner because jeans too are a long-term commitment, are there with you in multiple occasions, offer you comfort and make you feel like a more beautiful person that you already are!