How to Do a Pedicure at Home – Get Soft, Healthy and Glowing Feet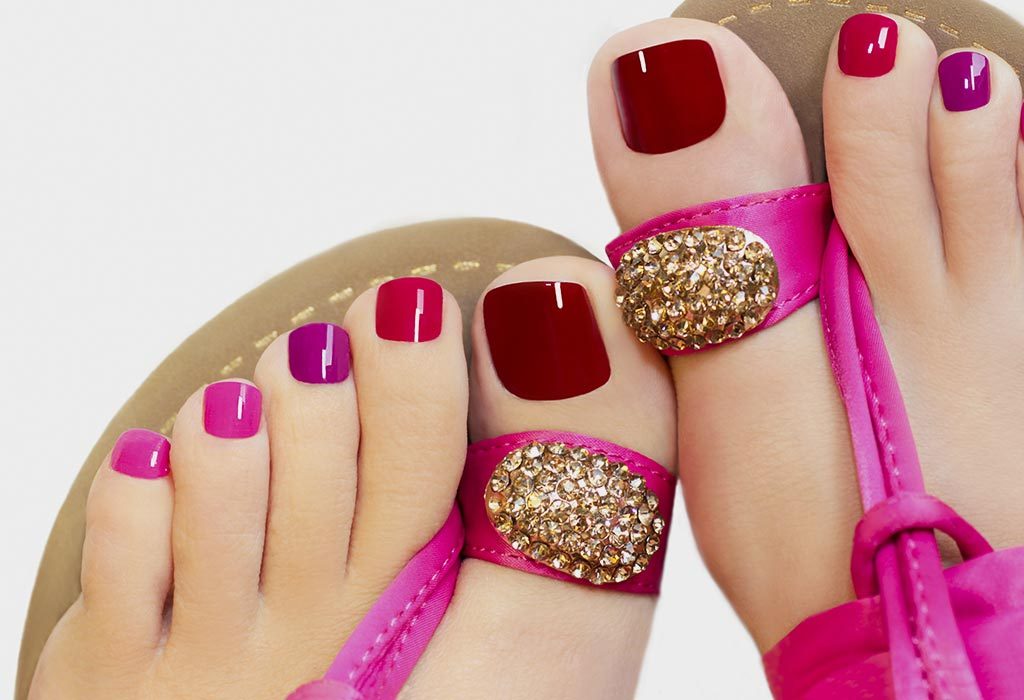 Beautifully groomed and feet speak volumes about your overall health. In our day-to-day hectic lifestyle, we often neglect to take care of our feet. Just imagine the amount of hard work our legs and feet do – be it walking, jogging, experiencing new shoe bites – the list goes on! Surely our feet need more care and attention than we tend to give them. So here we present you a step-by-step guide to a spa pedicure at home!
Step by Step Instructions for Doing a Home Pedicure
Pamper your feet with a pedicure at home with all natural ingredients. Follow our simple, quick and step-by-step guide for doing a pedicure at home naturally.
What You Will Need
Pumice stone
Warm water
Nail file
Cotton pads
Cuticle cream
Moisturizing Cream
Foot Scrub
Fresh and clean towel
Cuticle pusher
Epsom salt
Corn cutter/ foot filer
Nail paint remover
Nail paint of your choice
Nail cutter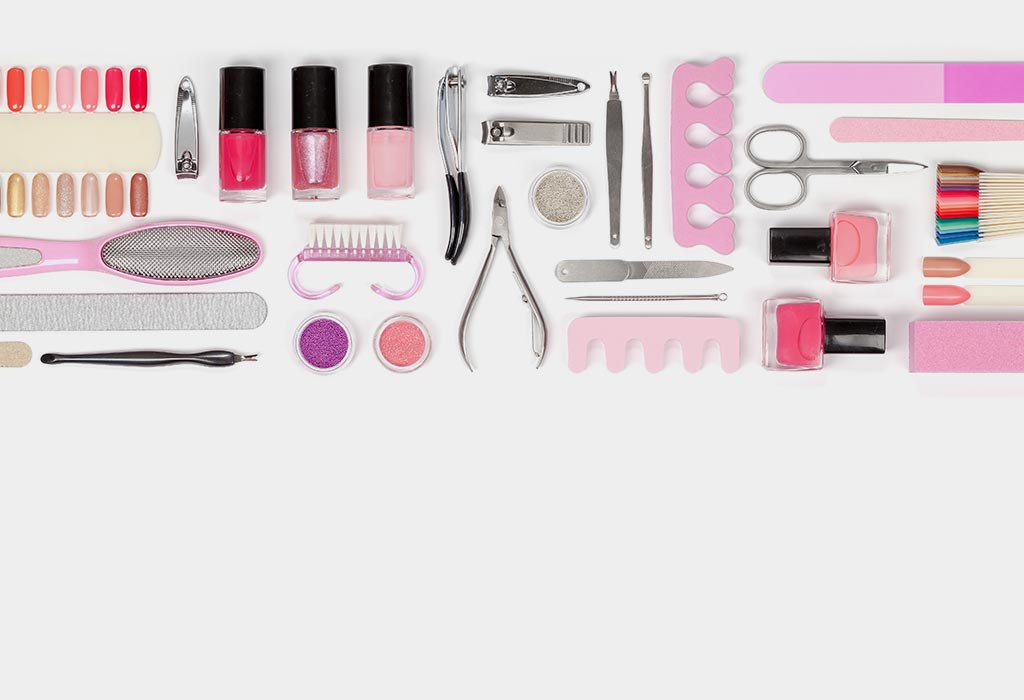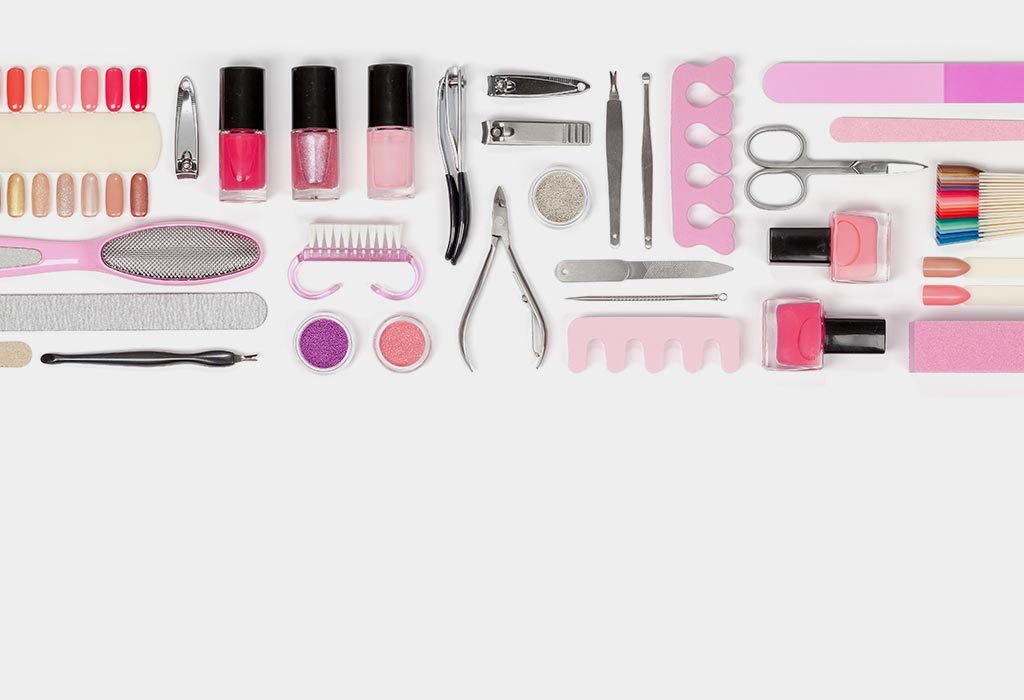 Steps
1. Remove the Old Nail Paint
The first step to start with the pedicure is to remove the remnants of your old nail paints. Just dab nail polish remover on the cotton pads and massage on your nails to remove the paint.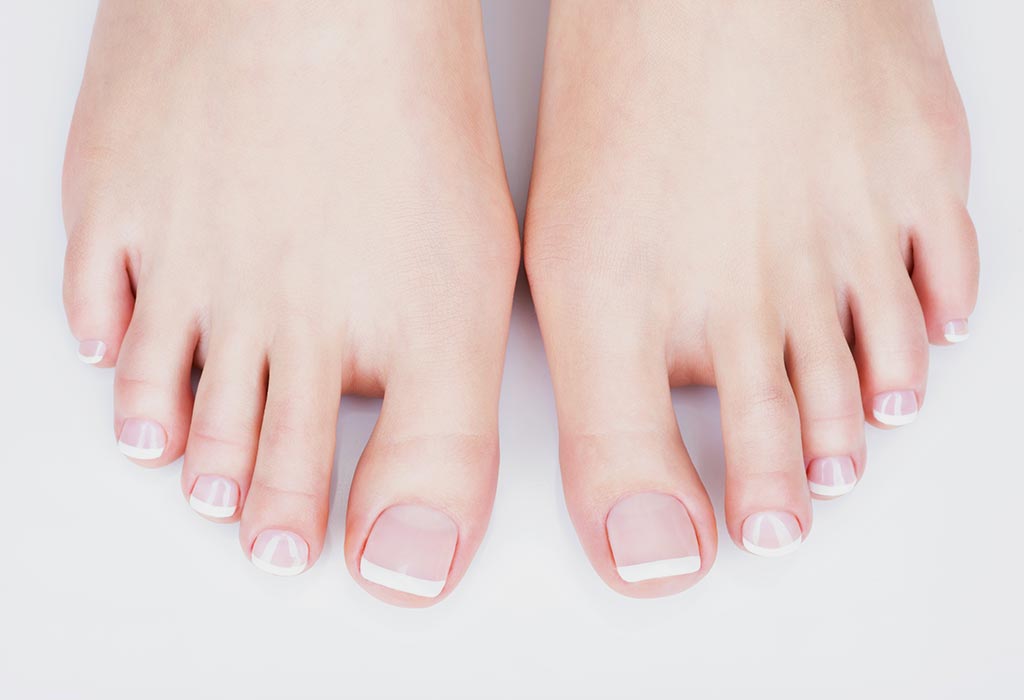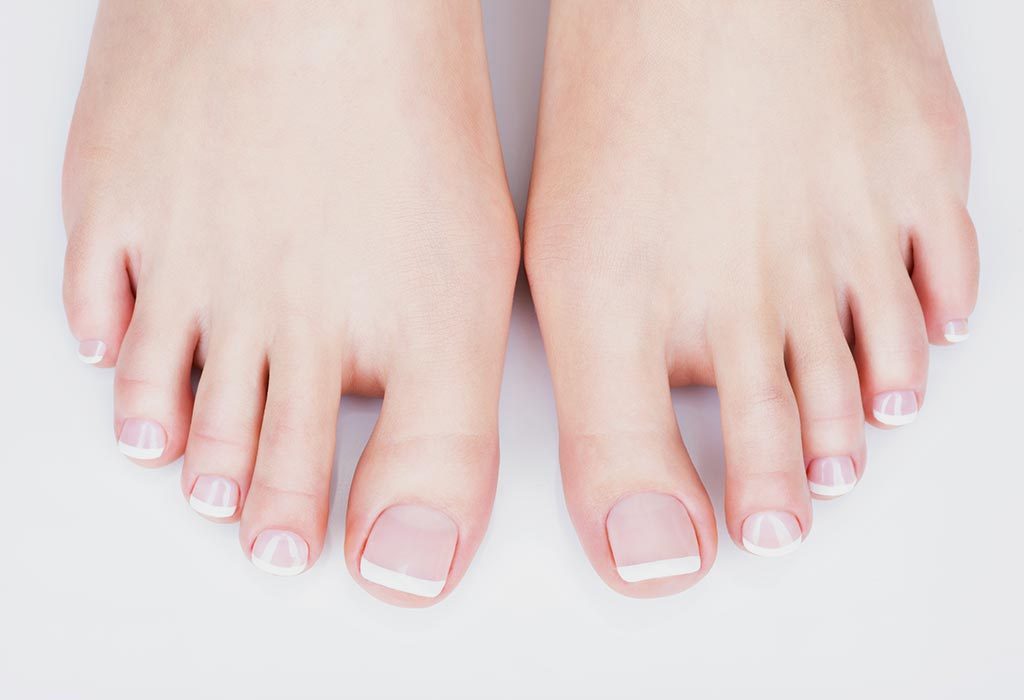 2. Cut and File Your Nails
The second step is to prepare your nails. Clip the nails carefully using a nail cutter and be careful while clipping the edges so as to not to make it too deep. Shape up the nails using a filer. Also, smoothen the rough edges using the filer and try to file them in a single direction, the back and forth motion will weaken the nails.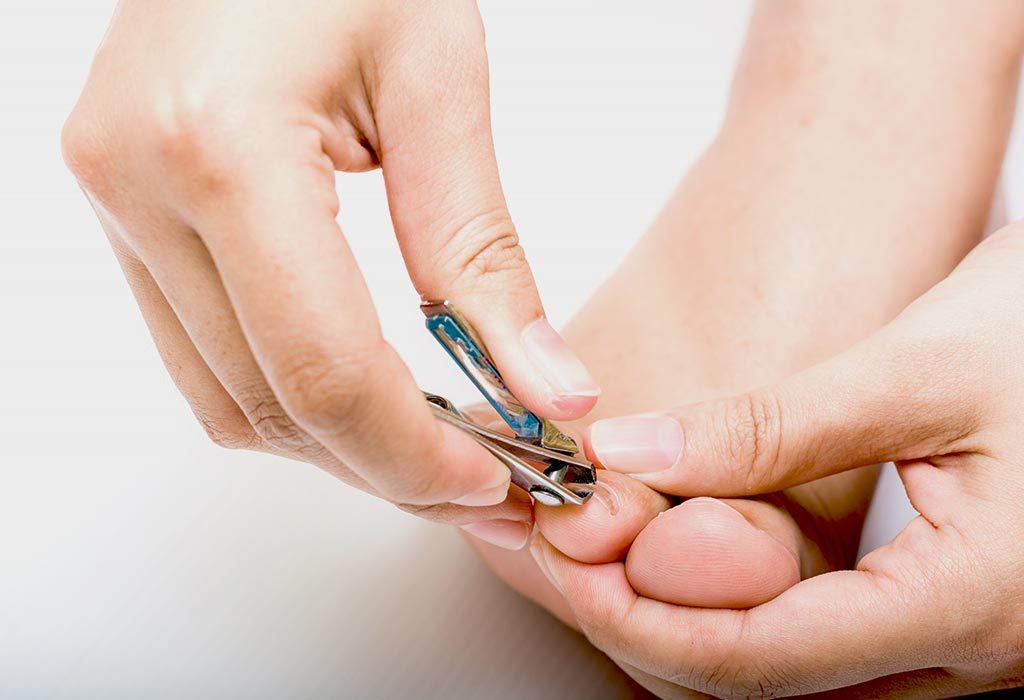 3. Apply the Cuticle Cream
Cuticle cream softens the cuticles on your nails. Before you soak your feet into the warm water, apply some cuticle cream on the nails. You could apply a combination of olive oil and coconut oil instead of store-bought cuticle cream. Coconut oil softens the cuticles and prevents dryness. Olive oil also boosts healthy nails and cuticles by penetrating the skin and nails.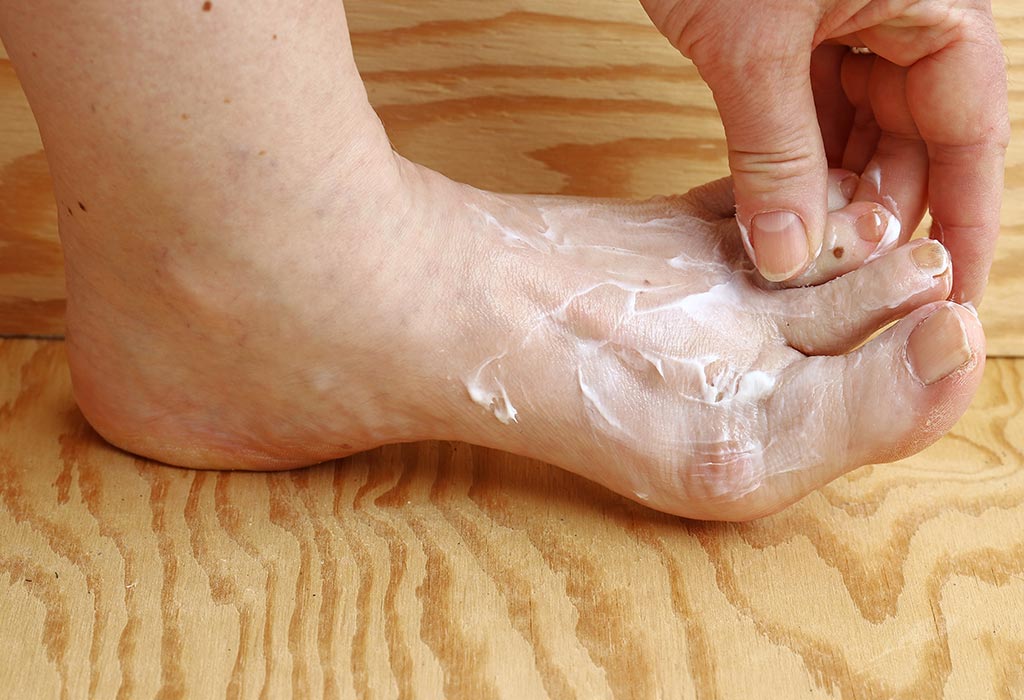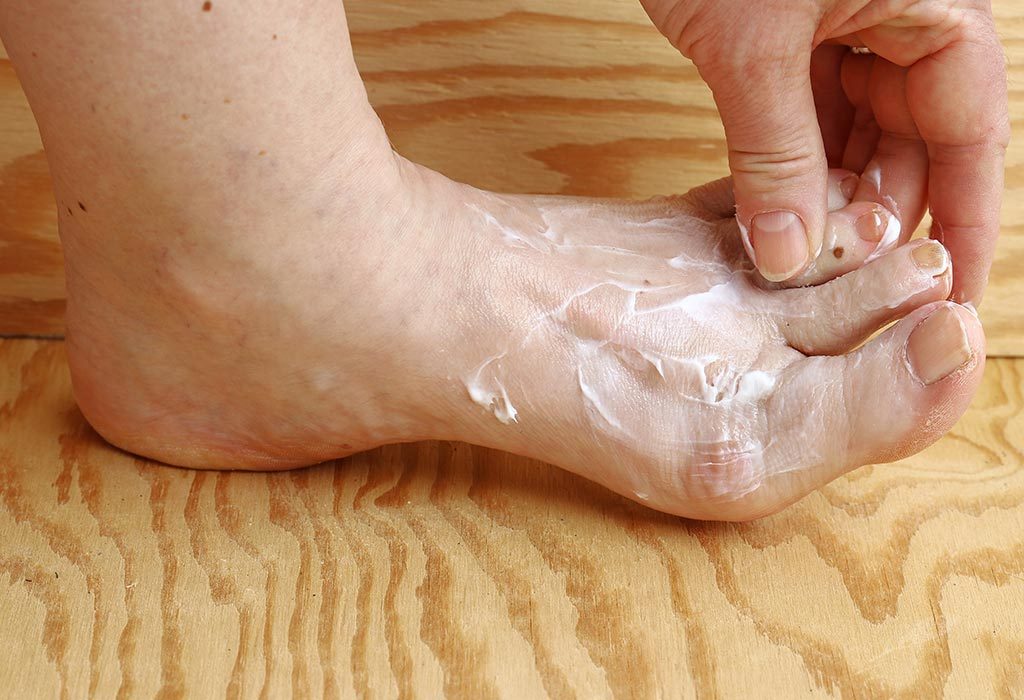 4. Relax and Soak Your Feet
Now it's time to relax and soak your feet in the warm water tub. This is the best and most relaxing step of the pedicure! Soak your feet for fifteen minutes, and you can put some refreshing bath salts (or Epsom salt) and 2 tablespoon vinegar in this water. Epsom salts have a relaxing effect on the tired and aching muscles of the feet. Baking soda and lemon also work great on the dead skin. To give a rejuvenating spa-like experience, just put in some rose petals in the water tub.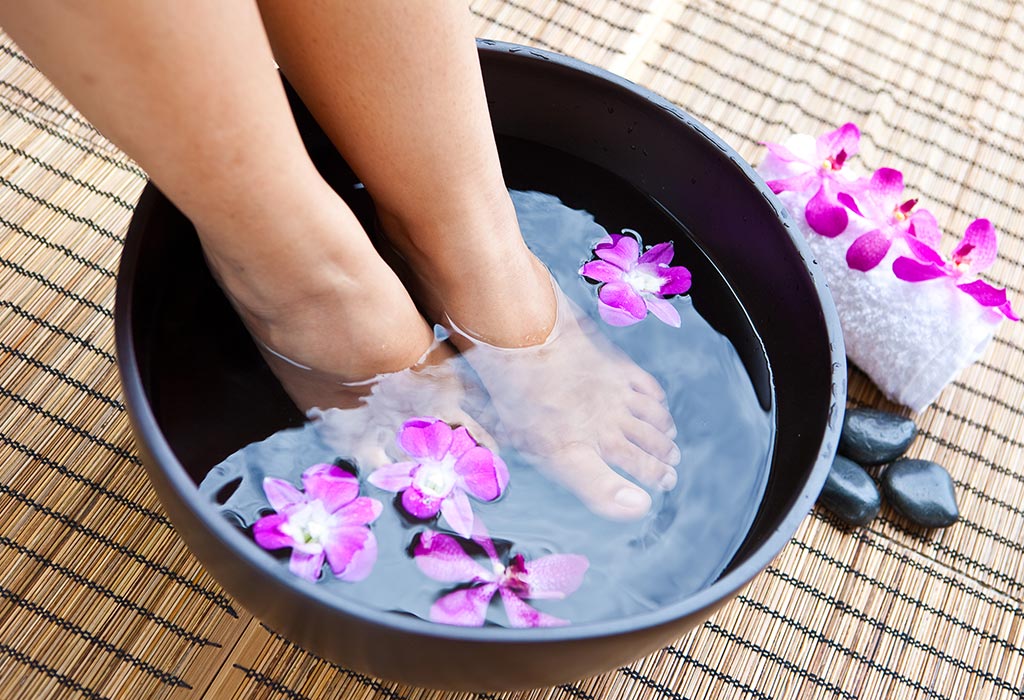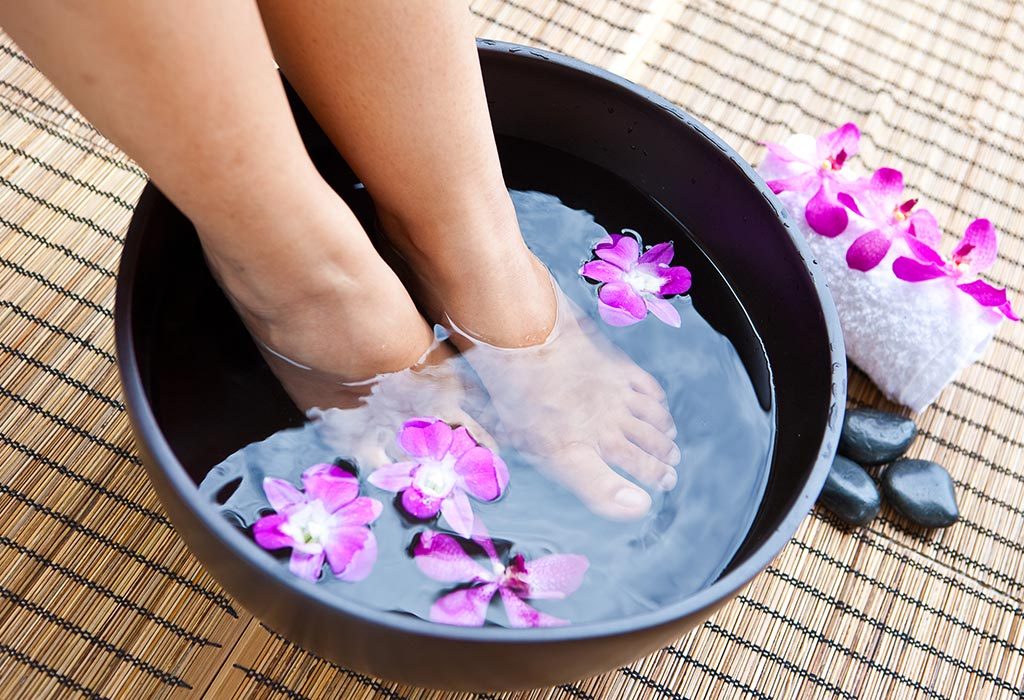 5. Remove the Dead Skin
Take out one foot at a time from the water and dry with a towel. Use a cuticle pusher to push back the cuticles and trim them. Next, buffer the heels to remove the dead skin. If you have cracked heels and hard skin with calluses on the heels, use a corn cutter to remove the stubborn dead skin and then use a foot filer or a pumice stone to brush out the remaining dead skin cells on the soles and sides of the feet.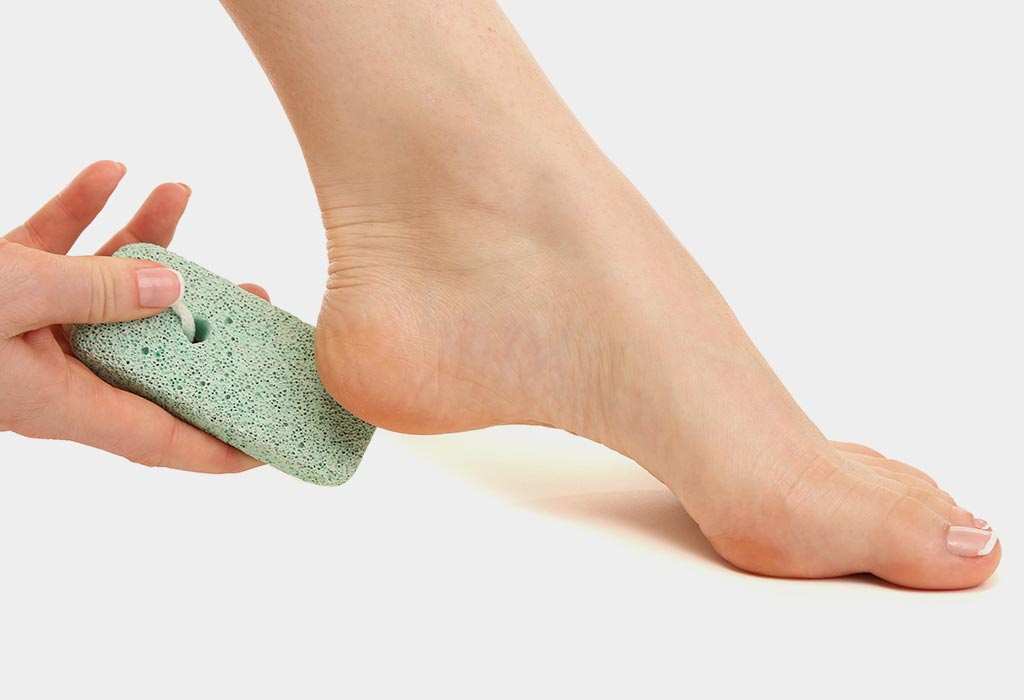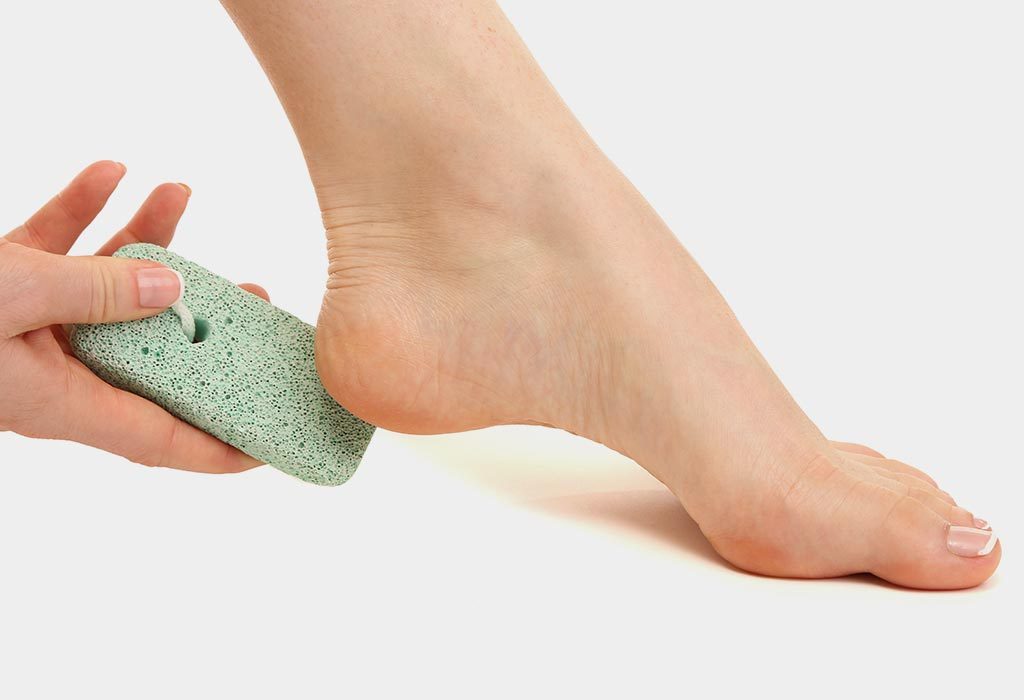 6. Scrub and Massage Your Feet
After the dead skin is removed, soak your feet again into the water to remove all the dirt, and dry them using a towel. Now, apply a good foot scrub all over your foot up to the ankles. You can buy a foot scrub available in the local store, or prepare your own foot scrub using natural ingredients.
Ingredients
2 tablespoon coconut oil
4 tablespoon sugar
2-3 drops of tea tree essential oil (optional)
1 tablespoon lemon juice
1 tablespoon honey
Method
Mix all the ingredients to form a fine paste with sugar granules.
This homemade scrub can be made with many combinations of natural ingredients. You can also use oatmeal powder, walnut shell powder, etc. according to your preference. The best part about the homemade scrub is that all the ingredients are easily available and will exfoliate your skin without any harsh chemicals. Massage your ankles, heels, fingers, and soles of the feet well using the scrub, and don't forget the skin in between the toes!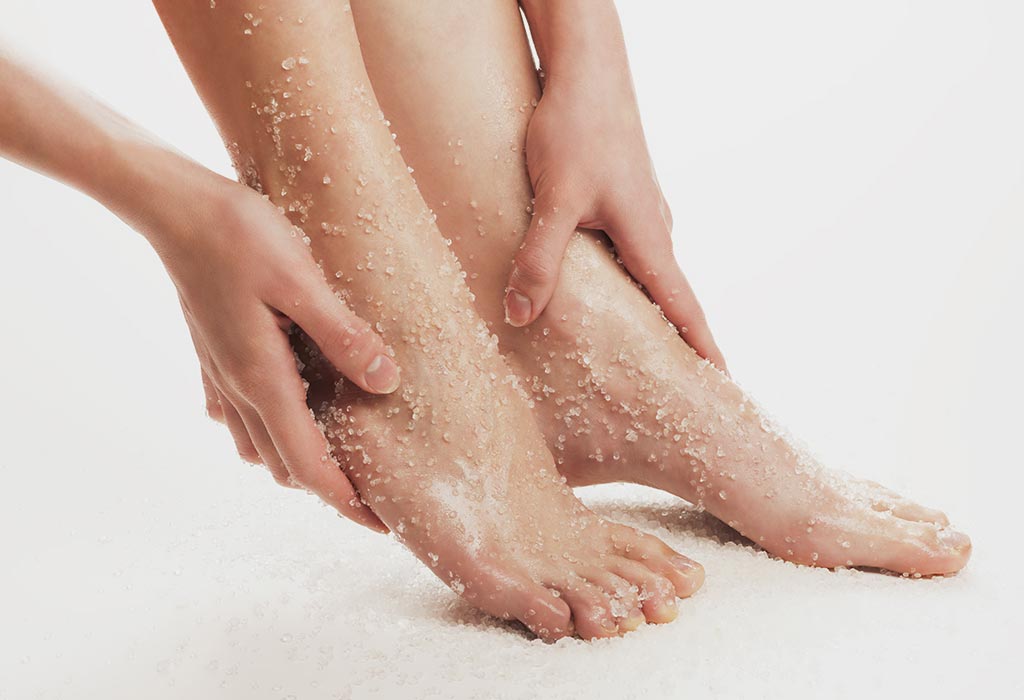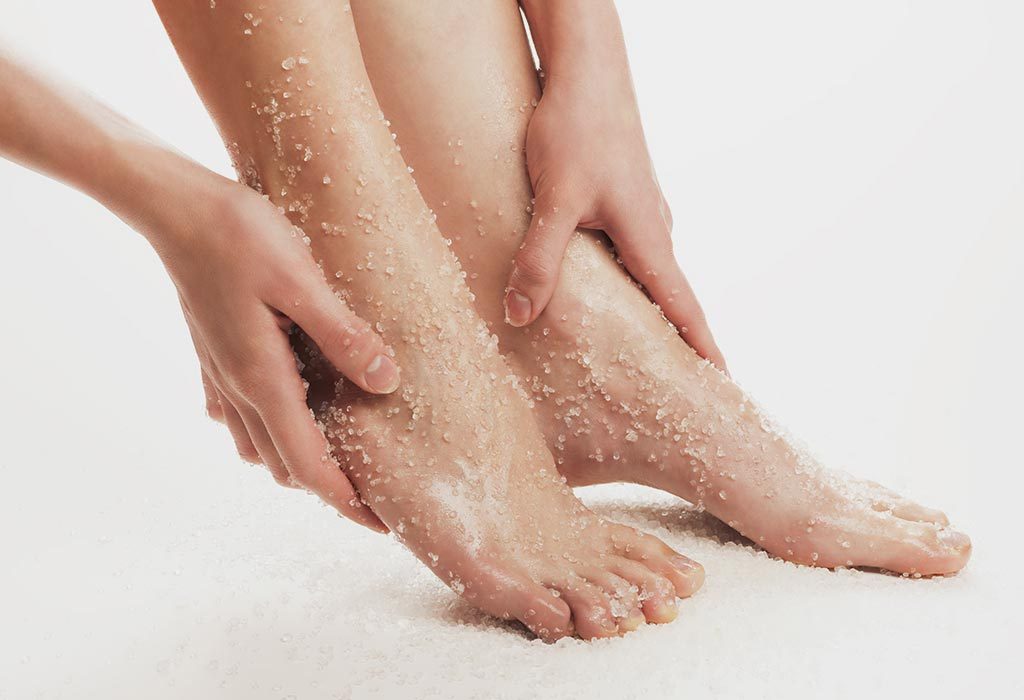 7. Moisturize
After you scrub away the dead skin, wash your feet and dry them. Next, apply a moisturizer and gently massage the feet with hands. Use a deep moisturizer to moisturize your heels, soles and ankles, especially during winters.
You can also make your own foot moisturizer with the following ingredients:
Shea butter – 3 tablespoon
Lavender essential oil – 4-5 drops
Coconut oil – 2 tablespoon
Almond oil – 1 tablespoon
Method
Melt some Shea butter in a microwave safe container and add the almond oil and coconut oil. Mix the oil blend and let it cool down to room temperature.
Once cooled, add a few drops of lavender essential oil to the oil blend, and freeze it for 2 hours. Store the same in an airtight container and use it as and when required.
Tip: The lavender essential oil gives a refreshing aroma to the moisturizer and also possesses anti-inflammatory properties.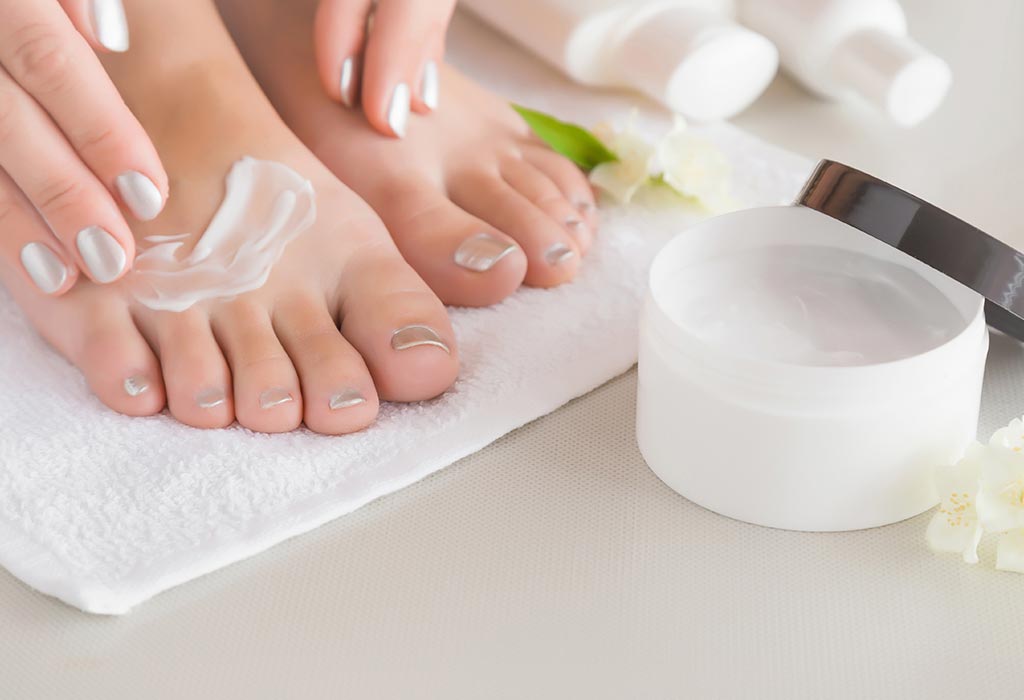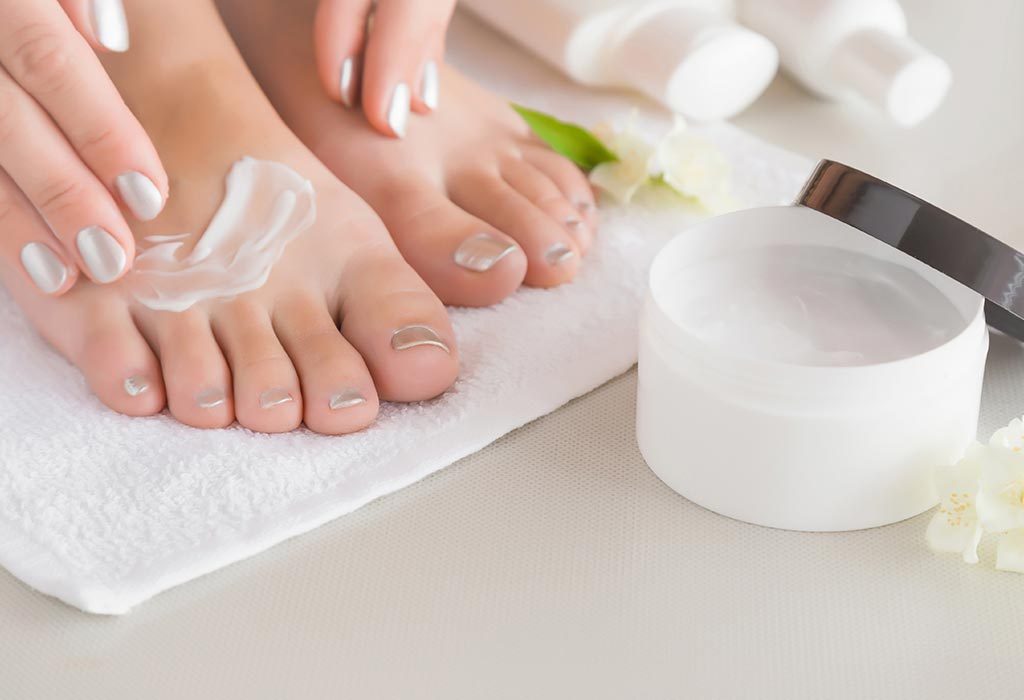 8. Apply Nail Paint
Once you're done with the moisturizing part, next apply a nice nail paint of your choice. Using a toe separator is highly recommended while you apply the nail paints as it prevents smudging. You can also go for a nail art if it interests you, or just paint thin even layers of your favourite colour.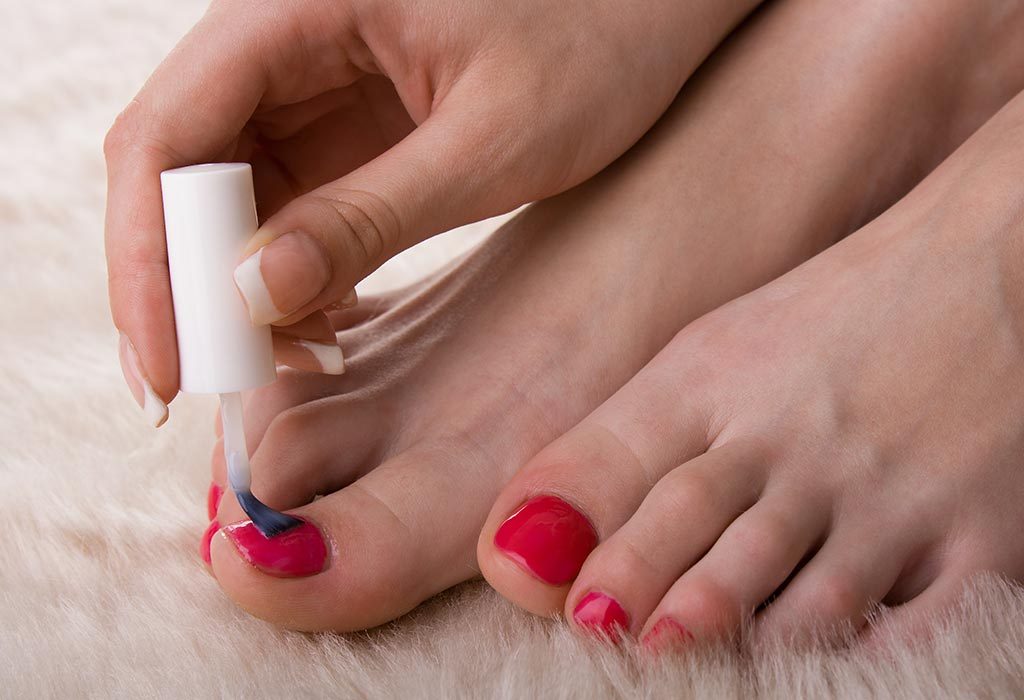 9. Finishing Touch
You're almost done once you finish off with the final touches. Just wipe the smudges (if any) with a cotton pad dipped in a nail polish remover. Apply a final transparent shiner coat on top of the nail paint to give it a glossy finish. You're good to go!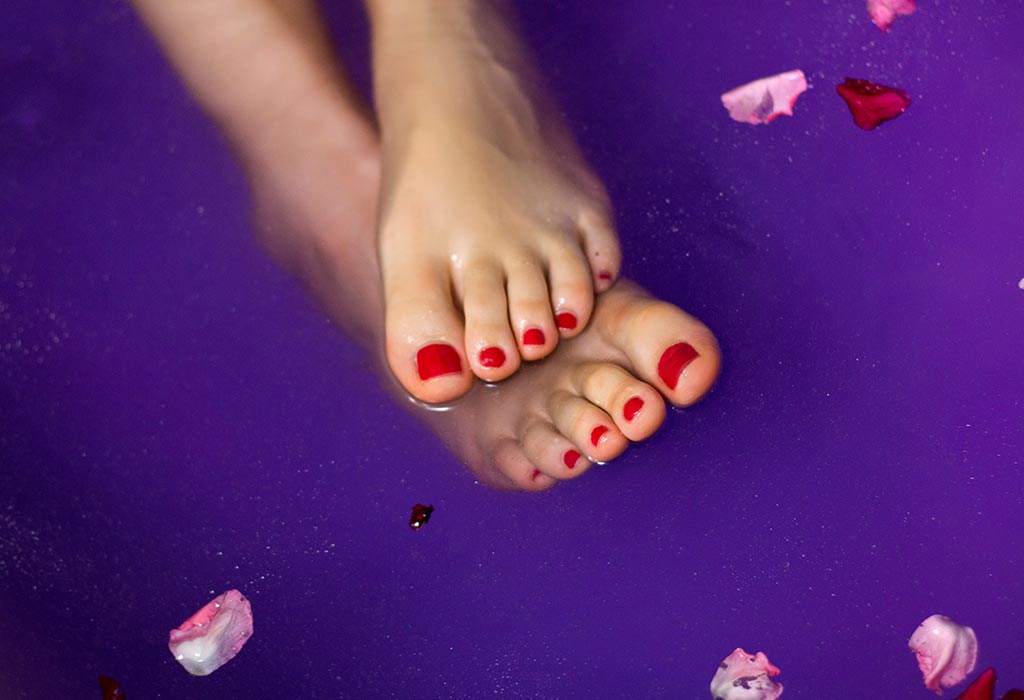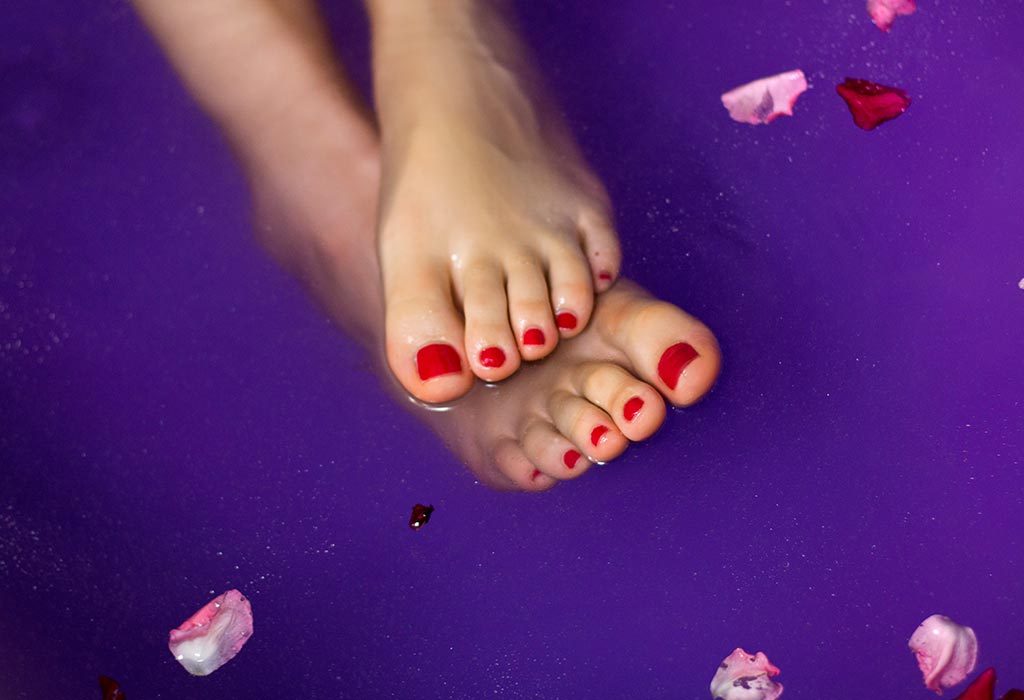 Important Points to Consider While Doing Pedicure at Home
Consider the following important points while doing a pedicure with home ingredients:
If you have chapped heels and dead skin clogging in your feet, consider scrubbing your feet with a pumice stone twice a week when taking a bath. It helps reduce dead skin accumulation and keeps your feet soft and glowing.
We all love to paint our nails, but it's important to keep your nails free of nail paints once in a while. Over-application of nail paints can cause brittle and unhealthy nails.
Consult a medical professional in case of any infection or colour change on the nails.
Be extra cautious in case you have any injury, cuts or wounds on your feet. It is better to let the wound heal completely before going for a pedicure.
Caution: It's better to avoid indulging in any fish spa or pedicure as it is considered unsafe for your feet, and can also cause HIV or Hepatitis C.
FAQs
Read on to find out some frequently asked questions on feet care.
1. What Is the Best Thing to Soak My Feet In?
Nowadays, several varieties of bath salts and spa products are available in the store which you can use to soak your feet in after a long tiring day! However, we highly recommend soaking your feet in 2 tablespoons Epsom salt and 1 tablespoon vinegar. It soothes your aching soles and removes dead skin.
2. What Does Epsom Salt Do for Feet?
Epsom salt is believed to be full of anti-fungal and anti-microbial properties. Soaking your feet in a solution of Epsom salt and warm water relieves aches and inflammations, heals any underlying skin infections, nail fungus and small wounds. It also relieves stress.
3. Does Pedicure Remove Tan?
Yes, of course! Roaming in the sun will cause tanning on your feet. A pedicure can remove the tan from your feet if you use the correct ingredients. For instance, lemon juice is a natural bleaching agent; you can mix it with sugar and scrub twice a week to remove the tan. Alternatively, you can also choose to go for a de-tan pedicure.
4. Can I Get a Pedicure If I Have Nail Fungus?
Yes, you can get a pedicure even if you have a toenail fungal infection. A regular pedicure can even help keep the fungal infection at bay, but you need to be careful about a few things. If you visit parlours for your pedicure, make sure that you carry your own pedicure tools and also inform the staff about the infection. Ensure that the products used are free of harsh chemicals and are skin friendly. Follow a routine for your feet care, wash them regularly and pat dry before wearing your shoes.
5. How Long Should I Wait to Wear Socks After a Pedicure?
Ideally, it's better to wait for about 10-12 hours before you wear socks after a pedicure. But in case you have to, just blow dry your feet to dry the nail paints and apply a cling wrap on your feet and then put on your socks to retain the moisture and effect of the pedicure.
Healthy and glowing feet are signs of a strong personality and also reflect how much you care for your body. The above DIY pedicure tips will ensure that you have a glorious spa-like experience at home!
Also Read:
Kitchen Secrets for Making Your Skin Look Beautiful
Korean Skin Care Secrets You Should Consider
Daily Habits to Follow for Getting Beautiful Skin
?>