How to Decorate Your Home This Christmas – 13 Amazing Ideas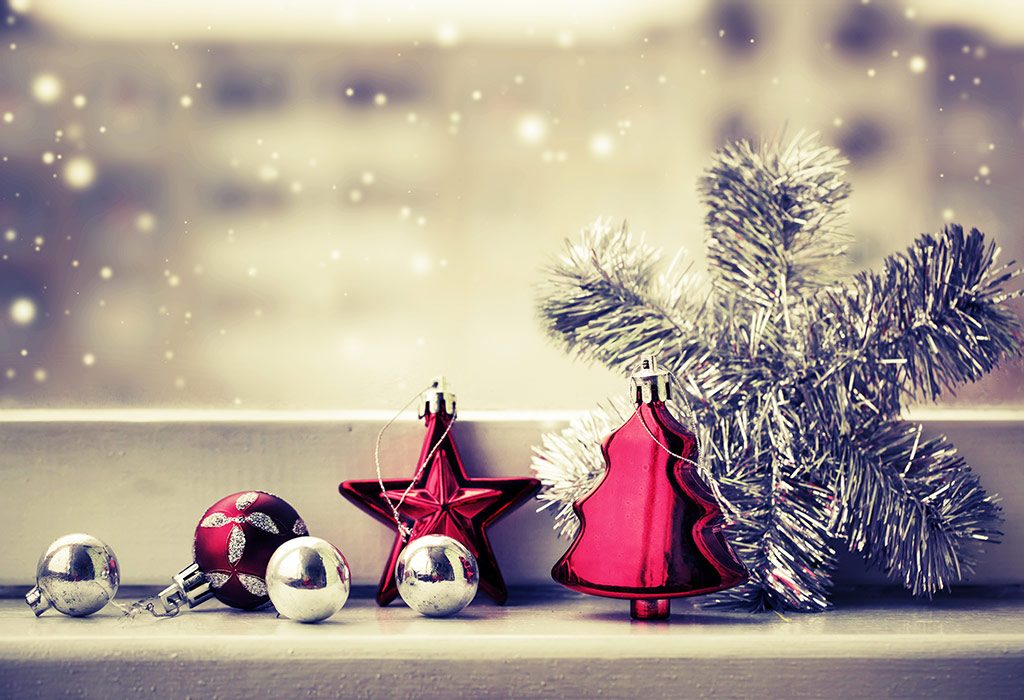 In this Article
Decorations are the most fun way to get your home ready, and your loved ones in the holiday spirit. With the season of joy right around the corner, here are some ideas you can list down to decorate your home in the upcoming weeks!
How to Decorate Your Home This Christmas – 13 Amazing Ideas
This holiday season, don't hold back when decking up your home – decorate the doors, the staircase, the ceilings, and even the windows! Here are some simple, elegant, and stunning Christmas decoration ideas for your home.
1. Ornament Wreath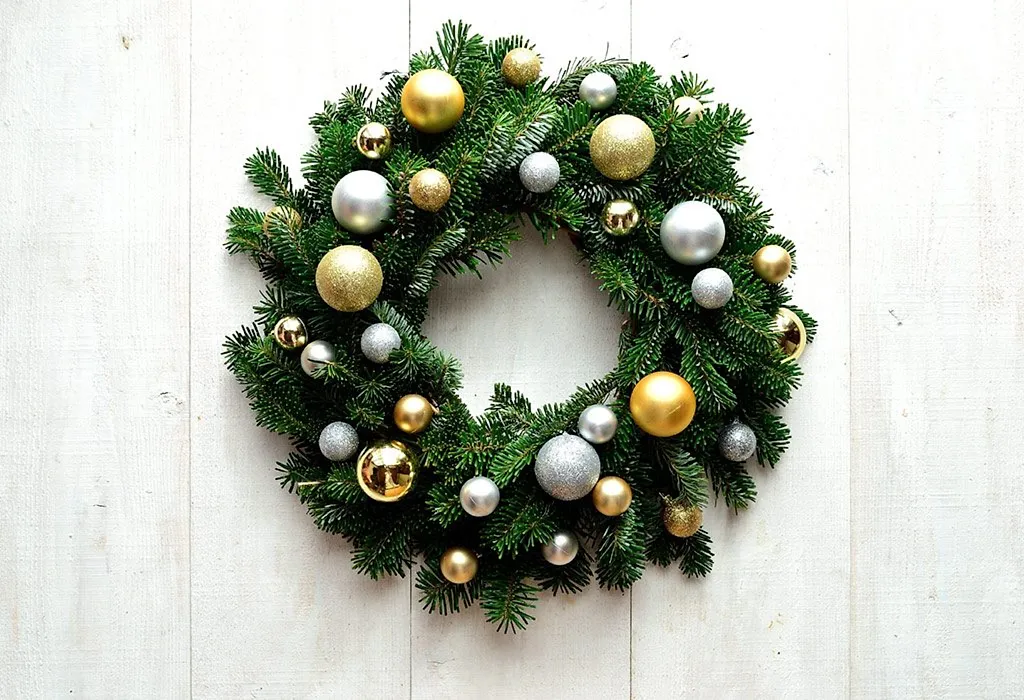 An ornament wreath is a super stylish DIY Christmas decoration idea. You can make the perfect holiday statement with these wreaths. They are very easy to make, and look glittery and shiny – perfect for the season!
What You Will Need:
Wreath frame
Glue gun
Garland made of tinsel
Ornaments like balls, bells, cutouts, etc. of various sizes
How to Do:
You can start by covering the frame in tinsel. This step will only take you 5 minutes.
You can then glue your ornaments to the wreath frame using the hot glue gun. Start with the larger ornaments and fill the frame with ornaments of your choice. Your DIY wreath is ready!
2. Mini Wooden Christmas Trees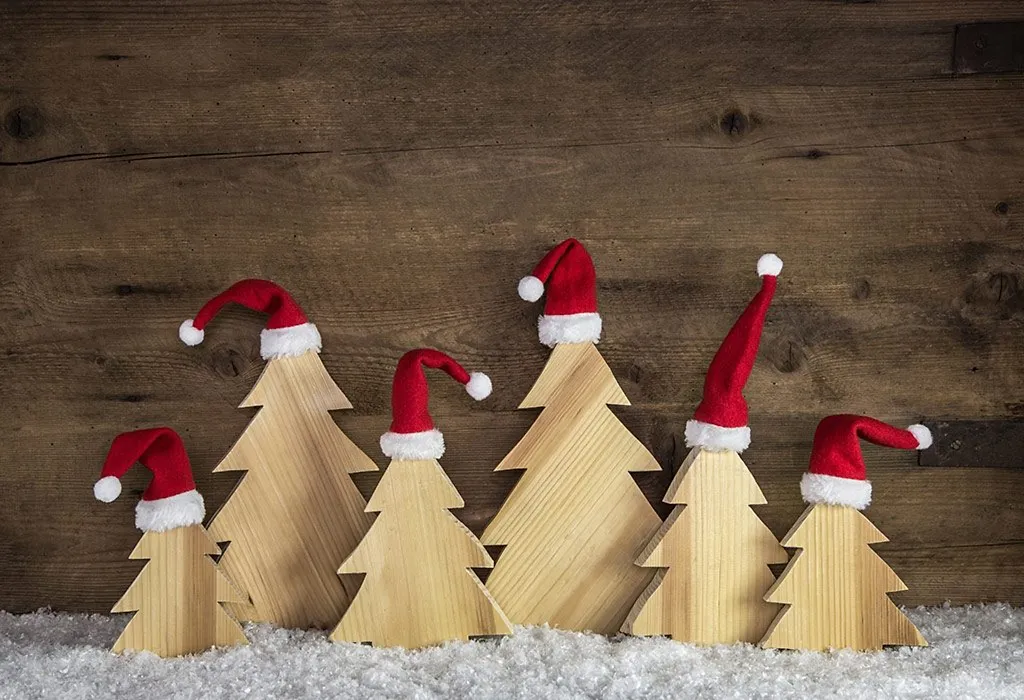 Wondering how to decorate your living room for Christmas? These mini wooden Christmas trees are one of the best homemade Christmas decoration ideas, as you can also involve other members of your family while making them and make a fun day of it.
What You Will Need:
Wooden blocks of triangles
Craft paints
Liquid leaf (gold)
How to Do:
You can start by painting the blocks of triangles with colours of your choice. Let them dry.
You can then paint smaller leaf caps of gold with smaller brushes at the tops of the blocks.
Add small dots on the blocks for an extra touch.
3. Pine-Scented Candle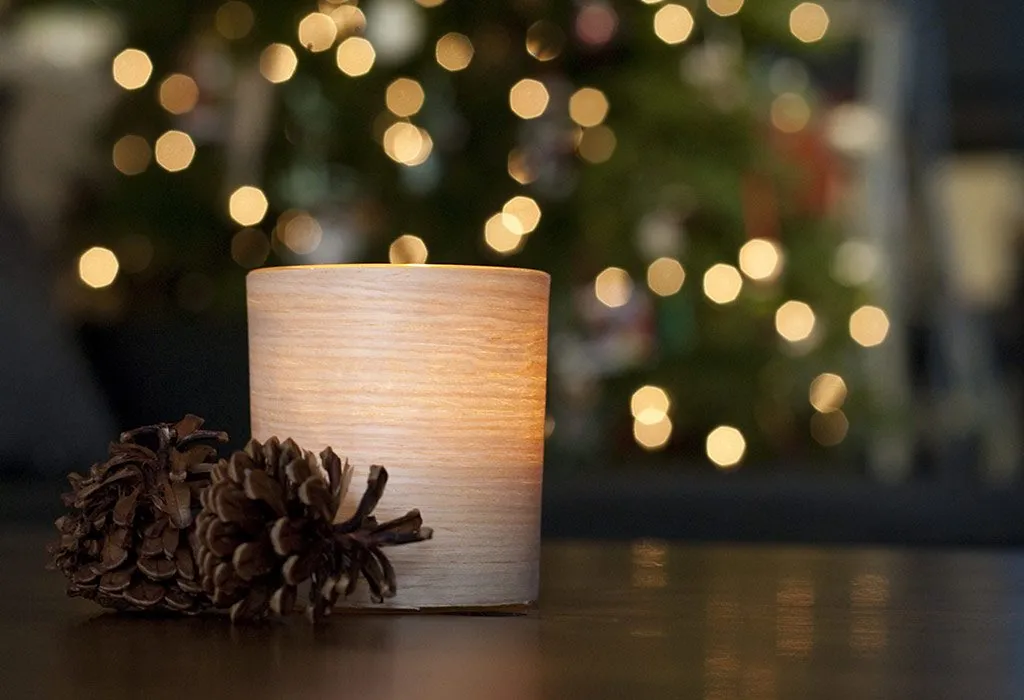 Candles serve as one of the perfect Christmas home decor ideas, especially for your living room – your house will smell incredible and inviting to all your guests!
What You Will Need:
Glass jars
Soy wax chips
Wax dye (green)
Candle oil (pine-scented)
Candle wicks
Glue
A pot for melting
Heat-proof bowls with pouring spout
How to Do:
Take a large pot and melt 10 cups of soy wax chips on medium heat. Add a few drops of pine-scented oil into the melted wax. Divide the wax and pour into two separate heat-proof bowls.
Add a few drops of green dye into one of the bowls. Take a candle jar and place a wick at the bottom. Use a glue stick to keep the wick in place.
While the wax cools, keep the wick upright.
Once the wax is completely cooled, your candle is ready for use.
4. Glitter Jar Candles
There's something magical about glitter during Christmas season. This adorable DIY Christmas decoration idea is just what you need to set the mood right – the candles and the glitter will make your home feel cosy and pretty.
What You Will Need:
Clean mason jars
Silver or translucent coloured glitter
Clear glue
Flat brush
Tea lights or flameless candles
How to Do:
Using the flat brush, apply glue on the insides and the bottom of the mason jars. Make sure that the entire inner surface is well coated with glue.
Next, immediately take the glitter and put it inside the mason jars. You can add in heaps of the glitter at once, close the lid, and shake the jar till the entire glued surface is covered with glue. Simply empty the jar to remove the excess glitter. Let the jars dry for an hour or two.
Once dry, put in the tea lights or candles in each jar and light them up!
5. Reindeer Garland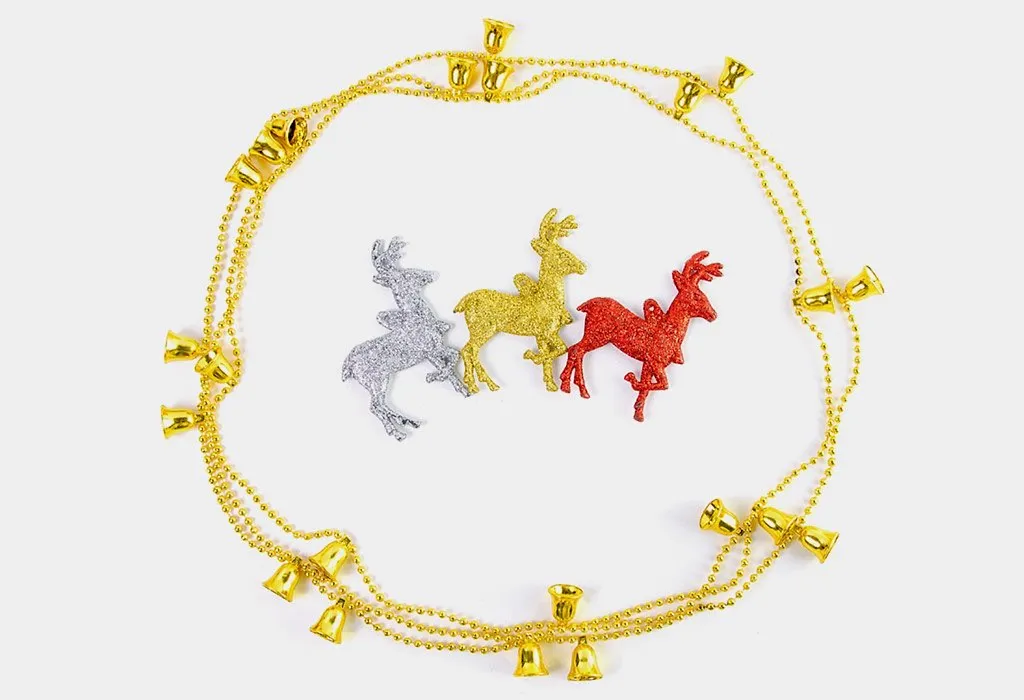 Adding to your list of homemade Christmas decorations, these reindeer garlands are fun to make and can be the perfect Christmas tree addition!
What You Will Need:
A template of a sleigh and reindeer
Light brown cardstock
Dark brown cardstock
Red cardstock
Brown and red twine
Jingle bells
Hot glue and scissors
How to Do:
Download your favourite template of a reindeer and a sleigh. Trace and cut out the shape on the brown cardboard, and the sleigh on the red cardstock.
Take some twine. Using hot glue, wrap it around the necks of the reindeer. Finally, glue the end of the twine to the back of the sleigh.
You can glue a red jingle bell to make it look like Rudolph's nose. You can then place this garland on your mantle or on your tree.
6. Spoon Mini Trees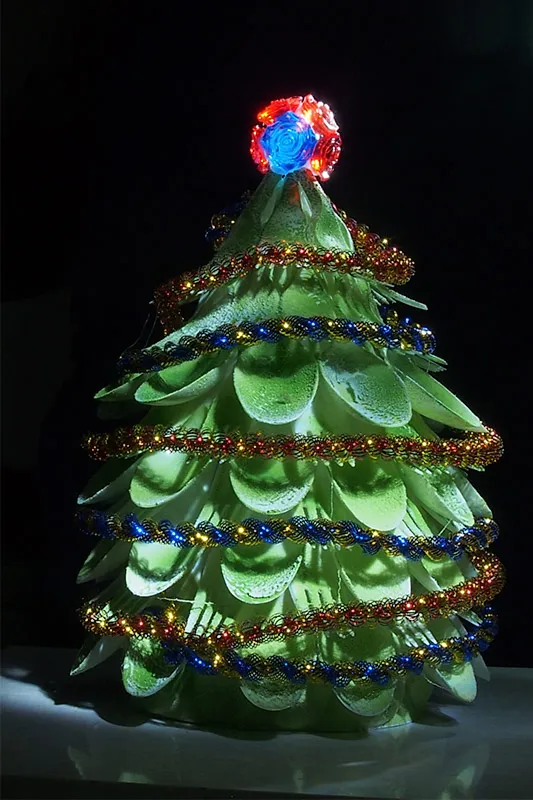 Plastic spoon mini-trees are a cute DIY Christmas decoration that you can make using old spoons that were ready to be discarded!
What You Will Need:
Paper mache Christmas tree form
Plastic spoons
Spray paint of your choice
Hot glue
How to Do:
Take the plastic spoons and cut the handles off.
Lay the top part of the spoons face down on some old newspaper, and spray them with a variety of paints. You can use green, gold, brown, or even chalkboard black.
After the paint is dry, starting from the bottom, glue each spoon onto the paper mache tree, using glue. Decorate with garlands.
7. Frozen Branches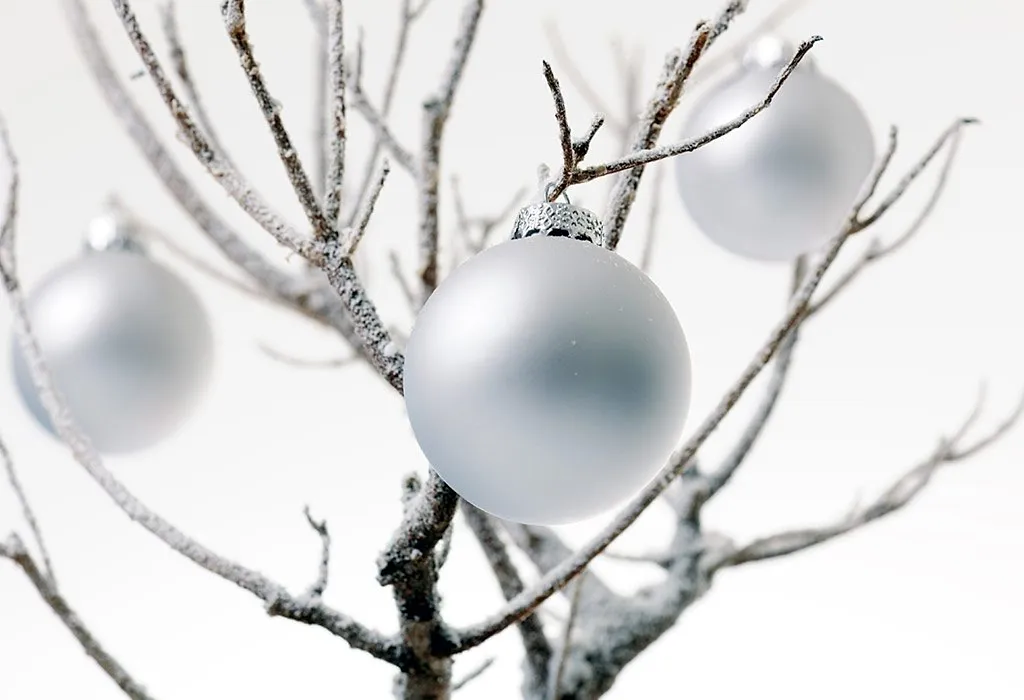 These DIY frozen branches are one of the prettiest Christmas decorations to make at home. Now, you can make your room look like a winter wonderland!
What You Will Need:
Branches of trees
Tacky glue
Plastic diamonds/silver-coloured chunky glitter
How to Do:
On a sheet of newspaper, place the diamonds or the chunky glitter. This will ensure they stay in one place for use.
Take the small branches and put some tacky glue on them.
Take these branches and roll them in diamonds or glitter. Gently shake off the excess and let them dry for about an hour. Keep doing it till all the sides of the branches are covered.
Your winter wonderland branches are ready!
8. Indoor Campfire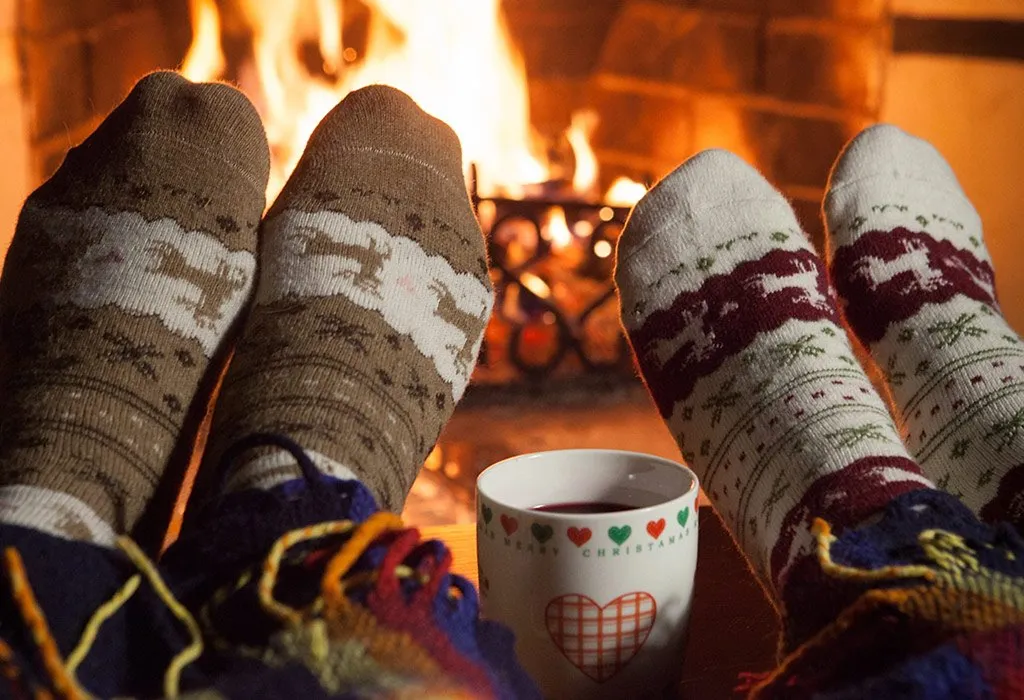 Christmas decoration ideas just got a lot better – imagine a beautiful campfire in the comfort of your own home! Here's how you can make it.
What You Will Need:
Lace strips
Tree branches
Aluminium foil
Fabric stiffener
Paintbrush
Yellow and red string lights
Rocks
How to Do:
Start by wrapping each branch with aluminium foil. This is done to ensure that the lace does not stick to the branches when it dries.
Take a strip of lace and apply a fabric stiffener. Make sure the strip is saturated.
Wrap lace around each branch, starting from one end to the other, and leave no spaces in between. Use as many laces as needed to cover the branches completely.
Do this for all the branches and let dry. Make sure all the branches covered with lace are completely dry.
After the laces dry off completely, pop the cast out, and take out the foil. Repeat this for all the branches.
Arrange the rocks to form a circle and fill the centre with string lights. Arrange the branches to form a cone. Plug in the lights, and watch your fireplace light up!
9. Bowtie Pasta Garland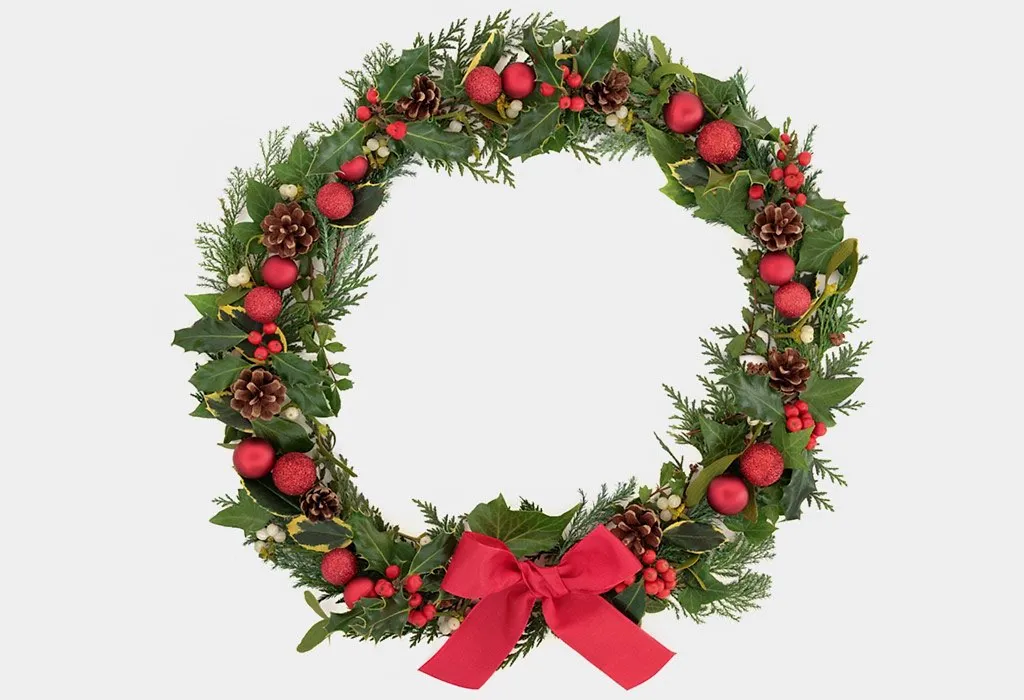 This cute DIY Christmas decoration is great to make with your little one!
What You Will Need:
Bowtie pasta
White glue
Paintbrush
String
Coloured glitter of your choice
How to Do:
Take the pasta and brush it with glue. Give it a thick coat.
Roll the pasta in the glitter of your choice and make sure it sticks. Allow the pasta to dry. Make sure all sides are coated well with glitter.
Tie them together using yarn or twine.
10. Honeycomb Wreath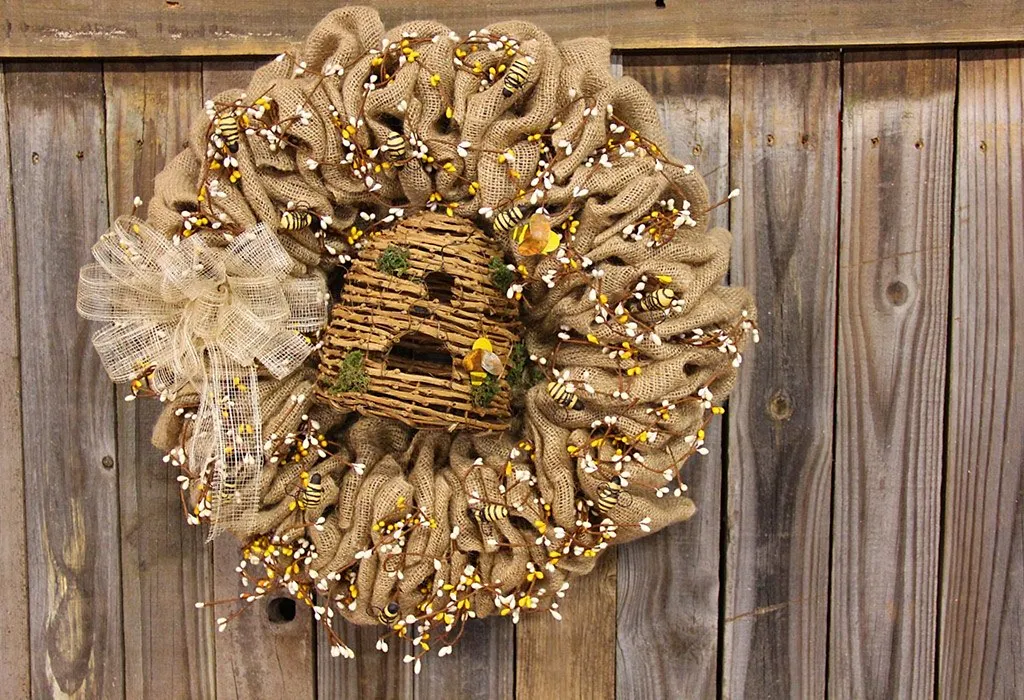 Looking for the perfect Christmas tree decoration ideas? This honeycomb wreath will amp up the look of your tree and give it a rustic charm. Here's how you can make it.
What You Will Need:
Paint
Glue
Colourful glitter of your choice
Mailing tubes of different girths
Bowl
Bells and ornaments
How to Do:
Cut each of the tubes into two-inch cylinders. You should be left with small cylinders of varied sizes.
Paint each of these cylinders in your favourite colours, and let them dry. Once dry, add a thick coat of glue on them and roll them in glitter. Tip: If you have painted one cylinder green, it would look best with green-coloured glitter.
Take a large-sized bowl and place it upside down. Place alternate-sized tubes with the sides touching each other around the bowl, and glue each of the cylinders by their sides.
Paste ornaments inside cylinders randomly by sticking them to one side of the surface. Your honeycomb wreath is ready!
11. DIY Fairy Lights Christmas Tree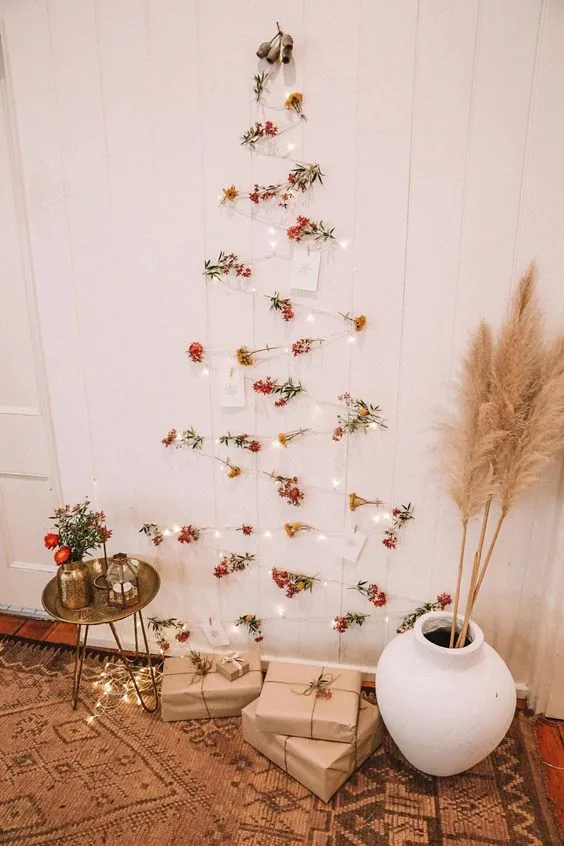 Source: Pinterest
While Christmas is incomplete without an actual, beautiful tree, you can create a miniature one for the kids' room to give your little one an extra happy vibe before the festivities begin. Here is a fun and easy Christmas tree decorating idea:
What You Will Need:
Fairy lights (long)
Tape
A pair of scissors
How to Do:
First, plug in the fairy light to the socket to figure out where you can create the tree.
Place the light horizontally on the wall and take it to one end. Secure it with tape. Follow a zig-zag path and continue securing the corners with tape till you reach the top.
Once you reach the top, you can place a bell or a star to complete the tree.
You can add carnations, bells, etc. to add a bit of flair to your tree.
12. DIY Christmas Door Bells
Bells have always been a part of Christmas tradition. The sound of the ringing of bells in the background can be heard in the carols and it is such a sweet sound, that nobody can get displeased by it. If the sounds are so good, then why not make it as a doorbell for this Christmas? Here's how to make this:
What You Will Need:
Mini bundt cake pans – 9
Ribbon – red
Ornamental balls – small size
Glue
Some green bushes
How to Do:
Stack 3 mini bundt cake pans on top of each other to give them the shape of a bell. Stick together with strong glue.
Make three bells with 3 cake pans for each.
Take the red ribbon and paste/tie small ornamental balls to one end. Now, hang the ornaments to the edge of bundt cake pans to create clappers and fix the other end of the cake pan. Do this with two more ribbons and glue accordingly in the other two bells.
Make three ribbon loops and three bows. Glue each on the top of the bells for hanging.
You can also add some swag of greenery if you like for decoration purposes. Now, hang the bells together on the door.
13. Salt Dough Ornaments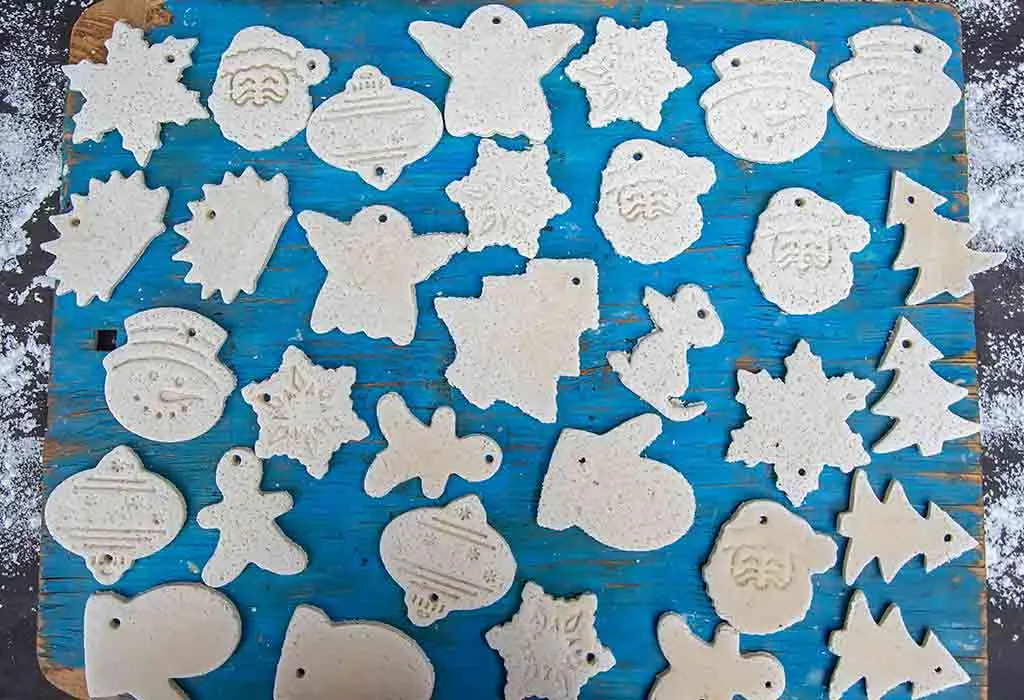 Salt dough ornaments are fun DIY decoration items to enjoy with kids. These are safe to make with kids, very engaging, and very creative. You can come up with unlimited shapes for your ornaments as well. Here's how to make it:
What You Will Need:
4 cups all-purpose flour
1 cup salt
1 and 1/2 cup of warm water
How to Do:
In a large bowl, mix flour and salt. Add water gradually and knead until the dough is firm and smooth. Do not add too much water. If you accidentally added extra water, then add in flour to bring to a proper dough-like consistency.
Set out wax paper, roll out the dough and cut desired shapes manually or using a cookie cutter.
Make a hole in the upper part of the ornaments for hanging.
Bake the creations at 300°F for about 1 and half hours until dry.
You can paint them as well if desire.
With these easy and fun Christmas decoration ideas, you and your family can have a gala time by sprucing the place up for the big day. Which one will you try out first? Let us know in the comments!
Also Read:
Creative Christmas Tree Decorating Themes
Awesome Christmas Cake Decorating Ideas
Best Christmas Gift Ideas for Everyone
?>