Homemade Oils for Hair – Get Strong and Beautiful Hair With DIY Oil Recipes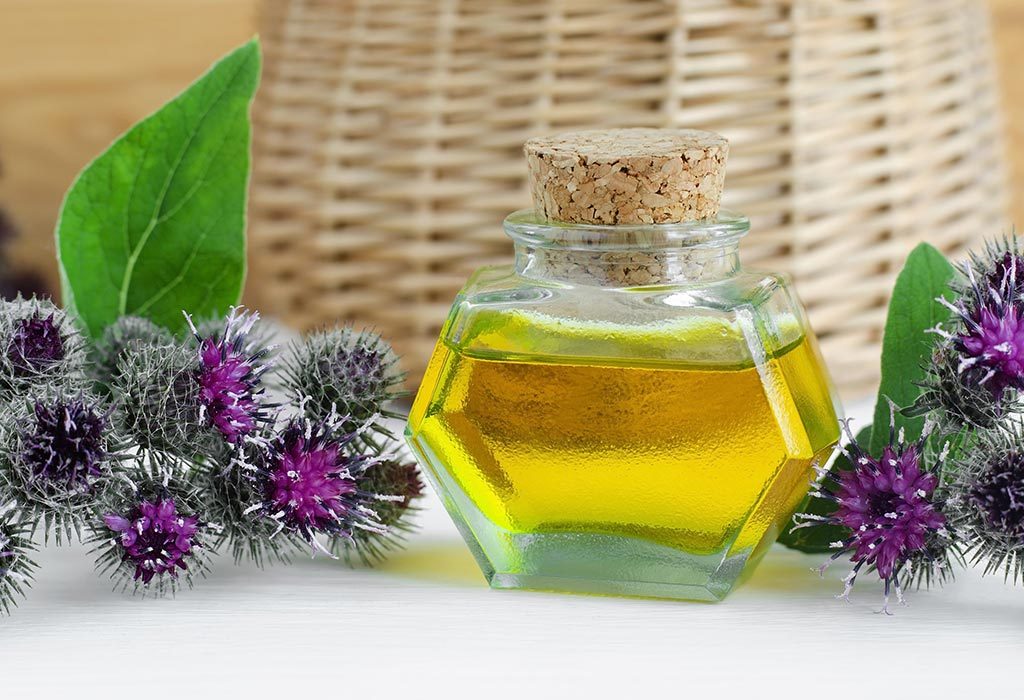 Is all the pollution making your nice, shiny hair worse? Do you have a problem of increasing hair fall? You might have tried many shampoos, conditioners and growth serums to address the problem but somehow your hair is just getting damaged further. You've seen that repeated visits to the hair salon are burning a hole in your pocket. Are you wondering if there is an alternative? Read on to find out!
During such times, it's always better to go back to basics and listen to what your grandmother always told you – 'oil your hair regularly'. Hair benefits greatly from a good oil massage, so these golden words are what will probably save your hair. The commercial hair oils you get in the market may contain chemicals or mineral oils which may be harmful to your hair. So why not try some of these homemade hair growth oils?
How to Make Oils for Hair at Home?
Try making these DIY hair oils which can help you cure common problems like hair fall, greying, damaged scalp and so on. Below are 5 recipes you can use to make natural hair oil at home:
1. Aloe Vera Hair Oil
Aloe Vera is something that has amazing benefits for the hair and will give you silky, lustrous locks. It also makes for a great hair oil for hair fall.
Ingredients
1 aloe vera leaf
Rosemary essential oil (or any other essential oil that you prefer)
½ cup of organic coconut oil
Method
Cut open the leaf into two halves and scoop out the aloe vera gel inside into a small bowl.
Mix ½ cup of this aloe vera gel with ½ cup of coconut oil. The ratio of aloe vera to coconut oil should be 1:1.
Heat this mixture on low heat for around 5 to 7 minutes.
Let it cool down completely. Once it's cool, add 5 drops of rosemary essential oil.
Pour the mixture into a dark bottle and store it in a cool place for around 2 weeks before use.
Benefits
This homemade aloe vera hair oil is a great oil for dandruff and hair fall prevention by soothing a dry, itchy scalp. It also increases hair growth, strengthens weak hair and nourishes and balances the pH level of the hair and scalp.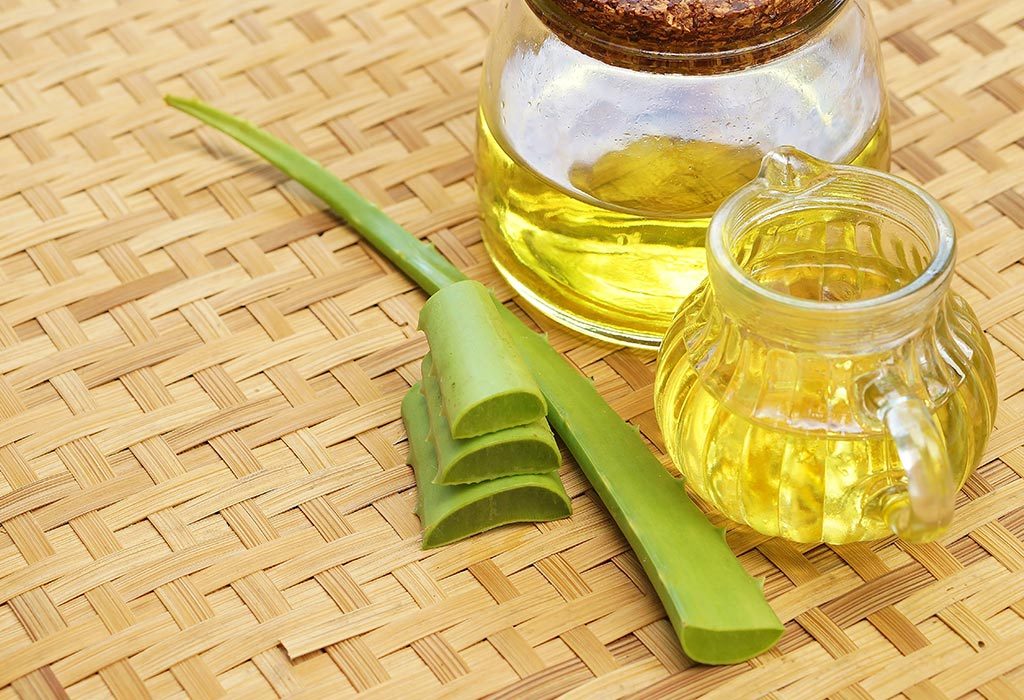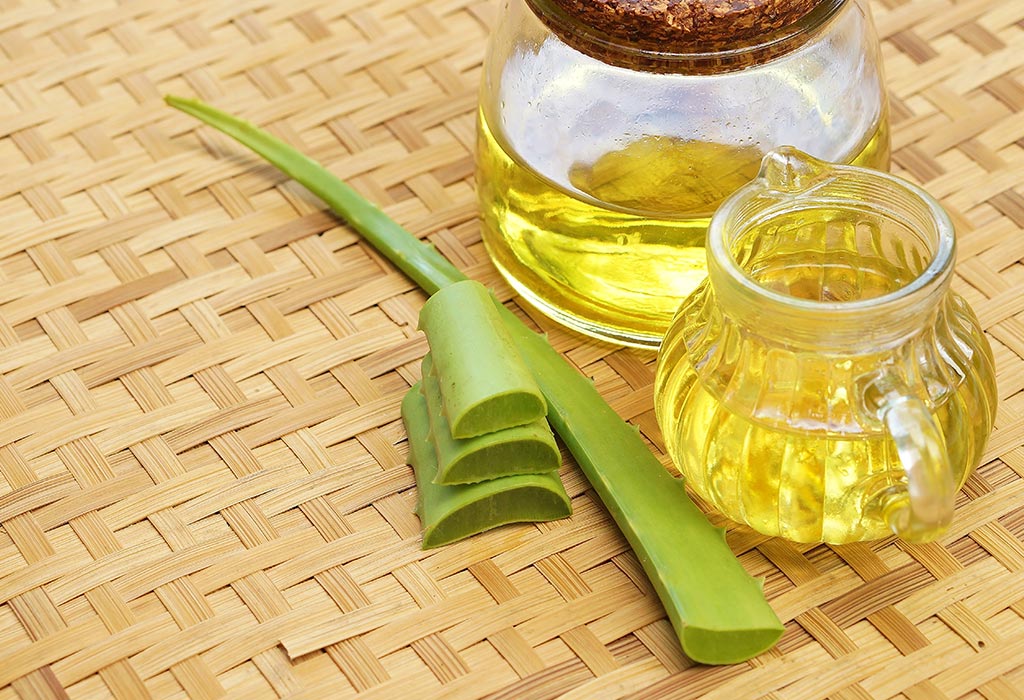 2. Amla Hair Oil
Amla or gooseberry is excellent for treatment of hair loss and is a restorative oil for premature hair greying.
Ingredients
4 tbsp extra virgin coconut oil
2 tbsp sesame oil
2 fresh amla
Method
Cut the amla fruit into four pieces and dry them in the shade for at least an hour.
Add the sesame oil, coconut oil and amla pieces to a small pan and heat the mixture on a low flame until it starts making bubbles.
Remove the pan from the stove and let the oil cool down. Pour it into a dark bottle and store the bottle in a cool place for a week before use.
Benefits
Homemade amla hair oil is the ideal oil for men and women suffering from hair damage, premature greying and hair fall. It boosts hair growth, provides a cooling effect on the scalp and eases stress. Regular application of this oil improves your hair flexibility and can make your hair darker, silkier and softer.
3. Hibiscus Hair Oil
Hibiscus is a miracle flower filled with Vitamin A, Vitamin C and other nourishing minerals that help hair growth and prevent hair fall and hair greying.
Ingredients
½ cup hibiscus leaves
2 hibiscus flowers
¼ cup organic coconut oil
¼ cup almond oil
Method
First, wash the hibiscus flowers and leaves under cold water. Dry them in the sun or using an oven.
Add coconut oil and badam oil to a pan and heat the pan. Carefully add the hibiscus petals and leaves to it.
Heat the mixture for 5 minutes on a low flame. Remove pan from the heat and let the mixture cool.
Use a sieve or strainer to strain out the oil and pour it into a dark bottle. Store the bottle in a cool place for a week. You will need to warm the oil slightly whenever you use it.
Benefits
This homemade hibiscus oil will help your hair get that luminous shine and will fight split ends and greying. It will also stimulate the growth of thick, dark hair, leaving it silkier and bouncier.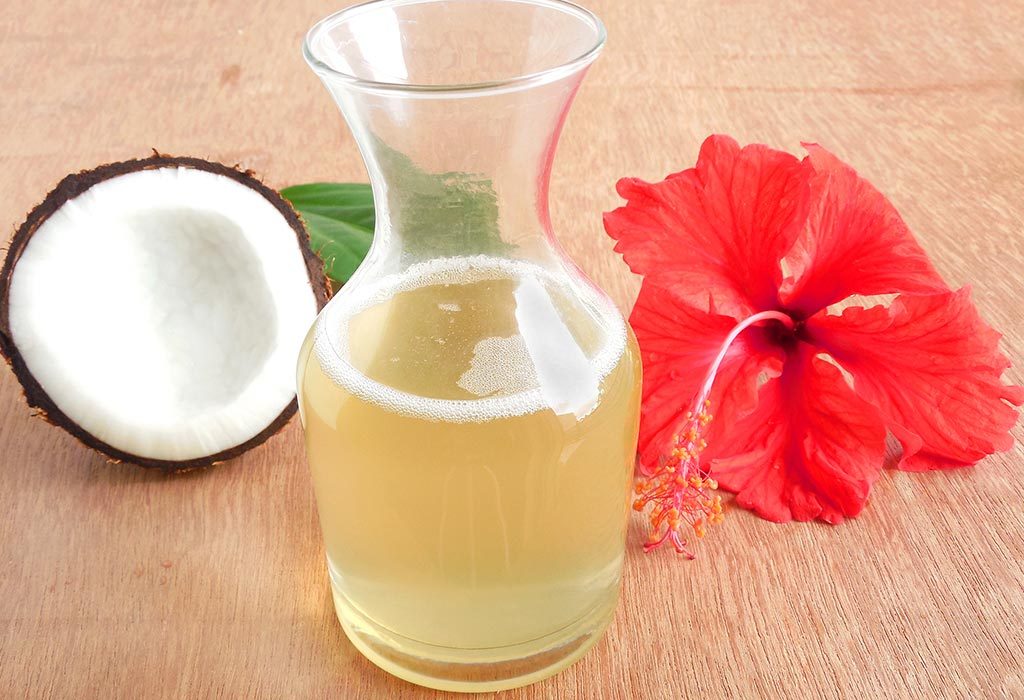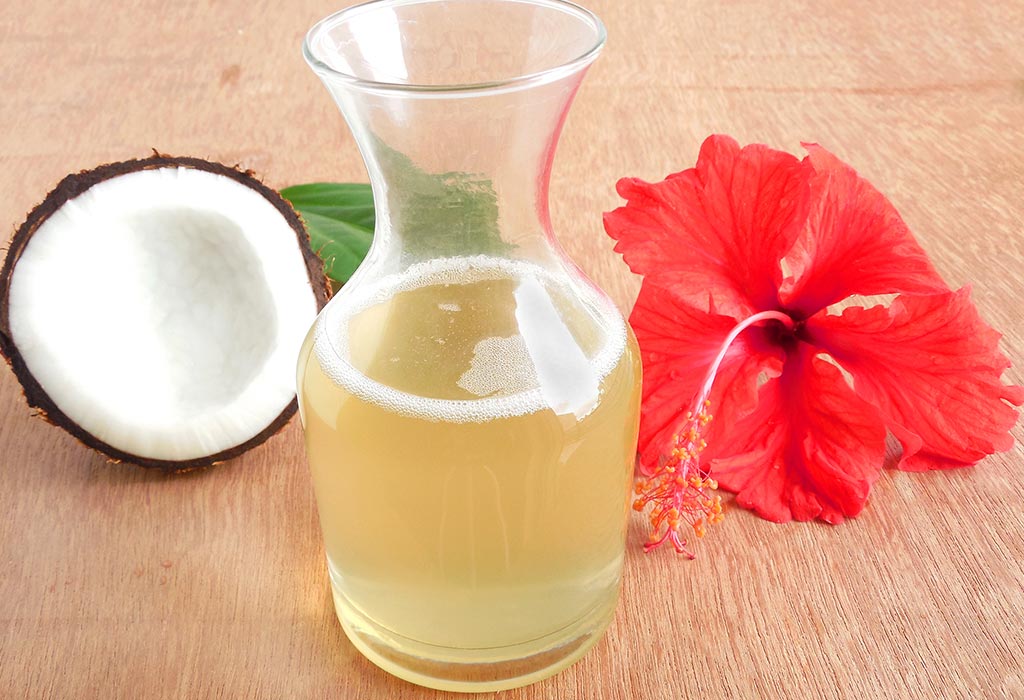 4. Onion Hair Oil
Onions have a high sulphur content and therefore helps treat a variety of hair problems along with promoting hair growth. It is also a good homemade hair oil for baldness.
Ingredients
6 tbsp organic coconut oil
2 cloves of garlic
1 small onion
3-4 drops of either rosemary or lavender essential oil
Method
Finely chop one small onion and add it to a saucepan along with the coconut oil and garlic cloves.
Heat the mixture under a low flame until it stops bubbling.
Let it cool down completely and add the essential oil.
Pour the oil into a bottle and store in the fridge for about 10 days.
Benefits
This homemade onion oil has cleansing and antibacterial properties that can help treat scalp infections. It also contains vital vitamins and minerals which strengthen hair roots, giving you strong and dense hair growth. Try this oil and get glossy, gorgeous hair!
5. Curry Leaves and Coconut Hair Oil
This DIY hair oil with curry leaves is getting popular for being a magical cure to treat hair fall and hair greying.
Ingredients
3 tbsp of cold-pressed coconut oil
A handful of curry leaves
Method
Heat the coconut oil and curry leaves in a small pan under low heat until a black residue forms.
Turn off the heat and let the oil cool.
Once cooled, pour the oil into a clean bottle and store in a dark place. Heat the oil slightly before the time you use it.
Benefits
This homemade curry leaves hair oil helps make your hair strong as it increases elasticity and flexibility. Curry leaves help restore the pigment melanin in your hair follicles, which is responsible for giving colour to your hair. It is also high in Vitamin B, which promotes healthy and luxurious hair growth, along with a nice smell.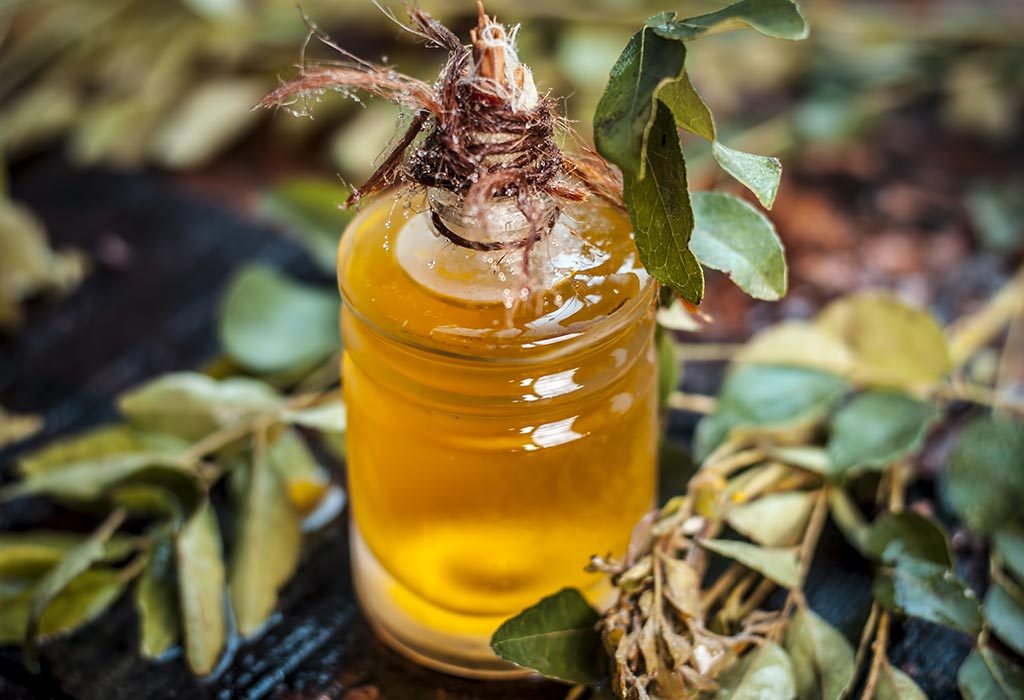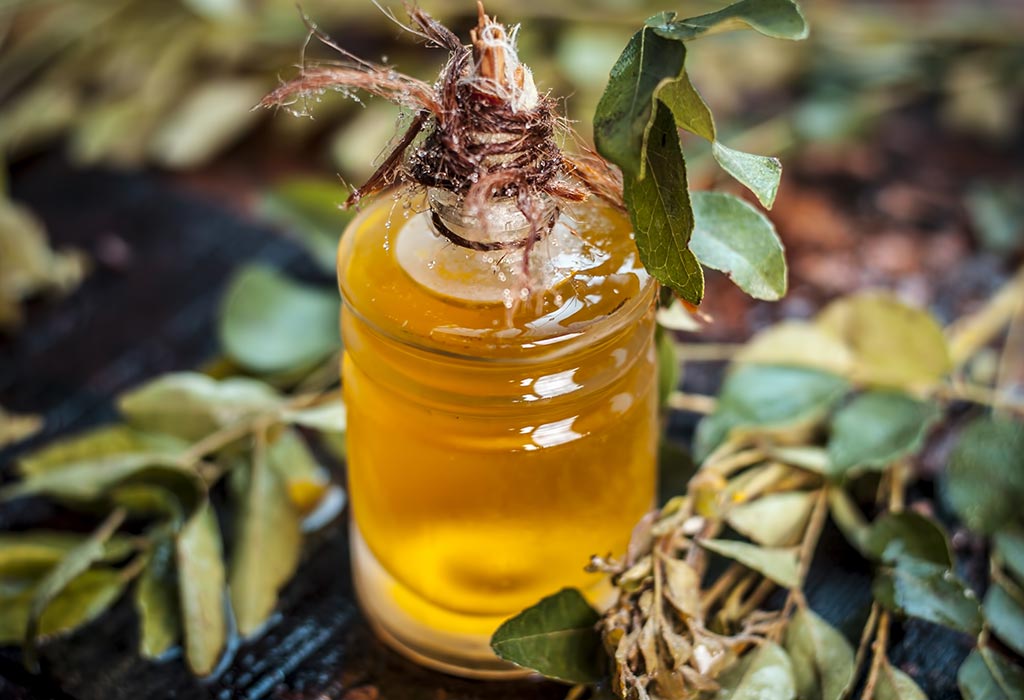 There are many other homemade hair oils you can make using ingredients like carrot juice and sesame oil, sage, grape seed oil, henna leaves and so on, all of which have great hair growth properties. You can combine and experiment to make your own healthy hair oil.
Precautions to Take While Preparing and Using Homemade Hair Oils
While preparing and using homemade hair oils, you need to keep in mind a few precautions. Below are a few you will definitely need to remember and follow:
Always stand away from the oil mixture when you heat it to avoid any hot oil from the ingredients splattering onto your skin.
Do not heat any of the oils beyond 350 degrees Fahrenheit as this destroys its nutritional value.
Make sure always to let the oils completely cool down before you handle them to avoid getting burnt.
Never overheat coconut oil.
Always store your homemade hair oils in a cool, dry place.
Prepare your hair oils in batches well in advance and store them so that you do not face a situation where you run out of your hair oil.
Try oiling your hair at the max thrice a week. Avoid washing your hair every day as that will strip it of its natural oils.
Finding a grey hair can be devastating, but don't let that get you down. Oiling your hair regularly is a fantastic way to keep your hair healthy and strong, and using homemade hair oils is a healthier option compared to anything you get in the market. Making homemade hair oil from scratch is not difficult at all; it just requires time and a bit of effort. With the recipes above, you can get faster hair growth, silkier hair, lesser greying, lesser hair fall and dandruff, stronger hair roots and a healthy scalp. So oil your hair regularly with these homemade hair oils and flaunt your silky tresses in style!
Also Read:
Onion Juice for Hair
Homemade Hair Masks
Incredible Benefits of Shikakai for Hair