Healthy Lunch Ideas for Babies
As a mother, coming up with lunch ideas for an 11-month-old baby is not always easy. You are quite busy taking care of the baby, and, the last thing you'd want is to figure out what to feed him constantly. Thankfully, we've made a shortlist that can get you started and introduce you to the world of pureed lunches.
What Should You Feed Your Baby for Lunch?
The baby's lunch is a pretty important meal for him,and, it makes sense to keep a large focus on proteins from lentils, curd etc.and nutrients derived from seasonal vegetables and fruits. Since babies have not tasted a large variety of flavors, giving them purees with different tastes can help them inculcate good eating habits, too.
Easy Lunch Ideas for Infants
Putting together a large variety of lunch purees for babies is quite easy once you understand the basic steps of each recipe. You can try out several combinations and learn what kind of tastes and flavors are preferred by your little one.
1. Cherry and Butternut Squash Puree with Flax Seeds
An extremely simple and quick recipe to put together, this one brings some interesting tastes in a single package, which will lap upyour kid in no time will lap up.
What You Need
Flax seeds, 1 tablespoon
Cherries, 1 cup
Half a butternut squash
How to Make
Start by taking the butternut squash and peeling it properly. Then remove the seeds and chop them fully. Next, put the pieces in a steamer and let them sit there for about 15-20 minutes until it softens.
Follow it up with the cherries and let them sit together for 5-8 minutes. Once done, take them out and let them cool down a bit.
Put those steamed pieces and cherries in a blender and add flax seeds to it. Run the blender to form a nice consistent puree, which you can then serve to your baby.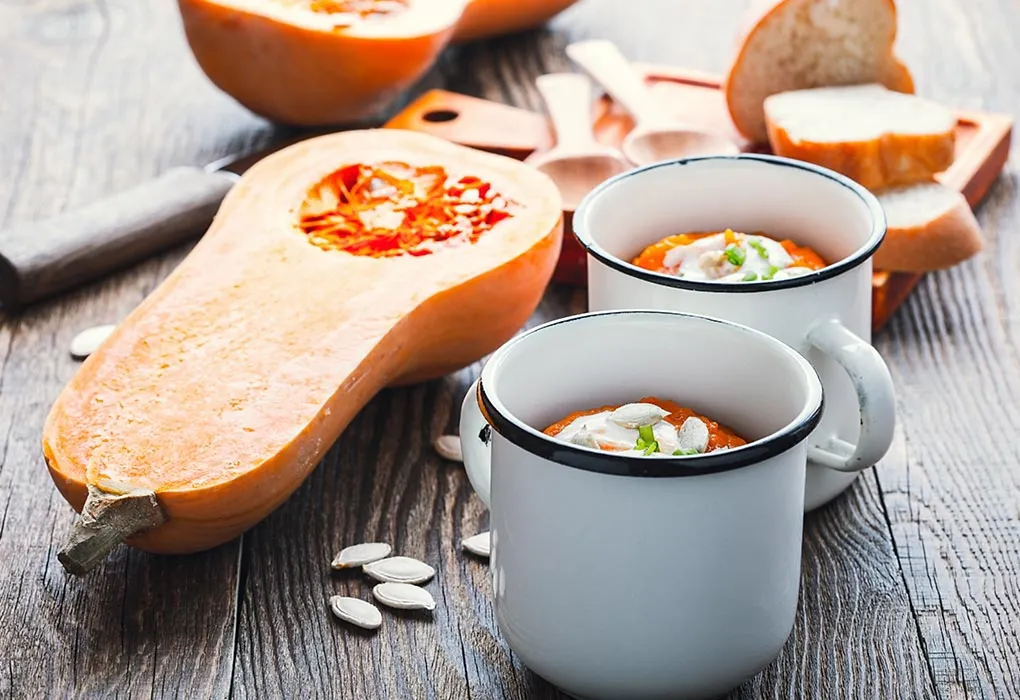 2. Cauliflower and Peach Puree with A Tinge of Ginger
Not only is this one of the healthiest purees you can give your little one for lunch, but it also has a spectacular taste of its own. This is usually given to kids closer to a year.
What You Need
How To Make
Cut the cauliflower into small pieces. Place these pieces in a steamer and let them sit there for about 7-10 minutes until they are properly cooked and soft.
Until then, pit the peaches and chop them up properly. Once the cauliflowers are done, add the peaches over them and let them sit in the steamer together for a few more minutes. Frozen peaches might have to sit longer.
Take them out and let them cool for a few minutes once they are cooked. Add them to a blender and put in the grated ginger as well. Blend it for a few minutes to make the smooth puree.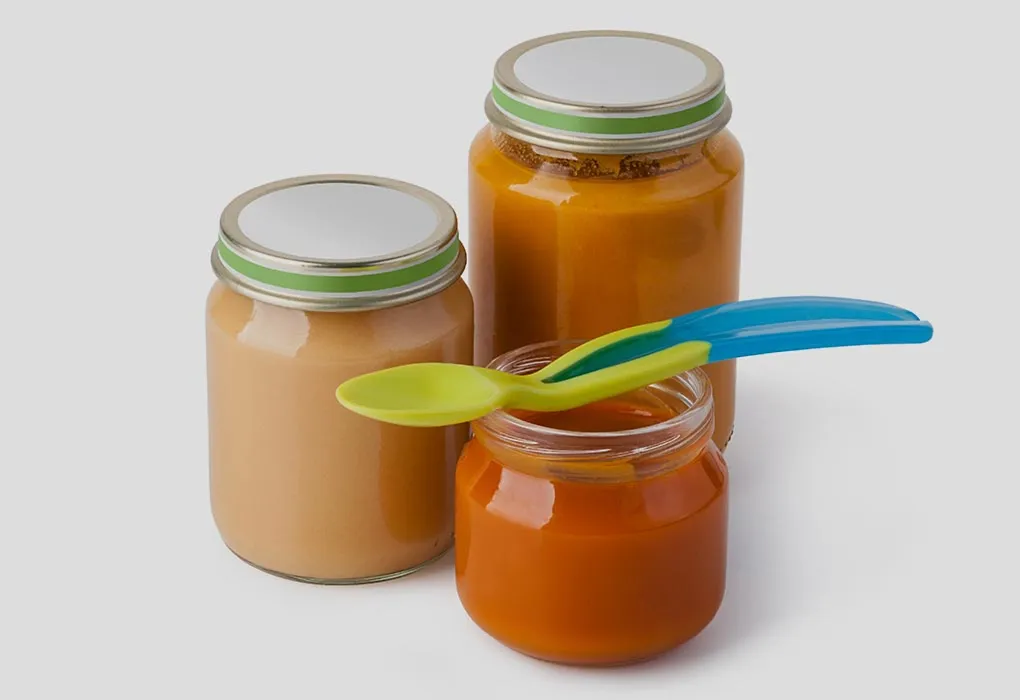 3. Asparagus and Broccoli Puree with Coriander
Doesn't this recipe sound delicious in itself? A lovely green puree whose taste is enhanced by the light touch of coriander is spectacular.
What You Need
Coriander
Two pears
Green beans, 1/4th cup
Asparagus, ½ cup
Broccoli, 1 cup
How To Make
Add water to a pan up to a level of 2 inches. Allow the water to boil.
Place a steam basket in the pan and place chopped pieces of beans, asparagus, and broccoli in it. Cover the pan and let them all cook together for about 15-20 minutes.
Once that's done, add chopped coriander and pieces of pear in the basket, cooking it further for 5-8 minutes. Later, remove the pieces and keep the water as it is.
Put all the steamed items in the blender and run it to form a puree. Add the steam water to thin it further, if needed.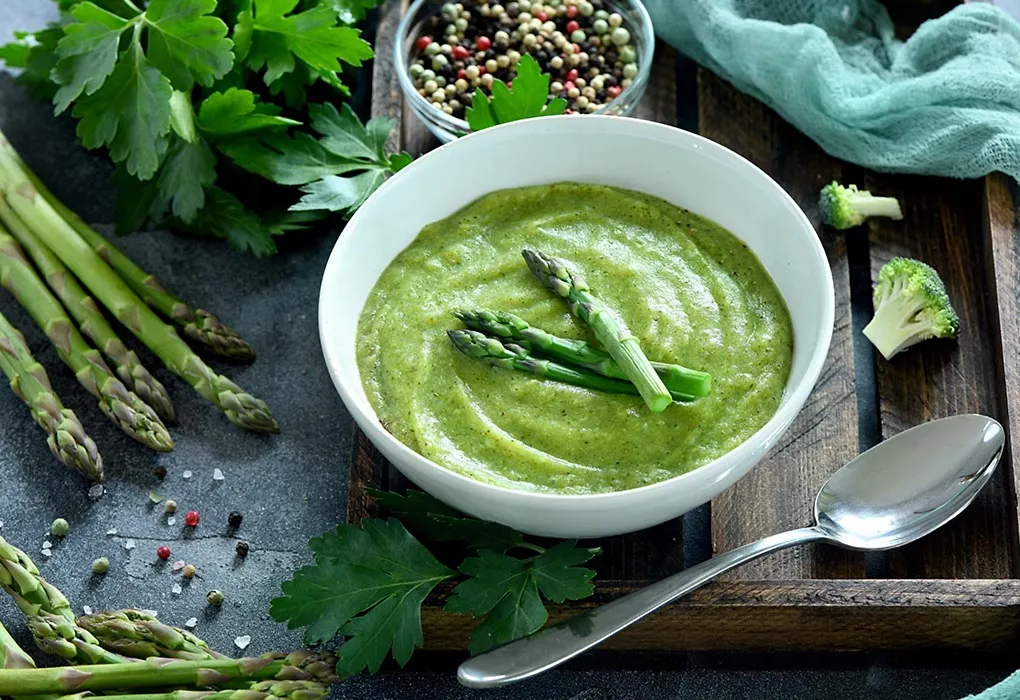 4. Carrot Pumpkin Chicken Puree with Ginger
Babies need a good amount of nutrition along with great taste once they start having food. This recipe can provide them with it all.
What You Need
Grated ginger, 1/4th teaspoon
Chicken breast
Half a pumpkin
How To Make
Begin by heating the oven to a temperature of 180 degrees. Line a tray with a baking sheet.
Remove the pumpkin seeds and chop them up. Do the same with the carrots.
Place these chopped pieces along with the chicken breast on the tray. Wrap up the carrots and chicken together in foil.
Slide the tray in the oven and let them bake for about half an hour.
Remove the chicken after that and let the pumpkins continue baking for another 15 minutes or so until they soften.
Allow everything to cool and peel the pumpkin skin. Chop the chicken into tiny pieces, too.
Put all the items in the blender, add a little water from the steamer, and run it to form the puree.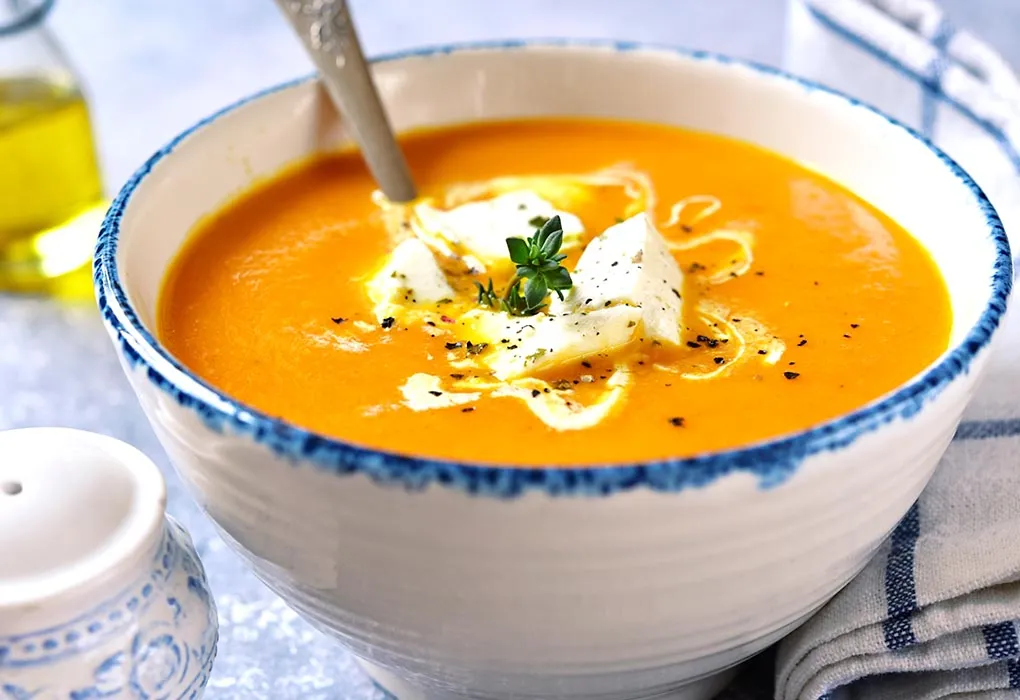 5. Apple Pea and Spinach Puree
This combination of fruits and vegetables carries with it a good proportion of calcium and proteins, along with many other vitamins.
What You Need
How To Make
Remove the cores from the apples and chop them up.
Put the pieces, along with peas and spinach,, in the steamer. Let them sit in it and cook for about 10-15 minutes.
Once done, take them out and let them cool down a bit.
Later, put all the items in the blender and run them to form a puree.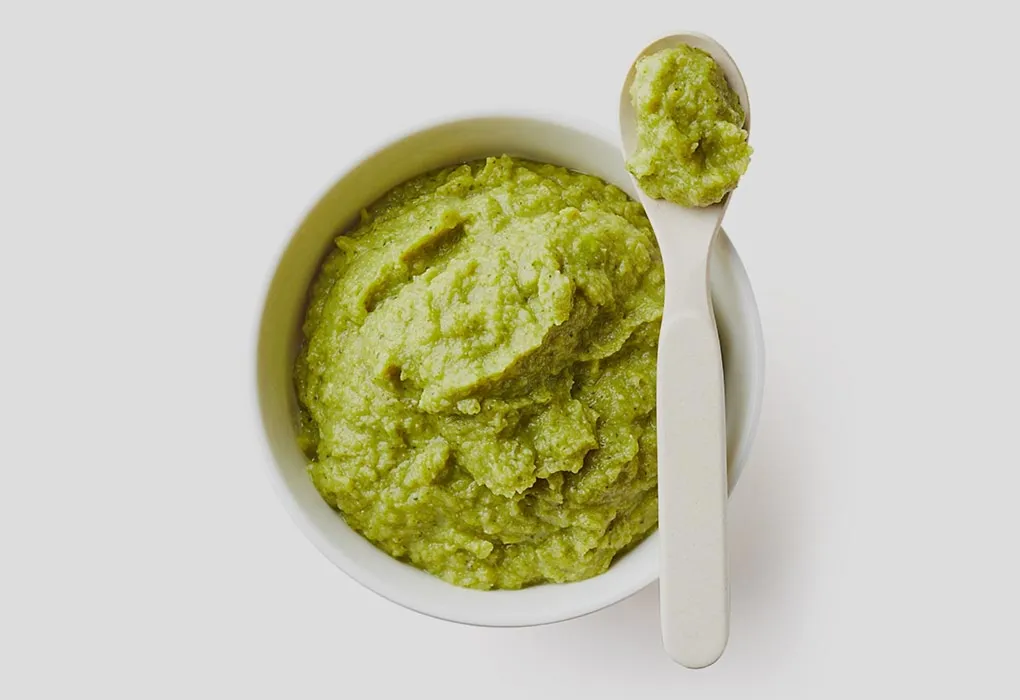 6. Avocado Blueberry and Banana Puree
This gorgeous-looking and delicious tasting puree takes just a few minutes to make.
What You Need
How To Make
All you need to do is put all the ingredients one after the other in a blender and run the blender for a few minutes to make the fine puree.
Use a spoon to scrape the fruit peels from the inside of the blender and add a spoonful of water to thin the puree, if needed.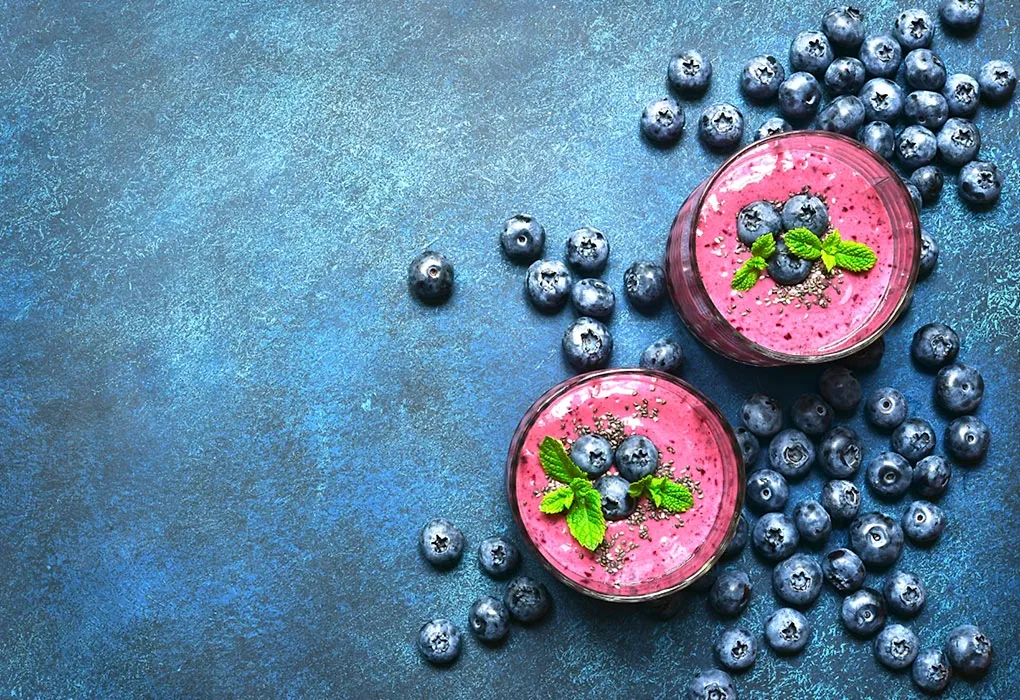 Making a list of lunch ideas for a 7-month-old baby doesn't have to be as overwhelming as it seems. By combining some interesting fruits and vegetables together, you can make purees that can keep your kid happy and healthy.
Also Read: Dinner Recipes for Infants