9 Hair Products to Beat Frizzy Winter Hair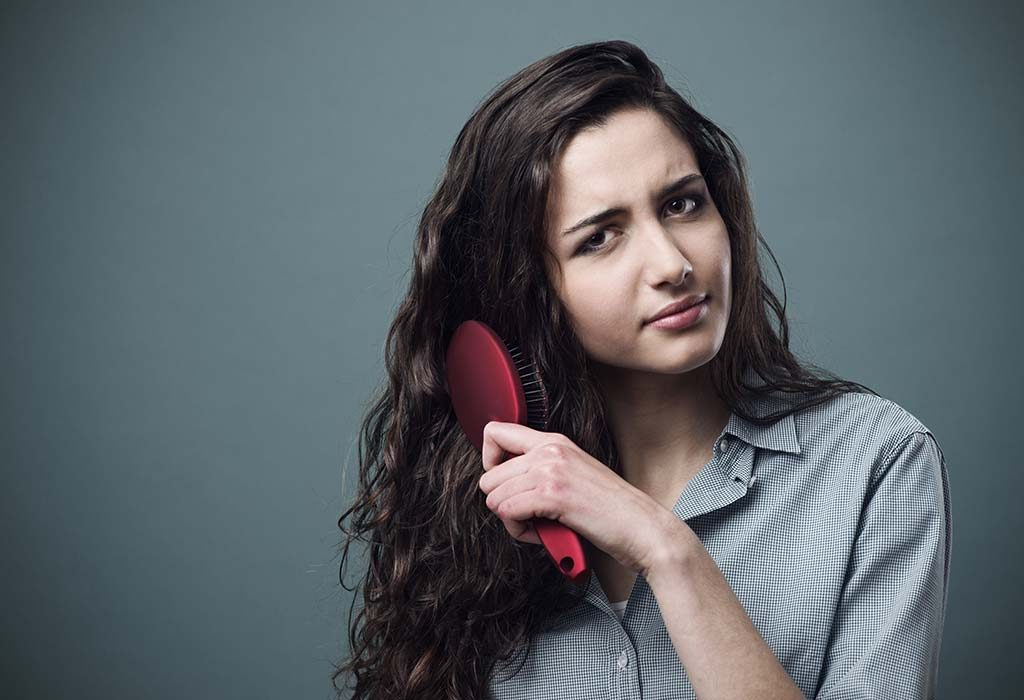 We all look forward to winters eagerly. The cool breeze, festivities, cute winter outfits, and winter foods make it almost everyone's favourite time of the year. But the winter season can also bring about hair-related problems. The cool breeze blowing outside may calm our soul, but not so much our hair. In fact, it damages our hair, making it dry and frizzy. The cold weather outside and the dry indoor heat damages the hair, resulting in split ends and hair fall.
Your dry and frizzy hair may seem unmanageable, but it is totally possible to manage. With the right products, you can tame your hair and make it healthy and lustrous.
9 Hair Products That Will Treat Your Frizzy Hair in Winters
Here are a few shampoos, serums, and oils that you should use, particularly in winters, to treat your frizzy hair.
1. Matrix Biolage Ultra Hydrating Shampoo
Matrix Biolage Ultra Hydrating Shampoo is made with algae extract, wheat germ oil, and sage leaf extract. This shampoo hydrates the hair and prevents hair fall. It moisturises the hair and can be used for coloured or chemically-treated hair too. Use this paraben-free shampoo with a good conditioner to get soft and shiny hair.
PRICE: INR 205 for 200 ml
2. Garnier Ultra Blends 5 Precious Herbs Revitalising Shampoo
Garnier hair products are not new to us – we have been using them for quite a long time now. The new Garnier Ultra Blends 5 Precious Herbs Revitalising Shampoo is another great product that will nourish your hair, making it healthy and shiny. This shampoo contains 5 herbs – green tea, lemon, eucalyptus, henna, and aloe vera. For bouncy hair and a healthy scalp, use this shampoo, along with its corresponding conditioner.
PRICE: INR 125 for 175 ml
3. Herbal Essences Hello Hydration Shampoo
Although this shampoo is on the costlier side, it has become popular among many people owing to its nourishing properties. This shampoo is popular for its sweet and fruity fragrance, and also because it nourishes the hair, making it soft and silky. With the goodness of coconut and orchids, this shampoo will make your frizzy hair soft and manageable. Furthermore, it is free of parabens, mineral oils, and gluten – so there's no chance of damage to your hair.
PRICE: INR 1322 for 300 ml
4. Matrix Biolage Smoothproof 6-in-1 Smoothing Serum
Matrix Biolage Smoothproof 6-in-1 Smoothing Serum is another product that works well for dry, frizzy, and dull hair. This serum is made of grapeseed oil, avocado, and polymers, which are perfect to fight frizzy hair. Its light and non-sticky texture will make you like it even more. Take a small amount of this serum on your palm, apply it evenly on damp hair, and style your hair as you like it. This is an instant solution for frizzy hair.
PRICE: INR 295 for 100 ml
5. TRESemme Smooth & Shine Conditioner
If you have dry and frizzy hair, washing it with shampoo will not be enough. You'll need a hair conditioner to set your dry hair in place – enter, the TRESemme Smooth & Shine Conditioner! This conditioner contains Vitamin H, Moroccan Argan oil and silk proteins which moisturise dry hair. The silk proteins and Vitamin H leave your rough hair feeling smooth and soft to the touch. Leave this conditioner in your hair for 2-3 minutes after you wash off your shampoo, and rinse. Your frizzy hair will no longer be frizzy!
PRICE: INR 187 for 190 ml
6. Aveda Smooth Infusion Nourishing Styling Creme
If you are ready to overlook the hefty price and can invest in an effective product to treat your frizzy hair, choose this styling creme. This nourishing styling creme controls frizzy hair throughout the day and seals in moisture in your hair. This product is also suitable for all hair types.
PRICE: INR 2150 for 250 ml
7. Parachute Ayurvedic Hair Oil
Parachute oils need no introduction. We have been using Parachute coconut oil since time immemorial and it has almost always been the evergreen solution for all our hair-related problems. It is one of the oldest brands in hair oils and undoubtedly, worth the trust. The new Parachute Ayurvedic Hair Oil is perfect to take care of your frizzy hair during winters. Furthermore, this will solve your other hair-related problems too – dry scalp, dandruff, hair fall, etc. Use this oil to nourish your dry scalp. If you are wary of using this oil for its infamous 'greasy look', apply it before going to bed, and wash your hair the next day.
PRICE: INR 40 for 45 ml
8. L'Oréal Professionnel Mythic Oil
Who says only shampoos and serums can treat frizzy hair? The right oil can tame your hair just as well! This Mythic Oil by L'Oréal Professionnel will get absorbed into your hair without making it look greasy. You can apply the oil along the length and to the ends of your hair and your hair will be ready to shine. Although this oil may seem a bit too expensive, it is worth the investment.
PRICE: INR 980 for 100 ml
9. Moroccanoil Treatment
This is a star product as it contains argan oil. This oil will help detangle, de-frizz, and strengthen your hair. Moroccanoil Treatment can be used for conditioning, styling, and finishing. Although it is good for all hair types, it works particularly well for those with dry and damaged hair. Use this product to condition your dry, frizzy hair, and to treat split ends. Yes, this treatment can be an expensive affair, but it's very effective!
PRICE: INR 3150 for 100 ml
Note – If you find this product too expensive, then you can go for its alternatives. You can choose other oils containing argan oil, that are comparatively cheaper than Moroccanoil Treatment. A few options include OGX Moroccan Extra Strength Penetrating Oil and XPEL Argan Oil – Hair Treatment.
Tips to Take Care of Your Hair in Winters
Here are some tips that will come in handy to tackle your hair problems during winters. With these tips and the right products, you can take care of your hair and restore its shine.
1. In the winter season, your hair and scalp may become dry very easily, and using blow dryers can worsen their condition. So, avoid using blow dryers or hair straighteners.
2. Do not wash or shampoo your hair too often during the winter season (even if you're using one of the products mentioned above), as it will strip your scalp of its natural oils. Also, while washing your hair, use lukewarm water instead of hot water, as hot water makes the scalp dry and flaky, and your hair, brittle.
3. Avoid brushing your hair excessively, as excessive brushing leads to hair fall.
4. Cover your hair with a scarf when you go outdoors so that it stays protected from the cold winds and polluted air.
These were some of the products that can repair dry and frizzy hair in winters and lock in the moisture in your hair. Choose the right product depending on the condition of your hair as well as your budget. If your hair is beyond manageable, take extra care of it with homemade hair masks and a healthy diet. Winter is a wonderful season; don't let your frizzy hair let you down. Use one of these products and take good care of your hair to retain its softness and shine.
Disclaimer: The price of the products mentioned above are subject to change. So check on different platforms before buying.
Also Read:
Homemade Honey Hair Packs for Lustrous Hair this Winter
How to Make Oil for Hair at Home
Clever Ways to Use Coconut Oil for Gorgeous Hair