Hacks to Turn Your Old Clothes Into Brand New Ones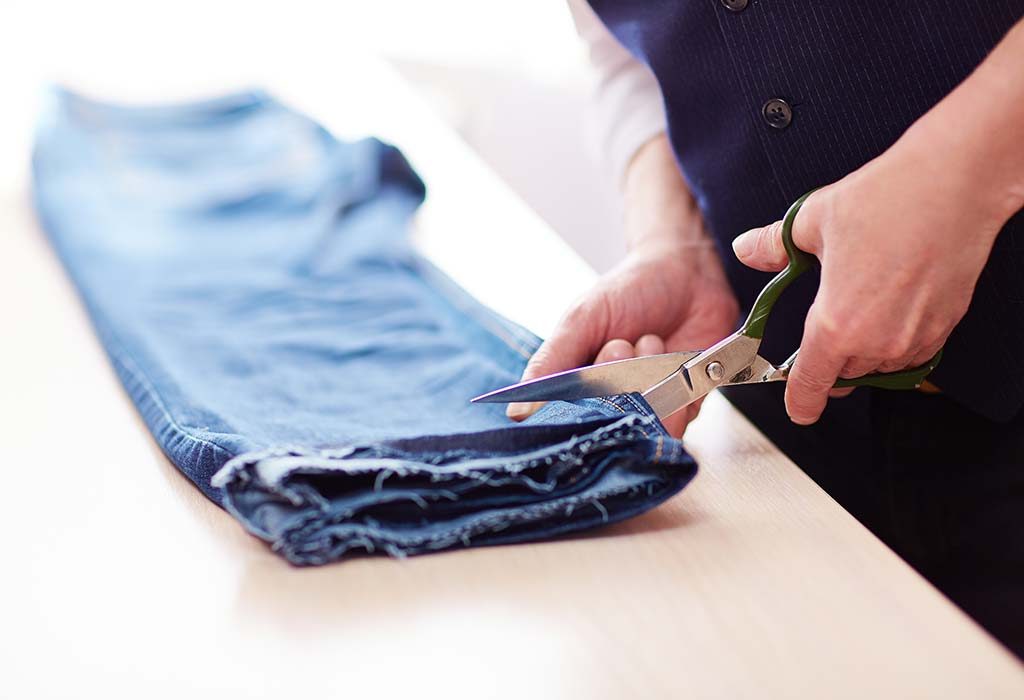 In this Article
Let's face it, we all have those days when we finally decide to reorganise and clean our cupboards, and end up with a bunch of old clothes which we either donate or give as a generous gift to our maids. But we also have those times when we find ourselves saying things like "I have nothing to wear!" or "I need to buy more clothes, but it's the end of the month, and I have no money left!" So we've decided to help you out and have come up with a solution for your whole 'lack of clothing options' situation. Most of us have worn-out t-shirts, a jacket with a hole in it or jeans with tattered bottoms and we love them, but we have to get rid of them. But they still have a lot of good material, and it just seems a shame to chuck them out. Well, now you don't have to! With a little customisation and craftiness, old clothes can be revamped and can be made into some pretty eclectic clothing. So now, your next wardrobe cleaning spree will not only get your cupboard organised, but will also help you to get new clothes without burning a hole in your pocket!
8 Simple Hacks to Make New Clothes Out of Old Ones
Worn-out clothes? Don't throw them away! Instead, learn how to upgrade your clothes and revamp your wardrobe. Sometimes, you just have to make do with what you have instead of buying more, and in some cases, that actually turns out to be a pretty great thing. Apply some of these cool DIY clothing ideas to your wardrobe. With the help of these hacks, you can turn your old clothes into new chic and stylish pieces.
1. A Small Slit Does Wonder
Have a loose kurta or t-shirt that looks too big on you and covers up your beautiful curves? Cut the t-shirt or kurta from the midsection in a vertical straight line and there you go! You have a brand new long shrug that you can pair with almost everything. Easy-peasy right?
2. Take the Indo-fusion Path
Wear your dull and boring A-line Kurtis or Anarkalis like flowy, ethnic maxi dresses. It is the ideal indo-western fusion. Ditch your churidars and palazzo pants with your suits and you have a new maxi dress ready to wear from your closet. You can try this hack out with long Kurtis without slits as well. Wear them with gladiators for a cooler look.
3. Crochet Your Denim Jacket
The next time you find a hole near the arms of your favourite denim jacket, don't discard it. For this hack, you'll not be needing the cuffs of your jacket so just cut them off and make sure you cut them out in an equal straight line. Get a sheet of beautiful, white crochet fabric from the market. Cut out two equal circles from the fabric and stitch them as arm cuffs to your jacket. Voila! You have a brand new denim jacket with beautiful crochet sleeves.
4. Boring T-shirt Goes Choker Style
Do you often come across a boring, old plain round neck t-shirt that you never wear because you find it to be dull? Well, we have a solution which will give your drab t-shirt a fantastic makeover. Cut out a 'V' just beneath the neckline and make sure you cut leaving the band of the round neck t-shirt so that it looks like a choker collar. Make two tiny slits on both the arm sleeves and tie them up into small, cute knots. There you go! You just transformed your boring round neck t-shirt into a cool choker top with knot detailing in the arms. Pretty fancy, huh!
5. Mend Your Jeans the Retro Way
We all have that pair of jeans which we have worn multiple times, and now they just look shabby because they have got frayed at the bottom. No problem! This hack will not only get rid of those frayed ends but will also revamp your jeans and make them look as if they've just come out of a '90s magazine. Cut out the ends of your jeans which are frayed and tattered. After you've gotten rid of the ends, make multiple 2-inch vertical cuts to give them a fringed look. Take a tweezer and distress the loose threads to give it an authentic fringed feel. Dip the ends of your jeans into bleach and keep them for about an hour. Leave them out to dry, and voila! Now you have a new pair of ombre jeans with acid-washed fringed ends. Major retro feels, right?
6. Onesie + Old Tshirt = New Dress
This hack is perfect for you if you have a baby in the house. We all know that babies grow at a rapid rate and we end up having so many of their outgrown clothes which we have to discard mercilessly. No, you don't have to do that anymore! For this clothing hack, you'll need your baby's old onesie and a plain t-shirt of yours. Cut the lower half of the onesie, leaving the part which looks like a top. Then, cut away the upper half of your t-shirt so that it looks like a skirt. Stitch the upper half of the onesie and the lower half of the t-shirt and make sure the stitching is quite stable. You have a brand new pretty dress for your baby girl.
7. Husband's Old Shirt Goes Girly
Discarding an old shirt of your husband's? No! Not when it can be a brand new top for you! Cut out the sleeves from the shirt because this piece is going to be a sleeveless one. Cut out a deep, long 'V' at the back of the shirt. Get a sheet of crochet fabric from a craft store and cut out an identical 'V' from the crocheted cloth. Make sure the 'V' on the shirt and on the crocheted sheet are of the same measurement. Stitch the crochet 'V' onto the back of the shirt, and you're done. You're going to end up with a stylish sleeveless top with a sexy crochet back. Who knew your husband's shirt could be of so much use to you!
8. Old Sweater into a Cowl Scarf
Did you know that your old sweater can be made into a uber cool cowl scarf which will not only keep you snug and warm but will also help you achieve major accessory goals? Cut the torso of the sweater in a straight line from armpit to armpit and make sure you cut it equally and carefully. Make a few creases on the inner side and stitch them up so that it doesn't cover up your entire top when you wear it, and also makes you feel snug at the same time. This way, the scarf will look more compact and can be worn as a great winter accessory.
We're sure by now you know that there's no such thing as waste – just bits and pieces of old clothing waiting to be transformed into something new, trendy and stylish. The next time you go on a cleaning spree, you can use these cool DIY clothing hacks to turn your old clothes into something fancy that you can wear every day.
Also Read:
How to Reuse an Old Saree in a Creative Way
Tips for Wearing Jumpsuit with Style
Quick Tips for Dressing Up Your Jeans