Grilled Veg Panini Sandwich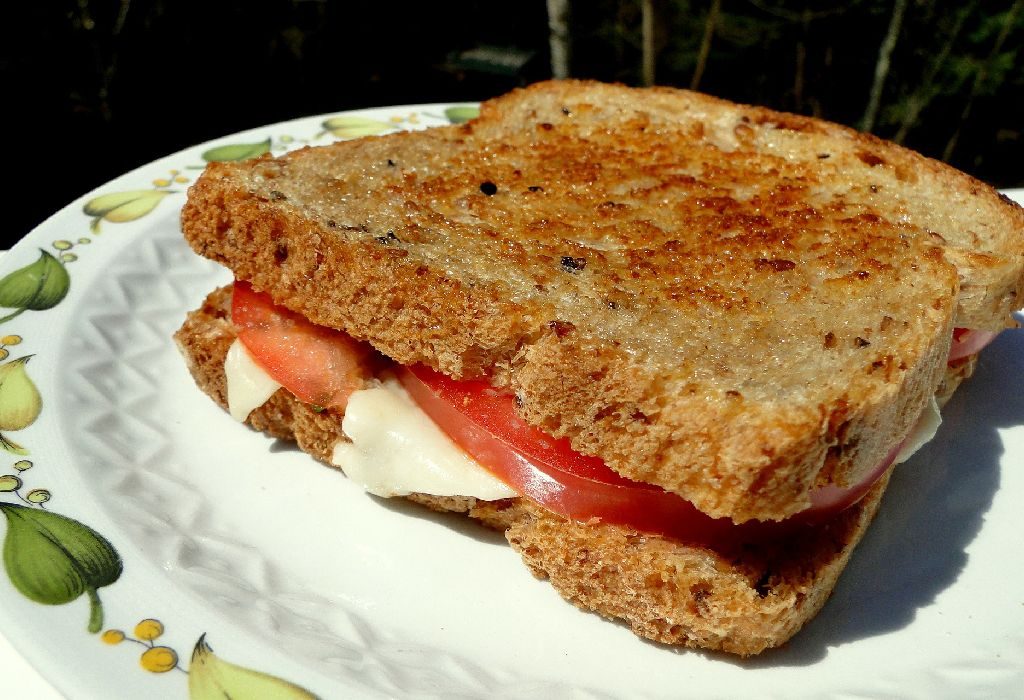 In this Article
Its the uniform heat of a panini press or the weight you'd keep on your regular griller that would give a Panini sandwich its crispiness. So to say, a sandwich may seem like a super obvious recipe – just arrange the veggies – grill, toast or roast it – and you have your sandwich ready. However, the trick and the art of making a good sandwich rests in how differently you execute these simple steps, and we bet our panini sandwich recipe is truly different. Try it and let us know!
| | | |
| --- | --- | --- |
| Serves | Preparation Time | Cooking Time |
| 4 People | 15-20 Minutes | 20-25 Minutes |
Ingredients
4 slices of Panini bread(home-made or store-bought)
1 cup mozzarella cheese, shredded
1 small eggplant, peeled and sliced lengthwise into 1/4-inch thick roundels
2 small green bell peppers, seeded and quartered lengthwise
1 medium zucchini, sliced lengthwise into slabs 1/4-inch thick
1/2 onion, sliced thinly
1 tsp salt
1/2 tsp dried oregano
1/4 tsp ground black pepper
2 tsps tomato strips
Method
Step 1
Keep a grill for heating. Arrange it on medium-high heat.
Step 2
Cut the loaf of Panini bread lengthwise. Keep the thickness of the slice to about ¼ inch.
Step 3
Apply a little basil pesto on one side of the bread and keep aside.
Step 4
meanwhile, place the eggplant roundels, bell peppers, zucchini and onion on the griller and let it grill for about 3 – 5 minutes. The veggies should develop the golden grill lines on them.
Step 5
Sprinkle some cheese on the other slice of bread and arrange the grilled veggies. Cut the veggies if required to fit the into the sandwich properly.
Step 6
Top with the pesto-spread slice of bread and transfer the sandwich to the griller.
Step 7
For a Panini sandwich, you need to apply heavy weight for e.g. – a brick (wrapped in cloth or aluminium foil), on the griller and let the sandwich be for 3 – 5 minutes.
Step 8
Once the grill lines develop, remove the sandwich, cut them diagonally and serve hot.
Nutritional Information
Serving Size 1 serving (173 g)
| | | | |
| --- | --- | --- | --- |
| Calories | 350 | Calories from Fat | 108 |
| Total Fat | 12 g 18% | Saturated Fat | 4.5 g 22% |
| Polyunsaturated Fat | 0 g | Monounsaturated Fat | 0 g |
| Cholesterol | 25 mg 8% | Sodium | 770 mg 32% |
| Carbohydrates | 48 g 16% | Dietary Fiber | 4 g 16% |
| Sugars | 5 g | Protein | 13 g |
| Vitamin A | 2% | Vitamin C | 40% |
| Calcium | 15% | Iron | 20% |
*Based on a 2000 calorie diet