Get Beautiful Feet With Easy 9 – Step Home Pedicure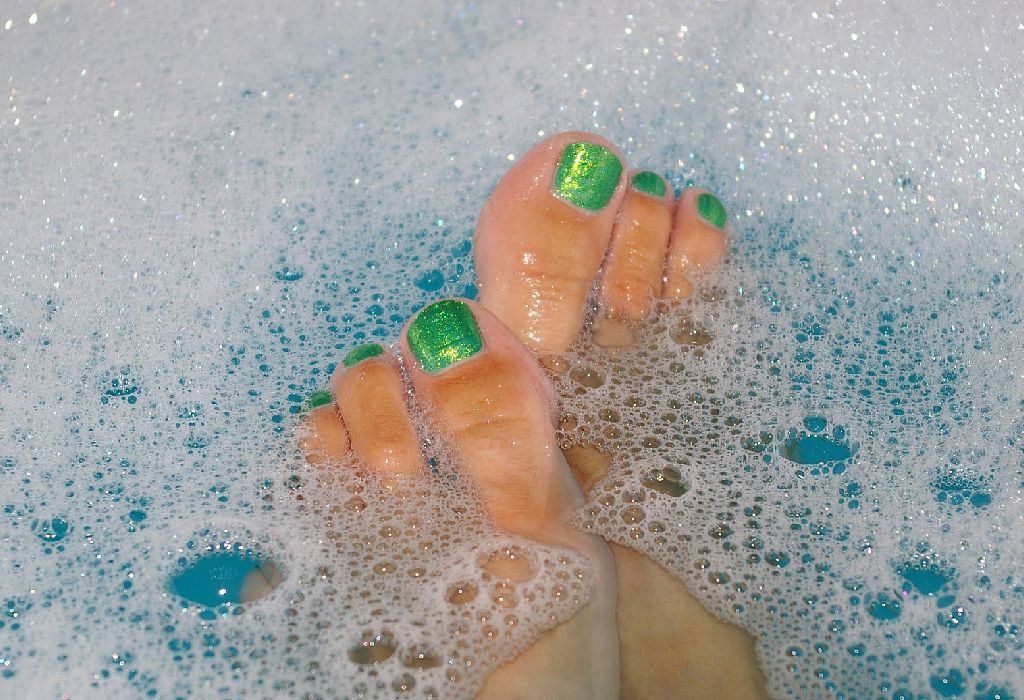 In this Article
Imagine you're dressed in your best but one look at your feet and all your efforts go to waste. Well, feet need just as much attention as your face, hair and hands. You can easily take care of them by learning how to do a pedicure at home.
Your feet take you places — literally! You stand on them for long hours, run around after your children, shop and dance! No wonder they look so tired. They could definitely do with some pampering. If your busy schedule doesn't give you time to go to the salon, give your feet a pedicure at home!
Learn How to Do Pedicure at Home Step By Step
1. Remove Nail Polish
The first thing you need to do before starting a homemade pedicure is to remove nail polish. Try using an alcohol-free remover as the ones with alcohol have a tendency to strip your nails of moisture. However, you might find that they aren't very effective at cleaning dark nail polish.
2. Shape Up
The next step of an easy pedicure routine at home is to trim and shape your nails. Use a nail cutter and trim them straight across. Use a nail file to remove uneven edges. Make sure you file them uniformly and in one direction. Once you're done, use a nail buffer to shine your nails.
3. Soak Your Feet
Give your feet a good soak for at least 15-20 minutes. While doing a pedicure at home, fill up a basin with warm water and add a cup of warm milk to soak your feet. It'll soften dead skin, making it easy to slough. You can also add epsom salts and aromatic oils.
4. Take Care of Your Cuticles
A DIY pedicure at home calls for special attention to the cuticles. Use a cuticle cream on the base of the nails and leave it on for a few minutes. With a tissue or a piece of cotton wool, wipe it off, gently push your cuticles back and remove any dead skin accumulated at the point where the nails meet the skin.
5. Scrub
As part of your pedicure, use a gentle foot sponge to scrub from your feet. You can use a pumice stone or a foot file, and a soft brush to scrub your toenails. Rinse in cold water and wipe them dry.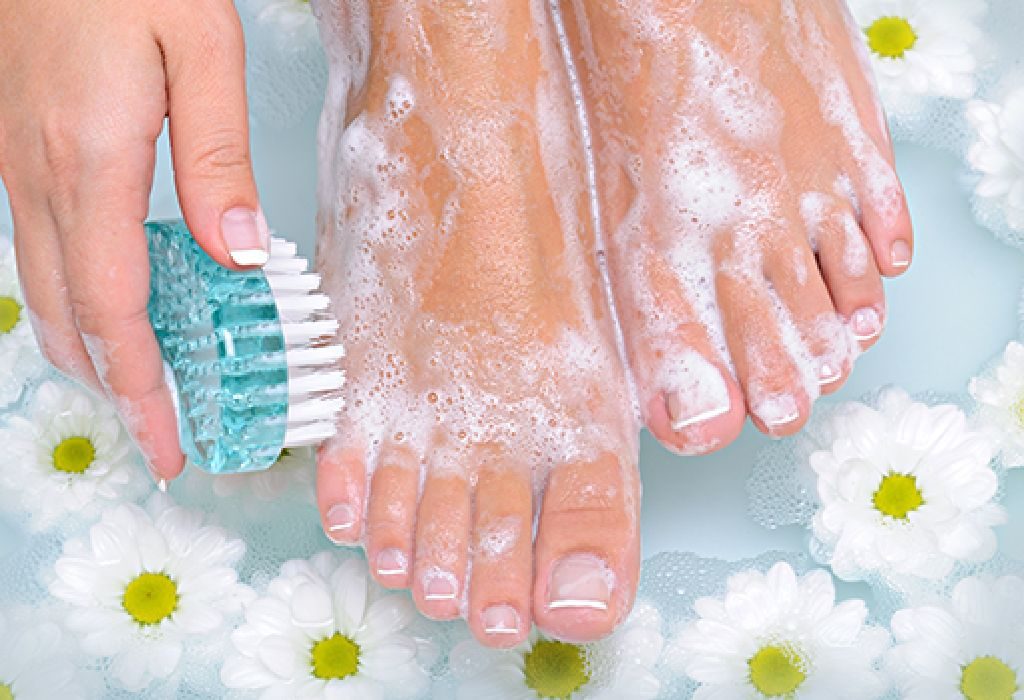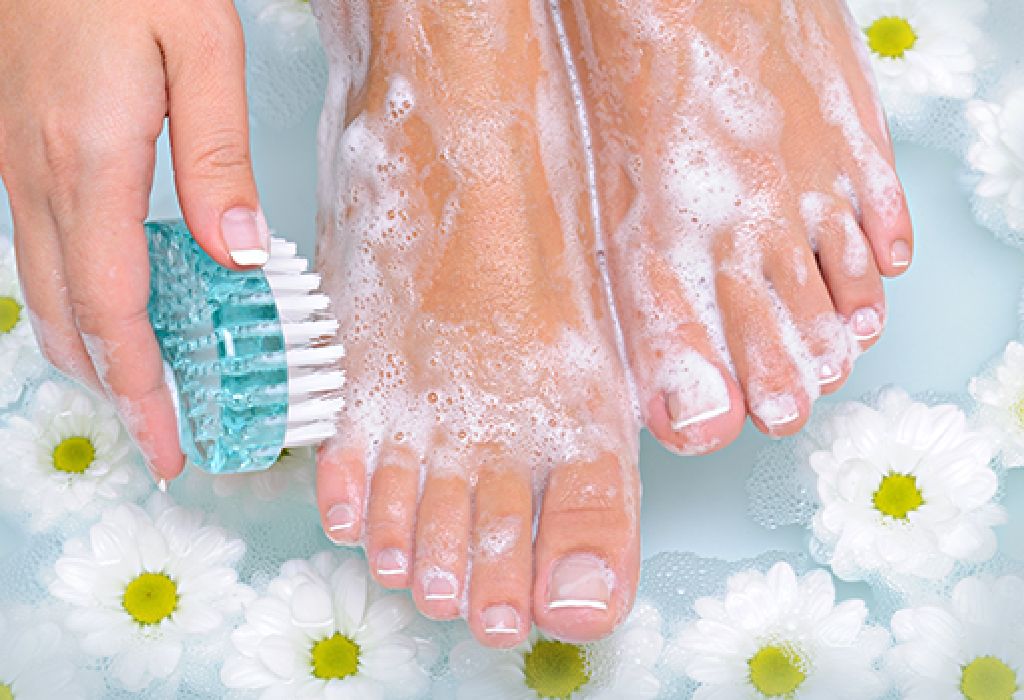 6. Exfoliate
Carefully remove the dead skin from your feet with a gentle board. Dead skin, if not removed, can cause infections and pigmentation in your feet.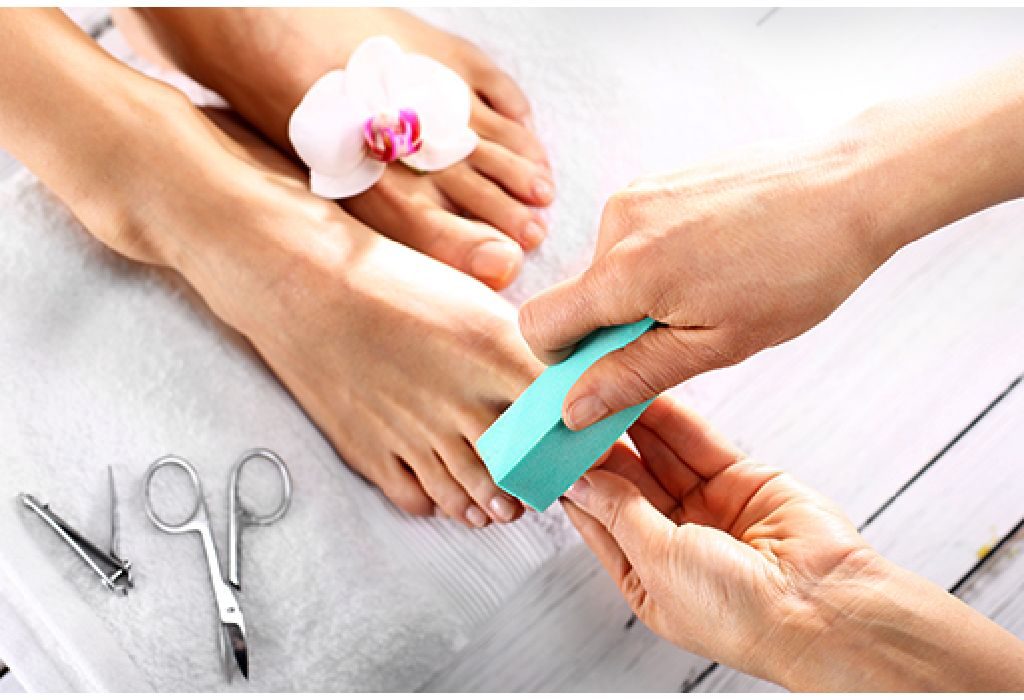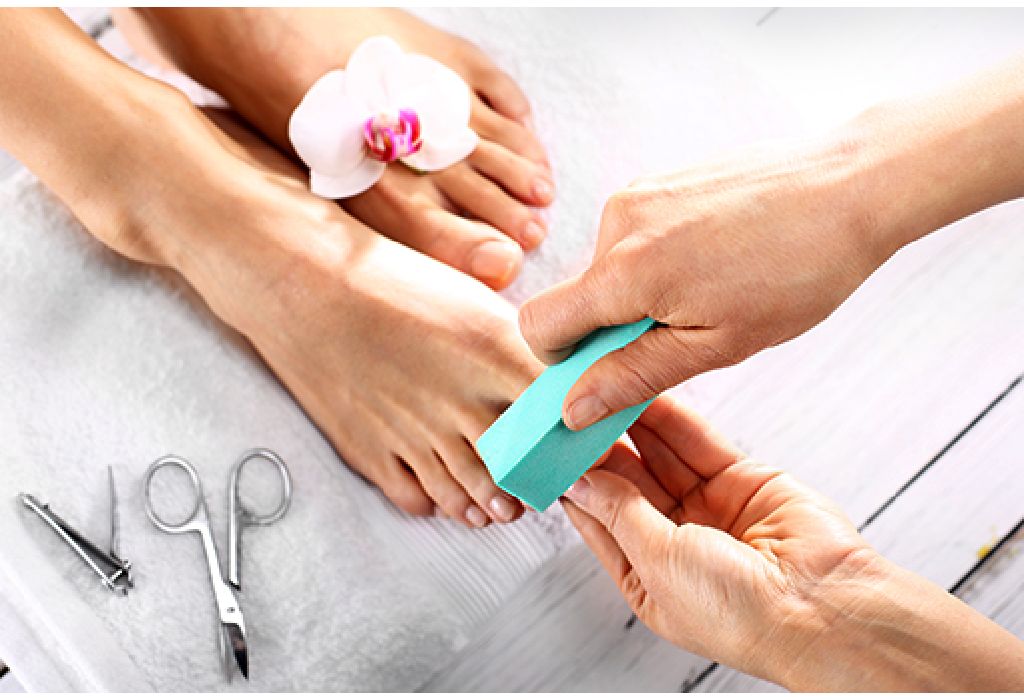 7. Moisturise
Moisturising your feet keeps them looking supple. When doing a natural pedicure at home, give your feet a good massage with a rich moisturiser or foot cream. Rub it into your skin and ankles for a couple of minutes.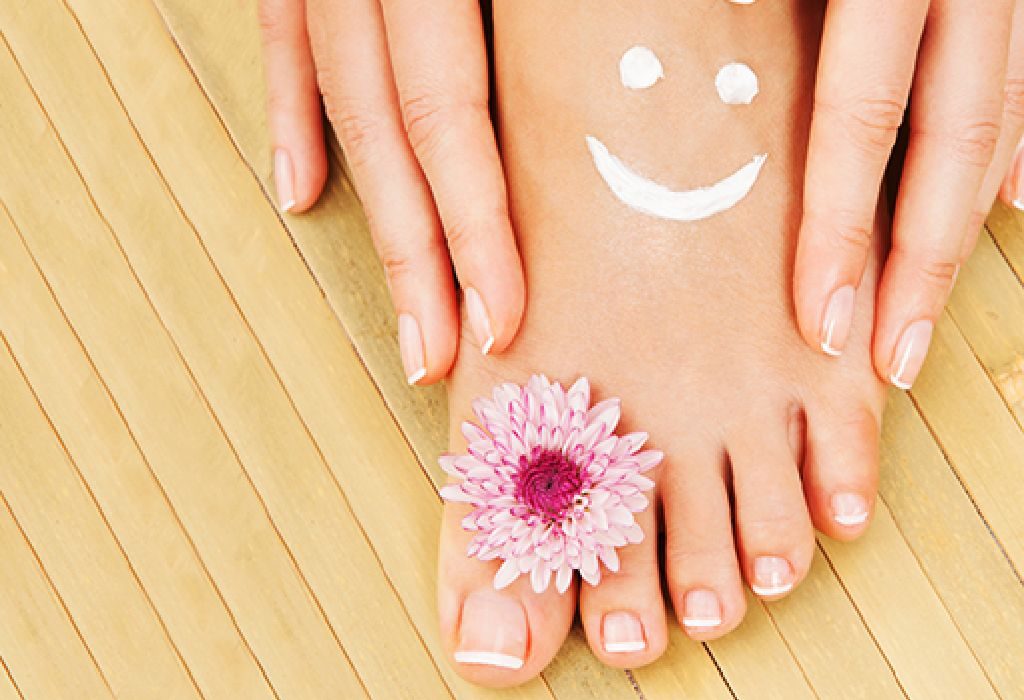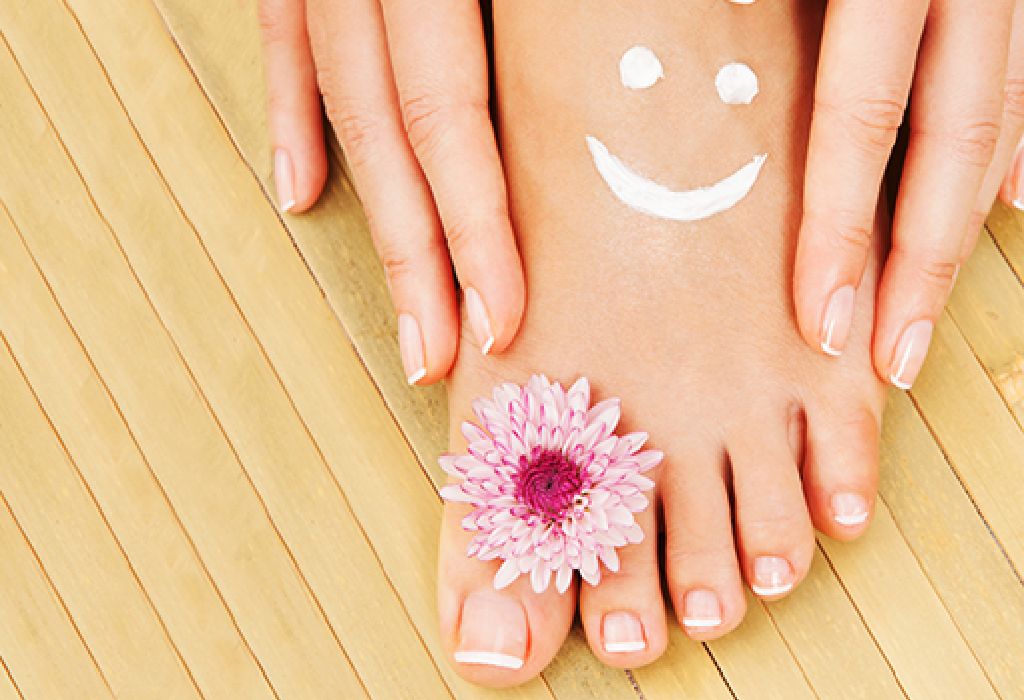 8. Paint Your Nails
After you're done with this simple pedicure at home, use a nail polish of your choice to paint your toenails pretty. Don't forget to use a base coat before applying coloured polish. It'll protect the nails from discolouring. To finish, apply a top coat to lock in the colours.
9. Slip Your Feet into Clean Slippers
Your pedicure will soon be spoilt if your footwear isn't clean. Put on nice, fresh shoes and admire your sparkling clean feet!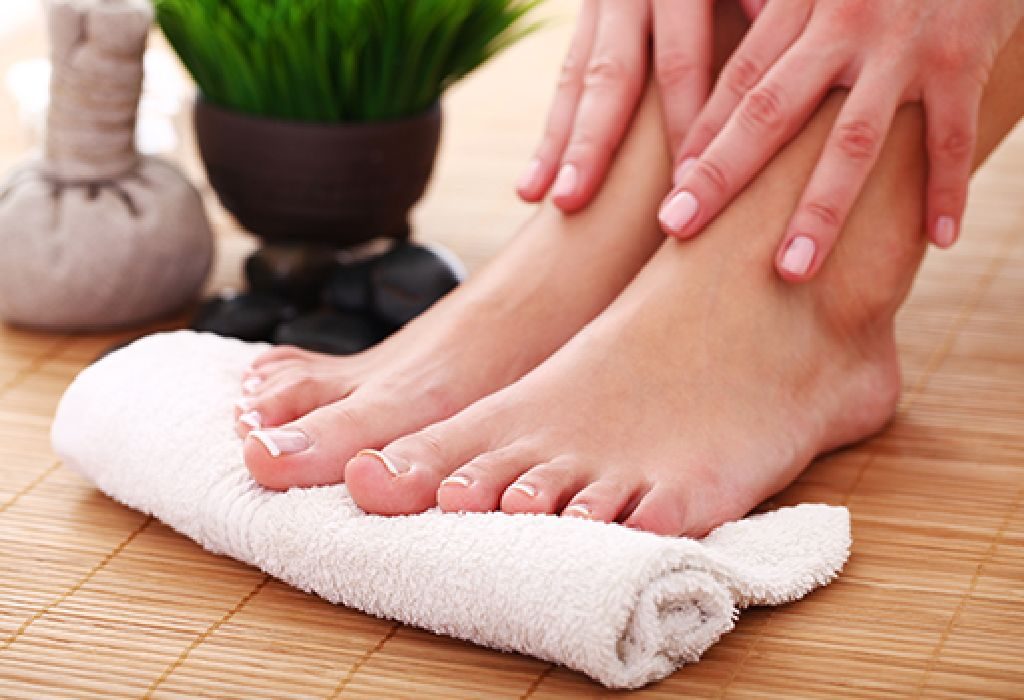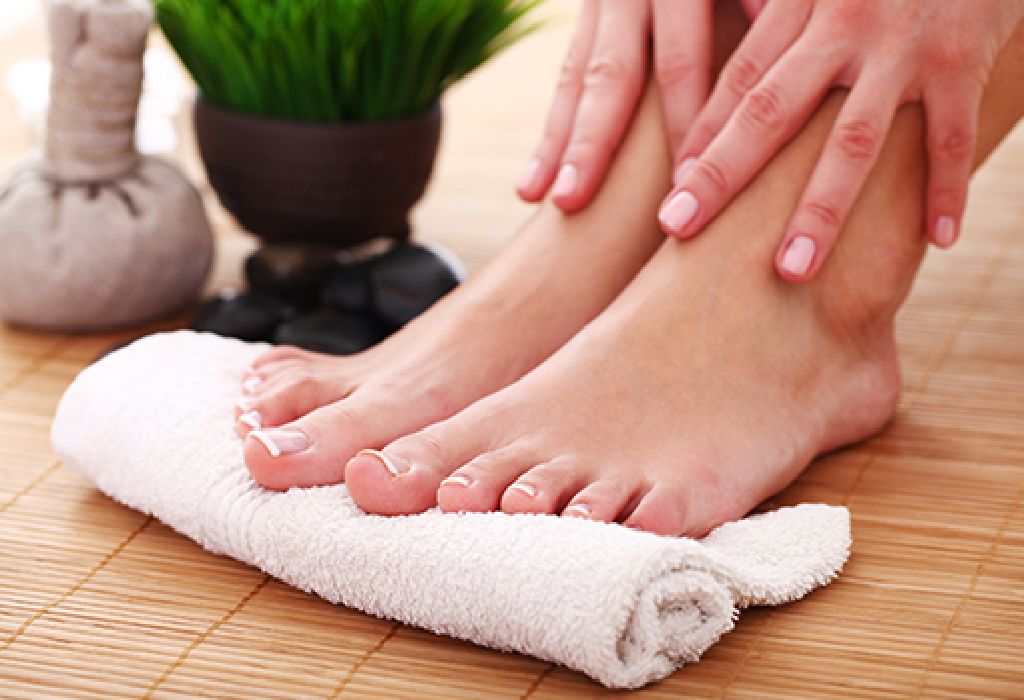 Your toenails can turn yellow due to excessive use of strong nail polish. In this case, soak them in lemon juice for sometime before cleaning them. Moisturise your feet daily, so the effects of your pampering last longer. With these tips for a pedicure at home, your feet and nails will look gorgeous again.