Fresh asparagus soup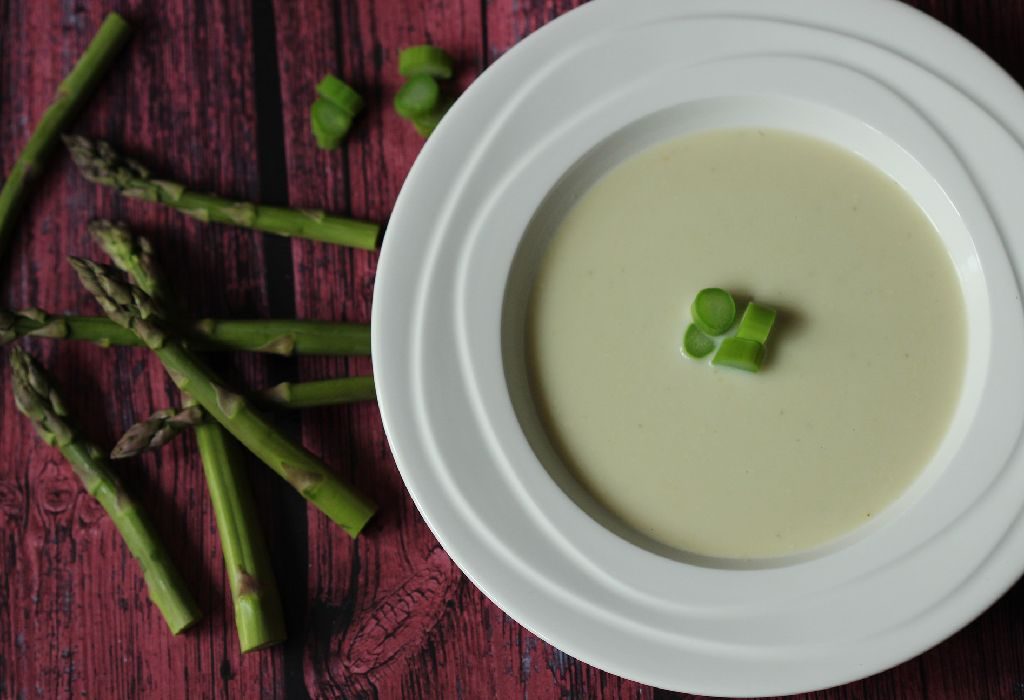 In this Article
Soup made from asparagus and spinach makes a super-green and super-yummy vegetable soup with few simple ingredients. A simple asparagus soup recipe pureed till it's silky smooth, always wins; as it's delicious both ways, hot or cold. For a non-vegetarian version, you can use chicken broth instead of vegetable broth. This fresh Asparagus Soup has a multifold effect as it satiates you with its rich and creamy mouth-feel, and also refreshes your taste buds with its intense yet soothing flavor. You can enjoy this soup hot, with croutons or other favorite accompaniments like garlic bread, minty baked potatoes, with a poached egg on toast, etc.
| | | |
| --- | --- | --- |
| Serves | Preparation Time | Cooking Time |
| 3 People | 30 Minutes | 10 Minutes |
Ingredients
2 tsp(teaspoon) low-fat butter
2 tsp vegetable oil
350 g asparagus spear, stalks chopped, woody ends discarded, tips reserved
3 onions, finely sliced
2 garlic clove, crushed
2 large handfuls spinach
700 ml vegetable stock (fresh if possible)
olive oil, for drizzling (optional)
rustic bread (preferably sourdough), to serve(optional)
Method
Step 1
Heat the butter and oil in a large saucepan until foaming.
Step 2
Fry the asparagus tips for a few minutes to soften.
Step 3
Remove and set aside.
Step 4
Add the chopped onions, asparagus stalks and garlic, and cook for 5-10 minutes until softened.
Step 5
Blend spinach, pour over the softened mixture.
Step 6
Add vegetable stock. Bring to the boil.
Step 7
Turn off the flame and blitz with a hand blender.
Step 8
Season and add hot water to loosen if needed.
Step 9
Ladle the fresh asparagus soup into bowls.
Step 10
Garnish with asparagus tips for an elegant presentation.
Step 11
Drizzle with olive oil and serve with sourdough bread, if you like.
Nutritional Information
Serving Size 1 cup (8 fl oz) (244 g)
Calories
85
Calories from Fat
37
Total Fat
4.1 g 6%
Saturated Fat
1 g 5%
Polyunsaturated Fat
1.9 g
Monounsaturated Fat
1 g
Cholesterol
5 mg 2%
Sodium
981 mg 41%
Potassium
173.24 mg 5%
Carbohydrates
10.7 g 4%
Dietary Fiber
0.5 g 2%
Sugars
0 g
Protein
2.3 g
Vitamin A
9%
Vitamin C
4%
Calcium
3%
Iron
4%
* Based on a 2000 calorie diet