8 Healthy Homemade Foods For Cats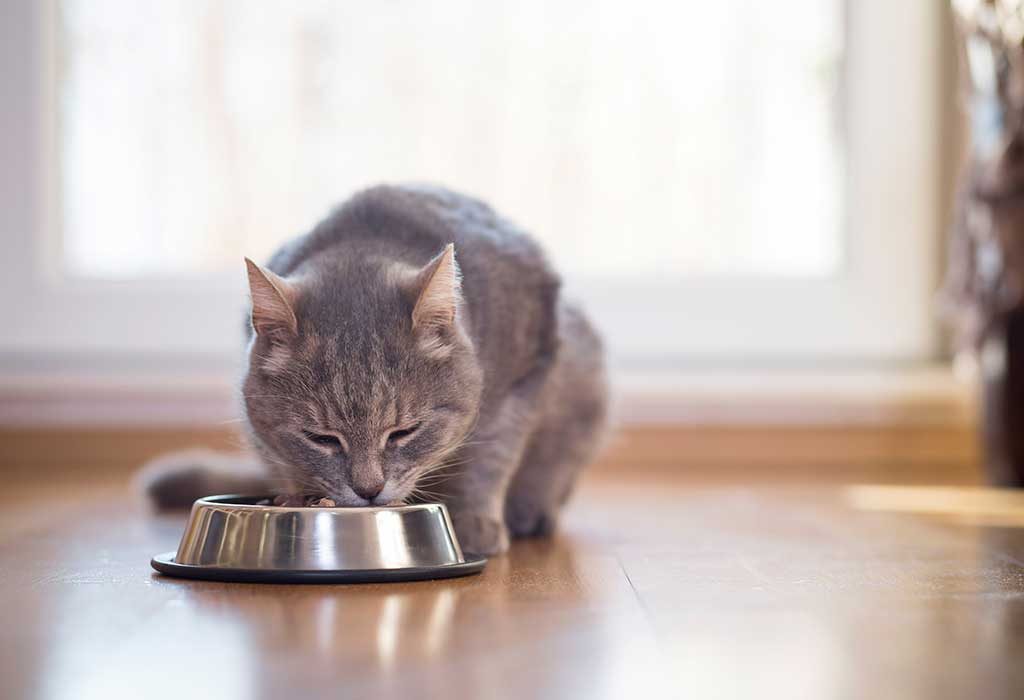 If you are a cat owner and want to feed your furry little friend healthy and nutritious food, then you should give him home-cooked meals. These homemade recipes are perfect to keep your cat happy and satisfied.
Benefits of Giving Homemade Food to Your Cat
When your furry friend is in the growing stages of his life, one of the most important things he needs, besides your love and care, of course, is proper and balanced nutrition, which is what most store-bought pet food fails to give.
Homemade cat food is made of natural food items and is great for the digestive system of cats. By giving homemade food to your cat, you can keep his calorie intake in check and make sure that he stays healthy. Your cat's dental and urinary health will also improve. He'll have a better coat and shed much less. You'll also see a visible improvement in your little friend's energy.
Essential Nutrients That Should Be a Part of Your Cat's Diet
The important nutrients that your cat needs to stay healthy and fit are mentioned below.
1. Animal Protein
Protein is an important nutrient. It supplies essential amino acids and is needed for producing antibodies, enzymes, and tissues. Animal protein provides energy to cats and helps in their growth and development.
2. Fats
Just like humans, fats are an important part of a cat's food as well. Fats help the body breakdown vitamins and provide ready energy for other activities as well.
3. Vitamins
Vitamins too are essential for cats. Vitamins help in regulating their metabolic rate and promote normal growth and functioning of their body parts. Vitamins help improve and protect your cat's vision and improve their bone strength.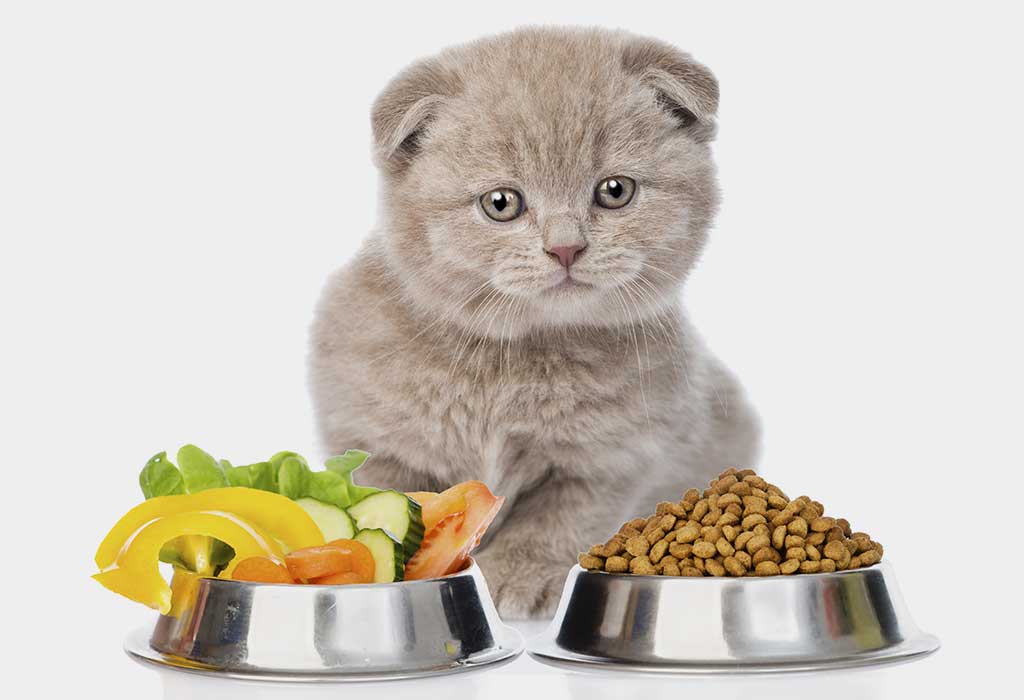 4. Minerals
Minerals serve a lot of important functions across the body of a cat – be it nerve impulse transmission or maintaining acid-base balance. Minerals also help in the formation of enzymes.
5. Water
We all need water to survive and so does your cat. Water will provide your body with the energy he needs to break down and digest all the food he has consumed. It will also provide him with the energy to continue with other important functions.
Healthy Cat Food Recipes That You Can Try at Home
If you want to make the switch already, here's how to make homemade cat food.
1. Eggs for Breakfast
Eggs with cottage cheese should be your cat's first meal of the day. Here is how you can make a nutritious breakfast for your cat rich with eggs and cottage cheese.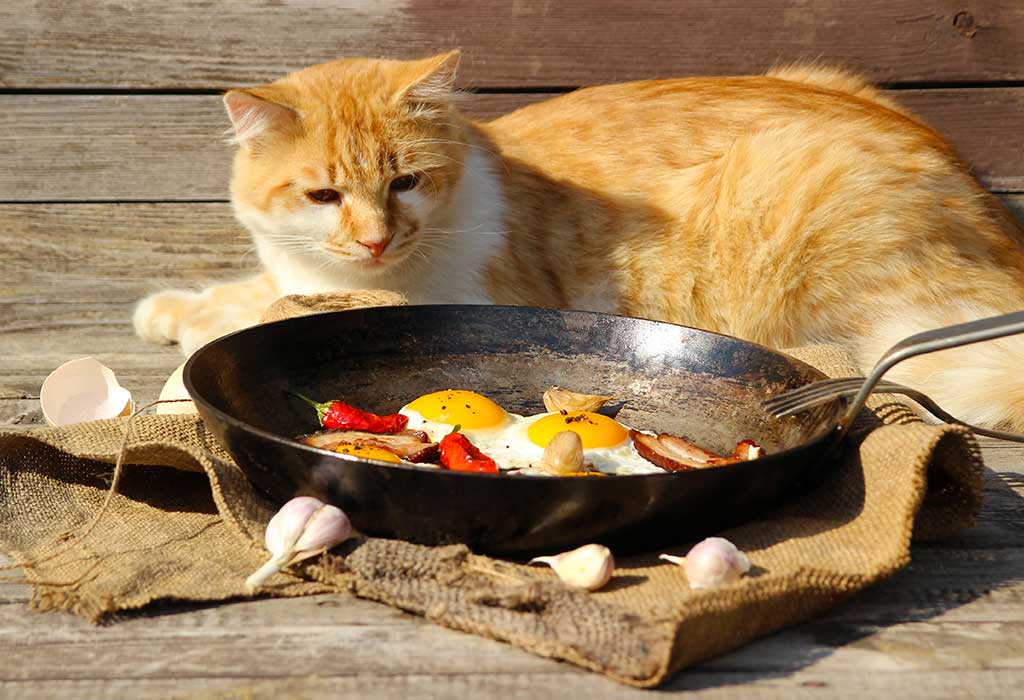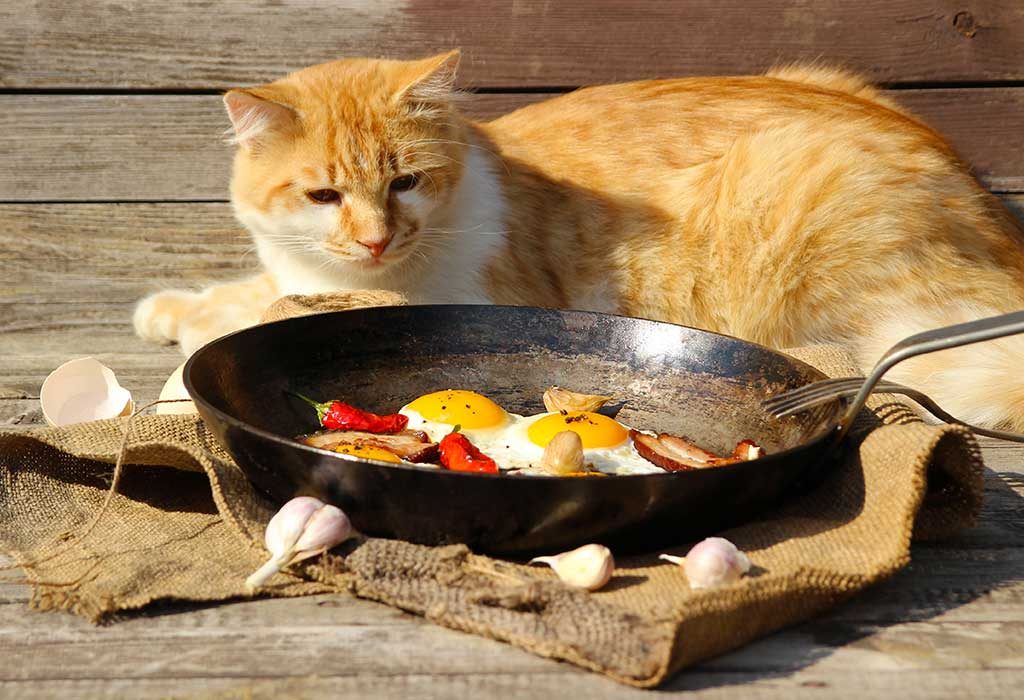 Ingredients
3 medium eggs
2 tablespoons of veggies of your cat's choice (grated)
1 tablespoon non-fat dry milk
3 tablespoons cottage cheese
Directions
In a medium to large size bowl, take the milk powder, add water to it, and mix it well. Make sure that there are no lumps in it.
Break and add the 3 medium eggs into the mixture and beat well.
Take a frying pan and preheat it on a medium to high flame. Pour the entire mixture and cook it, as you would do with while making pancakes.
Flip it, add the cut veggies and grated cottage cheese on the half-cooked side and allow it to cook well.
Once it is cooked, fold it in half like an omelette and cut into bite-size pieces. Serve it warm in your cat's favourite bowl.
2. Chicken Stew
This meal is super easy to cook and can be used both for lunch as well as dinner.
Ingredients
2 cups of brown rice
8 carrots (scrubbed but not peeled)
Boneless chicken
¼ cup of green peas
A handful of green beans
Directions
Wash the chicken in and out and keep it in a large stew pot and cover it with water till the brim.
Take the veggies and cut them into small pieces and add them to the pot.
Add the 2 cups of brown rice.
Cook till the chicken becomes soft and the veggies are soft enough to consume.
Take the entire stew and pour it into a large blender. Blend it.
Let the mixture cool down a bit and serve in your pet's favourite bowl whenever he feels a bit hungry.
3. The Classic Chicken
The classic chicken diet is a pet-parent favourite across the world.
Ingredients
1/2 pound chicken breast (boneless and cooked)
1/8 teaspoon salt substitute
1/2 large egg (hard-boiled, split it lengthwise)
2 tablespoons of olive oil
Directions
Take all the ingredients in a microwave-safe bowl and mix them well.
Heat it up in the microwave oven before serving it to your cat.
4. Chicken and Rice
Chicken and rice is a great combination for all pets.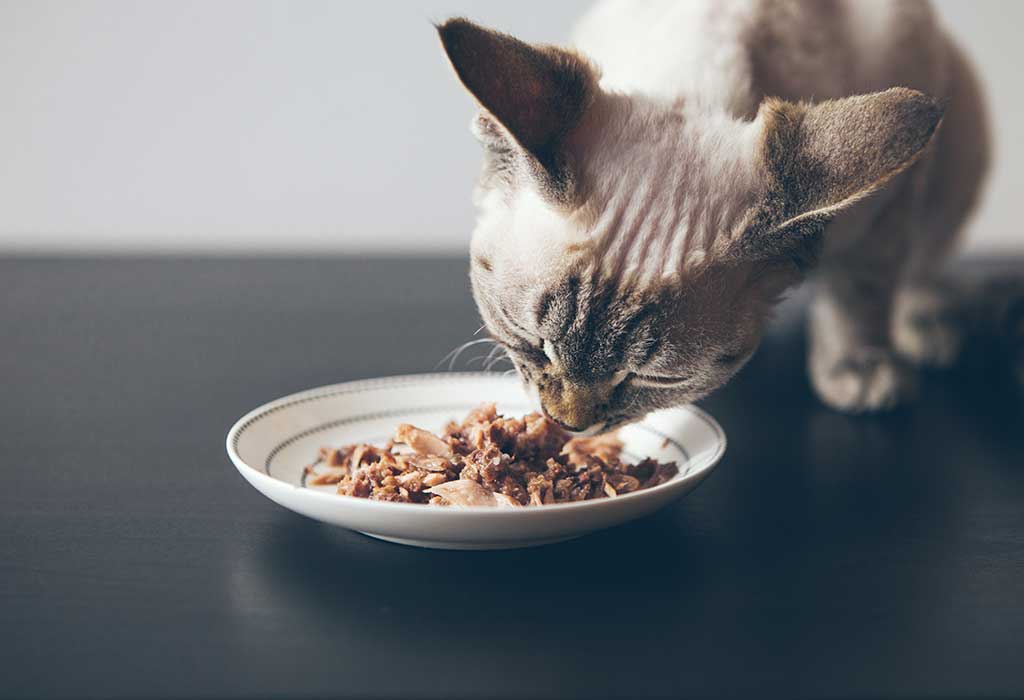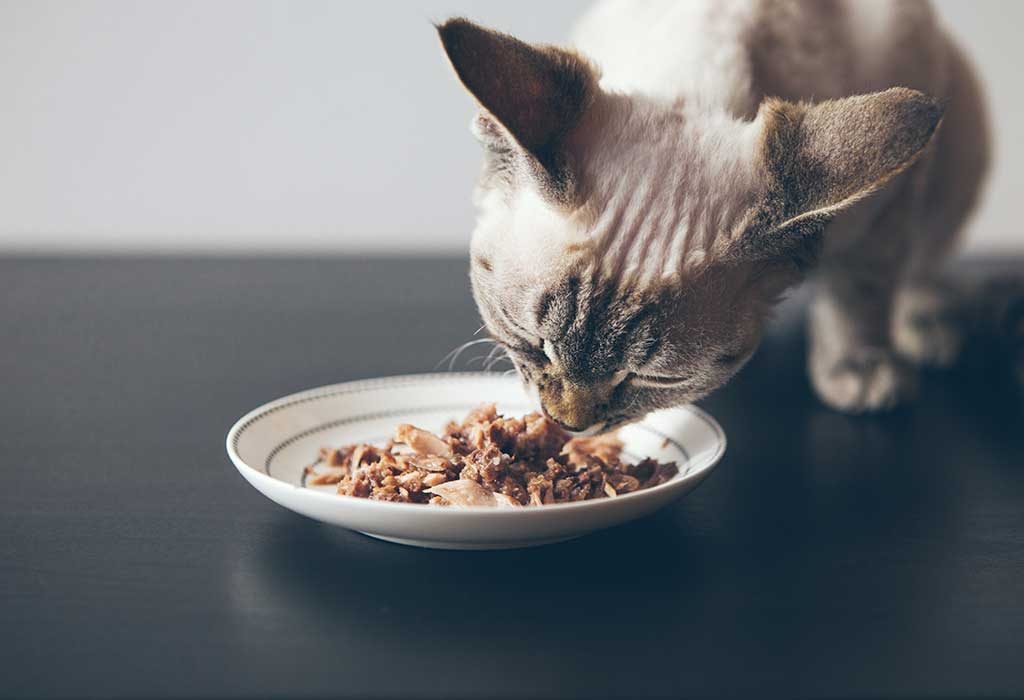 Ingredients
1/3 pound chicken breast (boneless and cooked)
1/3 cup long-grain rice (cooked)
1 egg (hard boiled and mashed)
2 teaspoons of olive oil
1/8 teaspoon salt substitute
1 multiple vitamin-mineral tablet (crushed)
Directions
Take all the ingredients in a large bowl.
Mix the entire list of ingredients using both your hands and serve meal size portions in your pet's favourite bowl.
5. Fish
Cats love to eat fish, so make it a part of your cat's diet – he will thank you for that.
Ingredients
Depending on your cat's age choose a small, medium or large fish with preferably fewer bones.
1 egg (hard-boiled and chopped)
1 multiple vitamin-mineral tablet
2 bone meal tablets (crushed, 10-grain or equivalent)
Directions
Take a large bowl and add all the ingredients in it except the fish.
Boil the fish for 10 to 20 minutes so that its flesh becomes soft and remove the bones.
Add the fish meat to the bowl and mix all the ingredients properly.
Heat it in a microwave and serve medium hot.
6. Mackerel Starter
This mackerel recipe is a favourite among cats and it is the perfect food you can make for your cat at home.
Ingredients
1 cup cooked or canned mackerel
1 tablespoon sunflower oil
1 tablespoon of cooked brown rice
2 tablespoons of chicken broth
Directions
Mix all the ingredients in a blender and blend well.
Serve immediately. You can store this in the fridge for three days.
7. Sardine Treat
Here's another fish meal that your cat will love.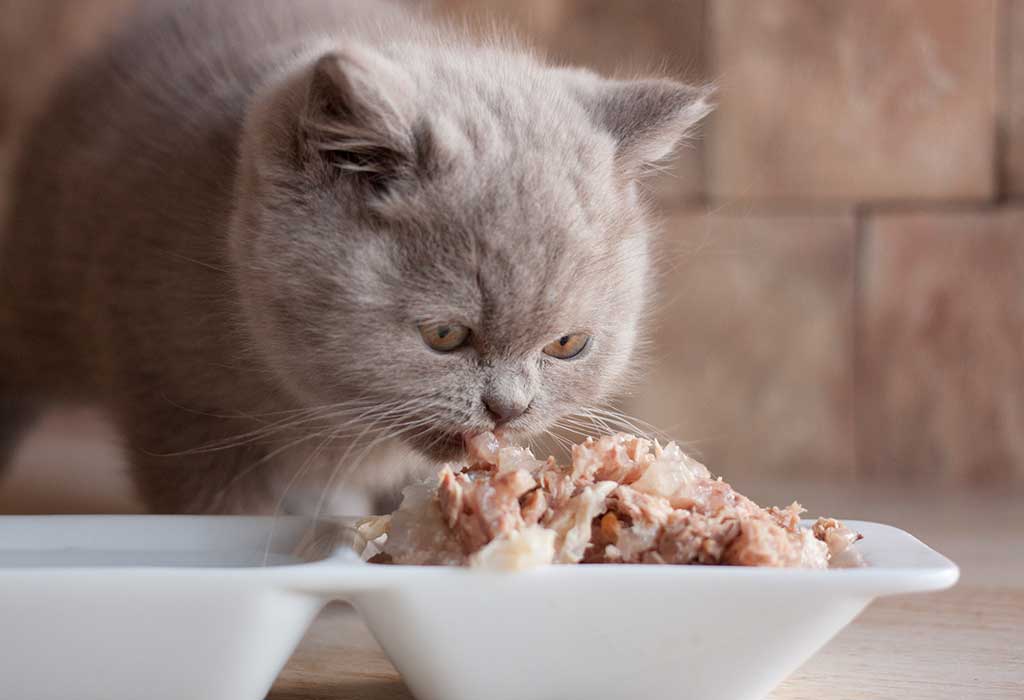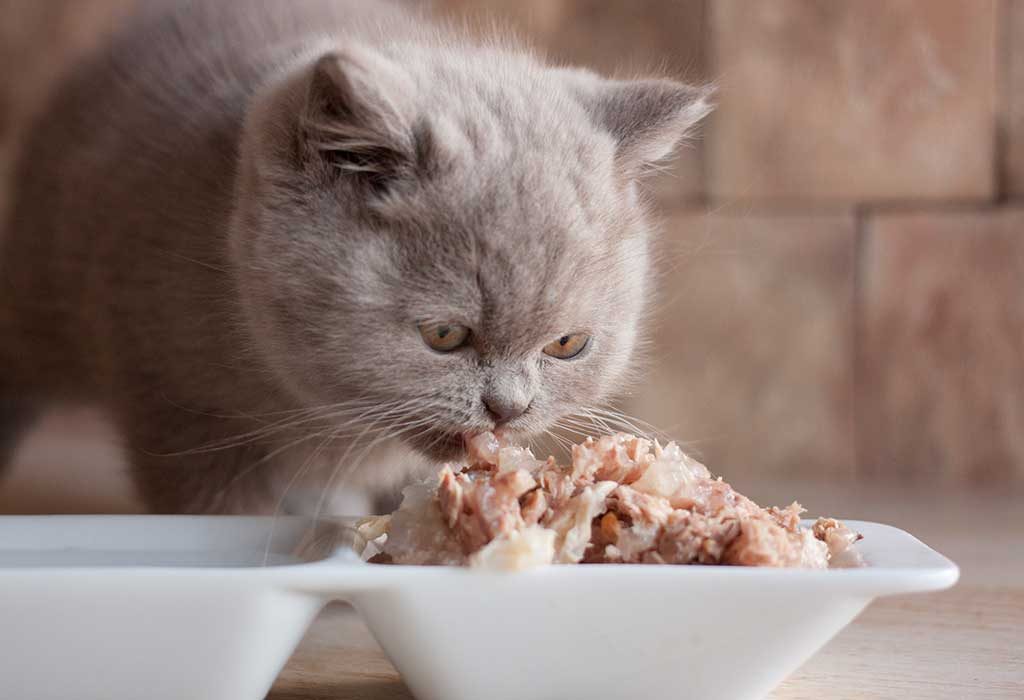 Ingredients
Sardines (1 canned or 3 to 4 fresh ones)
2 tbsp of grated carrots
1/3 cup cooked oatmeal
Directions
Mix all the ingredients in a bowl and serve.
You can refrigerate the leftovers and use it for 3 days.
8. Diabetes Special
Some pets have diabetes. They might develop it in the late stages of their lives or may even show symptoms from the very beginning. If your pet cat has diabetes, here's a cat food recipe for senior cats with diabetes.
Ingredients
1/2 cup grains (brown rice or oatmeal, cooked)
1/2 cup organic chicken (raw, ground)
1/4 cup raw carrots or cooked green beans
1/2 cup chicken liver (raw)
vegetable broth to moisten
Directions
Take a large bowl and pour all the ingredients into it. Mix all the ingredients to the desired consistency.
Warm up the meal before serving and serve in small bite-sized pieces for easy digestion.
This meal is specially designed for cats with diabetes and its main aim is to strengthen the pancreas, reduce insulin needs and reduce scarring.
FAQs
1. Raw Food or Cooked Food – Which is Better for My Cat?
Since your pet is domesticated, cooked food is by far the best option for him.
2. Which Ingredients Should Never Be Added to a Cat's Food?
Avoid adding gluten-based products and corn substitutes in your cat's food.
3. How to Store Homemade Cat Food?
The best way to store homemade cat food for short periods of time is to keep in a container and place it in the corner of your kitchen. For extended periods of time, you can consider storing them in your refrigerator.
4. Can Kittens Be Fed the Same Homemade Food as the Older Cats?
Yes, they can, but the food needs to be softer and broken into smaller bite-sized pieces for easy digestion.
5. How Much Food Should I Give to My Cat?
A standard bowl serving of 250 gms of food, twice a day would be enough to keep your pet healthy.
Homemade food is good for cats. By eating homemade food, your cat with stay healthy and happy. Try these recipes and keep your furry little friend happy and healthy.
Also Read:
Tips To Maintain Your Home Clean and Pet-Friendly
Basic Tips to Consider While Planning a Trip with Your Pet
Consider These Pets That Require Low Maintenance