Facial Kits That Will Save You a Trip to the Beauty Parlour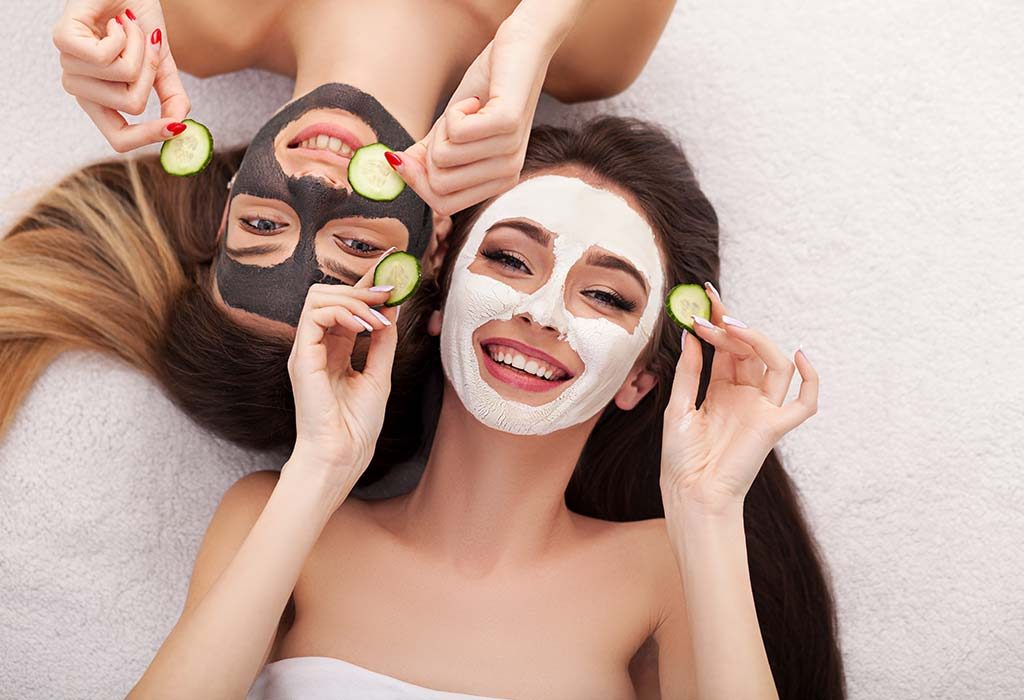 In this Article
"Hello there, gorgeous!" How often do you say this to yourself? Once in three months after you've spent a bomb on getting a facial done? How amazing would it be to say this to yourself even otherwise (ideally, you should be telling this to yourself all the time, even without getting any pampering done whatsoever)! Most of the time, it's not about spending money at the salon; it could also be because you feel lazy once in a while and have those "I don't want to step out of the house today" moments. Or maybe you have other work to attend to, like taking care of your baby or being too swamped at work. What if we told you that you don't have to go all the way to the salon to get that facial glow and you can look radiant every day? Are you wondering how's that going to happen? Well, how about doing a facial at home? Sounds good, doesn't it! So if you're on board, let's go ahead and check out the best facial kits that will save you a trip to the salon and will also make you look radiant as ever!
Top 8 Facial Kits Available in India
With the stressful lifestyle we all lead today, no one has the time to follow a daily skincare routine. And thanks to all the stress and pollution that our skin endures, having that dewy glow can sometimes be a far-fetched dream. To get that, you need to take care of your skin, and an easy and effective solution is to use a facial kit. A facial kit is a combo of a few products that focus on the nourishment of your skin and mostly does what a facial at the salon would – but, in lesser time and with lesser money. Here are a few facial kits that you should definitely give a try!
1. Oriflame Facial Kit with Tropical Fruits
Mostly, we all opt for fruit facials when we want our skin to have a refreshed, rejuvenated look. And let's face it, we all love having fruits, but we do rub leftover papaya on our skin every once in a while. This facial kit encompasses the goodness of pineapple, guava and papaya in its products, and nourishes dull skin. It also lightens complexion. The kit includes a cleanser, a scrub, a massage cream and a mask, and the directions for use are mentioned in a detailed way on the box.
Pros
Contains natural fruit extracts
Rejuvenates tired skin
Suitable for all skin types
Reasonably priced
Cons
May not be easily found in stores
Desired results will take at least a day to show
Price – INR 699 for 450ml (Set of 4)
2. VLCC Diamond Facial Kit
VLCC has stood the test of time and has given us some of the best products for women's skin care needs for a while now. If you have tried their series of herbal and gold facial kits, you should definitely give this a try. The kit contains a scrub, a massage gel, a wash-off mask and a detox lotion. This facial kit will provide you with radiant, glowing skin instantly and is perfect for times when you have to attend a party or marriage reception on short notice.
Pros
Gives an instant glow which lasts for a week
Can be used at least 3 times
Improves the texture of the skin
Gives uniformity to your skin tone
Has anti-ageing properties
Makes your skin smooth and supple
Cons
Price – INR 350 for 50 gm
3. Lotus Glow Facial Kit
Lotus is one of the few Indian brands that promote veganism and uses natural ingredients, making them cruelty-free products. The products in this kit are suitable for all skin types and have a long-lasting effect on your skin. They deeply cleanse your pores and improve the texture of the skin. The kit consists of cleansing milk, a skin polisher, a fruit face pack and a moisturising lotion.
Pros
Easily available and cost-effective
Gives an instant glow and shine to your face
Known for its deep-cleansing properties
Has a long-lasting effect
One sachet can be used 2 or 3 times
Cons
Storing the sachets properly can be difficult
Price – INR 200 for 50 gm
4. Shahnaz Husain Facial Kit
Shahnaz Husain is the DIVA of beauty products in India. Use any of her products, and they are all good. If you want a skin rejuvenating and lightening product, you should give this facial kit a try. This kit comes with a combo of seven different products that should be used one by one as directed on the box. It consists of a scrub, cleansing milk, a charcoal wash-off mask, a nourishing cream, a diamond mask and a rehydrating lotion. It's a one-time use kit, and you will see results gradually, but it has claimed to provide long-lasting effects.
Pros
Suitable for all skin types
Removes tan and lightens your skin
Cost-effective
Cons
Price – INR 350 for 55 gm (Set of 7)
5. Ozone Facial Kit
Do you need something to remove those dark blemishes that mysteriously and randomly appeared on your face due to exposure to the scorching sun? Ozone Facial Kit is the perfect solution for you. The kit contains a cleanser, a moisturiser and a toner. These products effectively de-tan your skin and remove dark spots and freckles from your face. The products contain almond oil, aloe vera and cucumber which are great to get rid of sunburn. If you are someone who faces a lot of sun exposure, you should definitely add this facial kit to your cosmetic cabinet.
Pros
Removes black spots and blemishes
Removes tan
Provides value for money
Cons
You will need to use it every month to maintain results
Price – INR 720 ( 3 packs of 100gm each)
6. Himalaya Pure Skin Neem Facial Kit
If you are someone who has an oily T-zone and wants to get rid of those red, painful pimples, then this facial kit is your go-to cosmetic friend. The main ingredients of the components of this facial kit are neem, Fuller's earth and turmeric, which are all natural ingredients, making this product more skin-friendly. The kit consists of a neem face wash, cleansing milk, a neem face scrub, a toner, a neem face pack and a moisturising lotion. The products control excess oil secretion, clean the dirty, clogged pores on the skin, and prevent the occurrence of acne and pimples.
Pros
Prevents pimples and acne
Great for exfoliation
Minimises pores on the skin
Pocket-friendly
Cons
Not suitable for dry skin
Price – INR 180 for 150 ml
7. Oriflame Sweden Love Nature Tea Tree Facial Kit
If you're a fan of tea tree oil products, you should definitely give this baby a try! All the products in the facial kit contain tea tree extracts which help to control oil secretion. They also balance and purify your skin giving it a healthy look. The kit includes a cleanser, a face scrub, a massage cream and a face mask.
Pros
Improves the texture of the skin
Reduces acne
Gentle on the skin
Cons
Price: INR 780 for 425 ml
8. Astaberry Wine Facial Kit
It is said that a glass of wine before bedtime can have a magical effect on your skin. This is exactly what Astaberry propagates through this kit. The products of this facial kit improve the elasticity of your skin and reduce dark spots and blemishes. They also reduce wrinkles and have anti-ageing properties. The kit consists of a cleanser, a scrub, a cream and a face pack.
Pros
Infused with wine, which is unique and rare
Improves elasticity of the skin
Value for money
Can be used several times
Cons
May cause irritation to the skin
Price – INR 540 for 50 gm (Set of 4)
Easy to use, effective, and pocket-friendly, the above facial kits will give you a bright complexion and supple skin that will last for up to 3 to 7 days, depending on the product. Opt for the one that best suits your skin and once a week, pamper yourself.
Also Read:
Homemade Face Packs for Maintaining Bright Skin
How to Look Beautiful Without Makeup
Summer Face Packs to Protect Your Skin from Heat and Tan