'Everyone Says I Destroyed My Married Granddaughter's Life. I Feel Very Happy…'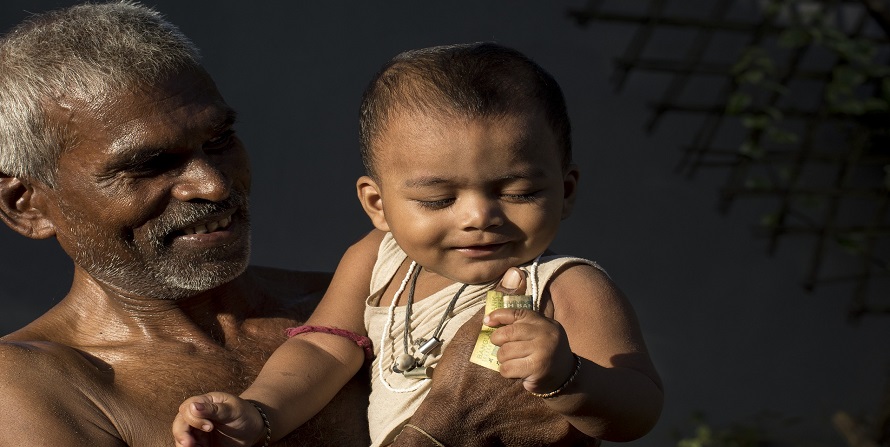 Blessed are those who receive unwavering love from their parents, but even more blessed are those who also get love from their grandparents! Not all kids are lucky enough to grow up with, or spend time with, their grandparents – but the relationship that Dada-Dadis/Nana-Nanis share with children is beautiful beyond measure. This heart-wrenching story of Mita and her hero – her grandfather – proves what it means to have the kind of love that fights till the very end.
Grandparents are known to be the "easy" ones compared to parents, the ones that spoil you rotten, and allow you most things that your parents will not. In little Mita's case, her grandfather Rajjak Miah starved for months so that he could gift her what she loved most – bangles!
But things took a horrible turn when Rajjak Miah was accused of destroying his granddaughter Mita's life. And guess what? He lives with this accusation happily! He believes he has done what was correct and he is at peace with his decision. The fact that he loves his granddaughter more than anyone else in this world is worth all the accusations everyone is throwing at him. In fact, it was even worth 'destroying' her marriage for, and getting her back to live with him!
Here is Rajjat's passionate account of what happened with his granddaughter and why he ended up doing what he did. The story was shared on Facebook earlier this month by prominent photojournalist GMB Akash.
"Everyone says that I have ruined my granddaughter's life. I tell them, I feel very happy that I destroyed her life.

You should have the courage to destroy, to ruin, to end that causes you so much pain. It's been six months my son and daughter-in-law stopped talking to me and never visited my place. If everyone thinks that I am a criminal, I have no interest to waste my time to prove them wrong. When I come to work, people gossip about me, none of them has the gut to come to me and ask what had gone through me. But I do not care.
Bangles were very dear to my Mita. Mita is my only granddaughter. When she was a child I had to buy bangles for her from the fair. I starved months to buy her a pair of silver bangles when she was ten. I put oil and trimmed her hair most of the time. When I came to work I brought her with me and she studied under the tree and I always checked her from distant. She loved to play hide & seek and before hiding she always come to me and says where she was going to hide. I told her she should not tell anyone her hiding place, she said, 'I did not tell anyone. Just you.' I never let her cry even for the silly things. And they are saying I have ruined my grand daughter's life!"
"The beast tortured her every day. She could not wear bangles anymore, when I asked her why her hands were empty; she hid her burnt spots. Her husband had beaten up her without reasons. They asked me never to visit her. But I secretly went to meet her every day. In fear, she told me never to go there. Twenty years I struggled to put smile on her face, how could I let her burn into a hell just to see if she could manage an abusive marriage. She was dying with time and everyone including her parents was blind. They said, it needs patience, girls should have patience.
One day, I held her husband legs so he let me to take her hospital, he held my hands and threw me from their house. And again I returned back. I tolerated all humiliation just to see her once. The day when Mita's neighbour admitted her to hospital, they sent news to me secretly. I went there and saw she was vomiting blood, she could not properly hear.
After three days she was able to talk, when I asked her to rest, she said, 'Take me somewhere, somewhere very far dada, where there is no pain. I want to hide there.'

No, I did not let her hide. I gave the man to the police. She broke the marriage on her will. And I sheltered her in my house. I bought a sewing machine for my child.
I will never let anyone to play with her life again. My Mita will live again. She will dream and love again. I will buy more bangles for her. Till my last breathe, she does not need to hide, from anyone or from any pain."

– Rajjak Miah (70)
We had tears in our eyes and gratitude towards this strong-willed and love-driven grandad when we read his brave story. Where her own parents chose the "ignorance is bliss" route in regards to their own flesh and blood's suffering, Rajjak Miah came through. Mita suffered endlessly in her marriage to a physically abusive man and could have lost her life if not for her Dada – a man who lived solely to see her happy again.
WorldOfMoms salutes Rajjak Miah for fighting against domestic abuse and making sure he saved his granddaughter's life. Countless "Mitas" exist in our world today and we cannot imagine how much goes on behind the closed doors, hiding behind the veil of "log kya kahenge?" lest these murky secrets escape! If you do know someone who is suffering in an unhealthy marriage, reach out, you never know what you could be preventing.
Just like Rajjak Miah, there may also be countless fathers, grandfathers, mothers , brothers and friends who fight tooth and nail to save a loved one from domestic abuse. Let's join them to make a difference, even if it is one person's life…no one should have to suffer the way Mita did.