Egg White Omelette Sandwich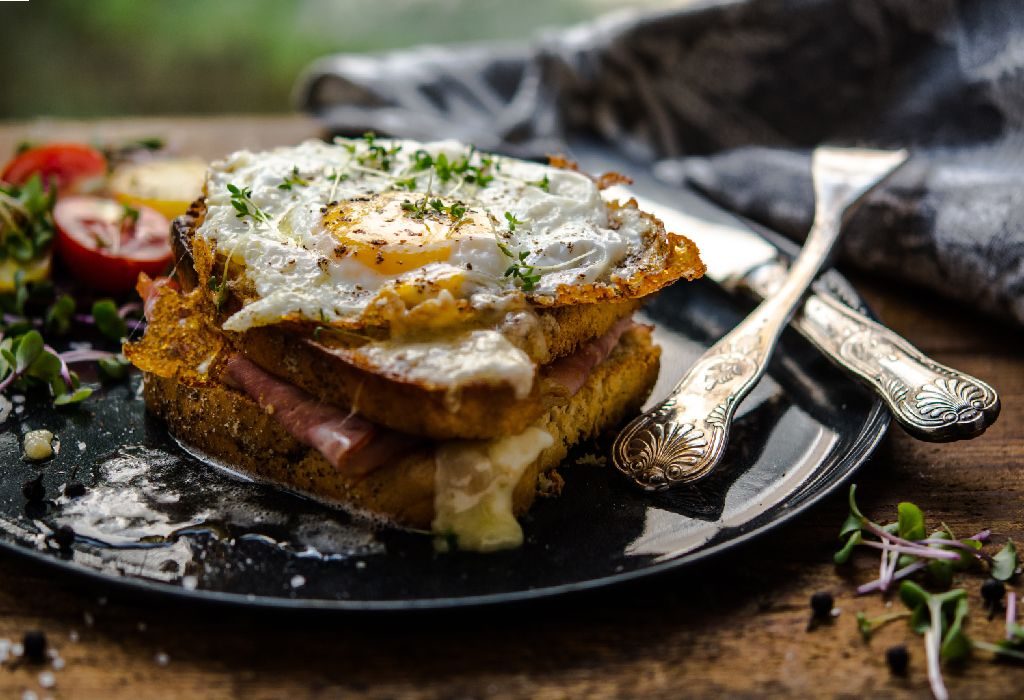 In this Article
This sandwich is a fast, easy, foolproof, customization, and packed with protein, all for fewer calories than your average fast-food breakfast sandwich. The Egg White Omelette is a quick, simple and super healthy breakfast recipe. Egg whites are an excellent source of a high-quality complete protein with few calories. Children of course can be given the fat-rich egg yolks, but if you are looking at building more protein in your diet and burning the excess fat, then egg whites are the way to go.
| | | |
| --- | --- | --- |
| Serves | Preparation Time | Cooking Time |
| 1 People | 10 Minutes | 10 Minutes |
Ingredients
3 egg whites
1 cup fresh baby spinach
3-4 baby mushrooms, sliced
2 tbsp (tablespoons) chopped yellow or white onion
1 garlic clove, minced
1 tsp (teaspoon) oil
2 slices whole wheat bread, toasted
Method
Step 1
Add oil to a non-stick pan.
Step 2
Saute onion, mushrooms, and minced garlic on medium heat until softened.
Step 3
Add spinach, season with salt and pepper, and cook until wilted (approx. 15 seconds).
Step 4
Beat egg whites until a light foam appears.
Step 5
Add to pan and cook through, about 3-5 minutes.
Step 6
Place between toast slices and serve immediately.
Nutritional Information
Servings Per Recipe: 1
Serving Size: 1 serving
Calories
204
Total Fat
5 g
Saturated Fat
1.1 g
Polyunsaturated Fat
2.9 g
Monounsaturated Fat
2.2 g
Cholesterol
11.0 mg
Sodium
984.9 mg
Potassium
633.8 mg
Total Carbohydrate
56.1 g
Dietary Fiber
8.6 g
Sugars
2.0 g
Protein
27.0 g
Vitamin A
59.3 %
Vitamin B
12 0.1 %
Vitamin B
6 13.1 %
Vitamin C
17.6 %
Vitamin D
0.0 %
Vitamin E
9.9 %
Calcium
6.7 %
Copper
14.2 %
Folate
26.6 %
Iron
20.9 %
Magnesium
24.9 %
Manganese
103.1 %
Niacin
17.8 %
Pantothenic Acid
3.3 %
Phosphorus
19.3 %
Riboflavin
14.8 %
Selenium
52.1 %
Thiamin
16.9 %
Zinc
10.6 %