Eating Corn During Pregnancy – Is It Safe?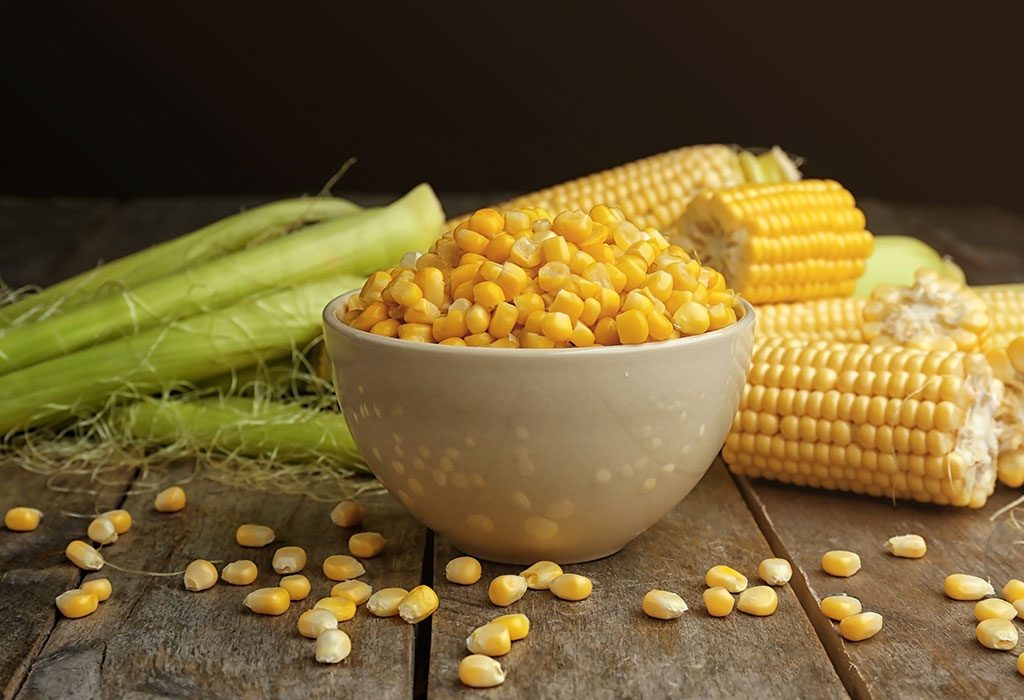 Eating nutritious foods throughout pregnancy is essential to safeguard the health of both the expecting mom and her baby. But pregnancy is also when food cravings kick in and pregnant women find themselves longing to have corn kernels. But is it safe? That's what we'll answer with this article.
A Little More About Corn
Corn, also called maize, is a popular cereal, which is rich in minerals and vitamins. It comprises of vitamin C, B1, B5, dietary fibre and magnesium. Not only is corn nutritious but it also very delicious. Many pregnant women find the juicy, and crunchy taste of sweet corn appealing.

Health Benefits of Eating Corn During Pregnancy
Some of the nutritional benefits of eating corn during pregnancy are:
1. Gives Relief from Constipation
Corn is an excellent source of dietary fibre and helps to alleviate digestive issues like constipation.
2. Lessens the Risk of Neonatal Defects
Corn contains folic acid, which reduces the risk of abnormalities in the unborn baby like Spina Bifida.
3. Increases Memory Power
Eating corn during pregnancy may help you buy grocery items without a shopping list! It also promotes the brain development of the foetus.
4. Keeps the Baby's Eyes Healthy
Corn is full of antioxidants like lutein which play a role in improving the eyesight of your unborn baby.
5. Prevents Cancer
Experts believe that the antioxidants present in corn can prevent the occurrence of some types of cancer including breast cancer.
6. Lowers the Risk of Tumours
Corn consists of phenolic compounds like ferulic acid which lower the risk of tumours.
7. Boosts Immunity
Corn is rich in vitamin A; therefore it keeps your skin healthy, improves your immunity, and promotes memory power during pregnancy.
8. Increases Good Cholesterol
Intake of corn husk oil during pregnancy may promote the reduction of plasma LDL and increase the presence of good cholesterol in the body.
Are There Any Risks of Having Corn When You're Pregnant?
No doubt, corn has many health benefits for pregnant women. But you should take care not to go overboard while consuming corn. Corn consists of fatty acids, which put pregnant women at the risk of heart ailments. Some pregnant women may suffer from indigestion on eating corn.
Keep These Things in Mind
These points will enable you to get the most from corn during pregnancy:
Consume corn within a few days of buying it.
Refrain from removing the husk to retain the freshness of the corn.
Store corn in the refrigerator in an airtight container.
Pregnant women should eat fresh corn instead of canned or frozen corn.
Avoid sprinkling artificial sweeteners on the corn kernels.
Tips to Cook Corn the Right Way
Boiling corn is the best way to prepare it. Removing the corn's outer husk and silk, place it in a big pan. Add water and salt and cover the pan. Fresh corn requires only 3-4 minutes to boil. Don't overcook the corn as this will harden the kernels.

Recipes
1. Corn Soup
Nothing can beat a steaming hot corn soup on a dull day.
Ingredients:
Medium-sized corn cob – 1
Freshly ground pepper – 1/2 tsp
Chopped spring onions – 1 tbsp
Oil/butter – 1 tbsp
3/4 cup of warm milk + 3/4 cup of water
Wheat flour – 1/2 tbsp
Salt – as required
Method:
Boil the corn cob and scrape out the kernels.
Keeping a handful of kernels aside, blend the rest to a smooth paste.
Heat oil or butter in a pan.
Saute the spring onions until they become translucent.
Add the corn paste, water and milk to the pan.
Once the soup starts boiling, add the ground pepper, salt and the remaining kernels. Stir for 2-3 minutes.
Add the cornflour and let the soup thicken.
Serve with garlic or toasted bread.
2. Corn Chaat
Make your own street food-style corn chaat at home with this recipe!
Ingredients:
Medium-sized corn cob – 1
1 1/2 cups of water
Chopped small onion – 1
Chopped tomato – 1
Chopped green chilli – 1
Chopped coriander – 1 tbsp
Red chilli powder – as required
Salt – as required
Chaat masala powder – as required
Lemon juice – 1-2 tsp
Sev – as required
Method:
Pressure cook the corn cob and scrape out the kernels.
Mix all the ingredients in a bowl.
Garnish with sev and coriander.
Serve.
As a pregnant woman, you should include corn in your pregnancy diet. You can steam, boil or grill to enjoy its goodness. Next time, whenever the hunger pangs strike, corn will come to the rescue!
Also Read: Eating Potato during Pregnancy – Is It Safe?