Eating Avocado in Pregnancy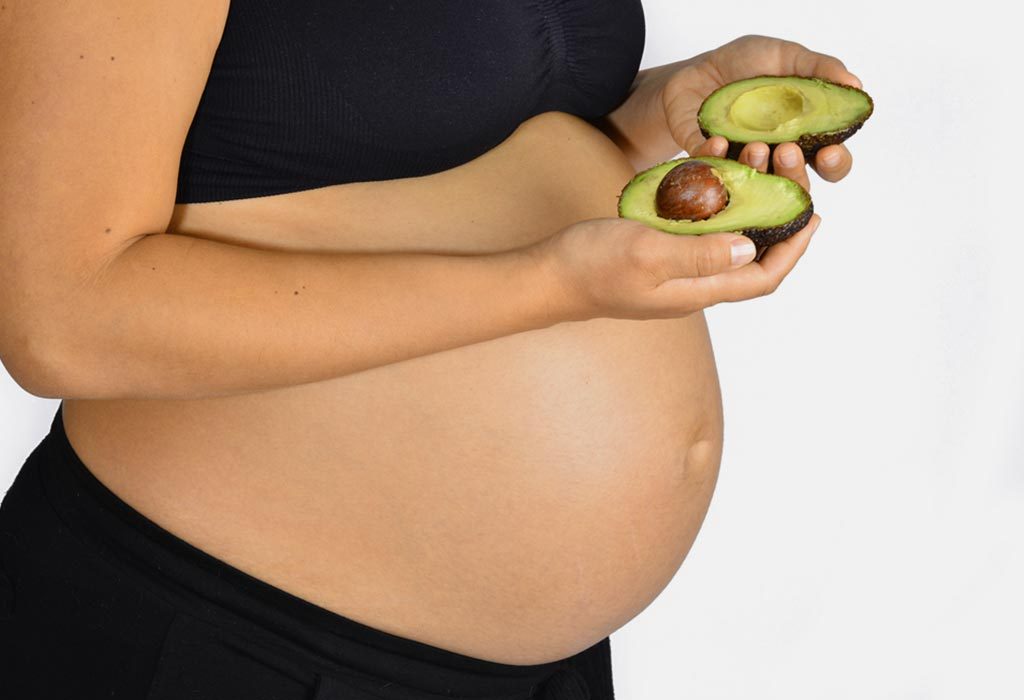 There's a reason why there's so much hype around avocados. Most nutrition experts swear by this fruit too. It not only provides nutrition but also helps control diseases and various illnesses, keeping a person healthy in every manner, which is why having avocados during pregnancy is something every pregnant woman thinks of as well. And have you noticed just how versatile avocados are?
In this article, you will find answers to all the possible questions you have about eating avocado during pregnancy. Read on to know more.
Is Avocado Good for Pregnancy?
Avocados contain many essential nutrients, such as potassium and folate. These elements play a vital role in the growth of the foetus and its proper development. Having avocado during the third trimester of pregnancy is highly preferred and safe, given a large number of vitamins and minerals they contain.
Nutrients in Avocado
As mentioned earlier, avocados are packed with nutrients. It is a good source of energy, carbohydrates, vitamins and minerals. Here are some more important nutrients found in a cup of avocado:
Carbohydrates – 12.8gms
Dietary Fibre – 10.1gms
Protein – 3.0gms
Vitamin A – 4% of Daily value
Vitamin C – 25% of Daily value
Vitamin K – 39% of Daily Value
Vitamin E – 16% of Daily value
Folate – 30% of Daily value
Vitamin B6 – 19% of Daily value
Iron – 0.8mg
Magnesium – 43.5mg
Calcium – 18mg
Zinc – 1mg
Potassium – 727mg
Phosphorous – 78mg
Choline – 21.3mg
Niacin – 2.6mg
Calories- 240
These daily values are based on a 2000 calorie diet.
How Many Avocados Can You Eat in a Day?
The best thing about avocados could end up being the worst thing if you have it in excess. Moderation is always the key since avocados contain all types of nutrients, minerals, and oils in varying quantities. It's best to restrict yourself to one avocado on a daily basis to avoid any side effects.
Health Benefits of Eating Avocado During Pregnancy
Some of the best health benefits of eating avocado while pregnant are:
1. Reduces Weight Gain Risks
Avocados contain substantial amounts of fibre that aid digestion and help control weight gain. Having avocado juice during pregnancy is a great practice to adhere to if you are trying to avoid gaining unnecessary weight.
2. Assists Nutrient Absorption
Avocados themselves contain tons of nutrients, but what makes them different from other healthy fruits and vegetables is their tendency to assist the body in absorbing these nutrients from the foods you consume. For example, in the case of leafy vegetables or sweet potatoes, avocados absorb the antioxidant carotenoids from them, which are then easily assimilated into the body. Avocados help in the absorption of fat-soluble vitamins
3. Provides Important Minerals
Calcium, magnesium, potassium, copper, zinc, manganese, phosphorous, and tons of other minerals and vitamins are present in avocados. All these nutrients are extremely crucial in providing the right nutrition for the mother as well as the growing foetus.
4. Aids Development Of The Baby's Brain
One of the key components in ensuring proper brain development in the foetus is choline. This element is essential in developing a strong nervous system and a proper network of nerves throughout the body. A single serving of avocado has about 22mg of choline. This amount is enough to support the process of brain development in the foetus.
5. Provides Relief From Leg Cramps
All pregnant women have suffered from leg cramps one time or the other. Potassium and calcium can help provide relief from leg cramps. Avocado then becomes a great choice in that accord with its substantial proportions of both the minerals.
6. Helps Maintain Cholesterol and Sugar
A balanced diet coupled with some cravings can cause the levels of cholesterol and sugar in a pregnant mother to be off the required limits. By eating avocado, this can be actively mitigated since it helps in keeping those levels in control and your health in check.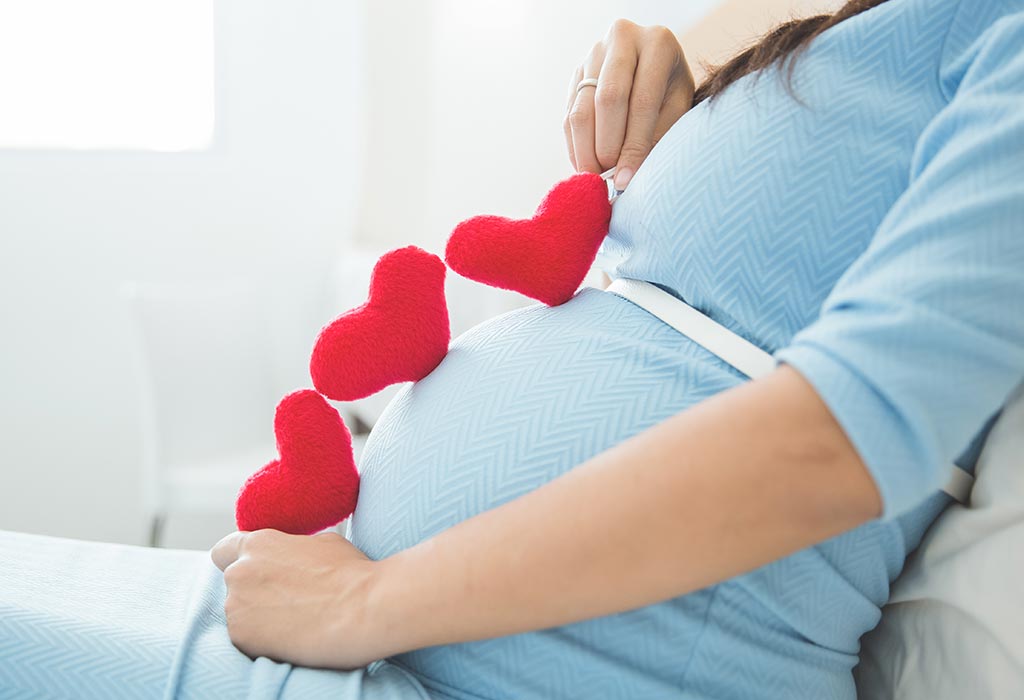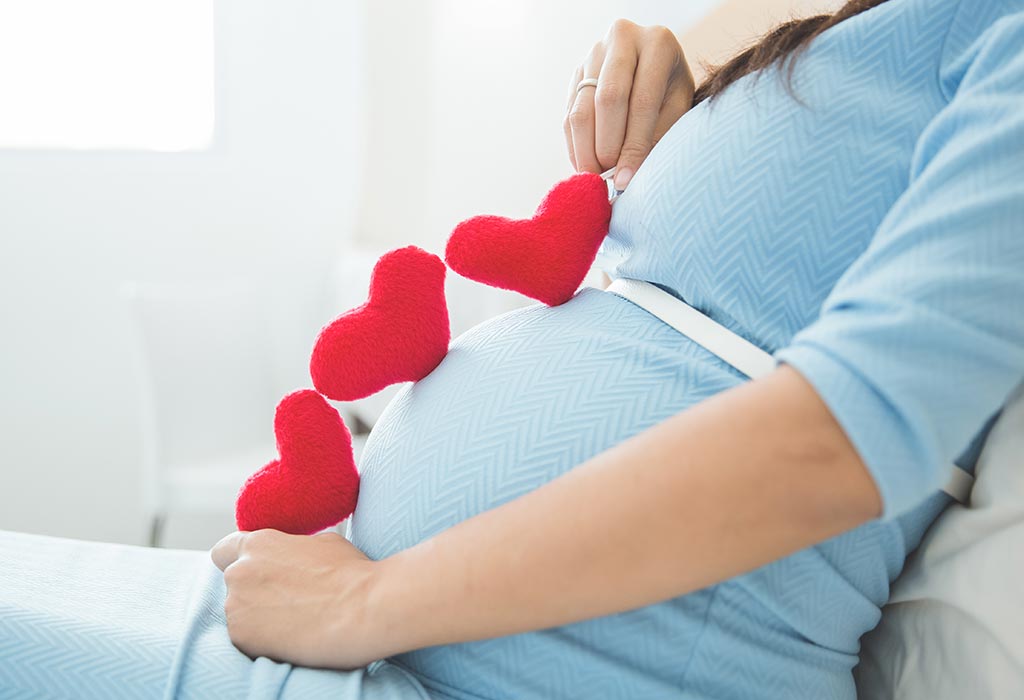 7. Provides a Healthy Supply of Vitamins
With different vitamins present in different food items, keeping the diet balanced is a task in itself. Avocado simplifies it by literally having every vitamin present in it. Almost all the vitamins required for the mother's well-being and the foetus' growth are present in avocado.
8. Best Source of Folic Acid
Absence of essential elements such as folic acid can lead to the foetus developing abnormalities. The folic acid in avocado is essential for the healthy growth of the baby's organs.
If the fruit hasn't been a part of your diet, you are probably wondering how you could consume it. Here are some recipes that are not only quick to whip up but also extremely enjoyable.
Delicious Avocado Recipes for Pregnant Women
1. Avocado With Baked Egg
This recipe is one of the most filling, delicious, and nutritious breakfast recipes, but it can also be enjoyed as an evening snack! The combination of avocado and baked egg contains enough levels of protein and also help maintain your body sugar and fat content. Ensure that you cook the eggs thoroughly.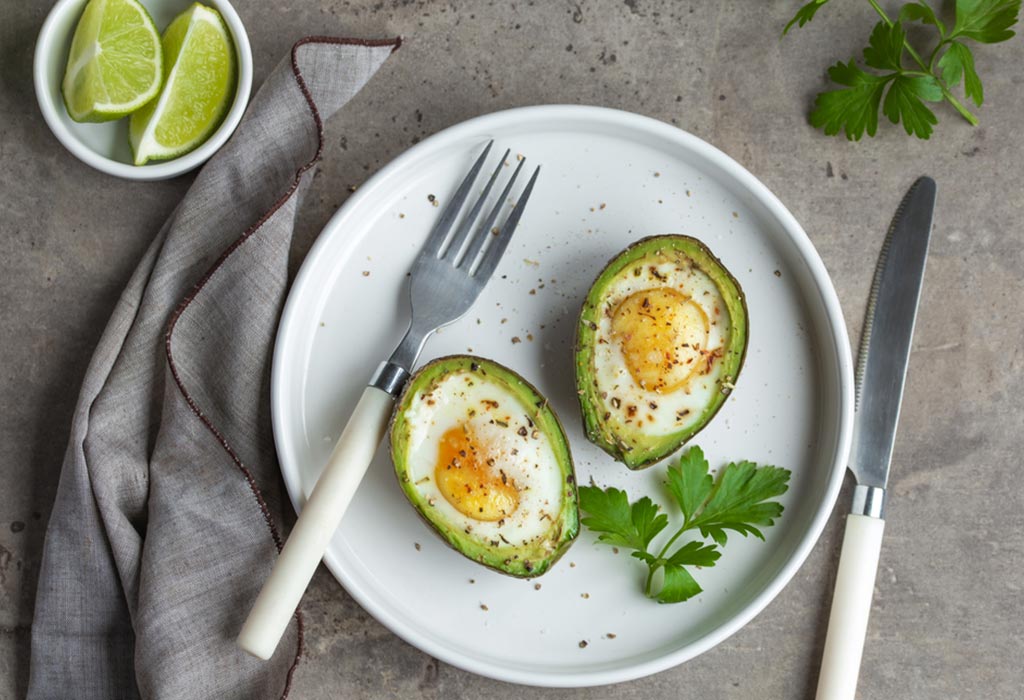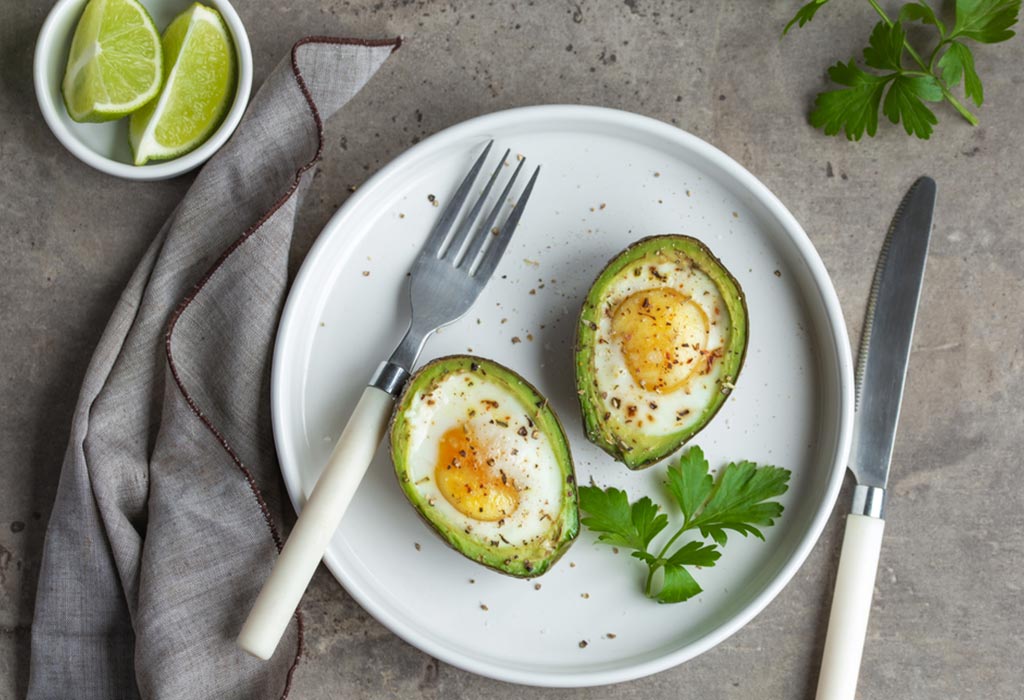 Ingredients:
1 avocado
2 eggs
Salt and pepper to taste
Method:
Separate the stone and place the halves of the avocado in a tray.
Take a bowl and crack an egg in it. Do not break the yolk.
Lift the yolk with a spoon and put it in one half of the pitted avocado. Repeat the same with another egg and put it in the second half of the pitted avocado.
Pour in some egg white in the gap around the yolk.
Carefully place the tray in an oven and bake it at a temperature of 220 degrees for about 15 minutes or till the eggs are cooked completely.
Add some salt and pepper to it and enjoy.
2. Roasted Avocado
This can be a tasty dinner alternative that fills you up well and is easy to make too. Roasting an avocado might not seem like the most obvious way to cook it. However, when paired with foods like sweet potatoes, it tastes delicious.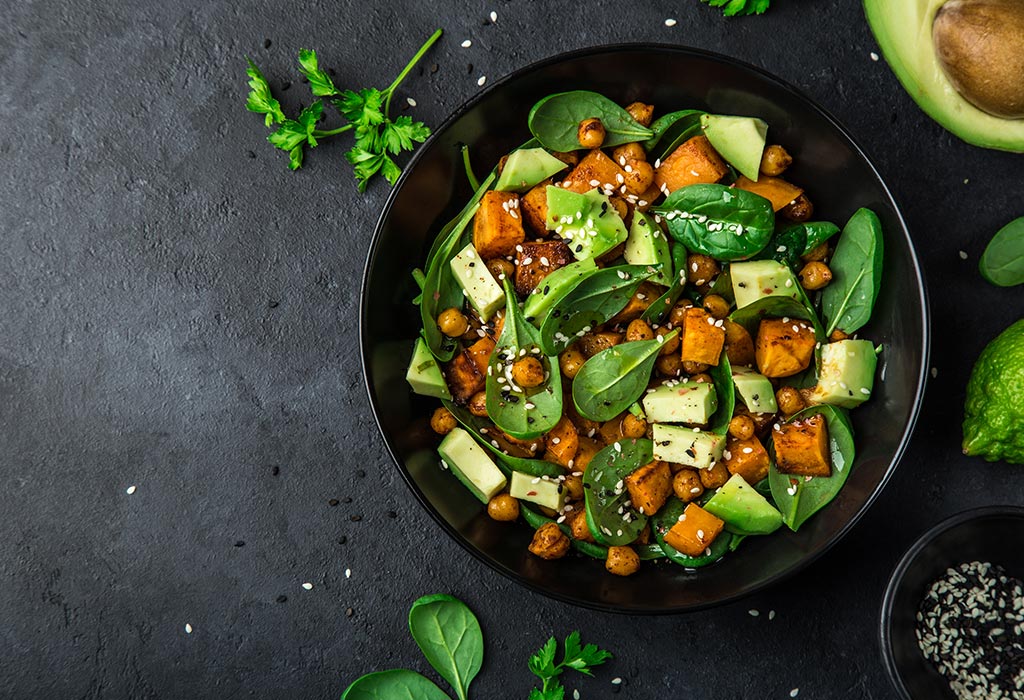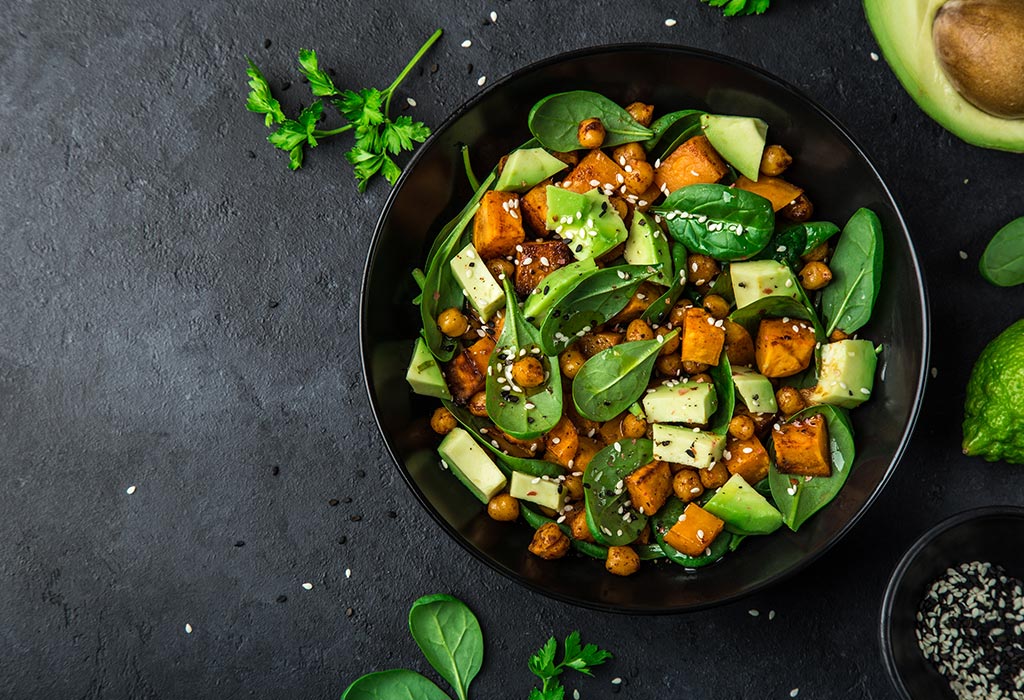 Ingredients:
1 avocado
1 small onion, diced
1 small tomato, diced
4 to 5 olives
1 – 2 tablespoon coconut oil
Salt and pepper as per taste
Method:
Peel the avocado properly and chop it into pieces. Place the pieces on a tray.
Add the onions, olives, and tomatoes.
Drizzle some coconut oil on top of the vegetables.
Place the tray in the oven and roast at a temperature of 180 degrees for about half an hour.
Once it gets a golden brown colour, the dish is cooked.
Sprinkle some salt and pepper on the dish.
3. Avocado Salad
In summers, salads are a great choice for lunch, and combining avocado in the salad makes it better than before. It not only makes it more nutritious than before, but the combination of various textures makes it great to eat as well.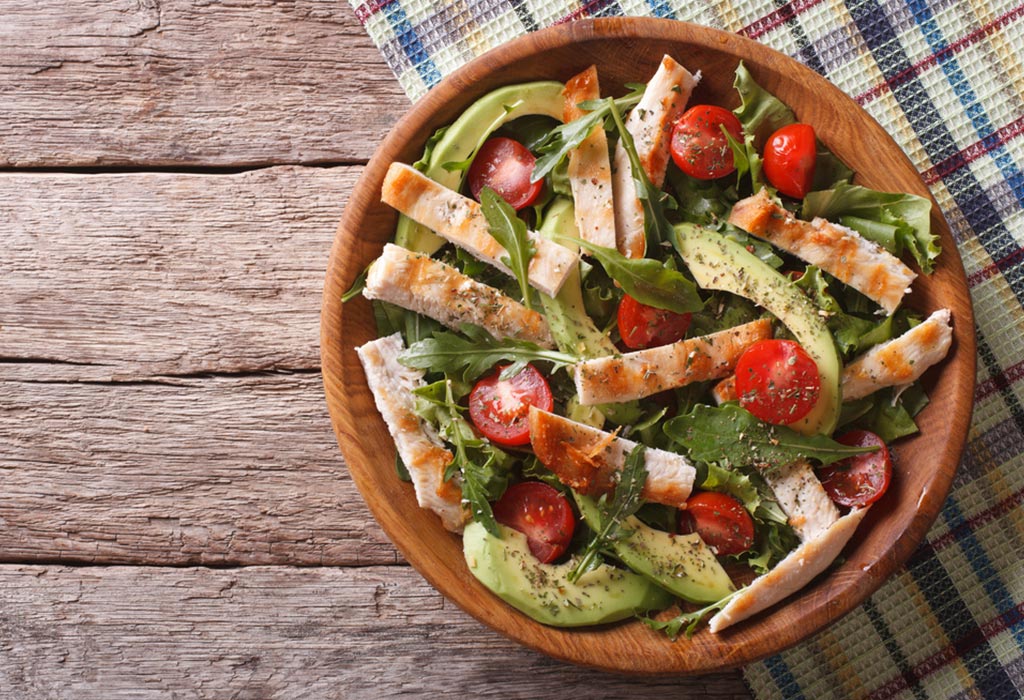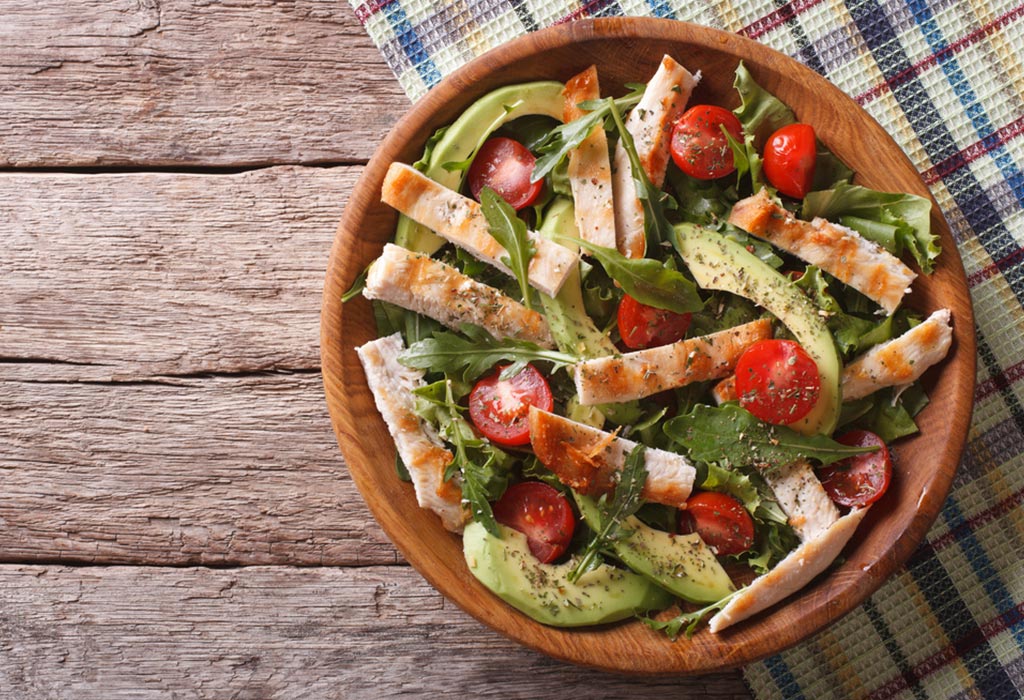 Ingredients:
1 avocado, pitted, peeled and chopped
1 tablespoon chopped celery
1/4thcup grated/ chopped radish
1/4thcup grated/ chopped cucumber
1/4thcup diced tomatoes
1/4thcup chopped onions
2 tablespoon olive oil
Salt and Pepper as per taste
1 teaspoon lemon juice
Method:
Mix the avocado and all the chopped veggies in a large bowl and mix.
Add the olive oil, lemon juice, salt and pepper and give it another good mix.
Enjoy this salad as it is or with some garlic bread.
4. Avocado With Toast
This is a quick yet nutritious breakfast recipe that is filled with vitamins and none of those sweetened sugary breakfast items.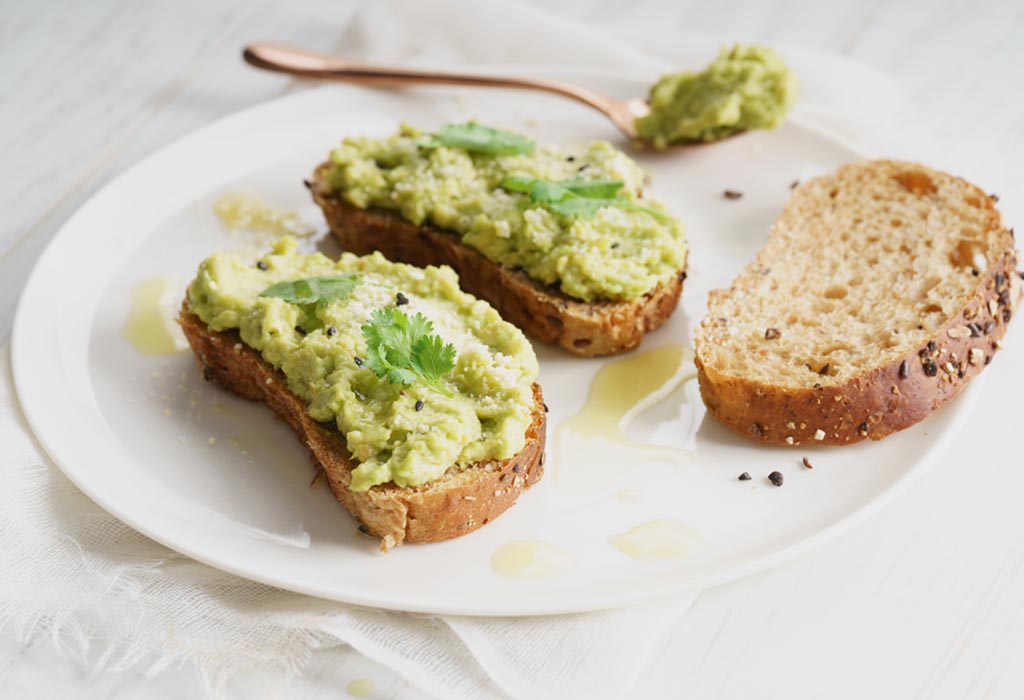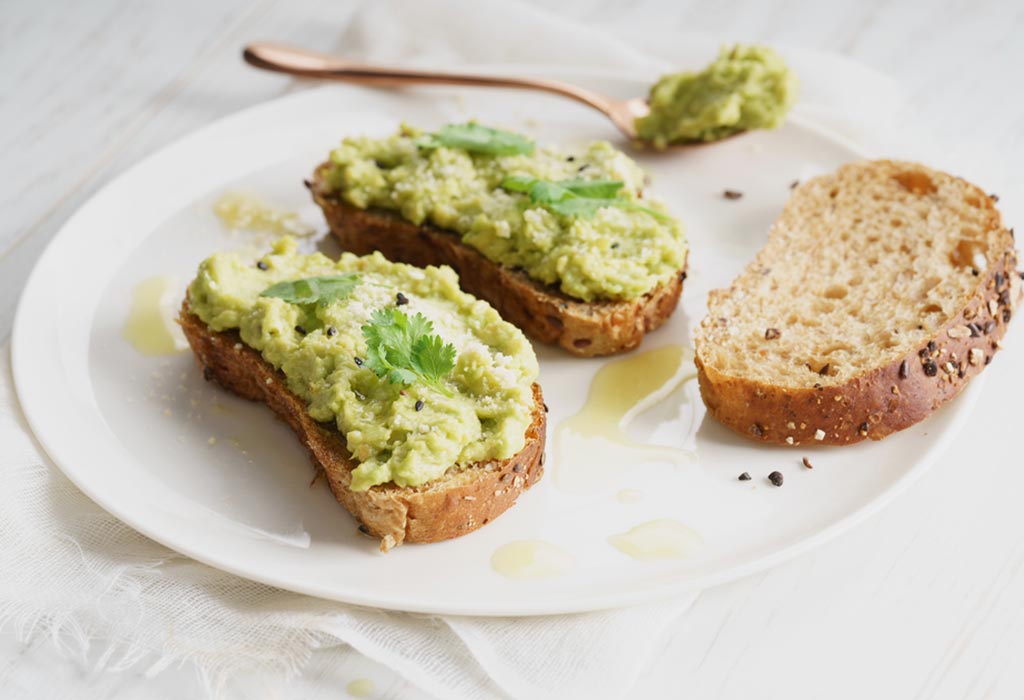 Ingredients:
2 slices of brown bread
1 avocado, pitted, peeled and mashed
Salt and Pepper for taste
Method:
Take some slices of wholegrain bread or brown bread and toast them.
Cut, pit and peel the avocado.
Mash it and season it.
Then take a generous amount of the avocado mash and apply it on the toast.
Enjoy a tasty and crunchy toast.
FAQ's
1. Is guacamole safe to eat during pregnancy?
Guacamole is a dip that is made from avocado. This dip usually contains large amounts of monounsaturated fatty acids and is primarily eaten with chips, sandwiches and wraps. Pregnant women can continue having guacamole without worry, although in moderate amounts as usual.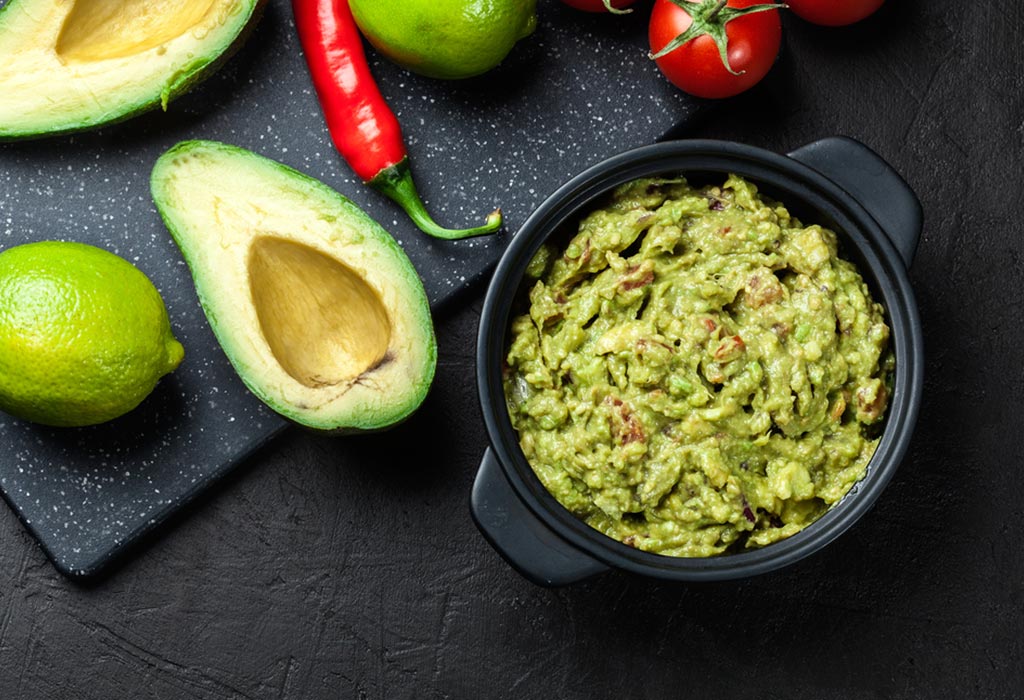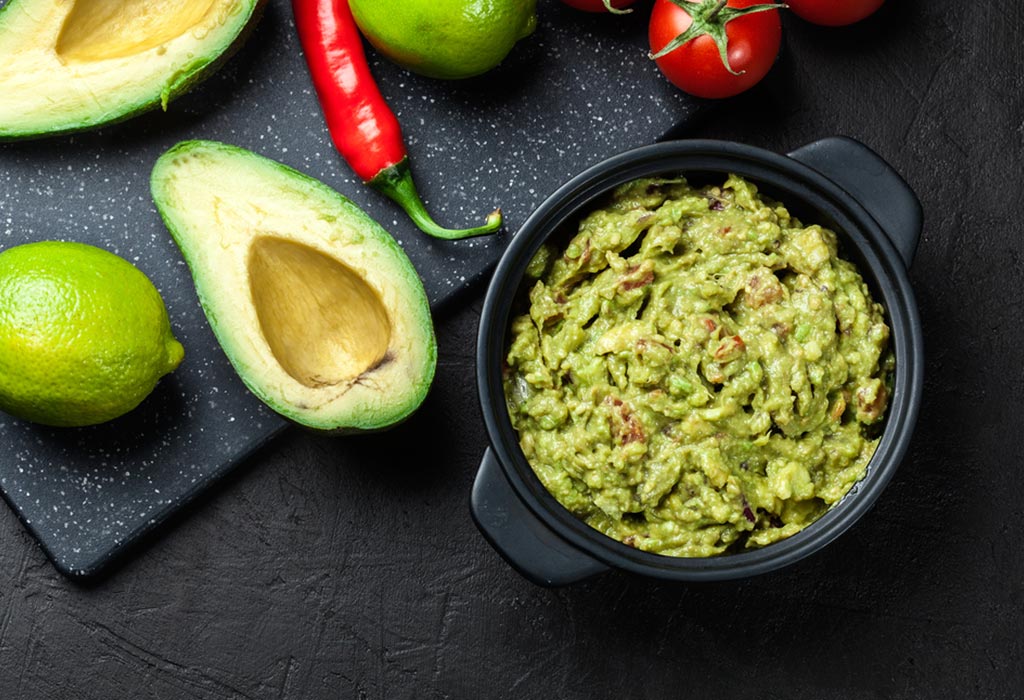 2. Can I eat avocados during the third trimester?
The third trimester is a stage in pregnancy where the foetus is still undergoing quite some growth. The organs are speedily taking shape, and the brain is also steadily developing. During this phase, a lot of nutrients and minerals are required, especially fibres, vitamin C and Vitamin K. All of these are present in avocados in large amounts, and therefore, are perfect for pregnant ladies.
3. How should I select the avocados?
When you are selecting the fruit, gently press it and check its firmness. It should yield just a bit, and not be too firm or too mushy. If it is too firm, wait a bit till it ripes, but if it is mushy, it must be discarded.
All foods that are healthy and contain good nutritive value should be a part of a pregnant woman's diet. Avocados are no different. Eating them in moderation and balancing them out without singularly focusing on any one of them will help you make the most of these nutritious foods. In case of allergies or health issues, it is important to get your doctor's go-ahead before you make avocados a part of your pregnancy diet.
References & Resources: Whattoexpect
Also Read: Eating Papaya During Pregnancy