7 Easy-to-Make Dishes for Your Next Potluck Party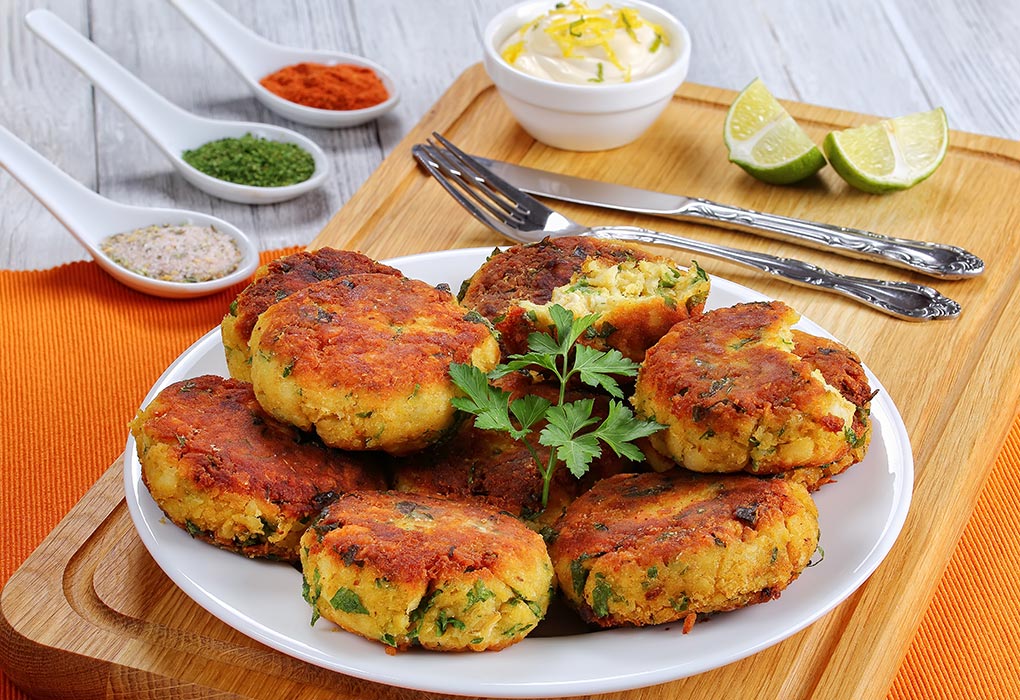 In this Article
Food has a way of connecting people across the globe, following different religions, and having distinct beliefs and taste. Food livens up a social gathering, well, of course, people, music, and endless conversations are a part of it, but it is food that makes us stay, doing its magic and bringing us all together. One such social gathering which is becoming a trend now, particularly among women, is 'a potluck'. In a potluck party each guest contributes a dish to the party, and thus the burden of 'cooking for a group' on the host, is shared by all.
If you are planning to attend a potluck party soon, then we know that the ever-present dilemma of women regarding "what to cook?" must be bothering you. If you want to take an unconventional dish to your upcoming potluck party, we have some ideas for you! Look through the recipes of some delicious dishes and win over your friends with your culinary skills!
7 Easy-to-Make Dishes for a Potluck Party
Are you confused about what dish to take to your potluck party? Here are a few options for you. Take your pick and try the recipe soon!
1. Paneer Cutlets
Indians, particularly vegetarians, love to eat anything made with paneer (cottage cheese), paneer cutlets being one of the favourites. They make an ideal appetizer and are a perfect starter that you can make in less amount of time for your potluck party. Check out the recipe here!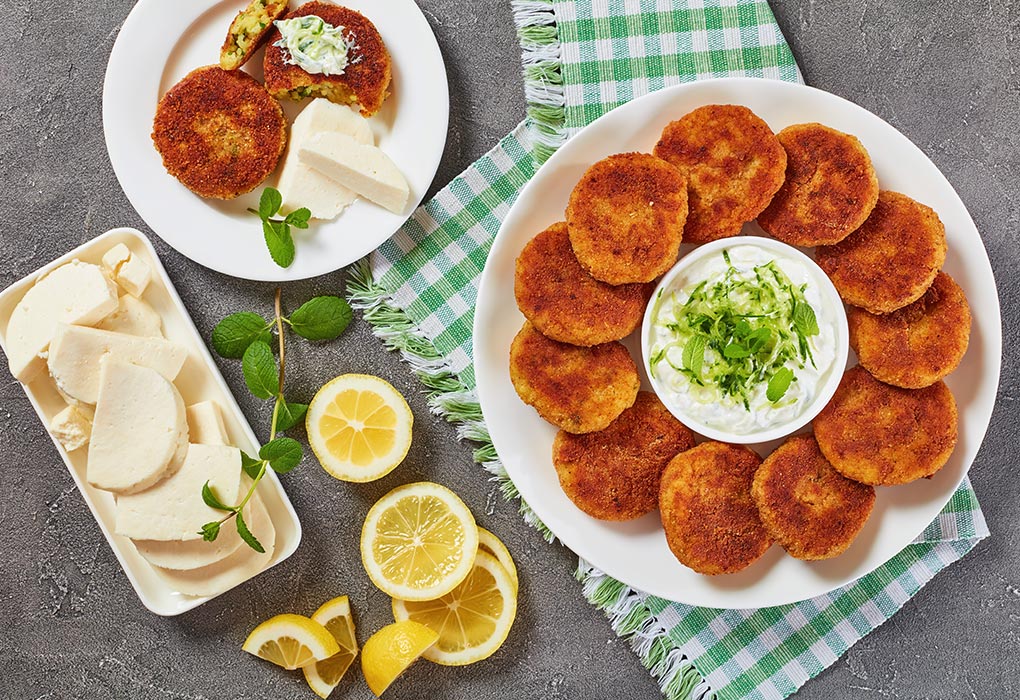 Ingredients
Paneer – 2 cups
Boiled chickpeas – 1/2 cup
Boiled peas – 1/2 cup
Breadcrumbs – 1/2 cup
Chopped coriander – 2 tbsp
Chilli powder – 1/2 tsp
Salt to taste
Oil – 3-4 tbsp
How to Make
In a large bowl, crumble paneer with your hands.
In another bowl, mash boiled chickpeas and add them to the crumbled paneer. You can use a food processor to mash chickpeas.
Next, add boiled peas, breadcrumbs, chilli powder, coriander, and salt to it.
Mix them well to form a dough and let it sit for 10 – 15 mins.
Take small balls from the dough and shape them into cutlets.
Heat a pan on low flame and place the cutlets on it.
Pour 1/2 tsp. of oil along the edges of each cutlet and cook evenly from both the sides.
They should turn golden-brown.
Turn off the flame and transfer the cutlets into a dish. Your paneer cutlets are ready for the party!
2. Pasta Salad
If you want to take something unconventional to your potluck party, you must consider pasta salad. The best thing about this dish is that it looks that it has come from a chef's kitchen and can be made in no time. So, try your hand at this pasta salad recipe, we are sure you will be successful in the very first attempt!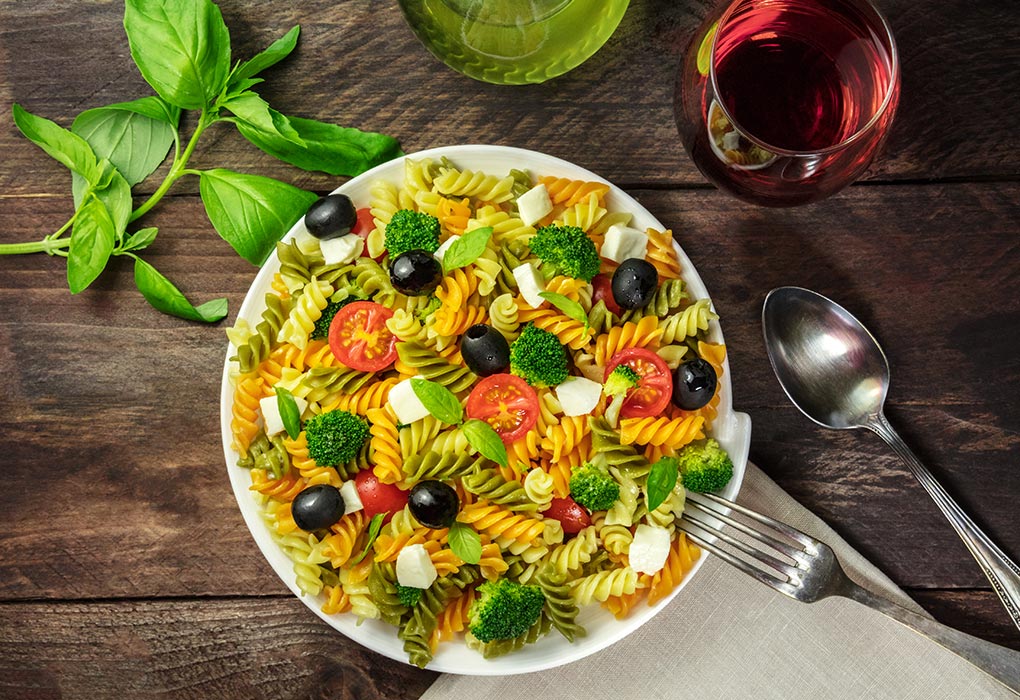 Ingredients
Spiral pasta – 2 cups
Red and green capsicum – 1 each (chopped)
Green and black olives – 1/2 a cup each
Broccoli florets – 1 small cup
Freshly crushed garlic – 1/2 tbsp
Black pepper powder – 1/2 tbsp
Diced cherry tomatoes – 1 cup
Crushed red chilli flakes – 1/2 tbsp
Cayenne pepper – 1/2 tbsp
Sesame seeds – 1/4th cup
Salt to taste
Chopped basil – 4-5 leaves
Olive oil – 1/2 cup
How to Make
In a deep pan, add some water and boil pasta in it until it is firm to bite. Don't overcook the pasta.
Once done, rinse it with cold water to remove the starch and keep it aside.
In a bowl, mix chopped red and green capsicums, broccoli florets, and diced cherry tomatoes. Add some olive oil to it and toss.
To make salad dressing, mix crushed garlic, black pepper powder, chilli flakes, cayenne pepper, sesame seeds, and chopped basil.
Take the pasta in a bowl and add 1/4th cup of olive oil and mix well.
Next, add veggies to it.
Pour the salad dressing over it and give it a toss.
Your pasta salad is ready for the party!
3. Khandvi
Khandvi is a popular snack from Gujarat. It is made with gram flour (besan) and buttermilk and is an ideal snack for a potluck party. This mouth-melting dish will leave your friends asking for more. Here is how you can make khandvi.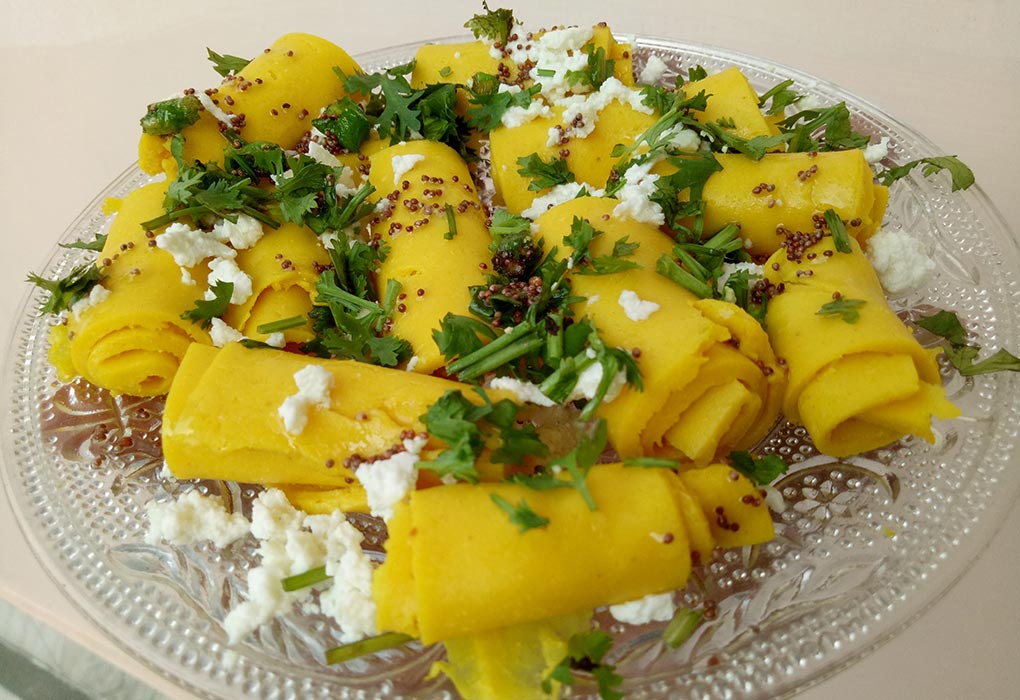 Ingredients
For the Batter
Gram flour (besan) – 1 cup
Buttermilk – 1 cup
Water (if required to thin the buttermilk)
Ginger and chilli paste – 1 tsp
Turmeric powder – 1/4 tsp
Salt to taste
For the Filling
Fresh grated coconut – 2 tbsp
Chopped coriander leaves – 2 tbsp
For Seasoning
Oil – 1 tbsp
Mustard seeds – 1 tsp
Curry leaves – 8 – 10
How to Make
In a large bowl, take gram flour, and add turmeric powder, ginger and chilli paste to it; mix all the ingredients.
Add buttermilk to the mixture, stirring it continuously to get a smooth batter. You can use a blender to make the batter.
Now, heat a non-stick heavy bottomed pan; pour the khandvi batter in it, and cook on a low flame, stirring it continuously to prevent the formation of lumps.
Cook until it becomes thick and doesn't taste raw.
Meanwhile, grease the back of a large steel plate or tray with oil.
Once the mixture is cooked to perfection, take some of it in a large spatula and spread it on the plate, covering the whole plate. You may need 2 – 3 plates depending on the batter.
Allow it to cool for 5 minutes then using a knife make straight cuts on it; each strip should be 2-inch wide.
In a bowl, mix grated coconut and chopped coriander.
Sprinkle this mixture sparingly on the plate with khandvi batter.
Next, roll each strip and place them in a nice serving plate.
To season these rolls, heat some oil in a wok on a low flame, and add mustard seeds to it. Once the mustard seeds crackle, add curry leaves.
Fry the leaves for less than a minute and pour the prepared seasoning over the rolls.
Your hot khandvi is ready!
4. Mini Rawa Uttapam
There is hardly a person who doesn't like South Indian dishes. Dosa, idli, uttapam…all of these taste heavenly and can be served at a party if you have the time and energy to cook for a group of people. Dosa and uttapam may require a lot of time to prepare and idli would be common, so how about making a mini version of uttapam for your potluck party? Instead of making the traditional uttapam, you can make 'mini rawa uttapam'; mini rawa uttapams will require less time and would serve as a perfect dish for breakfast, snacks, and even dinner.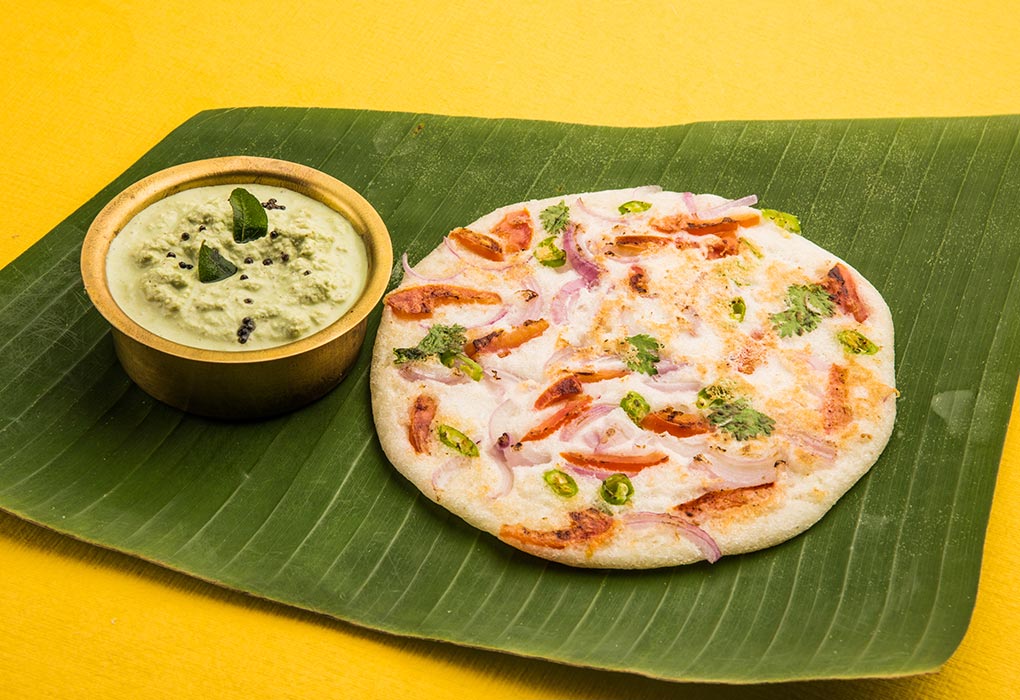 Ingredients
Semolina (rawa) – 2 cup
All-purpose flour (Maida) – 2 tbsp
Smooth curd – 1 and a half cup
Water
Medium-sized chopped tomatoes – 2
Finely chopped onions – 2
Finely chopped green chillies – 2
Salt to taste
Oil for greasing and cooking
How to Make
In a large bowl, take rawa, and add maida and curd to it. Mix them well by adding water (as required) to make an idli-like batter.
Keep the batter aside for 20-30 mins.
After half an hour, add chopped tomatoes, onions, and green chilli; and salt as required.
Grease a non-stick mini-uttapam with oil. If you don't have a mini-uttapam pan, you can use a regular large pan and make 2-3 uttapams on it at a time.
Pour 2 tbsp of batter in each mould of the pan, spreading it gently.
Pour a little amount of oil in each mould from the edges and cook them well. Your mini rawa uttapams should have a golden brown colour.
Repeat the steps until you think the amount is sufficient for the party.
5. Steamed Momos
Momos are a popular street food in India and can be made in both veg and non-veg style, as per your preference. Momos when served hot taste divine, so make them a few hours before you are set to go for the party.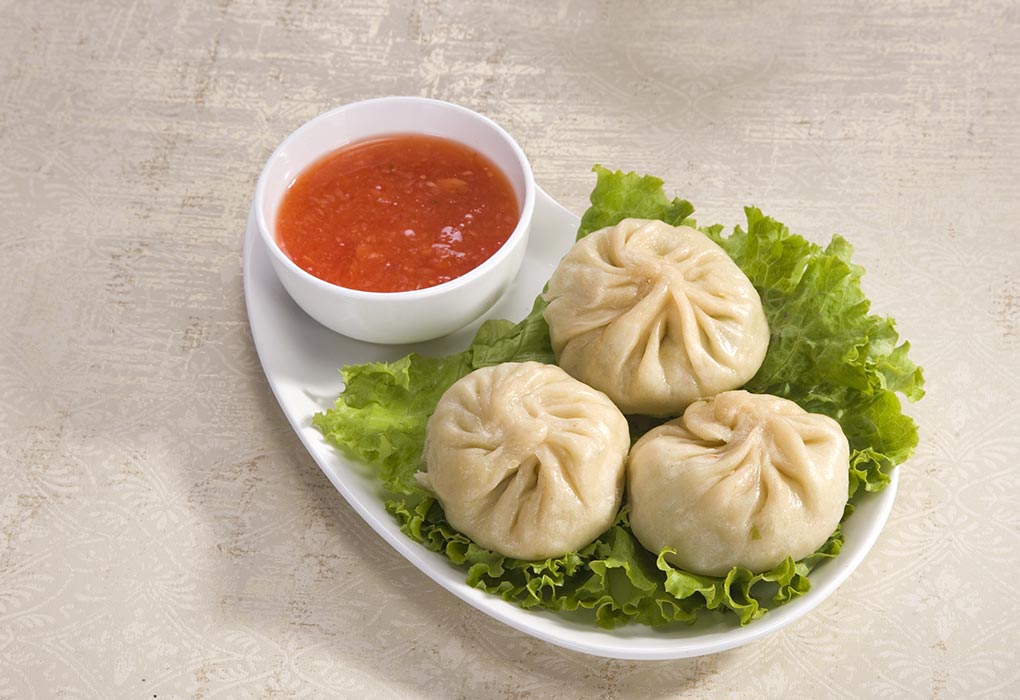 Ingredients
For the Momos
All-purpose flour (maida) – 1 cup
Oil – 1 tsp
Water
Cabbage leaf
For the Stuffing
Finely chopped onions – 1/2 cup
Grated cabbage – 1 cup
Grated carrot – 1
Grated paneer – 1/2 cup
Ginger-garlic paste – 1/4 tsp
Oil – 1 tsp
Finely chopped green chilli – 1
Soy sauce – 1 tsp
Vinegar – 1 tsp
Salt to taste
Chopped coriander leaves
How to Make
Dough
Take all-purpose flour (maida) in a large bowl and add salt as required, and mix it well.
Add water slowly and knead well to form a dough.
Cover the dough with a moist cloth and place it aside for an hour. Meanwhile, prepare the stuffing.
Stuffing
Heat oil in a pan and sauté chopped onions till you see a slight change in their colour.
Next, add chopped green chillies and ginger-garlic paste to it and sauté again.
Follow by adding grated cabbage and sautéing for a minute or two on low flame and then add grated carrot and paneer and give it a good mix. If you want to make chicken momos, you can use a cup of minced chicken to the mix.
Next add soy sauce and vinegar, chopped coriander, and mix again.
Turn off the flame and transfer the stuffing to a bowl allowing it to cool.
For Momos

Take the dough and knead it again for a minute.
Extract a small ball from the dough and place it on a rolling board.
Dust some maida on it and roll it using a rolling pin. Roll it to a medium-size circle.
The sides should be thin and the centre should be thick.
Place 1 tbsp of the prepared stuffing in the centre, press it slightly, and pleat the edges, gathering everything in the centre.
Press in the centre and seal it.
Repeat the steps to make a few more.
Heat a steamer and place a tray in it lined with a cabbage leaf.
Now place the momos in the tray carefully.
Let it steam for 12-15 mins.
Serve them with tomato' sauce.
6. Apple Rabdi

Any party would be incomplete without desserts. Desserts are a perfect ending to a perfect party. If you want to give that perfect ending to your potluck party, make this simple dessert that will require little effort. Rabdi is a famous sweet delicacy from Uttar Pradesh and is relished by people all over India. To give it a unique touch, add apples. Learn here how to make it.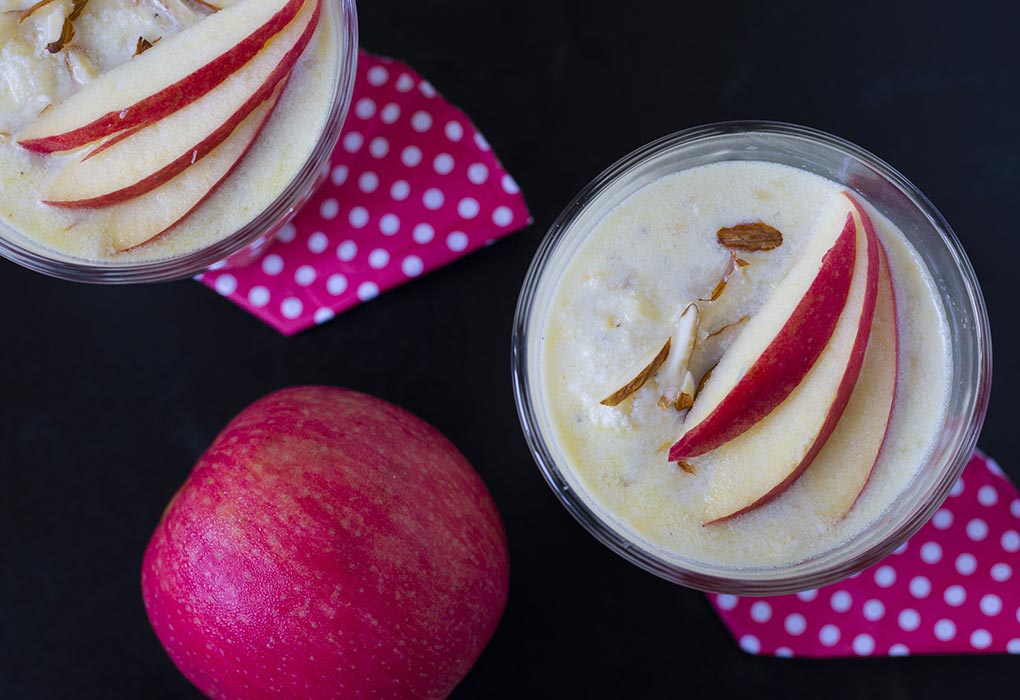 Ingredients
Medium-sized apples – 3
Milk – 1 litre
Sugar – 4 tbsp
Green cardamom – 1/4 tsp
Blanched and sliced almonds – 8-10
Blanched and sliced pistachios – 8-10
How to Make
Heat a deep non-stick pan on low flame and add milk to it. Simmer the milk, stirring it occasionally till it reduces to half.
Add sugar and keep stirring. Next, peel and grate two apples and add them to the milk and stir well to mix.
Next, sprinkle cardamom powder, sliced almonds and pistachios and mix well.
Let it cook for 3-5 mins.
Now, transfer the rabdi to a serving bowl.
Take the remaining apple and slice them thinly.
Garnish the rabdi with these apple slices and refrigerate for an hour.
Serve chilled!
7. Milk Pedha
Milk pedha is another sweet that is an ideal option for those who are new at cooking. If you don't want to be belittled by your friend's dish which looks like 'from the expert's kitchen' while you figure out how to use a pressure cooker, make milk pedhas. They are the easiest to make. Try this simple recipe of milk pedha made using milk powder and condensed milk and be the star chef at the party.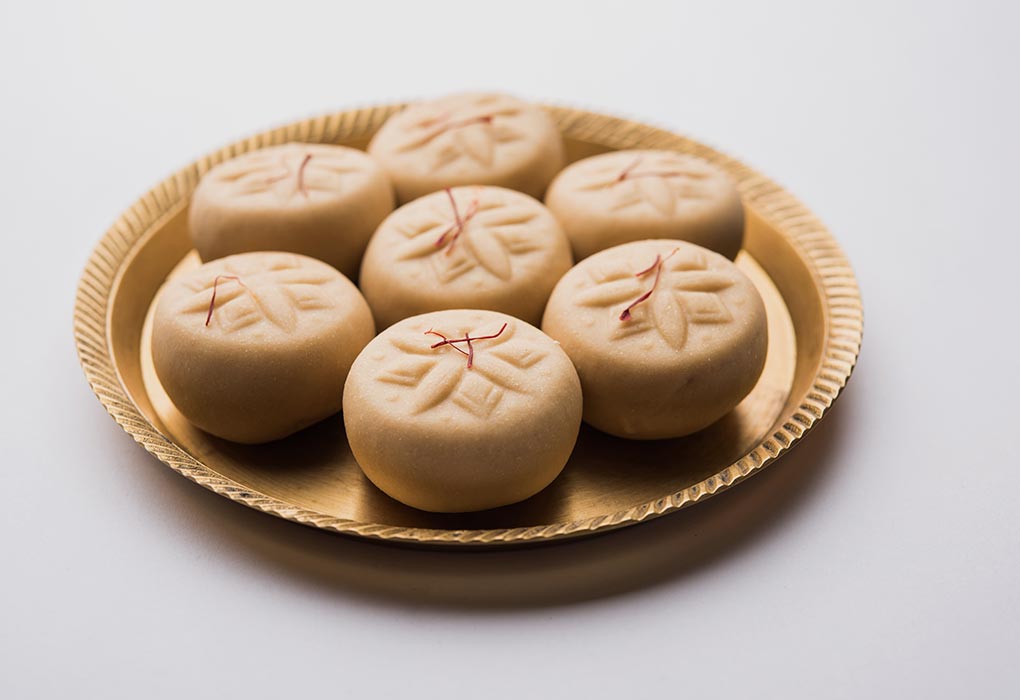 Ingredients
Condensed milk – 1 can
Milk powder – 1 cup
Ghee – 1 tbsp
Blanched and sliced almonds – 10
Cardamom – 4
How to Make
Heat a heavy bottomed pan on a low flame, and add condensed milk and milk powder to it.
Stir it continuously to avoid lumps from forming.
Add cardamom powder to it and give it a nice stir.
Cook it till you see milk leaving the sides of the pan.
Add sliced almonds and ghee and give it a mix.
Let it cook till it forms a thick mass, enough to make small balls.
Once it's done, turn off the flame and allow it to cool for 5-10 mins.
Take lemon-sized small balls from it and flatten them gently.
Make small dents in the centre of the flattened pedhas, and place sliced almonds in it.
Arrange the pedhas in a nice container and take them to your party!
A few decades ago, the concept of potluck parties was a foreign phenomenon in our country. But not anymore! Any good change should always be welcomed. So, take your pick from the above list and make one dish for your potluck party. These dishes look presentable and are delicious, too! People who love food are the best kind of people and if you have found those who share the common love for food, then party hard, eat lots of good food and enjoy.