Easy Homemade Bath Bomb Recipe for Children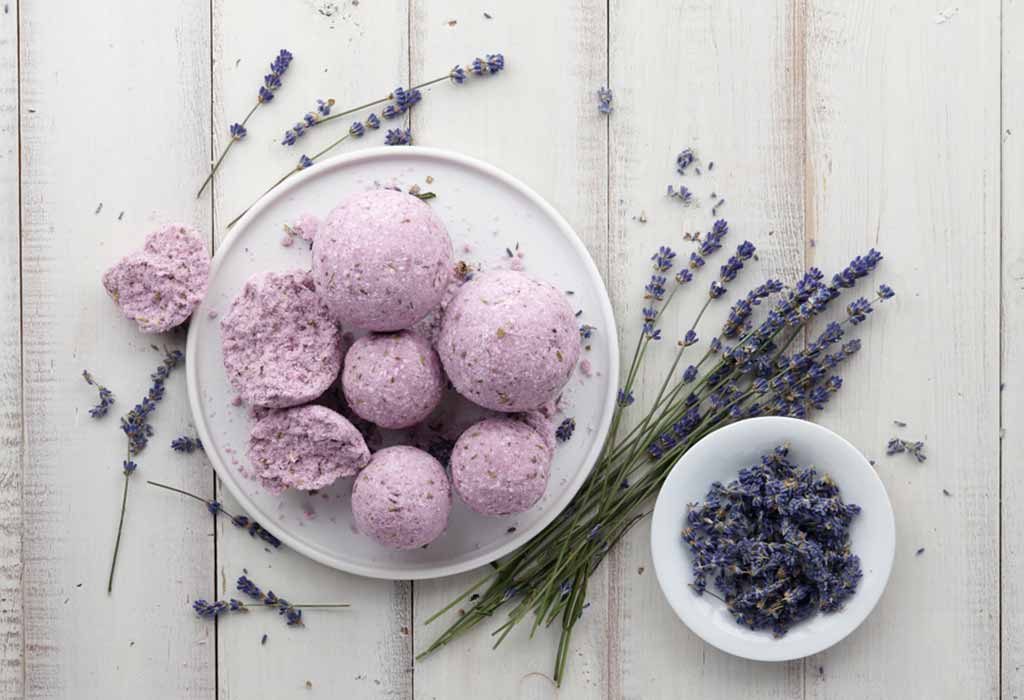 Bath bombs have become very popular in recent times. When it comes to a relaxing and luxurious bathing experience, bath bombs are one of the basic requirements, and not only adults but also kids can enjoy this experience. There are umpteen options available in the market that you can buy. However, if you are looking for DIY bath bomb recipe options that you and your child can enjoy making together, this post shares that and more with you!
Are Bath Bombs Safe for Kids?
Bath bombs provide a relaxing and rejuvenating bathing experience, but as parents, you may wonder how safe these are for your child. Well, there is no doubt that bath bombs add to the fun quotient of the usual bathing experience, but it's important to note that you should not use these bombs regularly. If used on a regular or more frequent basis, the ingredients may sometimes cause irritation or other skin issues in young kids. Therefore, make sure that you use natural bath bombs, or ones with natural ingredients. The best thing can be to make them at home with kid-friendly ingredients!
How to Make DIY Bath Bombs for Kids
Here's how you can make kid-friendly bath bombs:
Supplies
You will need the following supplies:
1 cup corn starch or cornflour
1 cup citric acid
2 cups baking soda
1 cup fine sea salt (if not available, skip it, but do not use regular salt)
Few drops of food color (any color that your child prefers)
4 tablespoons water
5 tablespoons melted coconut oil
Bath bomb molds (any shape or size that you like)
Instructions
Follow these simple instructions to make bath bombs:
Take a big mixing bowl, add corn starch, baking soda, citric acid, and salt in it, and mix well.
If there are any lumps or chunks, use a spatula or spoon to break them to make a uniform mixture.
In a separate bowl, add water and coconut oil, and whisk them well.
Add the wet mixture to the dry mixture slowly as you keep whisking all the ingredients together. If you add the wet mixture in one go, it may cause too much fizz.
The mixture should be able to hold itself together when squeezed between the hands. If that does not happen, you can add some water to the mixture to give it a wet sand-like consistency.
After your mixture is done, you can add desired the food color or colors. If you wish to make multiple colored bath bombs, you can divide the mixture into separate parts and add the desired food color in each. Ensure that you use only a few drops of food color, or else it may stain the bathtubs.
If you wish to make a single color bath bomb, put the same color or color mixture on both sides of the mold. If you wish to make dual or multi-colored bath bombs, you can layer the colors in the mold one by one.
You can also hide a small toy inside the bomb to add more fun to the bathing experience. However, hiding tiny toys will not be a good idea for kids below the age of six years.
Press both sides of the mold firmly to hold the shape together. In case the bath bomb breaks or crumbles, you can put it back in the mold and press again.
Use a spoon to tap the mold as you gently take out the bath bomb from it.
Leave the bomb aside some time, preferably overnight, to set.
Simple immerse the bath bomb in the water, and let your kiddo enjoy a relaxing bath time!
Do the Bath Bombs Stain the Tub?
We all get mesmerized with the vibrant colors and hues of these bath bombs, and wonder whether the colors would stain the bathtub! Well, if you are whipping bath bombs at home, do not use excessive amounts of food coloring in them. Make sure that the ingredients for bath bombs contain only a few drops of food coloring. If you are still worried, you can use a small amount to check for staining, and if you notice any staining, you can adjust your ingredients accordingly.
If the bathtub is stained, you can rub the stained area with a paper towel to remove the marks. For tougher stains, you can use a soft scrub pad and soapy water. Remember not to use more than one bath bomb at a time, to avoid staining the tub.
Safety Tips for Parents Regarding Bath Bombs
Bath bombs are safe for children, but it may not be a good idea to leave kids unattended when making or using these bombs. Here are some tips that parents should keep in mind:
Kids can be involved in making bath bombs, but do not let kids handle the ingredients independently.
Do not let kids immerse their face or head in water after placing the bath bomb in the water.
Kids should strictly be told not to drink or sip the bath water.
If bathwater comes in contact with the eyes or mouth, rinse thoroughly for several minutes with clean water.
Bath bombs should not be rubbed on the skin or held in hands.
Children should be asked to shower thoroughly after using bath bombs.
Rinse the bathtub well after using them.
Baking soda is one of the main ingredients in bath bombs that may cause an allergic reaction in some kids. If that happens, seek immediate medical assistance.
Bath bombs are not ideal for everyday usage, and should be used on a weekly or monthly basis.
How to Make Bath Bombs Without Citric Acid
Most bath bombs have citric acid as one of their basic ingredients. However, if you wish to make bath bombs without it, you can do that as well. You will need 2 cups baking soda, 1 cup corn starch, 1 cup Epsom or sea salt (do not use iodized salt), ½ cup cream of tartar, 2 tablespoons of oil (coconut, olive, almond, or vegetable oil), and 2 tablespoons of water. You can add a few drops of an essential oil such as lavender, rose, lemongrass, etc., for a soothing fragrance, and a few drops of food coloring to add a hint of color. However, both these ingredients are absolutely optional; if you wish to make bath bombs without them, you can do so! Mix all the dry ingredients in a separate bowl, and the wet ones in another one. Slowly add the wet mixture into the dry mixture, and mix well. Put the mixture in the mold. To make bath bombs harder and firmer, make sure you press the mold firmly. Let the bath bombs sit for a few hours before using them.
Making bath bombs at home can be an enjoyable and exciting activity for you and your kids. You can also gift these DIY bath bombs to family or friends for a personalized gifting experience!
Also Read:
How to Keep Bathroom Safe from Infants and Kids
Epsom Salt Bath for Babies and Children