Easy Barbecue Recipes For Your Next Family Get Together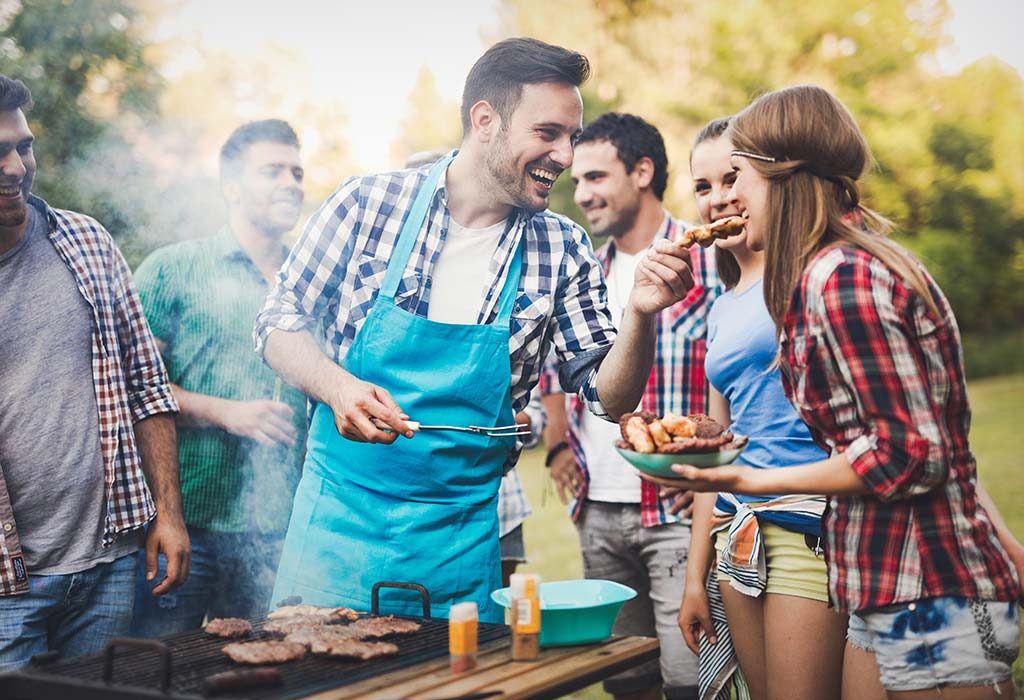 In this Article
'Family Reunion Season' is here, now that we've welcomed the new year. What better way to kick-start the season than by hosting a fabulous barbecue party in your terrace or backyard! With the nip in the air and the spring season knocking on our doors, this is the perfect time to host a barbecue party. A terrace barbecue party is an ideal way to spend time with your family and friends. Sure, we love the family karaoke nights, and the family game nights as well, but it's time to add some spunk to your monthly family parties. Also, one of the most excellent benefits to having a terrace barbecue party is that you will have the chance to meet everyone you know. You can invite your family, friends, neighbours and even co-workers. Whether you get to see them every day or on rare occasions, you might enjoy having all your family and friends together in one place. So, make a guest list, pick up your phone and say 'It's time for a BBQ'!
Easy-to-Make Dishes for Your Barbecue Party At Home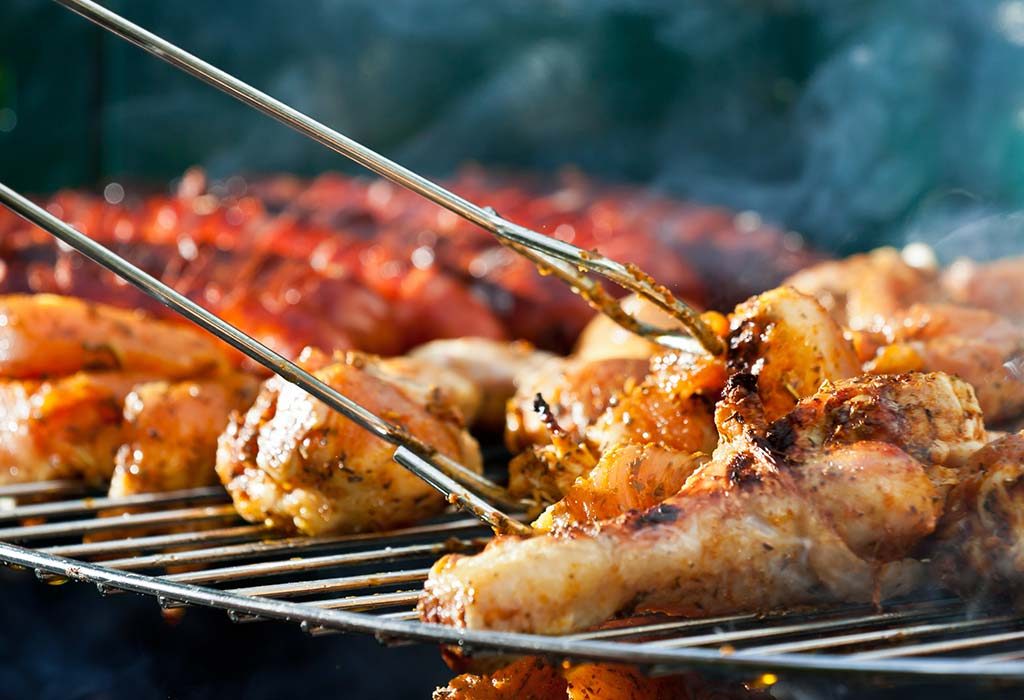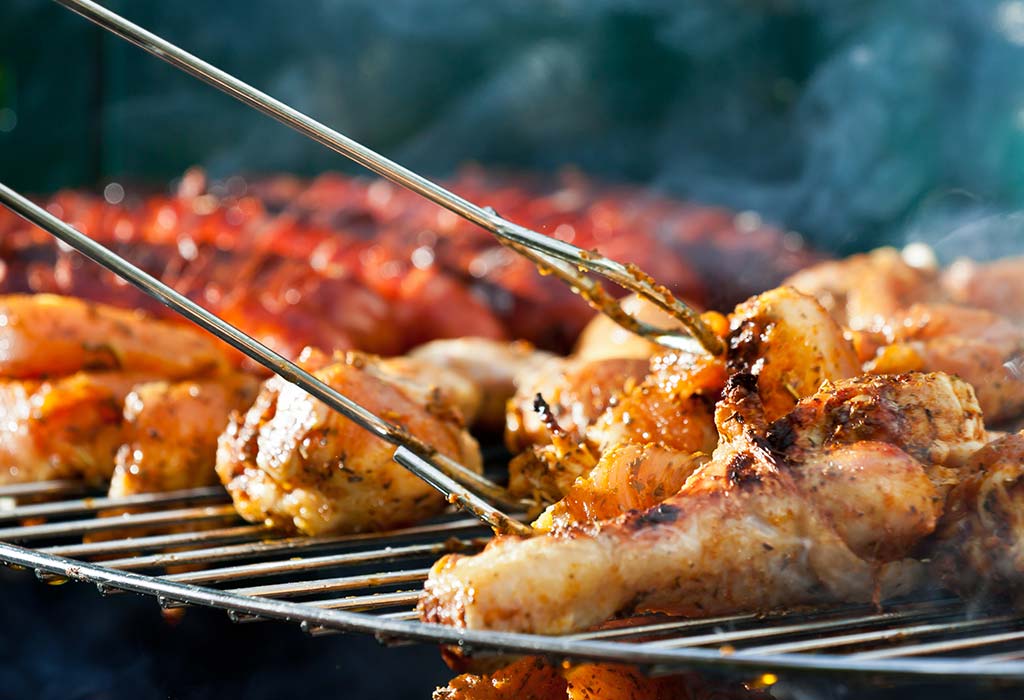 Getting together with the entire family is always exciting and fun but planning the meals can be very exhausting and stressful. But that's the beauty of a BBQ party. Too much pre-planning isn't needed. You just need to fire up the grill, grab your tongs and get cooking. You must be thinking "What can I make that doesn't require a lot of time?" Don't worry, we've got you covered with the best entrees, mains, and desserts on the block!
Starters for Your BBQ Party
We can all agree that starters are an essential part of your get-together. Whether you're encouraging your guests to mingle or tiding them over until the big meal, these finger-friendly snacks will make your party a big hit.
1. Grilled Marinated Prawns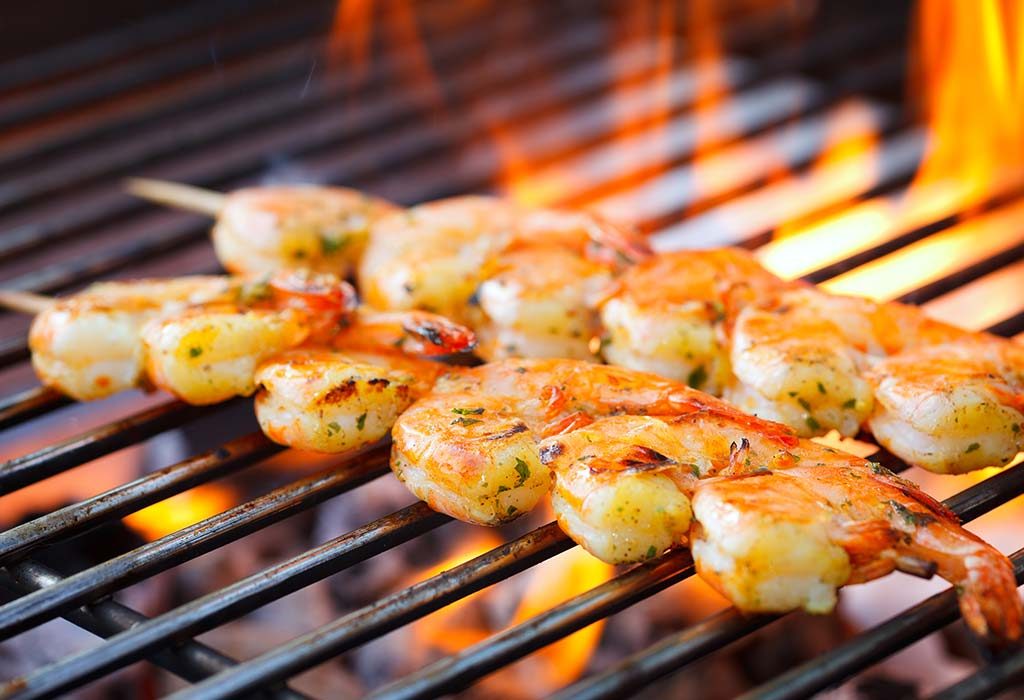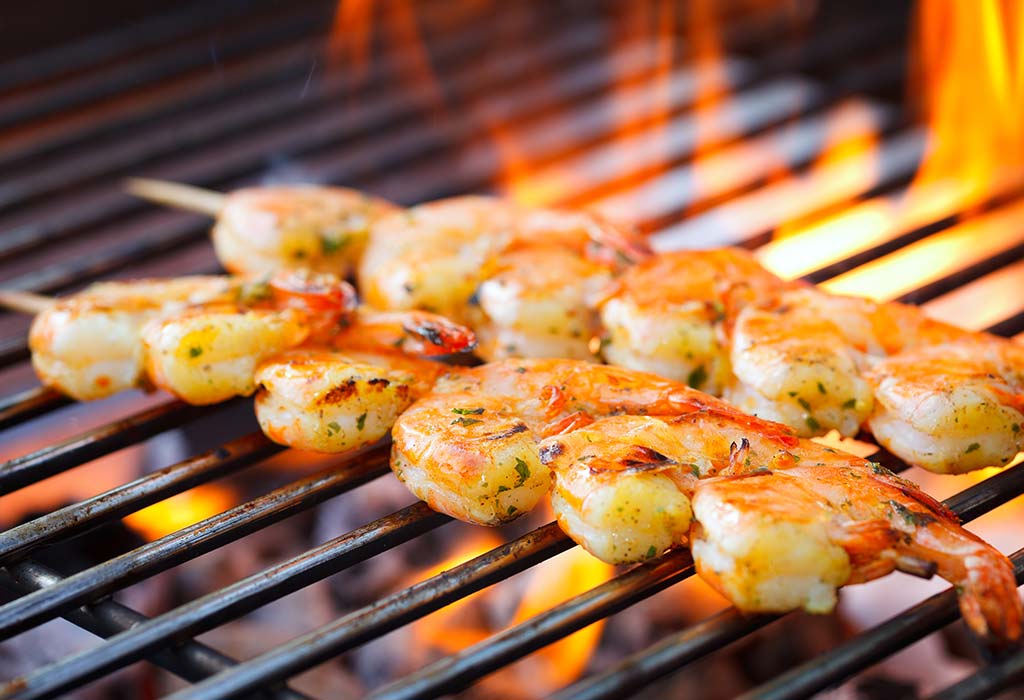 Prawns are ideal if you want to whip up a quick and easy starter as they don't take much time to get cooked. These grilled prawn skewers are prawns marinated in garlic, lemon and herbs, then threaded onto sticks and cooked to perfection. These prawns are so yummy that you won't even need a cocktail sauce with it.
Ingredients
1kg fresh prawns, peeled and deveined
1/3 cup olive oil
3 cloves of garlic, minced
1/4 cup tomato sauce
1/4 tsp vinegar
2 tbsps fresh basil
1/2 tsp salt
1/4 tsp pepper
Skewers
How to Make
1. In a large bowl, stir together olive oil, garlic, tomato sauce and vinegar. Season it with basil, salt and pepper. Add prawns to the bowl and stir until they are evenly coated. Cover, and refrigerate for about 30 minutes.
2. Preheat the grill at medium heat. Thread the prawns onto the skewers.
3. Lightly oil the grill grate. Cook the prawns on the preheated grill for 2 to 3 minutes on each side, or till they turn opaque.
2. Grilled Sweet Potatoes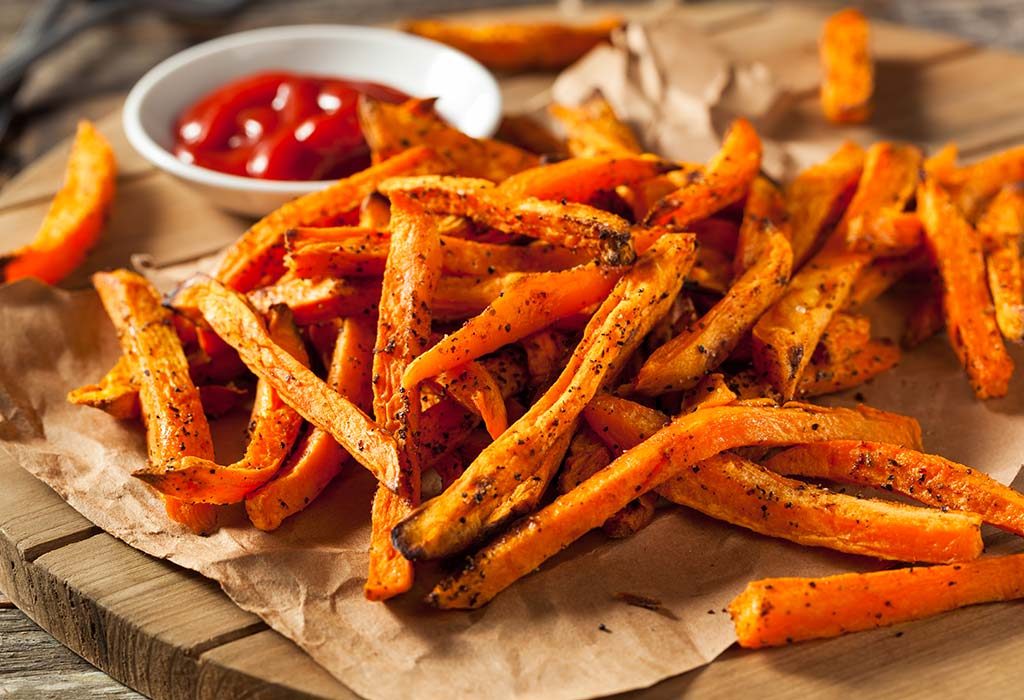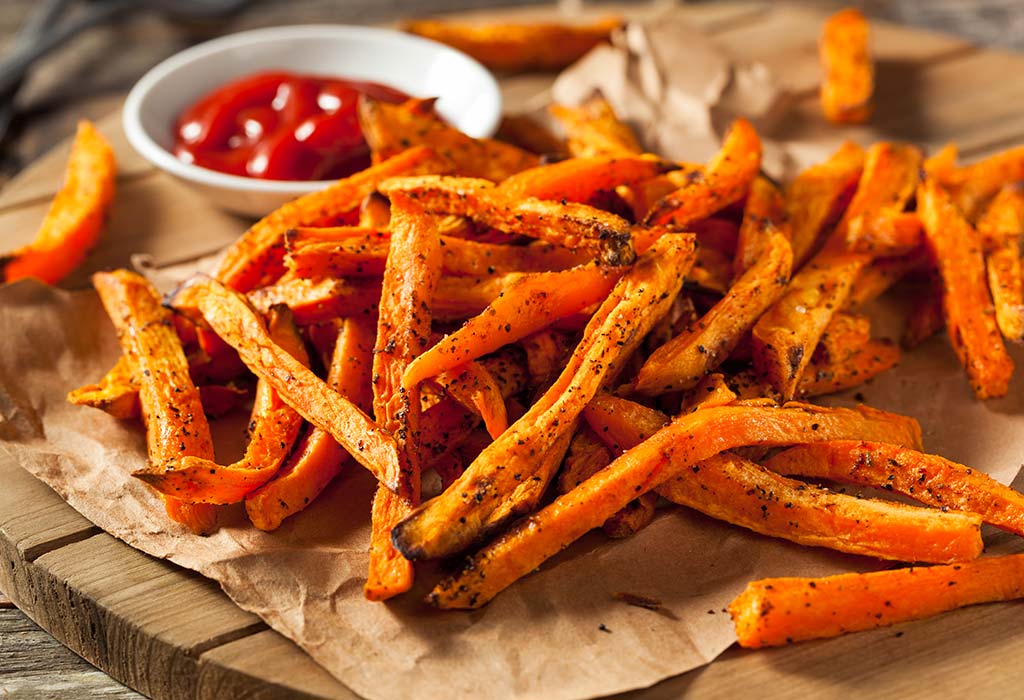 If you are calling some of your health-conscious friends to your party, they will thank you for adding this dish to your menu. We all love McDonald's fries, but our bodies don't. But these grilled sweet potato fries are healthy as well as super yummy. These fries are so good that you'll want to cook them all year round. Just remember to keep an eye on them, so they don't burn. This dish will be a delicious addition to your barbecue dinner plate.
Ingredients
2 large sweet potatoes, cut into thin slices
2 tbsp brown sugar
1 tsp cumin powder
1/4 tsp chilli flakes
Salt and pepper to taste
How to Make
1. Preheat the grill on medium heat, and lightly oil the grate.
2. Place the sweet potato slices on the grill and sprinkle brown sugar, chilli flakes, and cumin powder on the slices. Season it with salt and pepper.
3. Cook on the preheated grill, turning the slices every 5 minutes until the potatoes are tender and cooked through.
3. Chicken Skewers with Peanut Sauce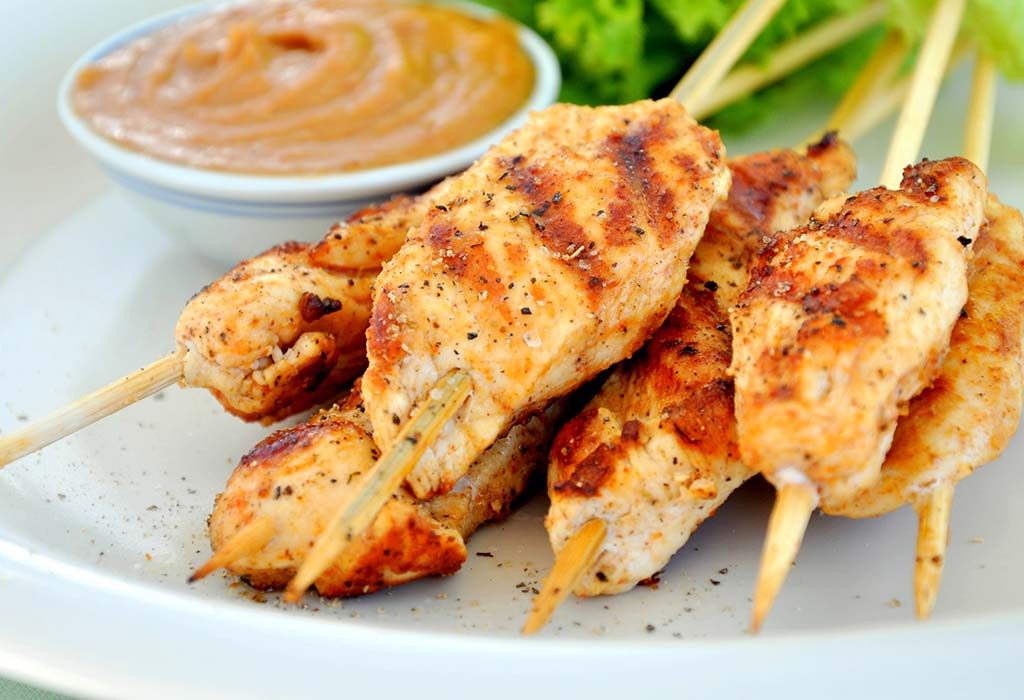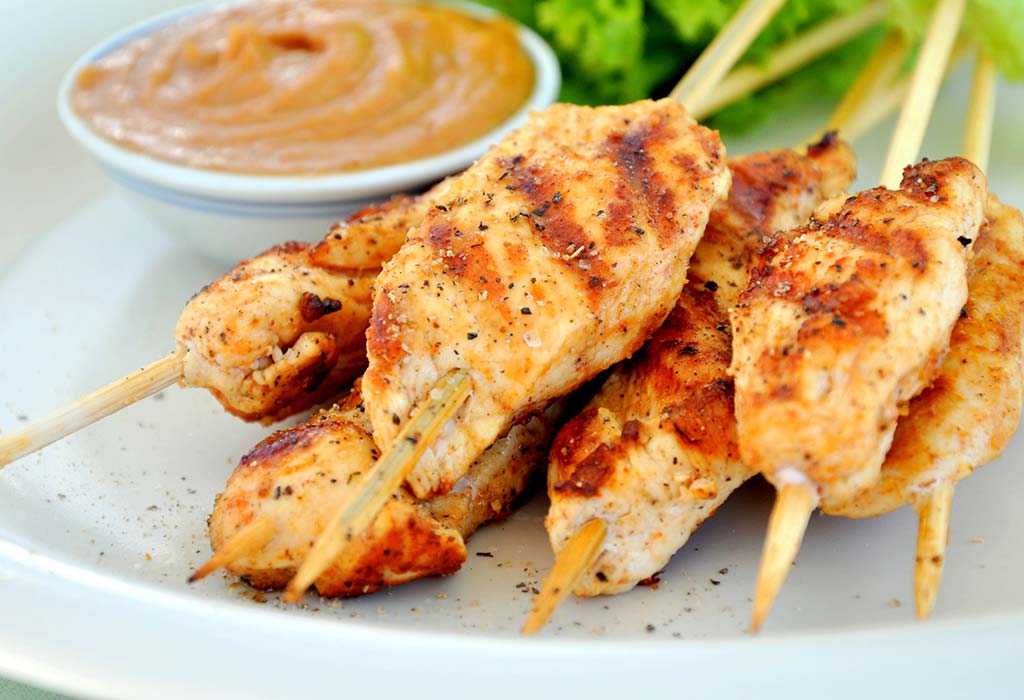 Most people associate peanut butter with snacks or desserts, but this fantastic dish proves it also makes a mouthwatering sauce for chicken. Chicken satay skewers is an easy grilled chicken recipe that is perfect to prepare for a barbecue party. With creamy peanut sauce for dipping, this chicken satay recipe is so much better than satay from a restaurant!
Ingredients
3 boneless chicken breast halves cut lengthwise into 16 1/4 inch strips
1/2 cup smooth peanut butter
1 clove garlic, chopped
1/2 tsp grated ginger
2 tbsp lemon juice
2 tbsp soy sauce
1 tsp sugar
1/4 tsp crushed chilli flakes
2 tbsp olive oil
Salt and pepper
How to Make
1. Blend peanut butter, ginger, garlic, lemon juice, soy sauce, sugar, crushed chilli flakes and 1/3 cup water in a blender until smooth.
2. Preheat the grill at a high temperature. Thread the chicken onto 16 skewers and place them on an aluminium foil sheet. Brush both sides of the chicken with oil and season them with salt and pepper. Grill the chicken until cooked through, turning it every 4 minutes. Serve with peanut sauce on the side.
The Main Course
These main course recipes will take the stress out of hosting a barbecue. If you are in need of a reliable recipe, look no further than our delicious collection of meals. These dishes are guaranteed to get your guests' taste buds tingling.
1. Classic Veggie Burger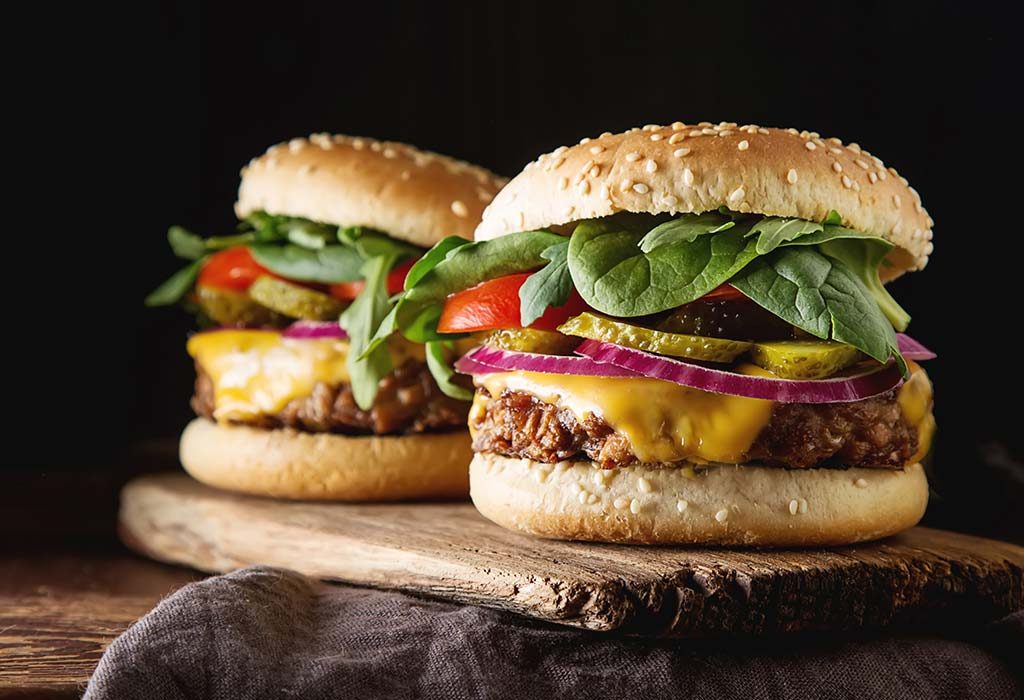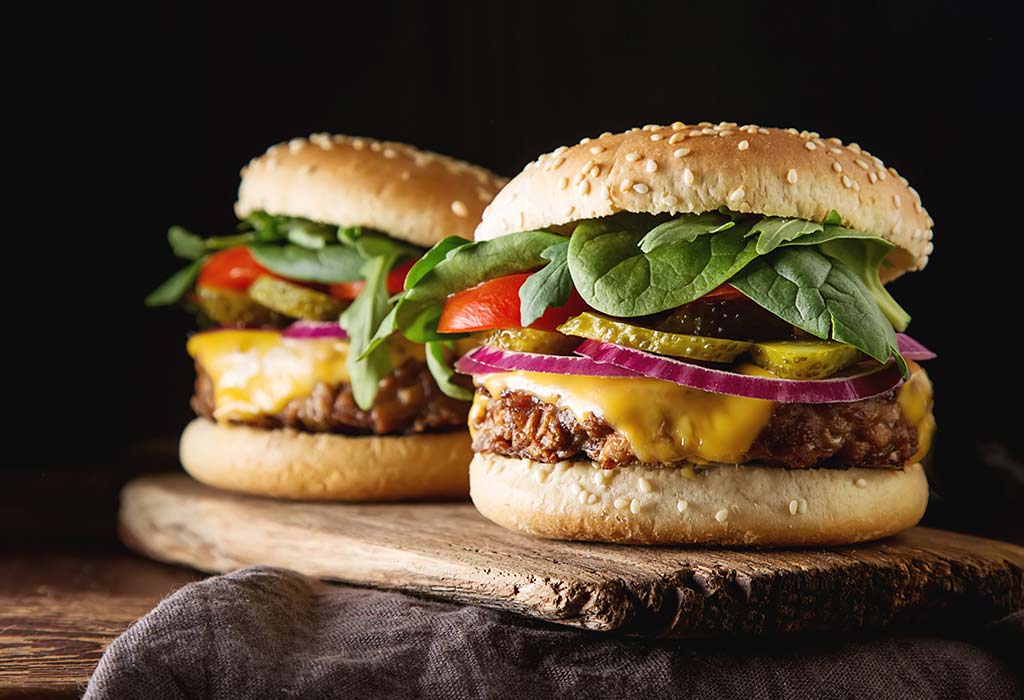 Nothing can go wrong with a good ol' veggie burger. This dish is not only satisfying but also really healthy, as the patty is made of black beans. The vegetarians at your party will love it because they are super filling and a great source of fibre too. Win-win!
Ingredients
2 cans of black beans, drained and rinsed
1/2 medium onion, chopped
2 cloves of garlic, minced
1 egg
2 tbsp of mayonnaise
3/4 cup of breadcrumbs
2 tbsp of oil
3 tbsp of ketchup
4 slices of cheese
4 hamburger buns
1 tomato, sliced
4 Romaine lettuce leaves
Salt and pepper
How to Make
1. Pulse black beans, onion and garlic in a food processor, until finely chopped.
2. Transfer the mixture into a large bowl and add egg, mayonnaise, and breadcrumbs. Mix thoroughly and season it with salt and pepper. Make 4 patties using the mixture and refrigerate for about 15 minutes.
3. In a large pan, over medium heat, heat oil. Cook the patties until they are golden brown.
4. Top each patty with a slice of cheese and cover the pan to melt.
5. In a small bowl, mix ketchup and mayonnaise. Spread the mixed sauce onto the bottom of the buns, then add the patties. Top with tomato, lettuce, and the remaining bun halves.
2. Grilled Basa with Mango Salsa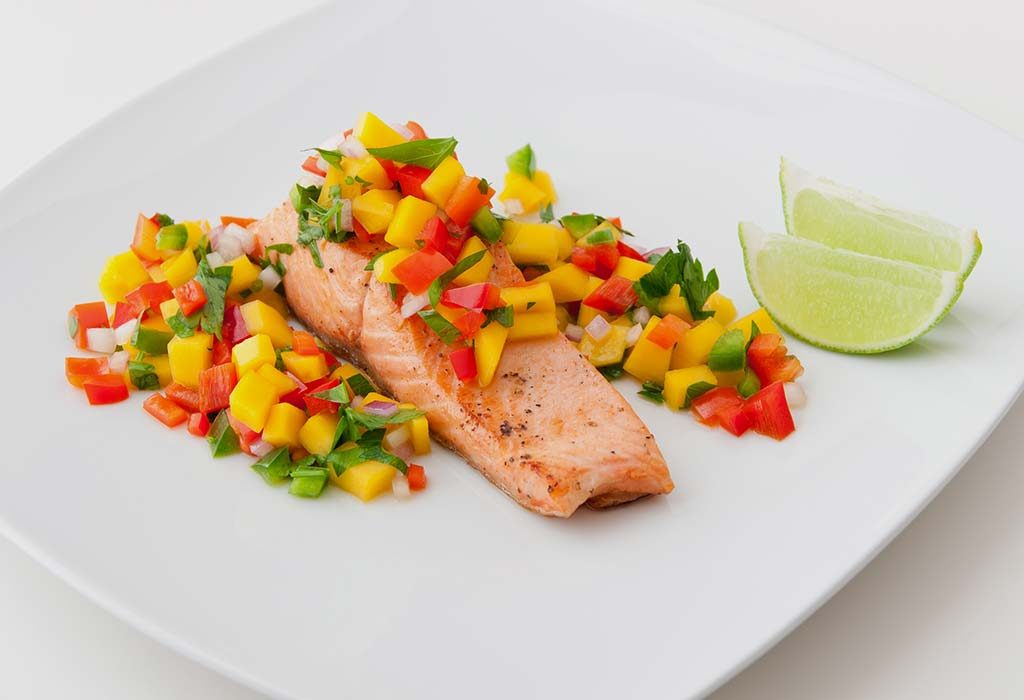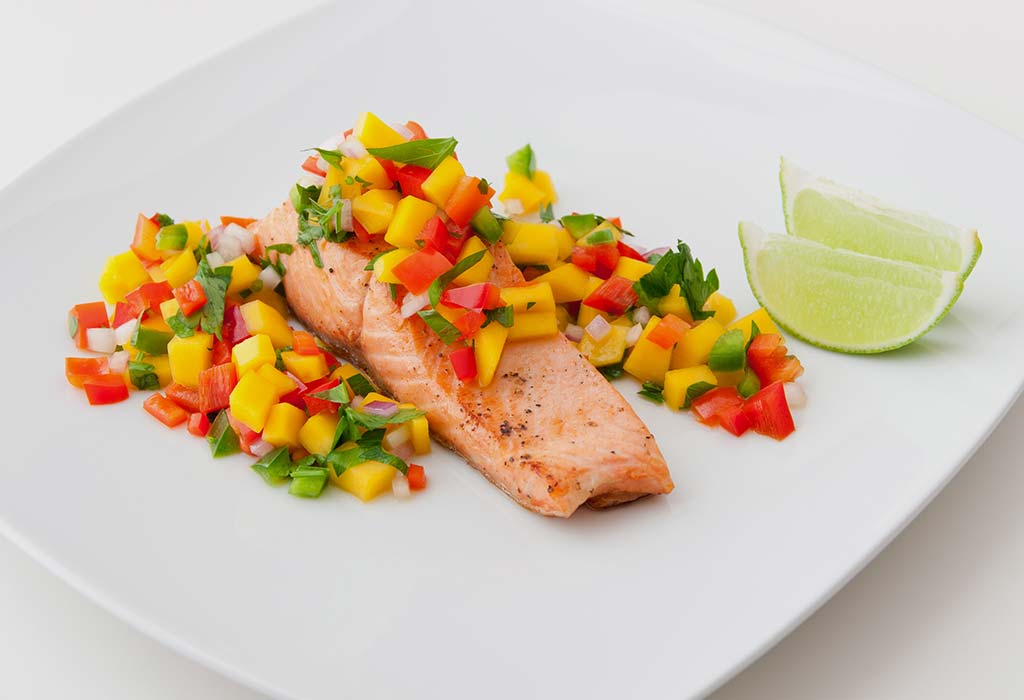 Whenever you're lighting the coal, make sure you add fish to your barbecue menu. With melt-in-the-mouth flakes infused with a gorgeous smoky flavour and perfectly crisp skin, this dish will be an instant hit at your get-together.
Ingredients
4 Basa steaks
3 tbsp of onion, finely chopped
2 limes, zested and juiced
2 tbsp of cilantro, finely chopped
2 mangoes, peeled and cut into 1/4 pieces
2 tbsp olive oil
Salt and pepper
How to Make
1. Mix cilantro, lime juice and zest, onion, and mangoes in a bowl; set aside. Set the grill to medium heat.
2. Brush the fish with oil and season it with salt and pepper.
3. Grill the fish for 5 minutes on each side and make sure it is cooked through.
4. Transfer the grilled fish onto a plate and pour the reserved mango salsa over the top.
3. 5-ingredient Chicken Barbecue Pizza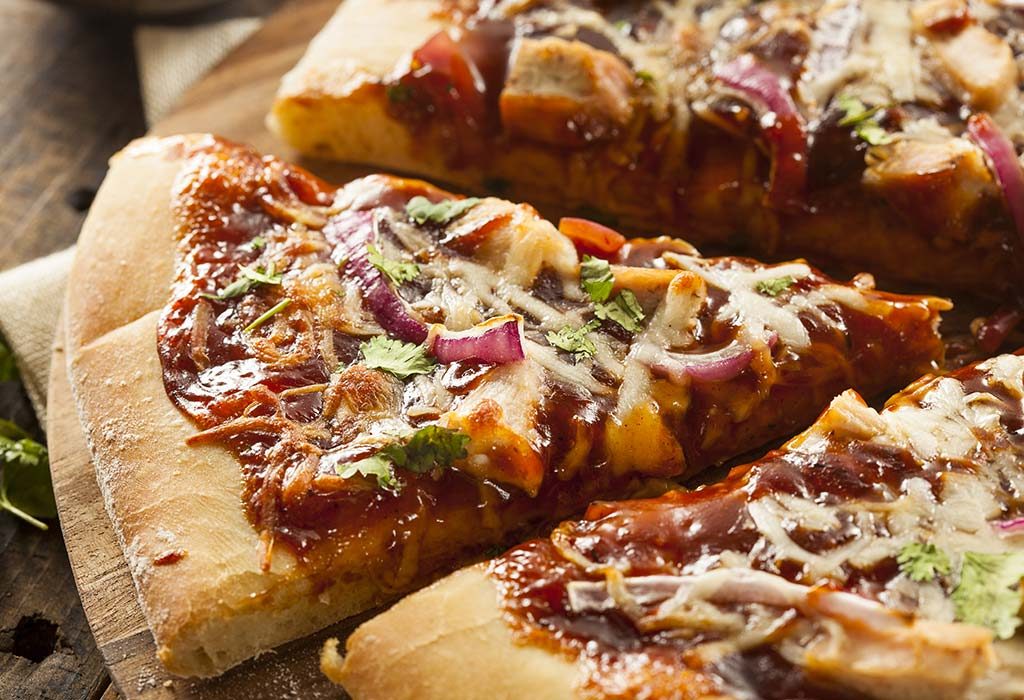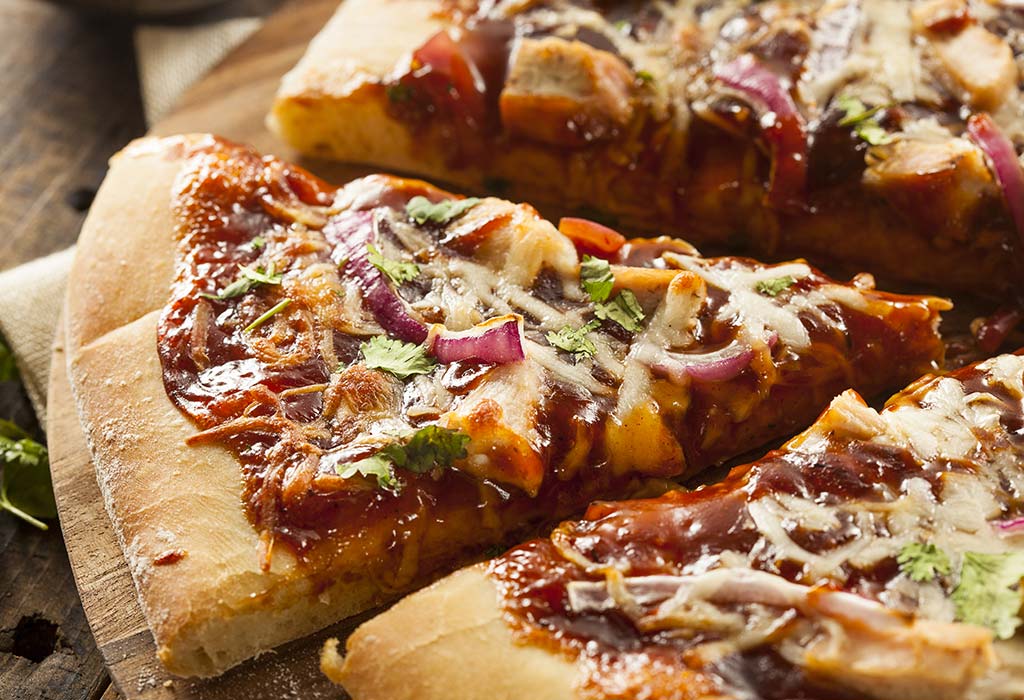 Pizza is a universal favourite and what better way to host a barbecue than by adding a pizza party aspect? The best part about this recipe is that it literally takes 5 ingredients to whip up a yummy, cheesy pizza. The plus side of this dish is you can always have a 'Make your own pizza' activity. Everyone loves pizza, but the joy of making their own will surely make them flip.
Ingredients
2 cup of boiled and shredded chicken
1 bottle of your favourite barbecue sauce
1 cup of frozen corn
1 pack of mozzarella cheese
Store-bought pizza base
How to Make
1. Preheat the oven to 375 degrees. Brush on some barbecue sauce on the pizza base and place in the oven for about 10 minutes.
2. Mix the shredded chicken with the rest of the barbecue sauce and keep it aside.
3. When you see that the pizza base has a golden brown colour, take it out from the oven and add the chicken, corn and cheese to the pizza.
4. Bake the pizza for about 10 to 15 minutes or until the crust is golden brown and the cheese has melted.
5. Let the cooked pizza rest for about 5 minutes and then serve it to your guests.
Barbecue Dessert Recipes

No party is complete without a dessert spread. And, if the grill is still burning, then why not use it to make dessert? These desserts are going to be the perfect end to your barbecue meal.
1. The Ultimate S'Mores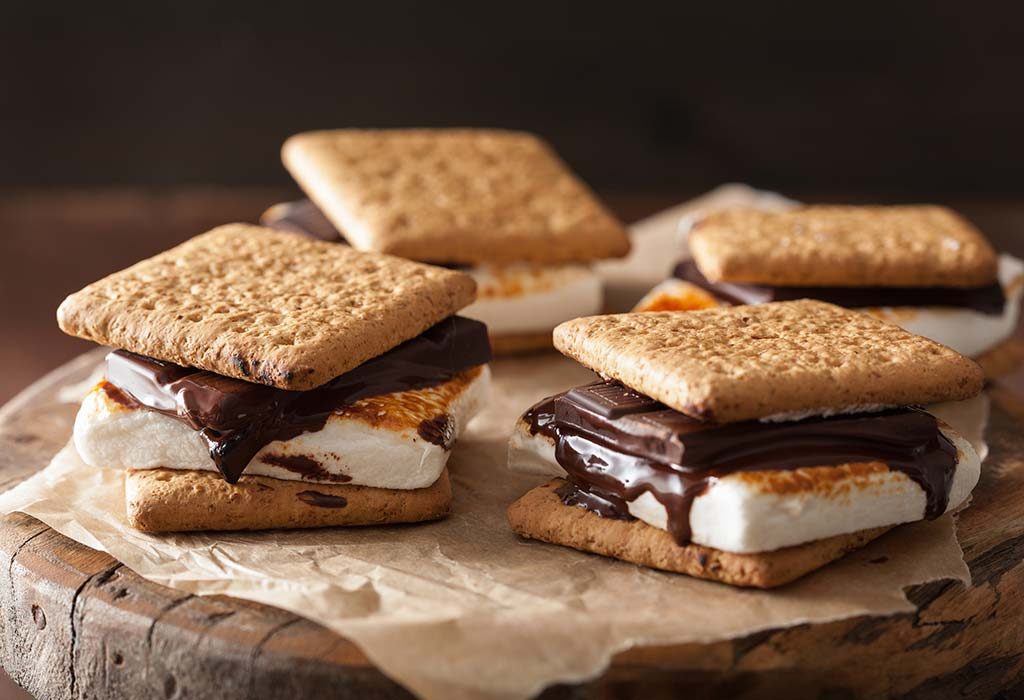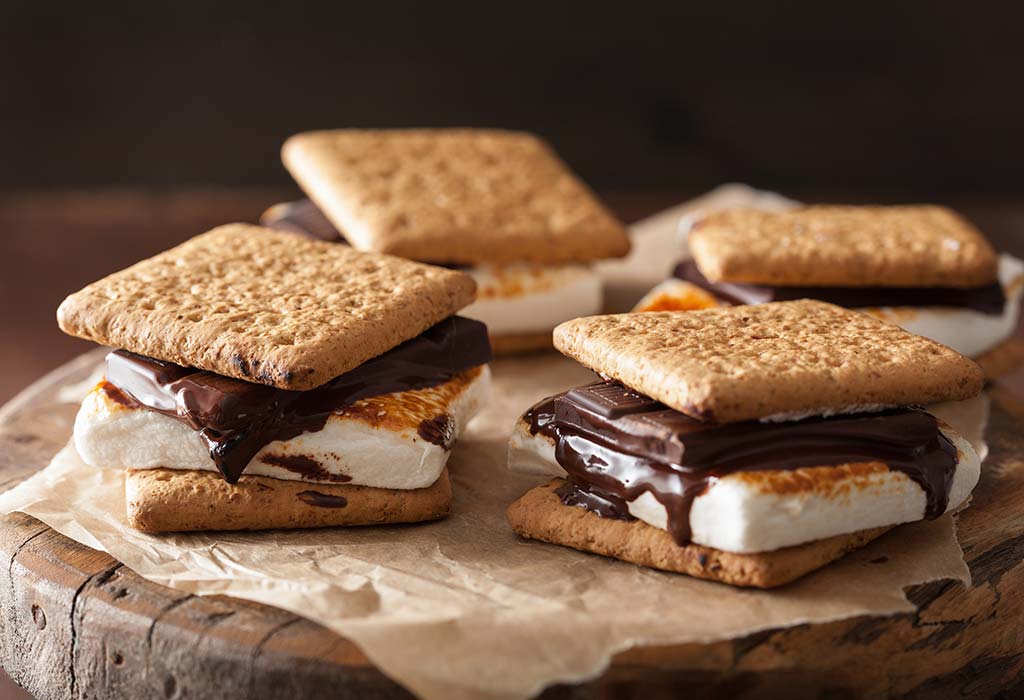 Family gatherings can be made so much sweeter with a little campfire dessert, even if you don't have a fire pit. S'mores are a perfect cookout dessert. The toasty marshmallows and the melt-in-the-mouth chocolate – it is just a piece of heaven in the form of dessert.
Ingredients
4 large marshmallows
5 cream cracker biscuits
2 milk chocolate bars
Wooden skewers
How to Make
1. Fire up the grill to medium heat.
2. Place one marshmallow on top of 1 cream cracker biscuit and top with half a chocolate square. Continue layering chocolate, marshmallows and crackers until you've made a tower. Hold the skewer over the grill for about 2 minutes, or till the chocolate has turned gooey and the marshmallows, puffy and charred lightly.
3. Serve immediately.
2. Chocolate-strawberry Dessert Kebabs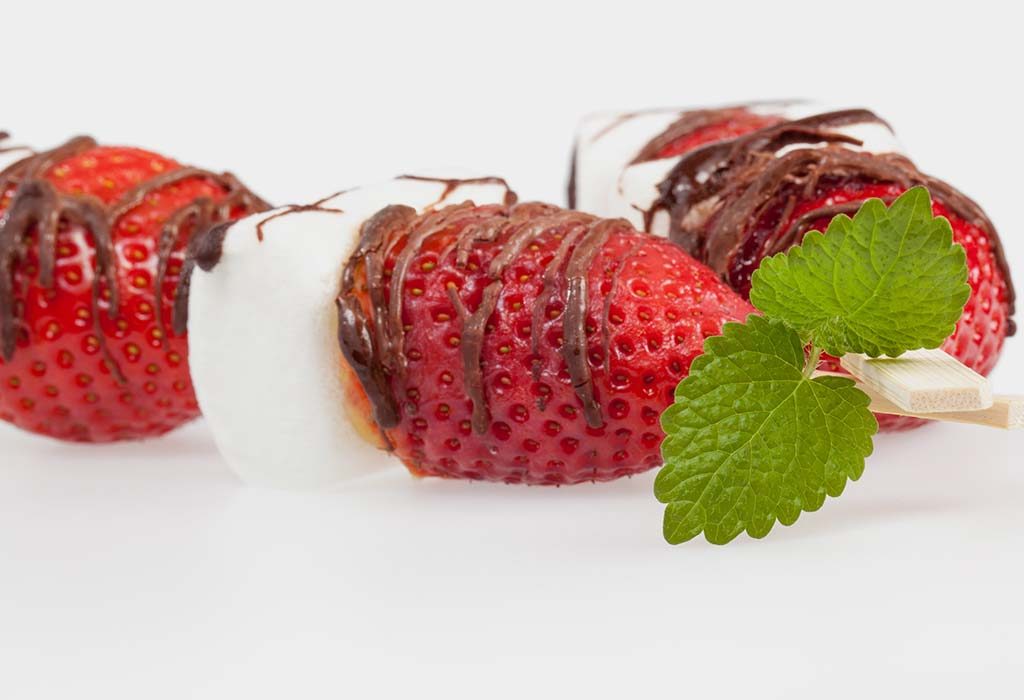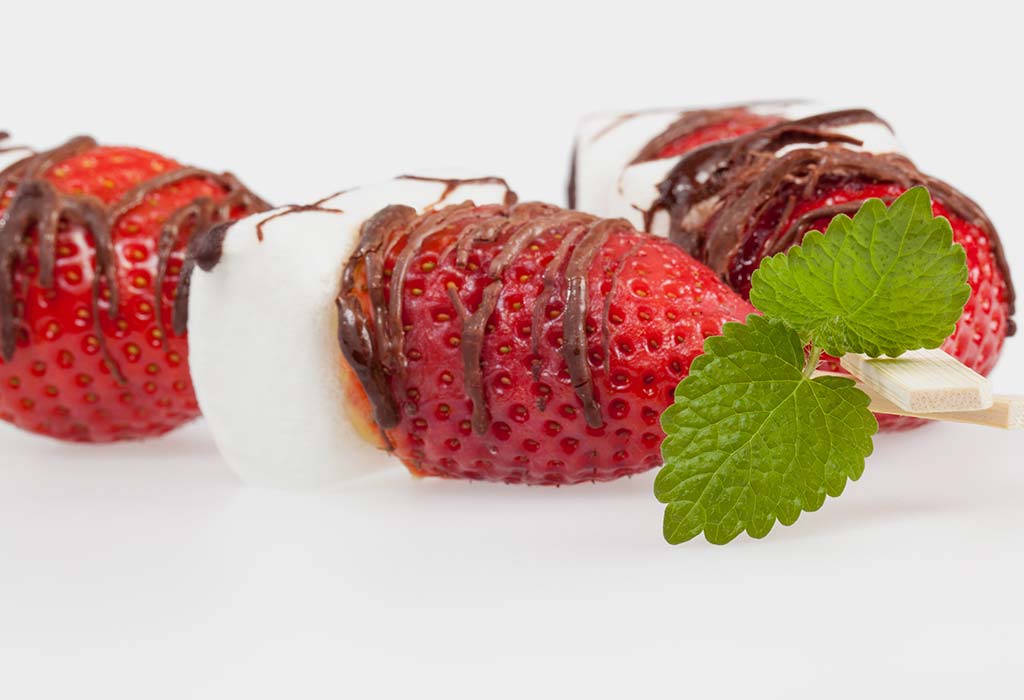 Strawberries, chocolate and marshmallows, what's not to love? This is a perfect dessert for everyone who loves the mash-up of chocolate and fruit, and since strawberries are in season, this dessert would be an ideal addition to your party. As this is a no-grill recipe, this dish is really easy to make and will be ready for your guests in no time. The kids at your party will love these sweet kebabs.
Ingredients
24 hulled strawberries
12 large marshmallows
Melted chocolate for drizzling
Mini skewers
How to Make
1. Wash and cut the tops of the strawberries, and place them on a paper towel to dry.
2. Stack the strawberry and marshmallow on the skewer, one after the other.
3. Melt the chocolate in the microwave and drizzle them over the kebabs.
4. Place the skewers in the refrigerator until they are ready to serve.
These are few easy-to-make BBQ recipes that you can make for your friends and family at your barbecue dinner party. These easy BBQ menu ideas and recipes will help you host your BBQ not only in style but enjoy it, too!
Also Read:
Evening Snack Recipes for Tea Time with Family
Mouthwatering Recipes to Try for This New Year Party
Yummy and Simple Ramadan Recipes You Should try With Family
?>