Dry Fruits Laddoo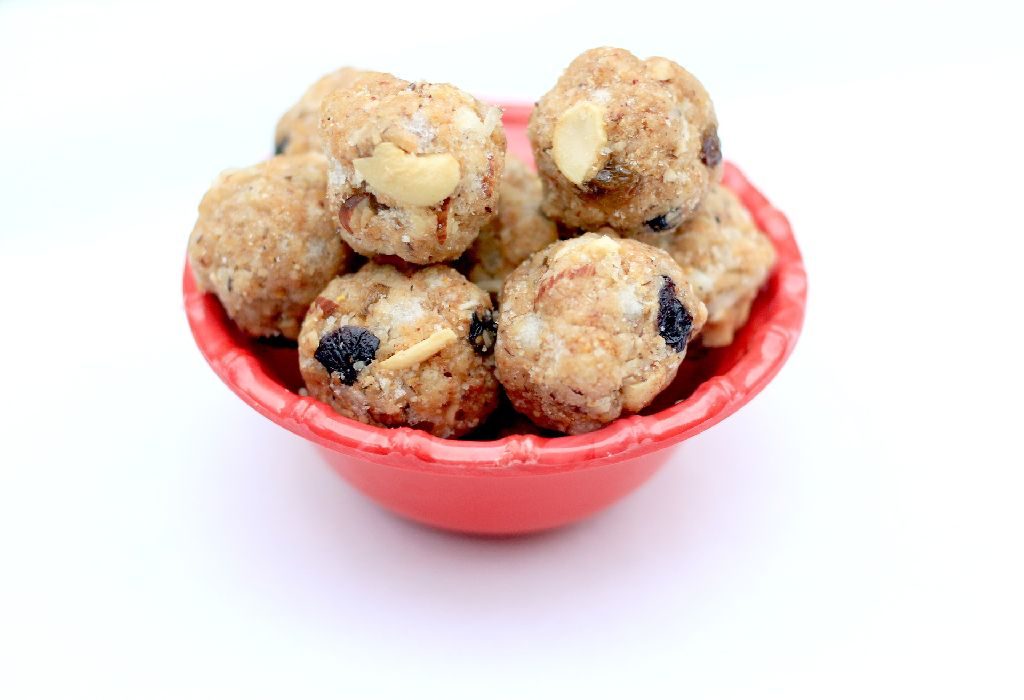 In this Article
Presenting an easy-speedy recipe for making healthy and delicious dry fruits laddoo. The best part of this laddoo? While being a festive dish, these can be had while fasting too. In addition, these wholesome laddoos are best for growing up kids. Serve a laddoo or two with a glass of milk for breakfast to your kid and watch him take on the day with a pumped up spirit.
| | | |
| --- | --- | --- |
| Serves | Preparation Time | Cooking Time |
| 6 People | 20-25 Minutes | 0 Minutes |
Ingredients
1/2 cup coconut, grated
1 cup sesame seeds
1/2 cup almonds
1/2 cup cashew nuts
2 tbsp dried ginger powder
1 tbsp poppy seeds
10-12 cardamom, powdered
6-8 dry dates, finely grated
3 tbsp ghee
Method
Step 1
Heat a pan, and roast coconut and sesame seeds separately, i.e. one after the other.
Step 2
Combine the coconut and sesame seeds and blend in a mixer till smooth.
Step 3
Combine almonds, cashew nuts and dry dates and blend in a mixer to a coarse powder.
Step 4
Combine the coconut-sesame powder and the almond-cashew nut-dry date powder and mix well.
Step 5
Next, add dried ginger powder, poppy seeds, cardamom powder and mix well.
Step 6
Now add ghee and powdered sugar and mix well again.
Step 7
Shape them into small balls and serve.
Nutritional Information
| | |
| --- | --- |
| Calories | 1765 Kcal |
| Proteins | 39.9 g |
| Fat | 150.9 g |
| Carbohydrates | 89.5 g |
| Cholesterol | 98 mg |
| Sodium | 28 mg |
| Potassium | 1555 mg |