Do You Want To Become a Freelance Writer? Use These 5 Tips By Actor-Turned-Writer Twinkle Khanna!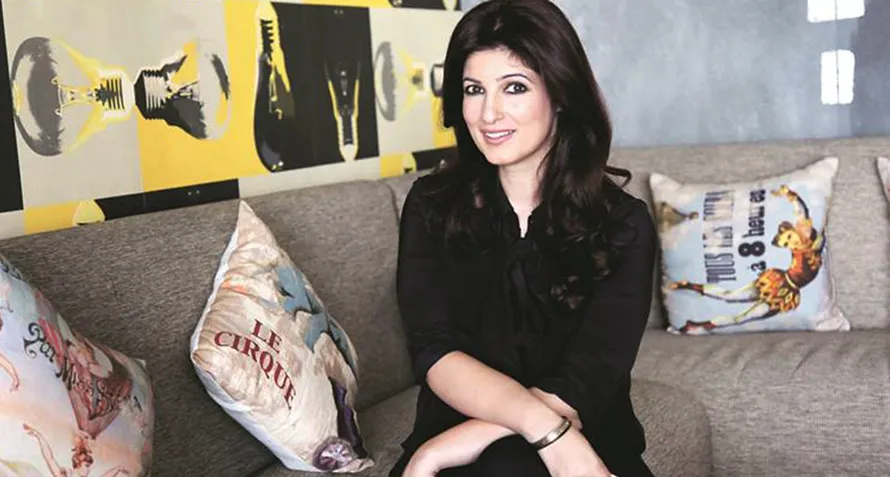 Whenever we talk about artistic careers like writing, painting, or music, the first thing that people will tell you is – it doesn't pay the bills. However, Mrs. Funny Bones Twinkle Khanna recently revealed in an interview how it's done, and what you need to do to make it work!
Artists have always been at odd ends with the world. Any kind of art is powerful due to its inherent capacity to move people. One such art is the art of writing. There is a reason after all, why the pen is considered mightier than the sword.
Writing is indeed a very powerful medium in which you can reach people, and if you have the gift of writing, you are indeed in a unique position to effect change and influence people. However, you'd be surprised at how it can also be a very viable career option. Don't believe us? Well, would you believe it if Twinkle Khanna said so?
Twinkle Khanna – Actor Turned Architect Turned Writer!
Everyone knows Twinkle Khanna as the daughter of Bollywood's 'it' couple of the yonder years, Rajesh Khanna and Dimple Kapadia. We also know her as an actress and a successful interior designer. In the recent years, however, Twinkle Khanna has switched careers yet again to create a new identity for herself – a successful (and extremely witty) writer.
It all started after she was approached by a newspaper to write a column for them in 2013. In no time, Khanna had released her first book, Mrs Funnybones, which made everyone sit up and take notice of this new funny lady on the block, who was more than just funny. The book made her India's highest-selling female author for that year. Today she has over 2.3 million followers on Twitter, and from what she said in her latest interview, that could be you!
5 Tips from Twinkle Khanna on Acing The Literary Career
If you have been toying around with the idea of starting your own writing career and been wondering how to be a freelance writer, take some advice from Twinkle Khanna:
1. Read, Read, Read!
"Read everything. All sorts of genres, whether they interest you or not. Read great books to see what you can achieve and terrible books so that you know you can do better than that."
The importance of reading cannot be underestimated if you want to become a good writer. Books allow you to go to places, meet people, and explore possibilities you would not have been able to do in real life. Books provide food for thought. The more you read, the more you think, and the more (and the better) you have to say!
2. Write Everyday
"Write every day. Write 1,000 words. Then throw out 800 and keep the best 200 words."
It is very important to show up at your desk at a certain time in the day, every single day of the week, without exception. Most of the initial things you write might be trash, but it is important you write them, and allow them to escape your system so the good stuff starts to flow. Khanna's own routine involves writing for three hours every morning – from 7.30 to 10.30. Luck favours the prepared, so don't ever miss out on showing up!
3. Keep Abreast with Current Affairs
"I read, and try and be aware of what's happening in the universe. And then present my amalgamation of it to the world in a way that's informative and entertaining."
When it comes to writing, it is very important for the content to be relevant to people. Current affairs are a good place to start and look to for topics to write about, an inspiration to write. A story of a dog being rescued from a sewer might prompt you to write something about animal rights; the recent budget might motivate you to write about money management for housewives; a new movie might make you explore relationships… what's more, people will consume such writing because it is relevant to the times we are living in.
4. Develop Lateral Thinking and a Unique Perspective
"Look at life through the lens of 'what if'—if you meet somebody or some situation, even if it has nothing to do with you, try and think of the backstory."
Writers are ordinary people like us. They write about ordinary people like us. What sets them apart, however, is their unique way of looking at things. An ordinary person may look at a girl's eyes and say they were black; a writer will look at the same girl's eyes and say "they were like a bottomless pool I wanted to drown in." The more creative you get with 'spinning tales', the better you will do as a writer! Next time you are standing in a queue, look at the person in front of you – observe his clothes, mannerisms, hair, nails, shoes… and try to sketch an image in your mind about who he is. Always ask yourself – What's their story?
5. Eat Well
"Eat carbohydrates—it's food for your brain."
As important it is to give food to your thoughts, it is also important to give food to your brain! And the brain requires a good amount of carbohydrates to function well, at its optimum capacity. Make sure you eat clean and eat well. Carbohydrates should never be completely eliminated from your diet. So all diets and weight-loss aside, eat carbs!
Other Good-To-Know Tips
Join forums and discussion groups/platforms – they will connect you with other people who are equally motivated about writing, books, and the literary world. They will offer a fresh perspective.
Make friends with different people – do not stick to people you 'feel comfortable' with. Challenge your circumstances. You never know who may have what to offer in terms of inspiration.
Break away from the pattern – do not let anything become a habit. This is especially true with the kind of art you consume – books, movies, music, etc.
One last parting piece of advice we want to share is: do not be too hard on yourself. Khanna said in the interview,
"Some days it's easy. So much has been happening around that it is easy to get ideas and write. (…) Other days I struggle."