DIY Tie-dye Napkin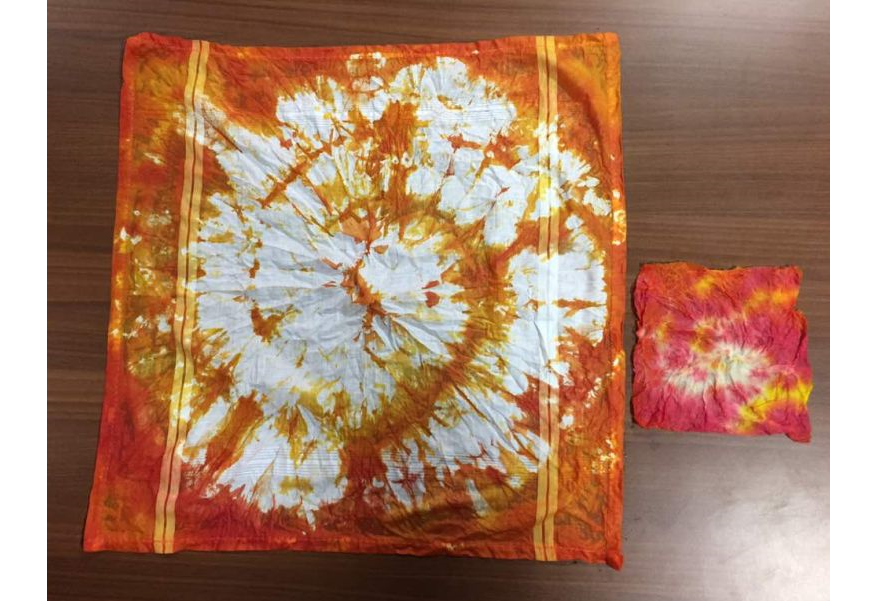 Back in the day, tie-dyeing your clothes was a fashion statement most of the cool then-young people indulged in. Why not teach your kids this creative and fun way to bring back the 70's!
Bring back the 70's in style with your little one. Tie-dye is so much fun and also always in fashion. Let's get on with it then, shall we?
You will need
Apron
Activity mat (or newspaper)
White cotton T-shirt/ napkin
Large plastic bowl
1⁄2 cup (125ml) white vinegar
Water
Elastic bands
Bowls or glasses
Food coloring in different colors
Rubber gloves (Optional: You don't have to wear them, but you may get food coloring on your fingers if not)
1⁄2 cup (120g) salt
Step-by-Step Instructions
1. Place newspaper on the surface to avoid staining.
2. You can choose to prep your t-shirt or napkin by placing it in a plastic bowl and pouring half part vinegar and half part water over it. Soak and wring out excess water.
3. Now, twist the cloth like in the image. This will give your dye a spiral shape. You can also choose to twist it into a sausage shape if you'd like.
4. Take 6 elastic bands and tie them around the napkin like in the image.
5. Mix your food colouring with some water.
6. Dip ends of the napkin into the dye as you wish.
7. To really preserve the colour, keep it soaked in a zip-locked bag over night and soak in salt water.
8. Rinse your tie-dyed napkin or t-shirt till the water runs clear and TADA!
Messiness Score
8
Parental Involvement
High
You will observe your child doing…
Enjoying the mixing of colours and watching them blend into each other to create new colours and shapes.
It will be fun beacause…
The finished product looks amazing!
So get your retro mood on and tie-dye away; let your child experience the fashion of the yesteryears.