DIY Teacup Bird Feeder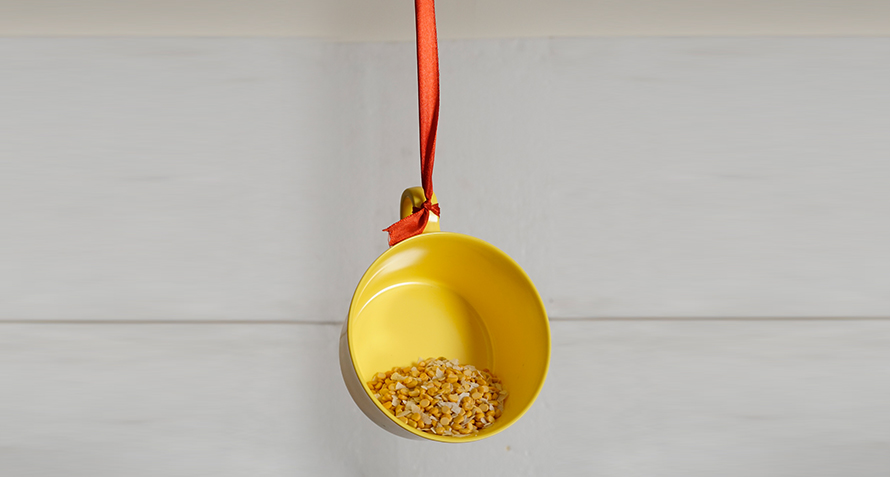 Sure, it is important to train your children at sports, music and academics; every parent has dream for their child. But there are some things that are even more important while bringing up a child. This activity will teach kids to care for creatures and learn to co-exist peacefully.
Summer's here and the heat is getting us tropical inhabitants quite irritable no? Just imagine our little feathery friends having to fly around in search of food and water with no air conditioning or fans to relieve them from the heat. Sigh!
It is best to teach our kids at a young age to care for animals, birds and fish…plants too! And what better way than to start with a simple but effective DIY activity that look gorgeous and helps out all the birdies that are seeking some food and solace from the heat.
What you need
A Large Tea-cup (saucer optional)
Bird seed or small grains
SUPER Adhesive glue like araldite
Ribbon
Step-by-step instructions
Rinse and dry your cup or soup bowl.
Tie your ribbon through the handle of the cup and fasten tightly.
Put your bird seeds or grains into the cup and hang it at your window! Voila!
Watch the birdies flock to your window and make some new feathery friends.
If you do choose to use a saucer as well, use a super strong adhesive and stick the saucer to the bottom of the tea-cup. This allows the grains to fall on the saucer and also gives the birds a foothold.
Messiness Score
3
Level Of Difficulty
Medium
Parental Involvement
High
You will observe your child doing…
Every child will be open to caring for another creature. You will find your child asking questions about birds and what they do on merciless summer days.
It will be fun because…
You and your child will get to observe birds come and pick on the seeds. It is pure joy to see that you've helped out a helpless creature in need!
Fun Tip: You can also put some water in a saucer near the bird feeder. Another fun thing you can do is decorate the tea cup if it isn't already printed.
?>