DIY Snow Globe Craft for Kids to Try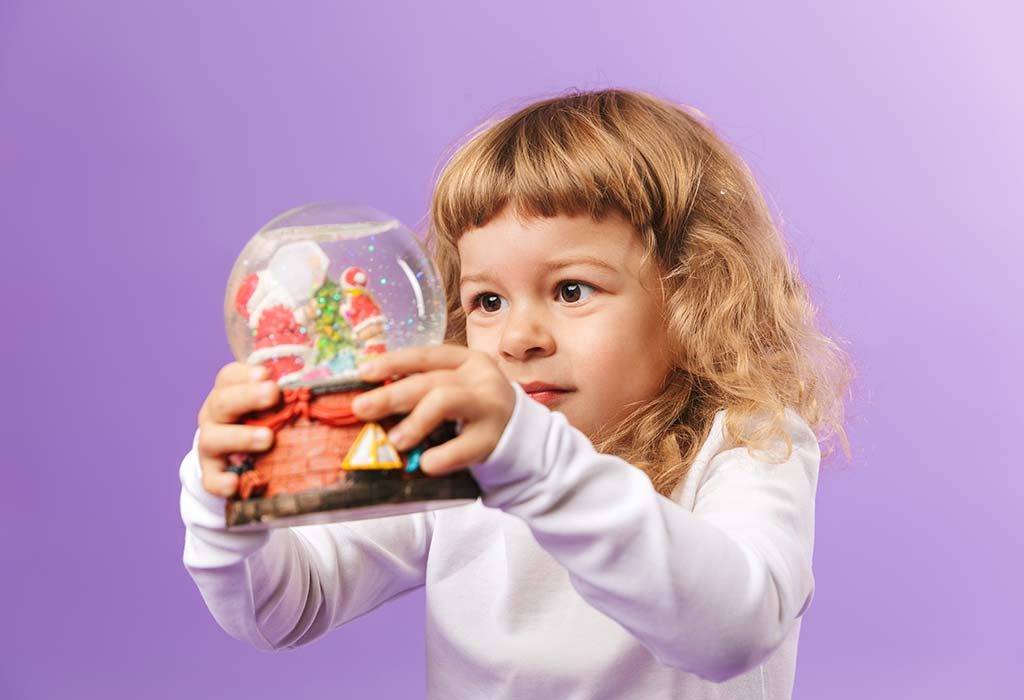 Snow globes make for popular Christmas gifts, and kids love to watch the snow swirling around in the globe. If you don't feel like going outside and buying one from the store, then why not get creative with your toddler and make one at home?
It's going to be lots of fun, and we promise it will be worth your time. By the end of this post, your creative juices will get flowing, and your kids will be giggling away at what you've accomplished. It's going to be amazing! Just read on and enjoy. This activity is also popular among school kids, and the tutorial is very simple. But first, let's take a look at how making a snow globe can benefit your child.
Benefits of Snow Globes for Kids
Besides the creativity and hours of fun, children learn more when they create with their hands. Making a DIY snow globe is more than a mere art-and-craft project. It teaches your kids a lot about themselves and gets their minds working. And, what's good for the mind is good for their soul and happiness.
Here are some of the wonderful benefits of making snow globe craft for preschoolers:
It's great for winding down and relaxing. Kids enjoy it because making unbreakable snow globes isn't just fun but a way to ease the stress and enjoy the moment.
It enhances their creativity and imagination.
Kids learn how to work with their hands, which improves their fine motor skills.
It's also a great visual sensory activity since they get to watch how the snow falls and swirls around inside the globe.
It is a great social activity since you'll be sitting down with the kids and guiding them.
It's a good activity for teamwork too if you have many kids in the house as they can join hands and work on projects together.
Making a snow globe can be into an educational activity too if you introduce colours and science-themed elements into the globe.
Clearly, there's a lot your child will gain by making a snow globe. Let's check out how you can make one with your little one.
How to Make Snow Globe for Children
Making a snow globe for children isn't rocket science. Whatever supplies you will require, you can get them from an arts-and-crafts store, the dollar store, or any thrift shop.
Supplies You Need to Make a Snow Globe
You don't need a lot of supplies when it comes to making your homemade DIY snow globe. Kids will love it because it's a wonderful indoor activity. And, you can also gift the snow globes as Christmas gifts.
Here's the material you will need to get started:
Vegetable glycerin
Hot glue
Distilled water
A plastic snow globe (you can buy this from any arts/crafts store or home depot)
Snowflake glitter
Chunky iridescent glitter
Iridescent Sequins
Tiny snowmen or small fantasy-themed elements for your snow globe
Steps to Make a Snow Globe
Follow these steps for making your very own DIY snow globe. Do it together with your kids and prepare to have the time of your life. Here's how you make your custom snow globe:
Use hot glue and stick the tiny snowmen/fantasy-themed elements to the base of the snow globe, and let it dry completely.
Now, in the globe, put some chunky iridescent glitter, some snowflake glitter and some sequins.
Add about 1/2 teaspoon of vegetable glycerine to the globe.
Fill up the snow globe with distilled water. Make sure you don't fill it up completely.
Now, fit the base and the globe together. Ensure the glue on the base has dried completely.
Shake your globe nicely, and watch your little one enjoy the pretty sight.
If you don't get plastic snow globes, you can use mason jars for this activity. We use vegetable glycerine instead of regular ones because it makes the snow float more naturally. You can add a bit of glitter but don't add too much since it could turn the globe opaque.
So, that's how you make your very own DIY snow globe. If you enjoyed our post, be sure to tell us what you thought. Let us know how your arts-and-crafts project turned out. And remember, get creative and add in your elements if you want. You don't have to play by the rules, and that's what makes creating your DIY snow globe so much fun!
Also Read:
Cardboard Crafts for Children
Plastic Bottle Crafts for Children
Simple Paper Crafts for Children
?>