DIY Origami Jumping Frogs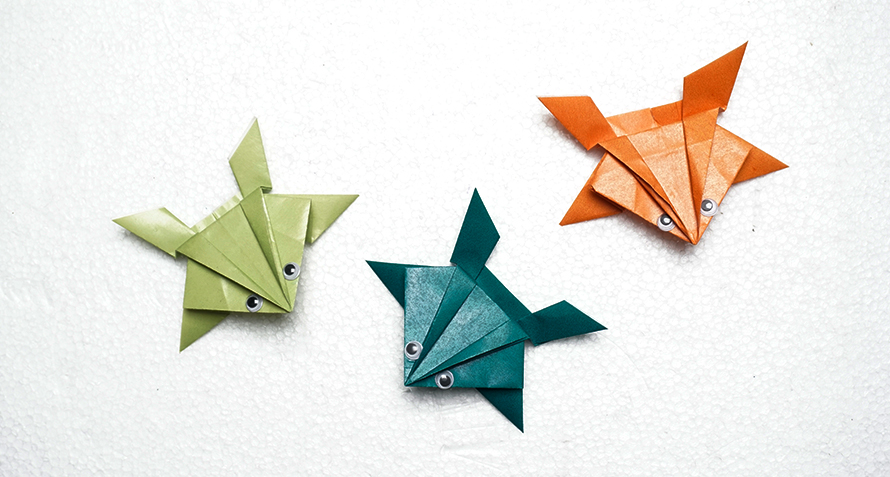 Ribbit ribbit! Frogs are such adorable and cool creatures. Introduce your child to these fun jumping frogs!
These cute little jumping frogs will keep your little one engaged for a long time – and they're not dangerous either! This might even encourage your kid to take an interest in nature and the various fascinating creatures found in it.
What you'll need
A square piece of Origami paper
Googly eyes (optional)
Step by step instructions
1. Take the square sheet of Origami paper and fold and unfold it diagonally (both diagonals) to form creases
2. Fold and unfold the paper in half horizontally to form creases. Make sure that the creases of the folds meet at the center of the paper
3. Using the ends of the center fold, push in the sides so that the paper folds into a triangle with four points – two on each side
4. Fold two of the four points towards the top of the triangle so that it forms a diamond in the middle of the triangle
5. Fold the bottom corners of the diamond inward and crease it
6. Fold the top corners of the diamond outwards and line it with the botton edge of the diamond to form the frog's legs. (The end result should look similar to a paper airplane on a triangle)
7. Flip the paper over to start working on the top part of the frog
8. Fold the two corners of the triangle towards the center of the triangle to form a diamond shape
9. Fold the inner edges outwards in a way that the edges line up with the ends of the paper
10. With the long back legs facing you fold the paper in half where the frog is narrowest and crease it
11. With the frog still folded, flip the frog over again
12. Leaving a little space, create another fold near the crease to make the legs face backward and crease it
13. Flip it over and your jumping frog is ready!
14. You can stick googly eyes if you wish.
15. To make the frog jump – just press and release the back of the frog!
Level of difficulty – high, medium, low
Medium
Parental involvement – high medium low
High
Skills enhanced
Fine motor skills, curiosity and interest in the natural world, cause and effect relationship