DIY Grass House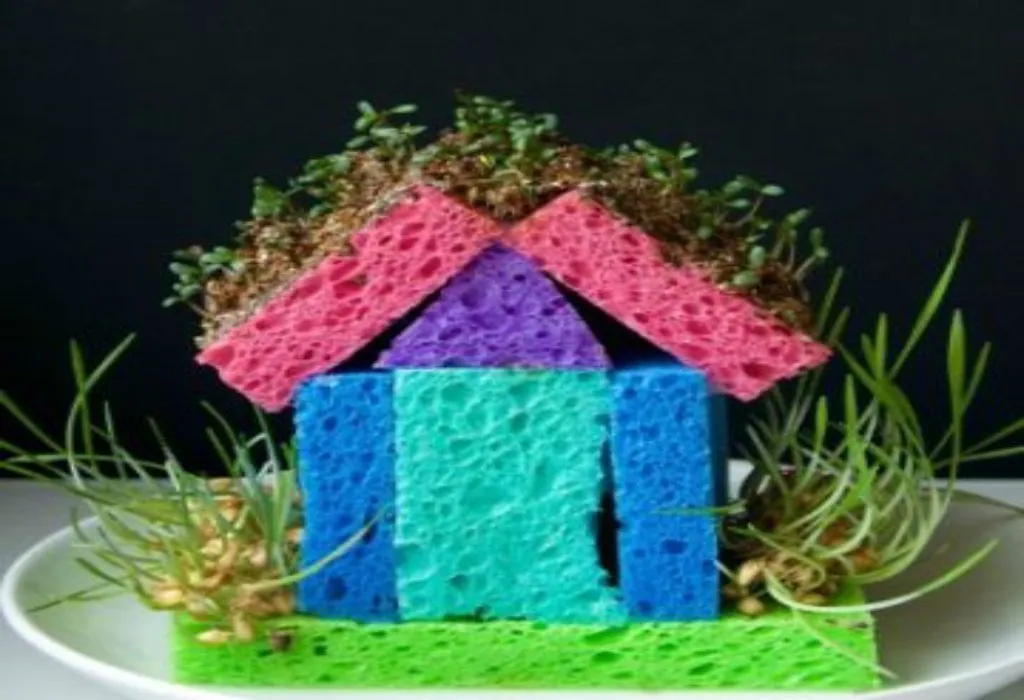 In this Article
These super-cute grass houses are excellent to teach your kids about living as one with the natural world. Not only will this activity get them interested in gardening and plant care, but the kids will also love the delight of watching something grow, right before their eyes! Best part is – the entire family gets to come together for this one!
What you need
4-5 unused household sponges in different colours
Magic markers
Ruler/scale
A plastic storage container
Kid-friendly scissors
Craft-knife
Grass seeds (pick fast-growing ones to get quick results!)
Water bottle for spraying
Step-by-step instructions
Rinse the sponges with water to make sure they are clean.
Draw the basic outline for your house on the sponges using the ruler and magic marker.
Now, cut out the shapes using the scissors. You can let your child do this with a pair of kid-friendly scissors.
4. Spray your house with a water bottle so that it is damp through but not soaking wet.
5. Now, take a handful of grass and sprinkle it all over the sponges.
6. Add a little extra spray of water to the seeds. After all, seeds need some extra care! You can remove any excess seeds from the lid.
7. Finally, add the bottom of the container to complete your little grass-house!
8. Keep your grass-house in a warm place that gets plenty of light. Make sure you explain to your kids how grass needs warmth and sunlight to grow.
9. Now, all you have to do is wait for the grass to start growing. Check on your grass-house every day, as a family, and you will see the magic commence soon!
Messiness score
3
Level of difficulty
Medium
Parental Involvement
High
Skills enhanced
Fine motor skills, curiosity and interest in the natural world, cause and effect relationship
You Will Observe your Child Doing…
Asking questions about the world around them, practising fine motor skills for drawing lines and for using scissors, learning to come together as a family
All the Fun That Was Had
Children love seeing things grow and change, as if by magic, and when they know they have played a part, nothing could be better! The delight on your kids' faces when the grass starts growing is something you will always cherish.