DIY Coloured Pasta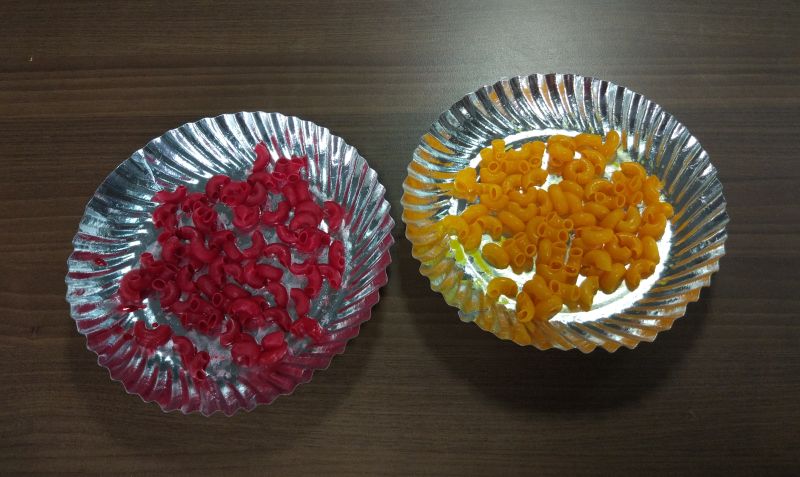 Paints and pasta – two things that children absolutely love! But did you know that you can combine the two for hours and hours of endless fun?
Coloured pasta is a fun and extremely easy DIY project that will keep both you and your child engaged for a long time. The project involves different kinds of colours, it involves shaking, and sorting… and the possibilities with the finished product are aplenty too!

You Will Need

Various types of pasta – penne, fuesli, macaroni, cannelloni, farfalle, etc.
Food colour – equal in number to the different types of pasta
Vinegar
Empty zip-lock bags – equal in number to the different kinds of pasta
Containers and spoon – to prepare the food colour
A wide tray – you can also use a big plate instead
One mommy-child pair ready to have some fun with shapes and colours!
Step-by-step Instructions:
1. In one of the small containers, take a big spoonful of food colour. Add vinegar to this. Mix thoroughly with a spoon.
2. Pour this colour into one of the zip-lock bags.
3. Dunk one kind of pasta into the bag. Seal it properly.
4. Shake it to mix the colour thorogly with the colour. Make sure it coats evenly.
5. Repeat with other pasta shapes and food colours. You can even mix two food colours to create your own shades and use them to colour the pasta.
6. Empty the coloured pasta in the tray of plate. It will be a bit sogy, but don't worry. Spread it out evenly in the plate, and leave it in the sun to dry. Your coloured pasta is ready!
How To Use Coloured Pasta
We are pretty sure this was a fun activity for you and your child to do (our favourite part was shaking the bags!). Now that your pasta has dried, you can use it in the following ways:
Colour and shape sorting: You can use the coloured pasta to teach your child the different colours and shapes. Sorting is an important developmental milestone, and this DIY project is perfect to teach your child how to sort things.
Make pasta jewellry: you can string the penne pasta together and make colourful pasta jewellry.
Coloured pasta meal: since we have used food colour, you can even cook this pasta and serve it to your child! Imagine the look of glee on your child's face when her meal is served to her in her favourite colour! Just make sure you store the pasta in a cool, dry place, in an air-tight container, and it can go for months together without spoiling.