Diwali Makeup Trends – All You Need to Rock the Festive Season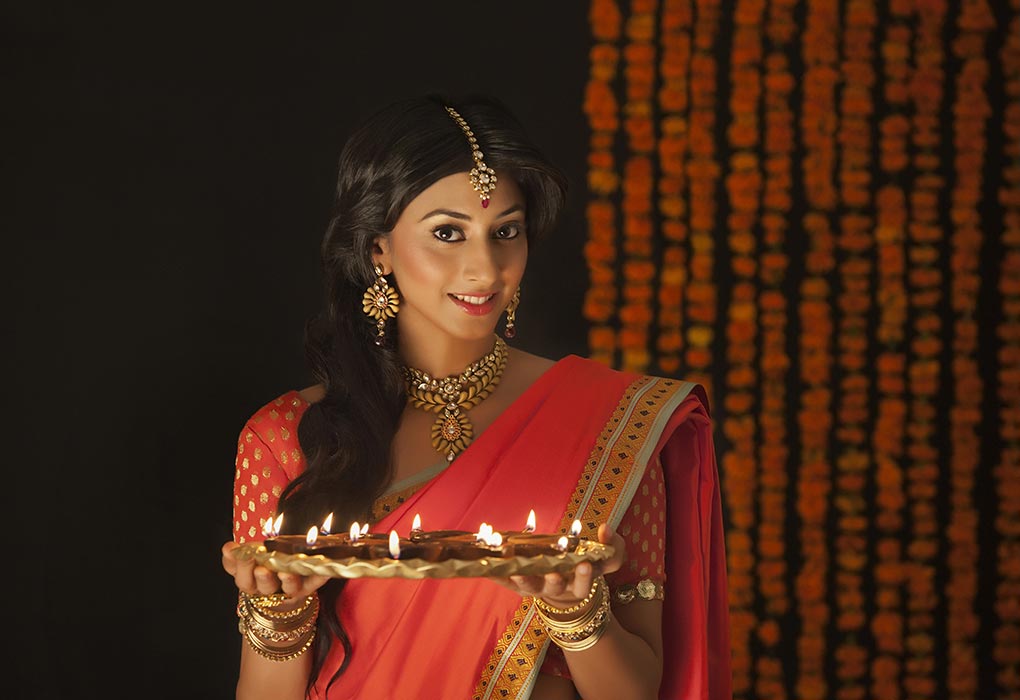 In this Article
2018 began with the runways glittering and bursting with colour, which gave us good insights into the trends to be expected for the coming year. Three main looks stood out and two were at completely opposite ends of the makeup spectrum – a natural and dewy look on one end, dramatic and sparkly on the other! With the festive season approaching, keep these tips and tricks handy to make sure that your Diwali makeup shines through!
The 3 Main Trends for Diwali 2020
The best aspect of the Diwali makeup trends this year is that it caters to people who are on polar ends of the makeup spectrum – those who love to rock the 'no makeup' look and those who want to go all out. But for those who like the 'in-between' look, fret not – there's something for you as well!
1. The Dewy and Natural Look
Beautiful glowing skin, flushed pink cheeks and lips, and an even complexion are the highlights of this look. Even those who aren't fans of makeup tend to appreciate the natural prettiness this look provides, and with good reason! Take into consideration Deepika Padukone and Alia Bhatt's latest appearance on Koffee with Karan – both stars were glowing, looking like they weren't wearing a stitch of makeup! Here's how you can achieve a soft glow with defined features:
1. Start off with a good primer, which will provide the foundation for your makeup. It's essential to choose one that is long-lasting so that your makeup stays intact amid all the activities you'll be doing.
2. Apply an even layer of BB Creme all over your face, which helps to even out your complexion. Following this, dab on some concealer to cover dark spots an blemishes.
3. Use a blush that suits your complexion (shades of pink such as powder, peach or brownish-pink are popular options) to give your cheeks that just-been-pinched look.
4. Your brows are an important part of your look! If you're blessed with full brows, Provide them with some glam and structure by brushing them out with a spoolie, then filling them in with some black or brown eyeshadow.
5. For your eyes, draw a thin even line on your upper eyelid, keeping it subtle. Sweep a muted or natural shade of eyeshadow over your lids and make your lashes pop with a coat of mascara.
6. Finish off the look with a lip colour that's just a shade lighter than your natural lip colour. You can add a hint of gloss to brighten them up too. Coral lips are quite trendy right now – all you have to do line your lips with a coral lip liner and fill it in with a matching shade.
And voila! This makeup look will definitely have people wondering whether or not you've amplified your natural beauty but it will be difficult for them to find out!
Source: https://www.youtube.com/user/corallista
KEY TAKEAWAY: Follow the steps provided in this video by Corallista for a really fresh and dewy look that you can also carry forward after Diwali too, for an everyday look. You can also customize it with the products you use normally.
2. The Dramatic Fashionista Look
This one is for those who love to make a statement with their makeup and really have some fun with colours and sparkle! Dramatic eyes and strong lips with plenty of glitter in tow – here's how you can achieve a strong Diwali makeup look!
1. Here too, primer and BB creme will form the base for your makeup, because the foundation on which you apply your products needs to be strong and even. Use a highlighter on your cheekbones, brow bones, down the centre and on the tip of your nose, and the inner corners of your eyes too. A bronzer will help accentuate your glow, and yes, this applies to dusky beauties as well! Find a shade that is 1 or 2 shades darker than your natural skin tone and apply it on your forehead, the hollows of your cheeks, the edge of your jawline, and on the sides of your nose. Remember to use the bronzer before applying blush on your cheeks.
2. As we mentioned earlier, it's all about shine and sparkle and glitter this year, and what better time to implement these styles than the festival of lights! For your eye makeup, move away from blacks and browns, and amp up the traditional smoky eye with bright colours that complement your outfit. Use glitter eyeshadow to highlight the inner corners of your eyes.
3. Don't restrict yourself to the same old line that you draw on with the eyeliner. Experiment with a daring cat-eye or a negative-space look, to really make a statement.
4. Follow up with a strong coat of mascara. Explore options in different colours to create some drama! Don't forget to define your brows as well.
5. Keeping in line with the trend of glitter glam, matte lipsticks won't really make the cut. Dab on a shade of glossy lipstick (neons and metallic shades are in vogue!) to complete the look, but ensure that the shade doesn't compete too much with your eye makeup. In fact, if you can find the right shade of red lipstick for your skin tone, it's the main weapon you'll need in your makeup arsenal!
6. An additional touch of sparkle you can add to your lash line or outer corners of your eyes can be with crystals or the easy Indian alternative that is sparkly bindis.
And that's how you make a bold statement!
Source: https://www.youtube.com/user/TheGreenCreation
KEY TAKEAWAY: This is how you carry off a dramatic look with plenty of glitter and colour! This tutorial on the channel 'Smithad Beauty' provides instructions on how to pull off a bold look for any festive celebration!
3. The Best of Both Worlds
Now if you're someone who loves both looks but are confused about which one to go for, choose an option from both trends by playing up your assets. You can go for a dramatic eye, complete with a bold eyeshadow, luscious lashes, and lined really well. If the thought of doing elaborate eye makeup sounds too complicated for you, emphasize your lips with a bold lip colour and define it with a liner. You can also accentuate your Cupid's bow with a tiny amount of highlighter, just to give your pout that 'oomph' factor! Additionally, make sure that the makeup you're wearing is waterproof and suits your skin type (dry, normal or oily) so that nothing can disturb it and spoil all those selfies you're planning to click. In the case of this look, it's best to keep things a little more on the shimmery side so that your makeup doesn't look too natural, which is why using a highlighter and bronzer is a must!
Source: https://www.youtube.com/channel/UCUskg-yRKc6CGWDgyjdBOVQ
KEY TAKEAWAY: In this video, Pooja Rai demonstrates how to achieve a look that's neither too subtle nor too dramatic. She sports a strong lip and plays up her eyelashes while keeping everything else on the neutral side. This look is perfect for those who are not very keen on extremely bold colours but would like some shimmer and glow.
With very few days to go before Diwali dawns, make sure you take good care of your skin with moisturisation and hydration. Avoid experimenting with any new product so close to the occasion lest it reacts negatively with your skin and causes it to break out. Drink plenty of water and use sunscreen everytime you step outside.
While keeping up with the trends, make sure to choose the look that you'll feel most comfortable and confident in, so that you're able to carry it off with panache and rock your Diwali parties and celebrations!
Also Read:
Trending Styles to Dress Up Your Child This Diwali
4 Must-Have Festive Looks for Your Little Fashionistas
Diwali Home Decoration On Your Mind? Try These 9 Ideas