Dal Khichdi Recipe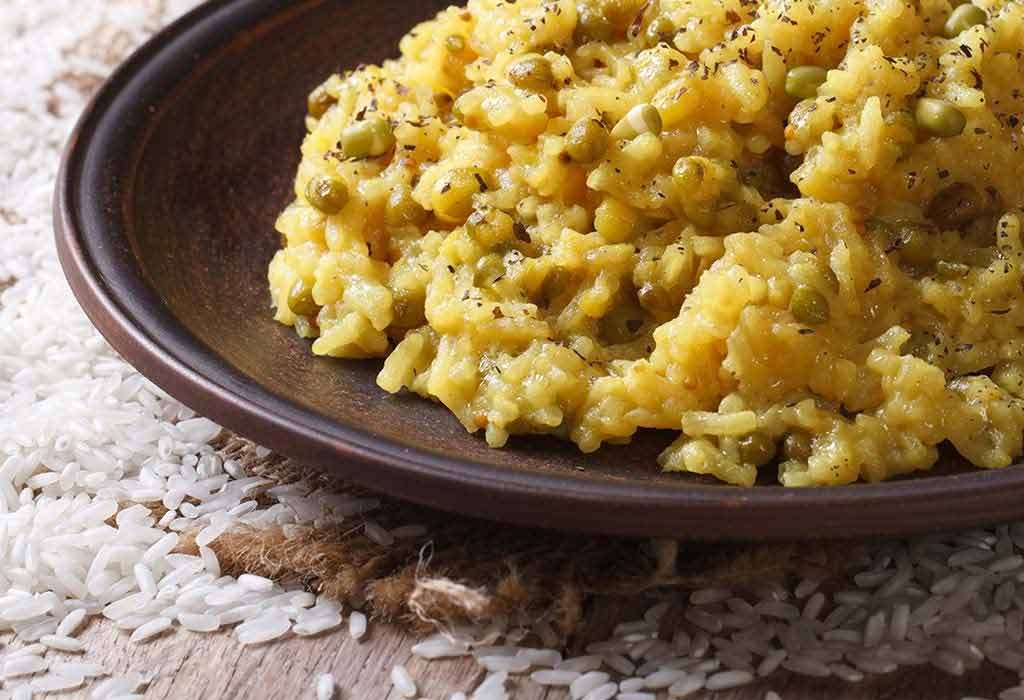 In this Article
Dal khichdi is a mild and nutritious item that is ideal when introducing babies to different flavours and textures of Indian cuisines. Of all the khichdi recipes out there, the moong dal khichdi is the most popular one. It is the simplest to prepare and the best one to start babies on as they wean. Compared to other lentils, moong dal is also easier to digest and is a good source of dietary fibre and protein. The rice adds some bulk to the mix and is full of calories that are sure to keep your baby energetic throughout the day. Continue reading to know about how to make dal khichdi and its nutritional benefits for your baby.
Cooking Time
| | |
| --- | --- |
| Type | Time (hh:mm:ss) |
| Preparation Time | 00:10:00 |
| Cook Time | 00:20:00 |
| Total Time | 00:30:00 |

Cooking Method
Gas stove
Type of Meal
Vegetarian
Great For
Babies over 9 months of age
Meal Schedule
Lunch
Recipe Type
Main dish
Ingredients
| | |
| --- | --- |
| Type | Quantity |
| Moong dal / split yellow gram | 2 tablespoons |
| Rice | 2 tablespoons |
| Asafoetida / hing | 1 pinch |
| Turmeric powder/haldi | 1 pinch |
| Salt (optional) | 1 pinch |
Instructions

Step by step procedure to prepare moong dal khichdi:
Wash and rinse the rice and moong dal separately and set them out to dry for a few hours.
Separately roast the rice and moong dal in a heavy iron pan for about 5-10 minutes each.
The dal might need a little more roasting, as the process makes it easier to digest.
If your baby has just been started on solids, then you can also coarsely grind the mixture in a blender.
To make one serving of dal khichdi for toddlers, use 4 tablespoons of the roasted mix and add the rest of the ingredients in a bowl, stirring it well.
Salt is optional, as it is not recommended for babies under the age of 12 months. However, a tiny pinch of it can enhance the taste and motivate them to finish their meal every time.
Add one and a half cups water to the mixture and cook it in a pressure cooker for about 15-20 minutes on medium flame.
Allow it to come down to normal pressure after 7-8 whistles.
Mash the dal khichdi finely or coarsely depending on your baby's age.
Recipe Tips
You could make a bigger batch of the rice dal mix, which can last for a week or more and save time on washing the ingredients.
A tiny dollop of ghee can also be added to the khichdi to enhance taste and get extra fat.
If your infant has been introduced to dairy products, a tiny bit of curd can be given along with the khichdi as well.
Once they are used to the taste of khichdi, you can try adding some vegetables such as carrots and beans to your homemade dal khichdi baby food recipe.
Nutrition Information (Serving Per 100 Grams)
| | |
| --- | --- |
| Nutrient | Value |
| Calories | 106.0 |
| Total Fat | 0.2 g |
| Total Carbohydrate | 20.5 g |
| Protein | 3.6 g |
| Sodium | 0.178 g |
| Potassium | 0.118 g |
| Dietary Fibre | 3.0 g |
| Sugars | 0.3 g |
Health Benefits
The most basic benefit of dal khichdi for toddlers is that it is simple to prepare and easy to digest for infants, which makes it one of the perfect weaning foods.

Moong dal is also rich in many essential nutrients such as proteins, magnesium, phosphorus, potassium, calcium, and dietary fibre while the rice gives plenty of carbohydrates.

Adding a bit of curd would complete the meal by enriching it with all of the essential amino acids and fats.
Buying Guide
Whether you are buying packaged or loose moong dal, look for stones in the lot as they frequently make their way into the products from the manufacturing processes. If it is packed, look for mould and moisture inside the packs, which can cause an early decay to set in. Tiny bugs are also a common issue to look out for.

The rice used for the khichdi should be the regular polished rice as unpolished rice might contain too much fibre that can be hard to digest.

If you're buying powdered turmeric, you can choose the organic variety or buy the turmeric roots and pulverize them.