Daddy Riteish Deshmukh Confesses His Biggest Challenge as a New Dad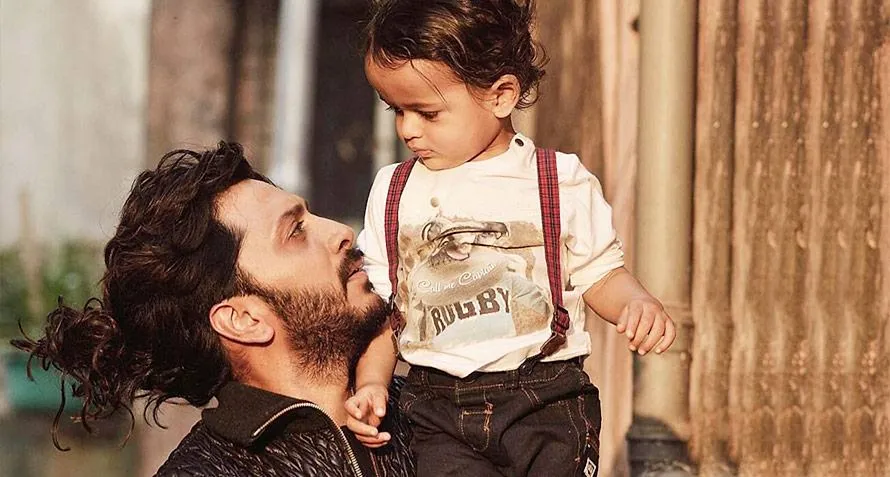 Becoming a parent is an amazing but overwhelming experience. You suddenly have a little person squealing the house down, looking cute enough to eat, and making you feel all mushy and warm. After childbirth, new moms go through considerable physical and emotional changes and this, combined with weakness and sleep deprivation, can make them really cranky. The struggles of the postpartum phase are well known and accepted by our society. But not many of us stop to think that this phase is also very challenging for the new dad. Your husband is also going through a lot and ignoring this can create a permanent dent in your relationship. Riteish Deshmukh, dad to two year old Riaan and two months old Rahyl, has opened up about his personal struggles. The confession he has made about his biggest challenge as a dad has some crucial lessons for all new parents!
Riteish Dehmukh just became a second-time dad to baby Rahyl in June. The couple welcomed their new baby in the cutest way imaginable and their first-born, Riaan, also looks charged up about his new sibling. Riteish comes across as a very hands-on dad, someone who participates in everything related to baby care and helps out his wife Genelia in every way possible. But the ride hasn't always been smooth for him. Recently, as a guest on the popular parenting program 'The Tara Sharma Show', Riteish made a confession about his experience as a new dad. It is honest, hard-hitting and something every dad – including your husband – can relate to.
"When you get into parenthood you just think that this is how fathers are supposed to be. But then you realise that the mother's connection with the child is instant and they connect. And for three months you're wondering – how do I connect with this child? I know it's my child but there's nothing happening…
What do I do? I tried holding the little child and he keeps crying. So I have to give him back to Genelia and he stops crying. I was changing Riaan's diaper and he started peeing. I was trying to catch it, you know, trying to figure out what do I do with this, this is going right on the floor…

And then suddenly one day it strikes you. There's a point in time maybe three months, maybe six months, maybe seven depends on each one. The child will look at you and he'll start owning you. And that's the most perfect thing, God's gift."
While some of us may consider this to be 'just like men' – of course, they cannot have the emotional depth of a mom – we admire Riteish's honesty. Moms and dads are different people with different emotions but the bottomline is the same. Both of them love their baby a lot; it's just that the way they manifest this love is different, especially in the first few years of your child's life. Biologically too, babies connect with their moms first. They will cuddle up to her, suckle at her breast, bask in the warmth of her skin. She will be the only one who can comfort them and make them feel reassured in this world outside the womb, suddenly so big and scary. Their connection with dads takes time to build. The important thing to remember, however, is that the bond may take some time. But when it happens, it will be unmistakable and more joyful than anything else in the world.
Drawing from his personal experiences, Riteish also shared an excellent tip that all dads should remember. Even if your husband feels left out in the baby care department, he can do this and make himself useful!
"It's very important to be with your wives for little things. As a husband, you need to be there as a support system. It could just be being there and doing nothing. Do NOT be there."
There, it's not just the baby who needs his dad; it's also the mom! New dads can participate in little things like taking the baby for a stroll, helping with household chores and giving their wives a restorative massage. New moms are extremely tired; the entire journey through pregnancy isn't easy. So, even if your husband feels like he cannot really do much for the baby, being there to provide emotional and moral support is a bigger help than he can imagine.
So moms, it's time to get your husbands to take a leaf from Riteish's book on parenting and help them feel more positive, connected and tuned in to their baby life. Parenting is team effort your child will benefit greatly from beautiful times spent with both his mamma dada.
?>