Custard Apple (Sitafal) During Pregnancy – Benefits & Risks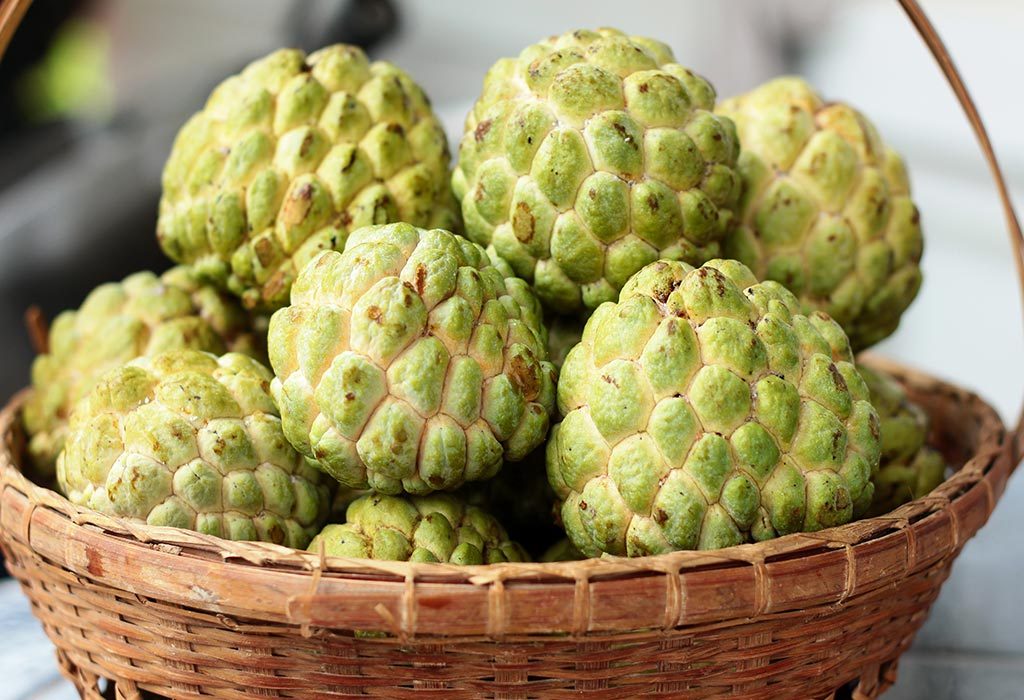 The Indian name for custard apple, sitaphal, has been derived from the Sanskrit words sheeta which means 'cold' and phal which means 'fruit'. This is a fruit that is known to cool the body. If you're wondering whether you can eat custard apples during pregnancy, keep reading.
Nutritional Value of Custard Apples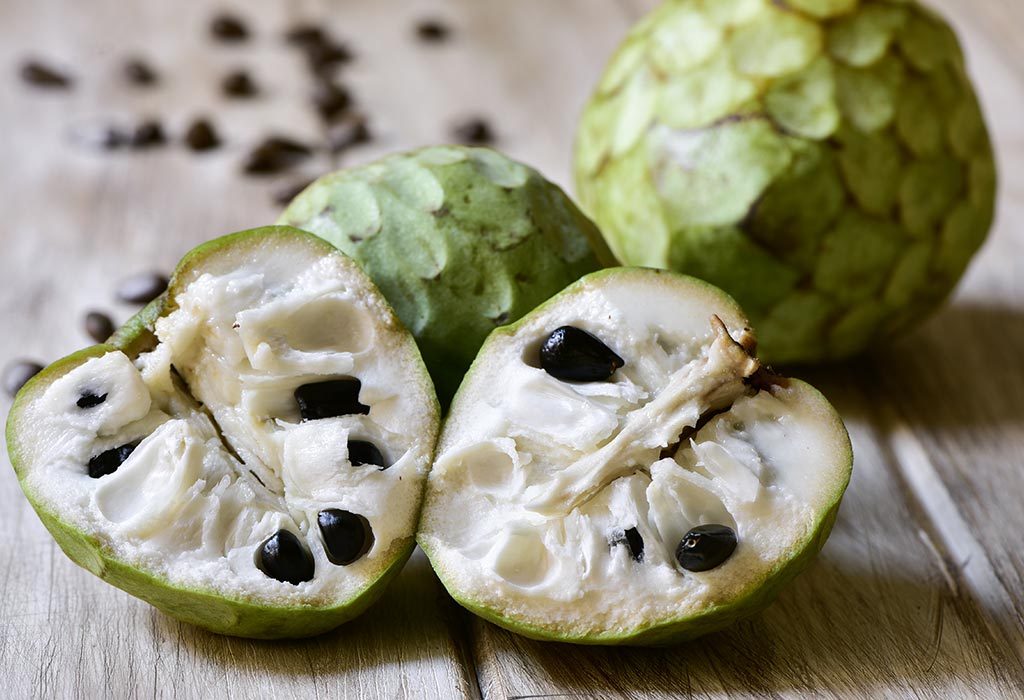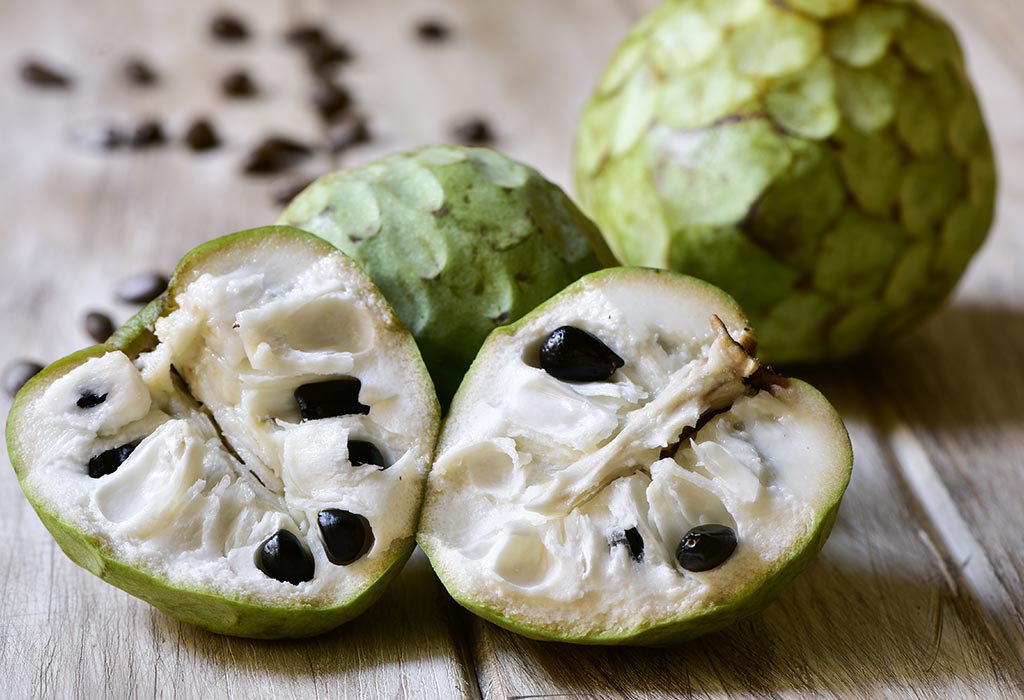 The nutritional value per 100 g of custard apples is as follows:
| | |
| --- | --- |
| Energy | 393 kJ (94 kcal) |
| Carbohydrates | 23.64 g |
| Fat | 0.29 g |
| Protein | 2.06 g |
| Vitamin B1 | 0.11 mg |
| Vitamin B6 | 0.2 mg |
| Folate | 14 μg |
| Calcium | 24 mg |
| Magnesium | 21 mg |
| Potassium | 247 mg |
Benefits of Custard Apples to Pregnant Women
Pregnant women can get these benefits by eating custard apples during pregnancy.
1. Reduction in Morning Sickness
Vitamin B6 curbs the sensation of nausea and morning sickness.
2. Healthy Weight Gain
The fruit is high in calories and neural sugar. Thus, it will help in weight gain.
3. Regulation of Blood Pressure
Blood pressure tends to fluctuate during pregnancy. The potassium and magnesium content regulates blood pressure.
4.Relief From Constipation
Dietary fibre maintains the health of the digestive system and treats constipation, softens stools, and improves bowel movement. It also reduces diarrhoea. (Custard apple can't reduce diarrhoea)
5. Reduction in Stress
Magnesium relaxes the muscles and regulates the cardiovascular system. It reduces stress and protects the heart.
6. Boost to Foetal Development
The overall nutritional components aid in the development of skin, tendon and blood vessels of the foetus.
7. Cleansing of Toxins From the Body
The fruit contains antioxidants that cleanse the body of toxins, thus keeping the kidneys in optimal condition. These antioxidants also help to build a strong immune system.
8. Relief from Dental Problems
The fibre content in custard apple keeps the teeth sparkling white, heals gums and does away with bad breath.
9. Prevention of Premature Delivery
Copper mineral is essential for the pregnant woman, who need 100mg dose for the strength to protect the foetus. Custard apple provides a certain portion of this copper mineral. Along with reducing the risk of miscarriage, it also reduces the chances of premature delivery.
Risks of Eating Custard Apples During Pregnancy
Keep the following things in mind to avoid unfortunate incidents:
The seed can create mess up your digestive system.
If you're allergic to cold foods, it's best not to consume this fruit.
As custard apples are high in sugar, patients with gestational diabetes should not consume them. (Or take it in moderation).
Overweight women should avoid eating this fruit.(no need to avoid completely can be taken in moderation)
Precautions You Should Take
While eating custard apples, you can take the following precautions:
Scoop the pulp out with a spoon, taking care to avoid the seeds.
Don't consume raw custard apples. Ripe ones are bright green and feel pulpy.
Consult your gynaecologist before consuming this fruit.
Custard Apple Recipes for Pregnant Women
Try these tasty custard apple recipes!
1. Custard Apple Rabdi
Ingredients:
Custard apple, peeled and deseeded – 2
Milk – 2-3 cups
Condensed milk – 2 tbsp
Jaggery – to taste
For Tempering:
Ghee – 2 tbsp
Green elaichi or cardamom – 2-3
Cashews – a handful
Almonds – a handful
Method:
Refrigerate the custard apple pulp for 30 minutes.
Add milk to a vessel and boil it.
Add condensed milk and jaggery to this milk.
Let it boil on a low flame for 6-7 minutes.
Pour this mixture on to the pulp.
Garnish with cashews and almonds.
2. Custard Apple Smoothie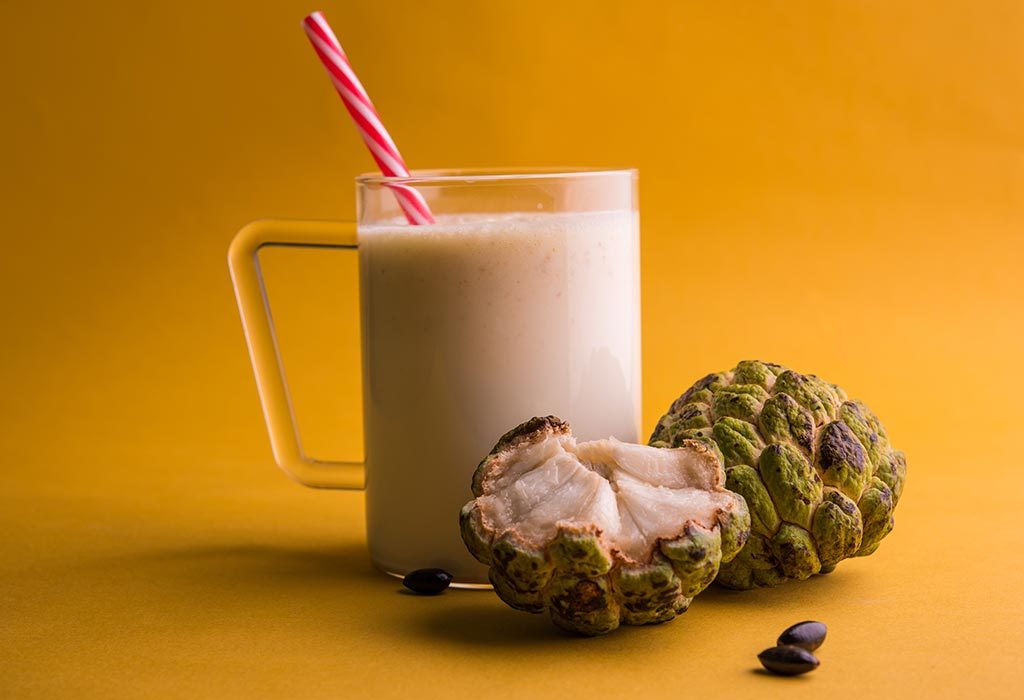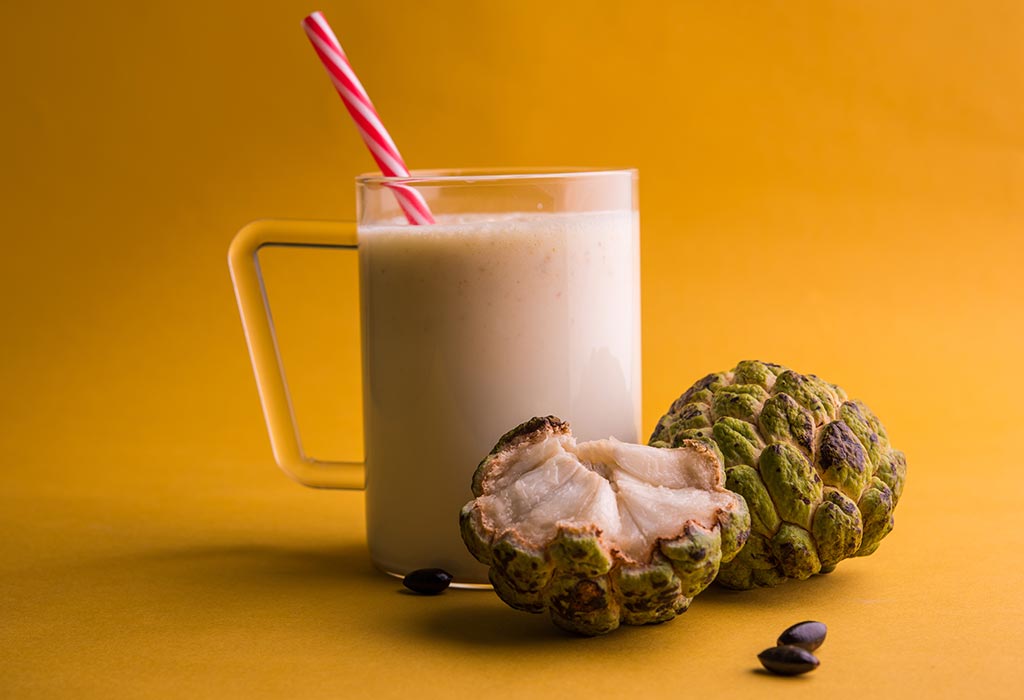 Ingredients:
Custard apple – 1
Milk – 1 cup
Vanilla ice cream (optional) – 1 scoop
Sugar – to taste
Method:
Add milk to the pulp.
Also, add sugar and vanilla ice cream.
Blend it.
Pour it into a glass and celebrate your pregnancy!
Sitaphal is a power fruit that you can enjoy during pregnancy. If you don't consume the seeds, you can enjoy its amazing benefits without worrying about the side effects!
Also Read:
Eating Banana during Pregnancy
Eating Papaya during Pregnancy
Eating Mango during Pregnancy