Crispy Karanji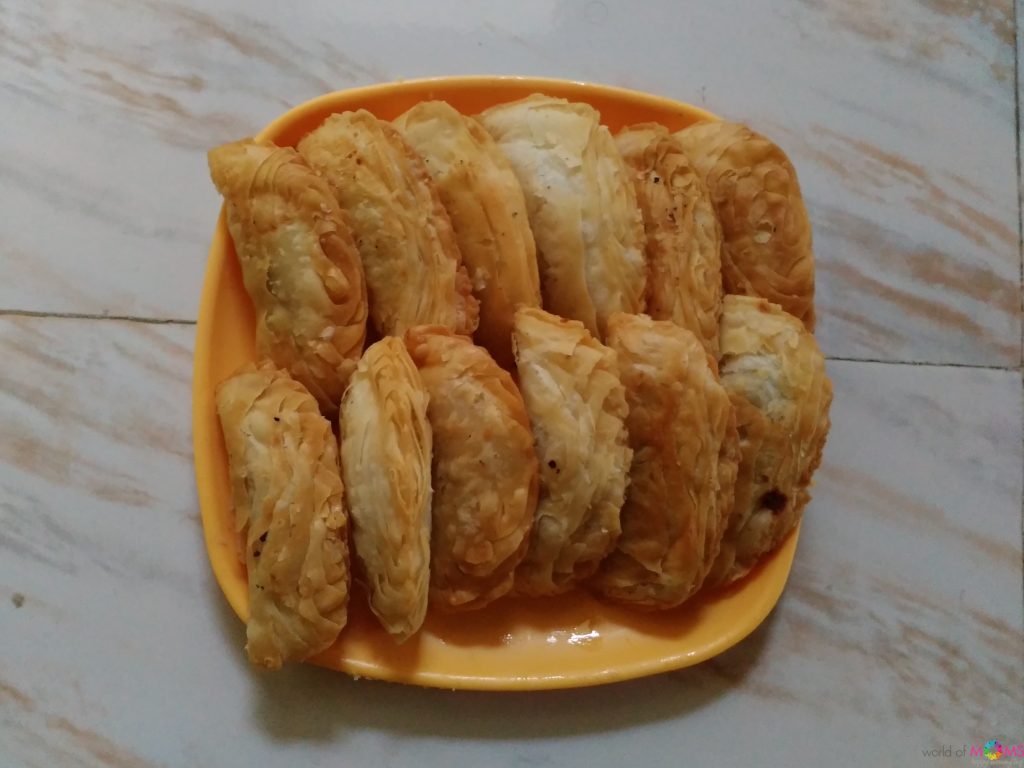 Karanji is a special dish for Diwali festival in Maharashtra. Karanji is especially popular in Maharashtra.It is a delicious and crispy sweet and is light too! Yields: This recipe makes around 30-40 Karanjis depending upon the size.
Nutritional Info
Crispy Karanjis ready! Cool them completely before storing them in an air tight container. Will keep well for weeks. In filling mixture we also use mixed nuts.
Ingredients
3 cups maida
1 cups semolina/rava,
4 teaspoon vanspati/pure ghee,
oil
100gram cornflour
pinch of salt
2 tsp baking powder
water to knead dough
250gram Poppy seeds
500gram Jaggery
half cup milk
Method
Step 1
In medium bowl, whisk the ghee well, then add the maida, semolina, baking powder, a pinch of salt as per your taste and add water to dough (not warm water). Mix all these ingredients well and knead the dough.
Step 2
The dough shouldn't be too soft or too dry.
Step 3
Cover this with a plastic wrap and leave it aside for 2 hours.
Step 4
Meanwhile, dry roast the Poppy seeds in a pan on a low flame for around 10 minutes till it turns golden. Remove from heat and mix jaggery and a little ghee into this and set it aside.
Step 5
Now take a small piece of the dough and roll it out into a circle (like roti).
Step 6
Then mix corn flour with oil and make smooth paste.This paste spread onto rolled roti with our thumb.
Step 7
Into this roti, add around 1 and 1/2 tsp of poppy-jaggery (or as much as you can fit in!) filling in the center.
Fold the roti and press the ends of the roti with your fingertips. Use a little milk to make the ends stick.
Step 8
Its crucial to avoid the stuffing from coming out during frying.
Step 9
Repeat with the rest of the dough.
Step 10
Drop 1 or as many you can in your fryer. Make sure the temperature of the oil doesn't drop by adding too many of the karanjis. This will make the karanji soggy and it won't stay crispy.
Step 11
When the karaji slightly puffs up Ladle in some hot oil on the surface of the karanji now and then just like you would do for making poori.
Step 12
Turn it over for the other side to cook.
Step 13
The karanji is done when it is golden brown.
Step 14
Remove, place on absorbent paper and serve.