Crepe Paper Rainbow Fish DIY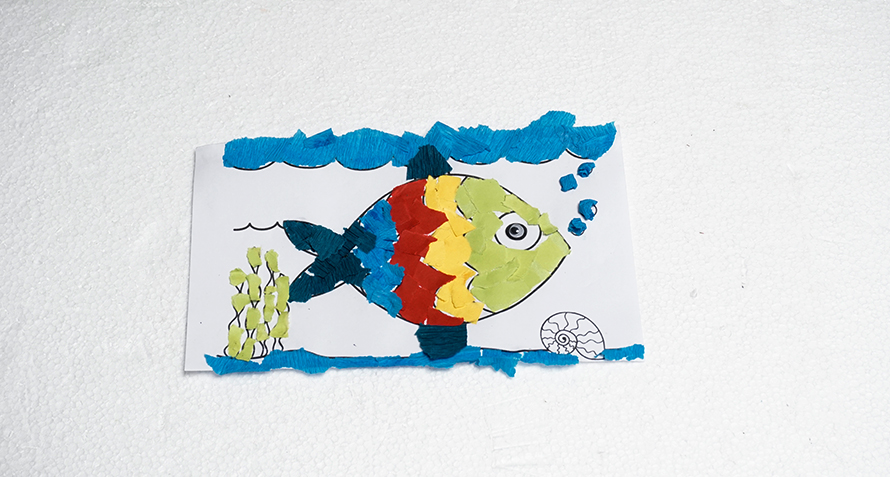 The underwater world is fascinating to children. Let's re-create a bit of this mysterious world with this colourful craft. Psst…it strengthens motor skills too!
Explore the underwater world with a little fish as your tour guide! Have some fun with this cute little craft activity that will make your little one a sea lover!
You will need

A template/ outline of the fish (drawn or printed)

Crepe paper cut out into 1/2 inch squares

A glue stick

Crayons and felt paints
Step-by-step Instructions
1. Take a print-out or draw an outline of a fish on a piece of paper.
2. Assist your child in cutting 1/2 inches squares of coloured crepe paper. You could additionally use tissue papers as well.
3. Using a crayon or a felt pen, colour the head of the fish in blue.
4. Starting from the tail, stick these pieces of paper on the fish cut out and move upwards towards the body.
5. Stick a few strips of the coloured crepe paper on the tails and fins of the fish as well.
6. Separately draw the eyes on a different paper, cut and stick them on the cut out. Alternatively, you can also simply colour them with markers.
7. And voila! Your rainbow fish full of colour is ready.
Messiness Score
3
Parental Involvement
Low
Skills Enhanced
This activity not only helps enhance your child's motor skills as they draw and learn how to use scissors to cut but also improves colour recognition and differentiation abilities.
Fun Tip: You can cut the fish out, stick it on a piece if cardboard and hang it in your child's room using some string or ribbon.