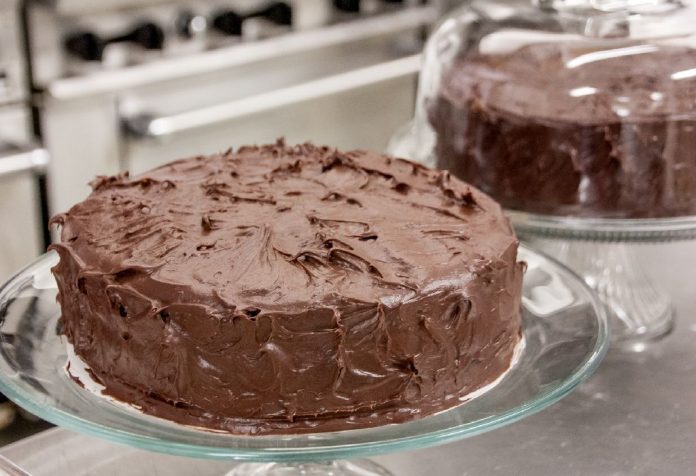 Last Updated on
This is one decadent, smooth and creamy cheesecake that never fails to treat a crowd. Include it as part of your Christmas get-together and you won't have any leftovers. This simple, yet dreamy no-bake chocolate cheesecake needs to be made and refrigerated one day prior. For the presentation, shave a little chocolate over the top and allow your guests to go gaga over the slice from paradise.
| | | |
| --- | --- | --- |
| Serves | Preparation Time | Cooking Time |
| 8 People | 25-30 Minutes | 2-3 Hours (setting time) |
Ingredients
100 g butter
250 g digestive biscuits, crushed
600g cream cheese
30ml irish cream
100ml icing sugar
300ml double cream, whipped
100g grated chocolate
For the Irish Cream
2 eggs
250 ml sweetened condensed milk
1 tsp. instant coffee
2 tsp. chocolate syrup
250 ml vodka or Irish whiskey
250 ml heavy cream
Method
For the Irish Cream
Step 1
In a bowl, crack open the eggs and beat until they turn thick and lemon colored. A handheld whisk does fine, but a hand blender with a whisk attachment does a better job.
Step 2
Add the other ingredients slowly one by one and keep beating continuously.
Step 3
Pour into sterilized dark glass bottles using a funnel, and keep it at room temperature for one week before using.
For the Cheesecake
Step 1
In a pan, add butter and let it melt. Next, add the crushed digestive biscuits to the butter and keep mixing the biscuits have absorbed all the butter.
Step 2
Remove the pan from the heat and pour out the contents into the bottom of a lined springform tin. Make sure you press it with a spoon to form an even layer.
Step 3
Place the lined tin in the refrigerator and allow it to set for one hour.
Step 4
Meanwhile, take the whisk and whip the cream cheese lightly. Next, add the homemade Irish cream and the icing sugar.
Step 5
Fold in the whipped cream and add the grated chocolate. When the mixture attains smooth consistency, spoon evenly onto the refrigerated biscuits.
Step 6
Refrigerate and allow the cake to set for at least two hours. Once set, remove the side of the springform tin and keep the cake on a plate.
Step 7
Decorate with grated chocolate and cocoa powder dusted over the top Serve.
Nutritional Information
| | |
| --- | --- |
| Calories | 1229 Kcal |
| Proteins | 17.4 g |
| Total Fat | 80.6 g |
| Total Carbohydrates | 80.9 g |
| Cholesterol | 281 mg |
| Sodium | 599 mg |
| Potassium | 517 mg |