Every article that we publish, confirms to stringent guidelines & involves several levels of reviews, both from our Editorial team & Experts. We welcome your suggestions in making this platform more useful for all our users. Write in to us at parenting.care@firstcry.com
At FirstCry Parenting, our aim is to give you the most elevant, accurate and up to date information.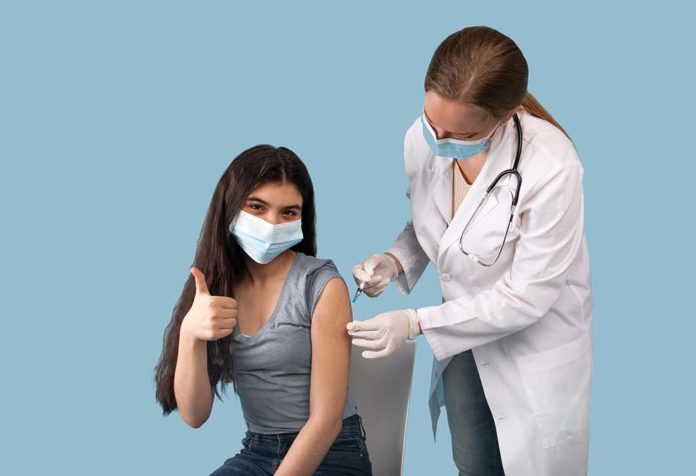 It's been a long couple of years for the entire world going through a pandemic that has affected everyone. Children may not be able to express it as such, but their lives too have taken a jolt with the constant fear of contracting the infection, trying to stay at home and avoiding social contact, missing out on physical school and even playtime.
As a result of the zealous vaccination drive across the country, over 75% of adults in India are protected against the coronavirus and its variants. However, whether the vaccine was suitable for children was not yet proven.
It's time for the children to breathe a sigh of relief, or rather let out a hurray of happiness because the Drugs Controller General of India just gave a nod to Biological-E's Corbevax vaccine for children. Here are a few questions answered for every concerned mamma and dadda out there.
What Is This Vaccine?
Corbevax is a recombinant protein sub-unit COVID-19 Vaccine, which means that it has been developed from a harmless component of the spike protein on the surface of the virus. This, once injected into the body, helps the body build immunity against the virus itself. The vaccine is administered into the muscles. It requires two doses, to be taken 28 days apart.
About Corbevax
Corbevax is developed by an Indian pharmaceutical company called Biological-E Limited in collaboration with reputed American institutions, The Texas Children's Hospital Centre for Vaccine Development and Baylor College of Medicine in Houston.
Are There Other Vaccines Available?
Corbevax is the third vaccine for children to be approved by the DCGI, after Covaxin and ZyCov-D. However, currently, only Covaxin is being used for children above 15 years. Corbevax is a major breakthrough in the vaccination drive of the country, as with the introduction of this, all children over the age of 12 will be protected against the coronavirus.
Does My Child Really Need the Vaccine?
With the world around us gradually going back to normal, and schools and classes unlocking their doors for children to resume physical attendance, children are at constant risk of contracting the virus from each other or from the people they come across as they step out. With Omicron spreading far and wide, every form of precaution is a must. We're sure you have instructed the kids to keep wearing their masks and to maintain physical distance. But after all, how fully can we ensure that! The vaccine is here to immunize them against the virus and reduce the risk greatly.
Moreover, as the world battles the pandemic, it is not only of utmost importance that we do all it takes to protect ourselves, but it is also our moral duty to take care of those around us. If your children remain safe, so do their grandparents who are at a higher risk if they contract the highly contagious virus and the younger siblings who might not be vaccinated yet.
Is My Child Eligible for the Vaccine?
If your child falls in the age group of 12-18, he or she is eligible for the vaccine. With more than 6 crore doses of Corbevax reportedly cleared by the Central Drugs Laboratory in Kasauli, the government is gearing up to ensure that a large percentage of the population is vaccinated in a speedy and efficient manner.
Is It Safe for My Child?
Corbevax has received the nod from the Drugs Controller General of India for restricted use in adolescents between the age of 12-18 years. This approval had come on the basis of the interim results of phase II/III trials that were ongoing. After completing two rounds of Phase III trials with more than 3000 subjects, a clinical study was initiated to evaluate the safety and immunogenicity of the vaccine. The study indicated that Corbevax was safe, well-tolerated and immunogenic.
Running at the sound of the school bell, playing their favourite sports on the grounds, reuniting with their teachers and classmates and having fun with their friends will be worry-free now, with the rolling out of the vaccine for children aged 12-18 years. Mammas too, can sit back and relax, knowing that your children are out there, safe and protected. The government's approval for the emergency use of Corbevax in children between 12-18 years of age comes as a significant development in the protection of health and safety of adolescents, as well as in India's battle against the daunting coronavirus which is in its third year now.
Also Read:
Fun Ways to Get Children to Wash Their Hands
Everything About Covid-19 Vaccine for Children Aged 15-18