Cooking with Sunflower Oil – Is It Healthy?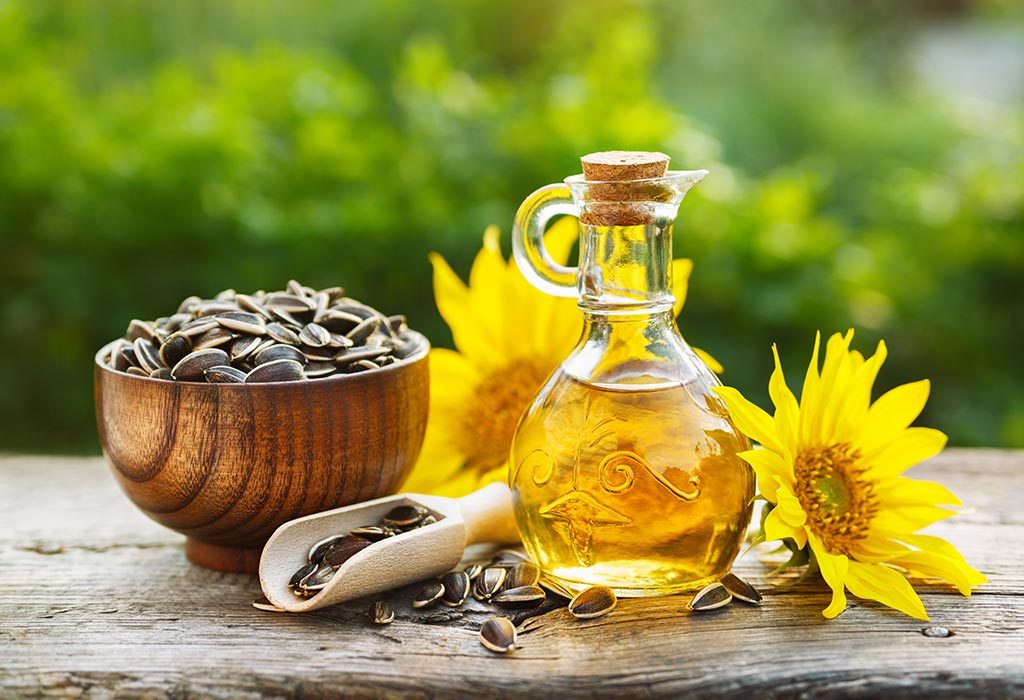 With a wide variety of cooking oils in the market, it's difficult to understand which one is good for us and which isn't. However, to talk about one particular oil is easy.
Sunflower oil for one cannot be considered to be healthy for consumption. There are several reasons for it to be an unhealthy option for cooking oil. However, in hindsight, it is said to be an excellent source of Vitamin E, many other nutrients and fatty acids which are considered to be beneficial for the skin, hair and sleep disorders in children. It is also said to have many other health benefits like preventing arthritis and colon cancer if taken in moderation. Read through the article to get an insight into the pros and cons of the sunflower oil.
Nutritional Value of Sunflower Oil
Serving: 1 cup
| | |
| --- | --- |
| Calories | 8068 kJ |
| Carbohydrates (Fibre, Starch, Sugar) | 0 g |
| Total Fat | 218 g |
| Saturated Fat | 21.3 g |
| Monounsaturated Fat | 182 g |
| Polyunsaturated Fat | 8.3 g |
| Total Omega-3 Acids | 419 mg |
| Total Omega-6 Acids | 7860 mg |
| Protein | 0 g |
| Vitamin E | 89.5 mg |
| Vitamin k | 11.8 mcg |
| Minerals | O g |
Health Benefits of Sunflower Oil
The advantages of sunflower oil are plenty. It can be used for cooking, to make cosmetics and is also good for heart health.
1. Reduces Cholesterol
Fatty acids like Omega-3 and Omega-6 found in sunflower oil, especially linoleic acid, when taken in moderation, averts atherosclerosis which can clog arteries, increase blood pressure and raise the risk of heart attack and stroke.
2. Increases Immunity
The benefits of cooking with sunflower oil lie in the fact that it is rich in Vitamin E. It functions as an anti-oxidant to the body, thereby improving the immune system and overall health.
3. Improves Skin
Since sunflower oil is rich in Vitamin E, it is great for the skin. Vitamin E protects the skin from sun damage and age-related skin problems. It nullifies the free radicals and prevents the damage of healthy cells. It enhances the glow in the skin, heals scars and wounds quickly. Due to this, many even massage pre-term newborns with the sunflower oil as it prevents infection of the skin and protects it.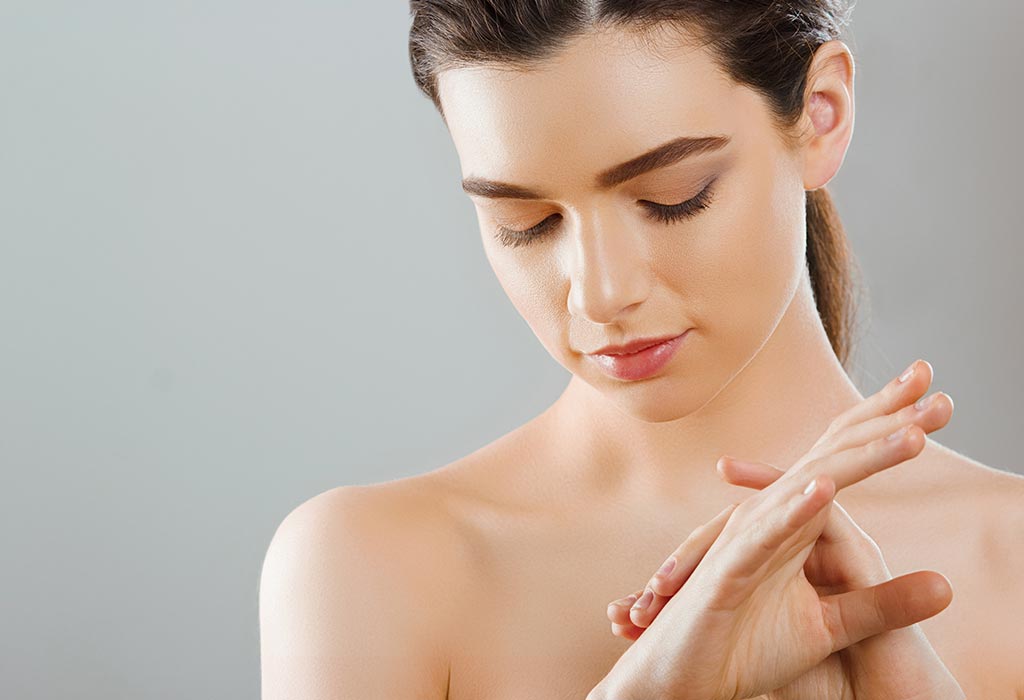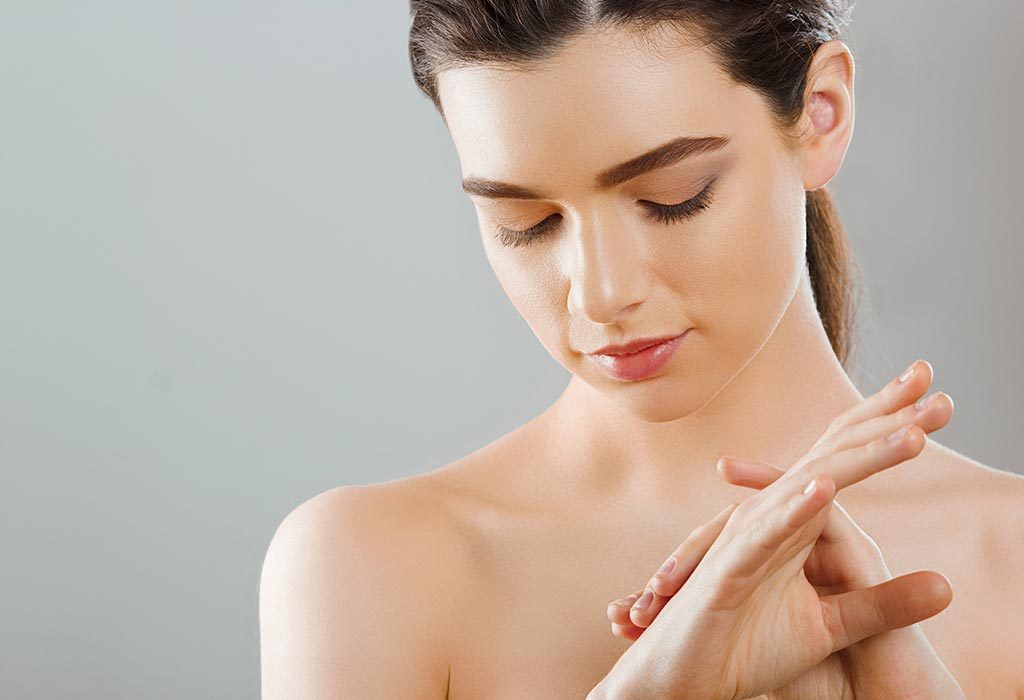 4. Anti-Inflammatory
Sunflower oil has anti-inflammatory properties which help in preventing or lowers chances of an asthmatic attack. This anti-inflammatory quality in the oil also prevents cancer and rheumatism from getting severe.
5. Controls Frizzy Hair
Sunflower oil conditions the hair, making the hair lustrous and prevents dryness which makes the hair frizzy. Applying the oil on the hair makes it smooth and manageable.
6. Increases Energy
The unsaturated fat present in sunflower oil energises you. This unsaturated fat makes the liver give out glycogen, a type of sugar, in the blood that makes you energetic.
FAQs
1. Are There Any Side-effects of Sunflower Oil?
Sunflower oil is widely used in cooking food as well for commercial purposes. However, the oil has its pros and cons.
It is said that it can lead to obesity, the most important cause of lifestyle diseases, since it is high in calories.
Most of the vitamins and minerals are absent in sunflower oil. It lacks important vitamins and minerals like zinc, calcium, magnesium, manganese, copper and selenium.
It also lacks phytosterols that lower low-density lipoprotein (LDL), the bad cholesterol which triggers heart attacks and strokes.
Although omega-3 and omega-6 fatty acids reduce cholesterol when consumed in moderation, excess consumption of these fatty acids can be detrimental to health. Hence, it is best to limit consumption.
It is said that if you take too much of it, it can increase your insulin level as well as the number of white blood cells.
Sunflower, being an allergen, may not be suitable for everyone. Many people who are allergic to flowers like sunflower, daisy, chrysanthemums and marigold or have any kind of pollen allergy should refrain from consuming sunflower oil.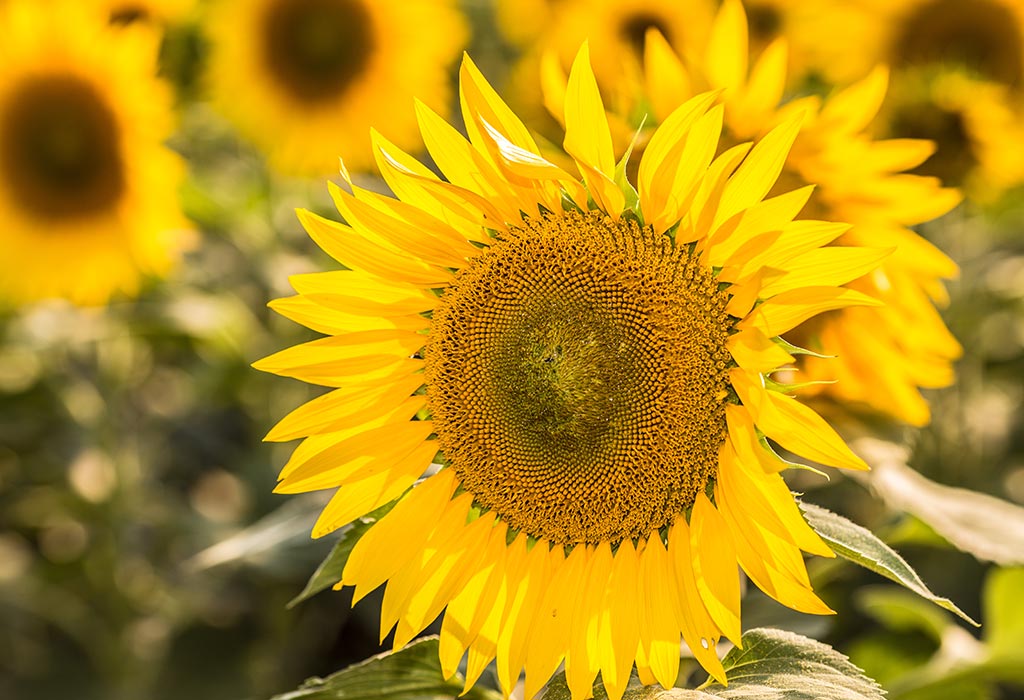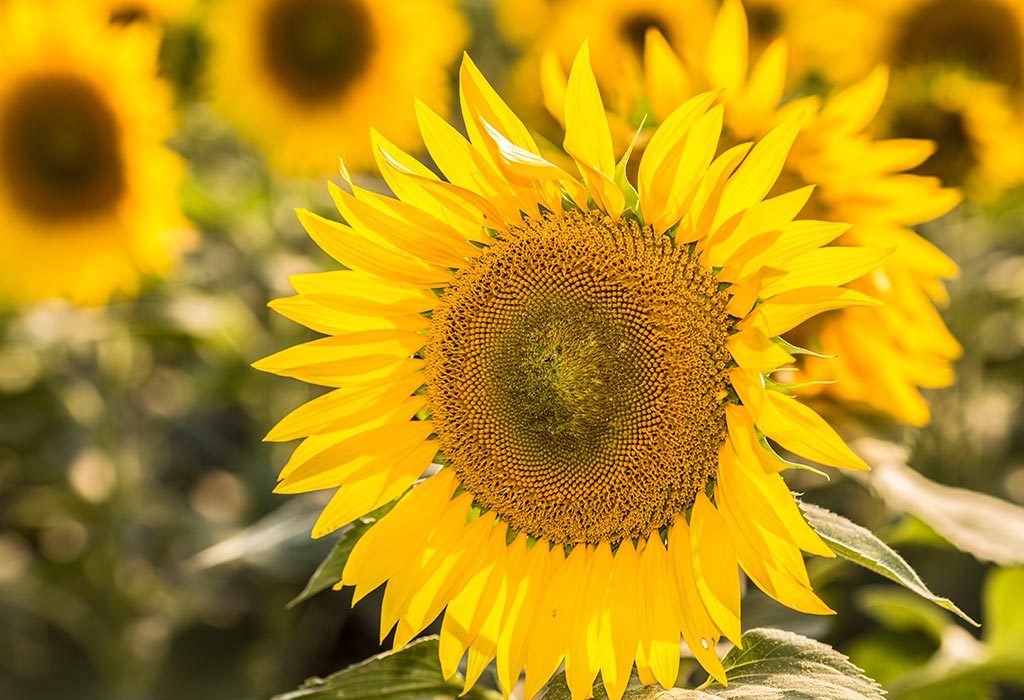 2. What Are the Benefits of Sunflower Oil for Skin?
The Vitamin E present in sunflower oil does wonders to the skin. It nourishes the skin and makes it free of blemishes with regular application. Listed below are some great benefits of the Sunflower oil on the skin.
When you apply sunflower oil on the face, it acts as an emollient by preserving the moisture of the skin. This is most effective on dry skin, and during winters when our skin tends to get dry. It also provides great relief when applied over skin inflammation.
The Vitamin E content in sunflower oil is more than in any other oil. This helps in preventing the skin cells from getting damaged by the ultra-violet rays of the sun. The damages of the free radicals which cause havoc on the skin are prevented and nullified by the beta-carotene content in the oil. This stops the skin from getting damaged and also prevents skin cancer.
The Vitamin E present in sunflower oil replenishes damaged skin which may have been caused due to age. The oil which is a rich source of Vitamin E also has anti-ageing properties. The linoleic acid along with omega-6 fatty acids rejuvenates the skin which in turn makes the skin glow. Regular use of the oil diminishes wrinkles and fine-lines, making the person look much younger.
Due to the presence of fatty acids in sunflower oil, it is free from any kind of infection-causing bacteria, thereby making the skin radiant.
Since the oil has anti-bacterial and anti-fungal properties, it helps cure atopic dermatitis, a skin problem causing red and itchy skin. Sunflower being an emollient can help in curing this. If an ointment containing the oil and topical steroid is applied over the distressed area of the skin, it may get healed.
It can also be used as a makeup remover and face cleanser. Other than that, it helps to reduce under-eye dark circles, scars caused by acne, and soften rough and dry skin.
Sunflower oil in soap and cosmetics protects the skin from damage through ultraviolet rays of the sun, skin infections and inflammations. It also rejuvenates the skin and makes the skin blemish-free and radiant.
The life-threatening infections that premature babies usually get while at the hospital, also known as nosocomial infections, can be treated or prevented by the use of sunflower oil. The oil has anti- microbial properties which act as a skin barrier and prevent a newborn from getting infected. However, always consult a paediatrician before applying the oil to your newborn.
The anti-oxidants and anti-bacterial properties in the oil help wounds to heal fast.
Acne is a result of the accumulation of excess oil and sebum in the pores of the skin. The Vitamins A, C, D and E and Omega-3, Omega-6 and Omega-9 present in the oil add a protective layer on the skin and stop bacterial growth thereby preventing acne.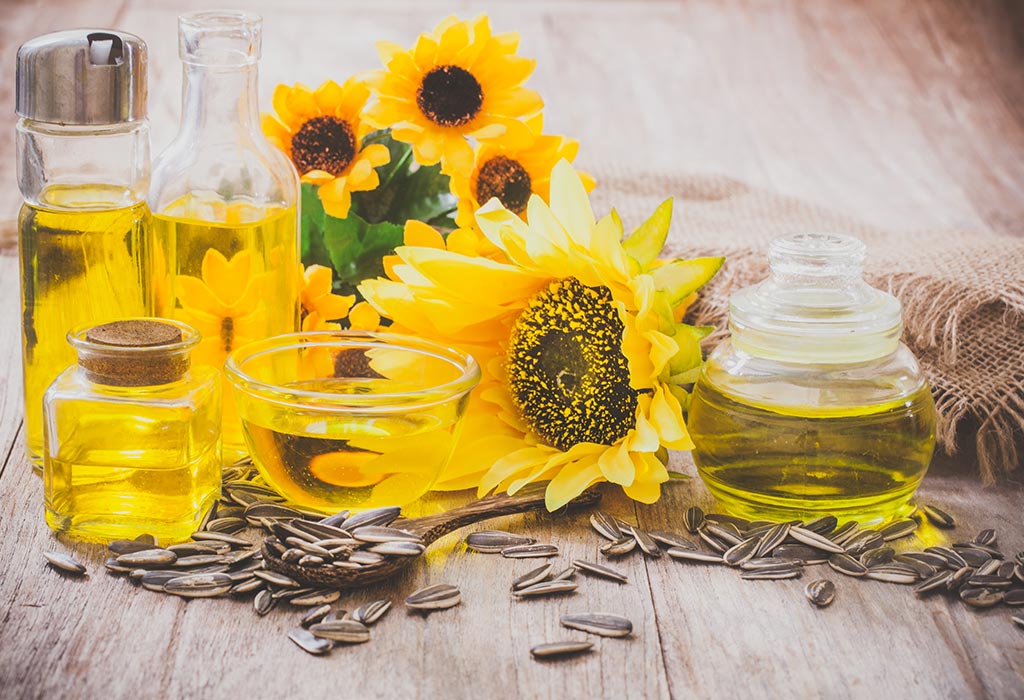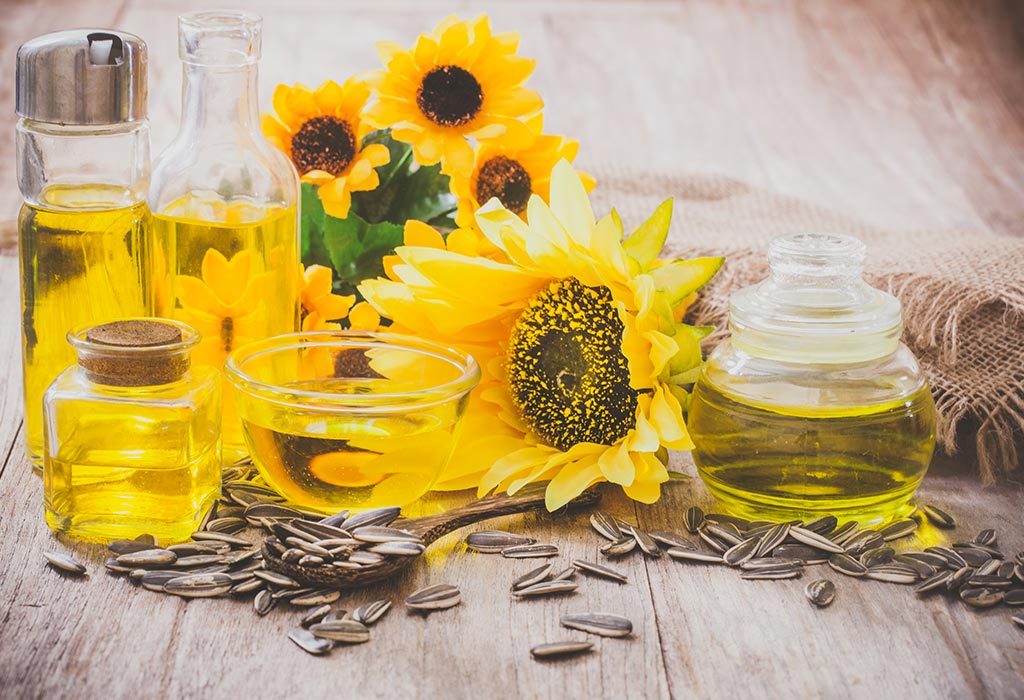 3. What Are the Advantages of Sunflower Oil for Hair?
Beautiful hair is something which everyone desires to have, but not all are fortunate enough to have. Sunflower is usually used in cooking food and is believed to have many health benefits. However, you will be surprised to know that it is also great for the hair as well, and is used in many of the hair oils as the base oil. It is actually the essential nutrients and the fatty acids which make sunflower oil very good for our hair. Listed below are reasons which make it very beneficial for every hair type.
Sunflower oil is a rich source of oleic acid, an omega – 9 acid which aids good hair health. This, if included in your everyday diet can increase hair growth in an individual. It also keeps hair from getting brittle and prevents hair fall, making your hair thicker.
Sunflower oil when applied to the hair and skin at least once a week nourishes and conditions the hair. It makes the hair soft, silky, smooth and healthy too. It also stops hair from getting greasy and prevents split ends.
It creates a protective barrier in the hair. The oil also helps the hair protect itself from the harmful ultraviolet rays of the sun which damages the hair as well as the scalp.
It retains moisture of the hair and prevents the hair from getting dry, frizzy and unmanageable; and the scalp dandruff-free, nourished, and healthy, making it suitable for good hair growth. The antioxidants in the oil also stop hair from falling or early hair loss in men.
Sunflower oil is extremely light and is easily absorbed, which is why it can be said to be a great hair-care product. Being light oil, it easily gets absorbed in the hair. It makes the hair lustrous and adds a sheen to it.
The vitamin E moisturizes and hydrates the hair. It keeps the scalp healthy, which in turn aids hair growth.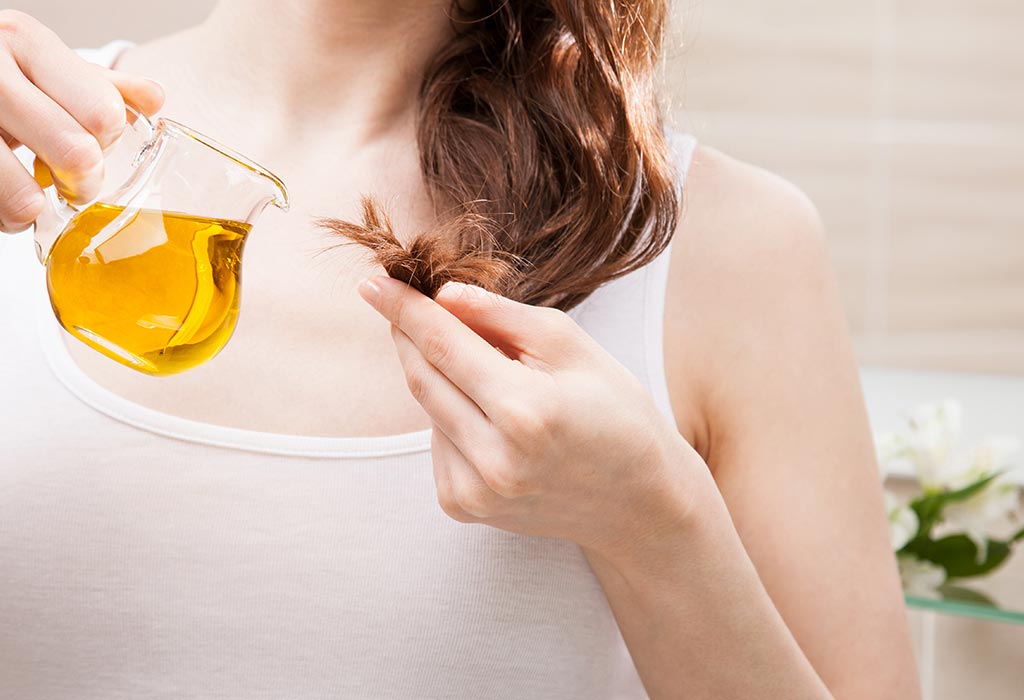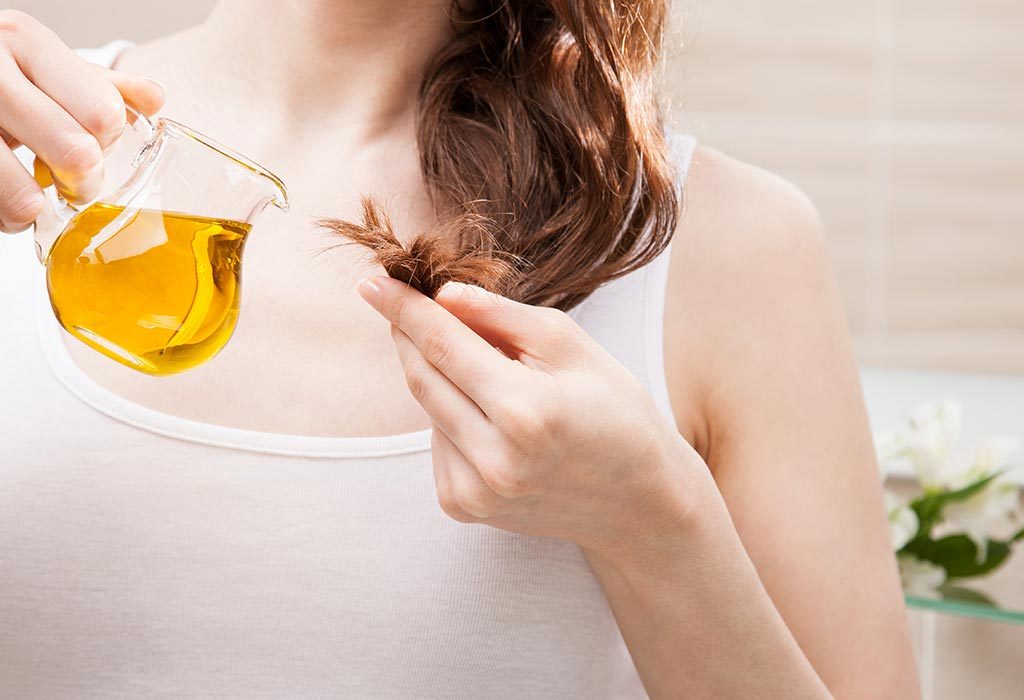 4. How Does Sunflower Oil Help Insomnia in Children?
Sunflower oil helps in reducing stress, and thus has a calming effect on children. The amino acid tryptophan in the oil gives out melatonin and serotonin, the two hormones that aid peaceful sleep in children. Therefore, if your child happens to sleep inadequately or has a hard time getting good sleep, give her Sunflower seeds to munch on, or food which has been cooked or made in sunflower oil.
5. Is Sunflower Oil Safe During Pregnancy?
Pregnancy is a time when everything that the mother eats affects the unborn baby. Therefore, everything that the mother eats should be healthy and suitable for the mother as well as the baby inside. Sunflower oil, which is rich in Vitamin E, moisturises and rejuvenates the skin during pregnancy. The fatty acids and the multiple nutrients present in the oil take care of the heart, nervous system and also prevent muscle cramps during pregnancy. The magnesium content in the oil increases the metabolic rate of the women during pregnancy, and also the baby inside. Sunflower oil also provides relief in constipation which is common during pregnancy.
The oil is rich in fatty acids, which is very important for our body as it prevents and cures many diseases. It is healthy and beneficial for children as well as adults if taken in moderation. However, the fatty acid Omega-6 content is high, which makes it a bit of a concern and risk since it can lead to obesity and high cholesterol. Therefore, taking Sunflower oil in small amounts or applying over the skin and hair is the key to good health.
Also Read:
Health Benefits of Curry Leaves for Health and Hair
Health Benefits of Asafoetida You Should Know
Health Benefits of Prunes Intake in Your Diet