Coconut Barfi Recipe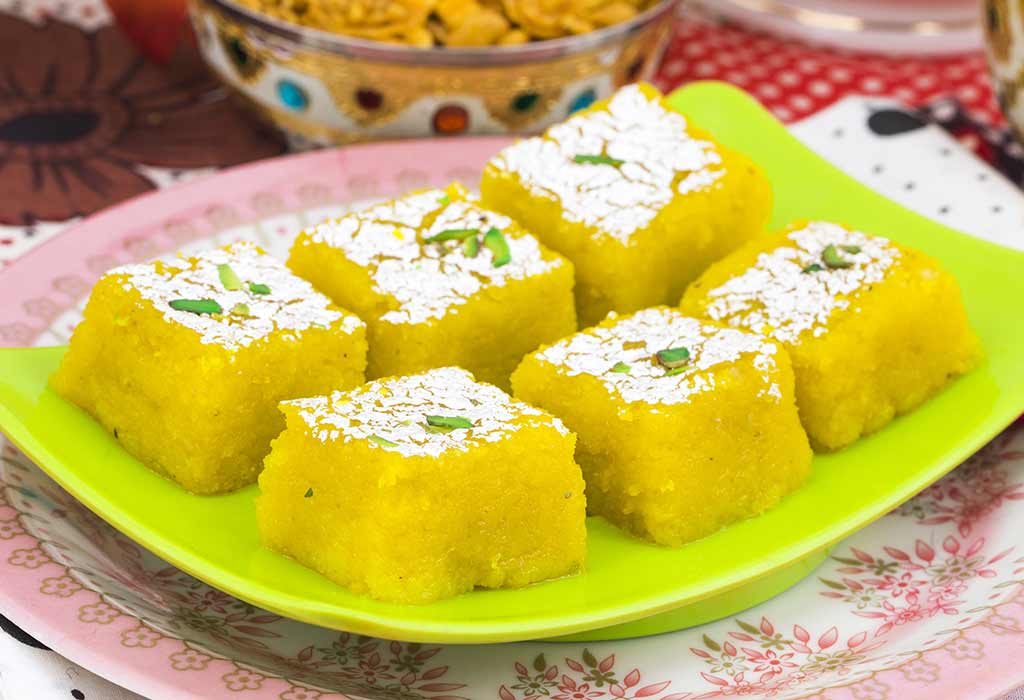 In this Article
Coconut Barfi is a mouth-watering nutritious Indian sweet. No sweet can be compared to the taste of Coconut Barfi. Coconut Barfi for babies is a healthy dessert and an all-time favourite snack. Along with this, coconut has lots of health benefits. Coconut is rich in copper and manganese and it promotes bone health. Coconut has a lot of benefits, and including coconut milk, coconut water, and desiccated coconut barfi in a baby's diet works wonders. This recipe will not take much of your time and you can store the Barfi for a week as well.
Cooking Time
| | |
| --- | --- |
| Type | Time (hh:mm:ss) |
| Preparation Time | 00:10:00 |
| Cook Time | 00:05:00 |
| Total Time | 00:15:00 |
Cooking Method
Gas Stove or Microwave
Type of Meal
Traditional Indian Sweet
Suitable For
Any Toddler above 13 months of age
Meal Schedule
Mid-Morning or Evening Snack.
Recipe Type
Dessert
Ingredients
| | |
| --- | --- |
| Ingredient | Quantity and Volume |
| Saffron (Kesar) | 6-7 strands |
| Mawa / Khoya | 2 tbsp |
| Ghee | 1 tsp |
| Grated Fresh Coconut | ¾ cup |
| Powdered Brown Sugar | 5 tbsp |
| Milk | 1 tsp |
Instructions
You must be wondering how to make Coconut Barfi! This recipe is very easy to prepare and does not require much time. Let us see the step by step directions to prepare Coconut Barfi.
Take a bowl and mix the ghee and grated coconut then microwave on high for 1 min.
Then add the powdered sugar in the mixture well and then microwave again for 2 min, stir them in between.
Now add the mawa, saffron, milk and again microwave for another 2 min.
Now transfer the mixture in a greased tin and spread the mixture properly in a similar portion with the back of the spoon.
Let it cool into the refrigerator for an hour.
Take out the tin from the refrigerator and cut it into small pieces and serve well.
You can also use gas stove instead of the microwave. You can add the mixture and stir nicely until the sugar dissolves.
Recipe Tips
Coconut Barfi baby food recipe can be easily stored for a week! Please keep in mind the below tips before preparing the recipe.
While making this barfi, the string consistency is not required. It's easy to make even for beginners.
You don't need to stir the mixture continuously.
You will get the best taste of coconut from fresh coconut.
Make sure the coconut is grated properly. You can also use the blender to finely process it.
You can also use almond milk or coconut milk. For almond milk, soak them in water then remove the peel and blend it with water.
You can adjust the amount of brown sugar according to your child's taste.
Use powdered brown sugar. Use the blender to make powder.
Cook for lesser time to make the barfi soft. Soft barfi will be easy to chew for kids.
Nutrition Information (Per 100 Grams)
| | |
| --- | --- |
| Nutrient | Value |
| Energy | 76 Cal |
| Protein | 1 g |
| Carbohydrates | 7.8 g |
| Fibre | 1 g |
| Fat | 4.5 g |
| Cholesterol | 0.1 mg |
| Vitamin B1 (Thiamine) | 0 mg |
| Vitamin B2 (Riboflavin) | 0 mg |
| Vitamin A | 10.1 mcg |
| Vitamin B3 (Niacin) | 0.1 mg |
| Vitamin C | 0.4 mg |
| Vitamin E | 0 mg |
| Folic Acid (Vitamin B9) | 1 mcg |
| Calcium | 32.4 mg |
| Iron | 0.1 mg |
| Magnesium | 2.5 mg |
| Phosphorus | 32.1 mg |
| Sodium | 1.6 mg |
| Potassium | 27.1 mg |
| Zinc | 0.1 mg |
Health Benefits
There are various health benefits of homemade Coconut Barfi for babies. Let us discuss a few important points :
Coconut is a good source of Iron, Niacin, and Copper.
Coconut is great for skin and hair.
Mawa is also equal to a glass of milk.
It helps in bone development.
It helps children gain weight and improves digestion.
It improves immunity in young children.
Works as a laxative. It also acts as a healing and soothing recipe as it has anti-bacterial and anti-viral properties.
Buying Guide
Buy fresh Mawa and coconut from the market.
Buy organic and fresh products from a good store.
Check the expiry date of Ghee and Brown Sugar before buying.
Check the packaging thoroughly for any insects inside.
Check the quality of products before buying.
Avoid giving market sweets or packaged foods to babies. Instead, make this easy homemade Coconut Barfi for your baby and store it well and give them regularly. Our child's health is of utmost importance and they always deserve the best and healthy food.
?>