Choosing wall-colour combinations for kids' Bedroom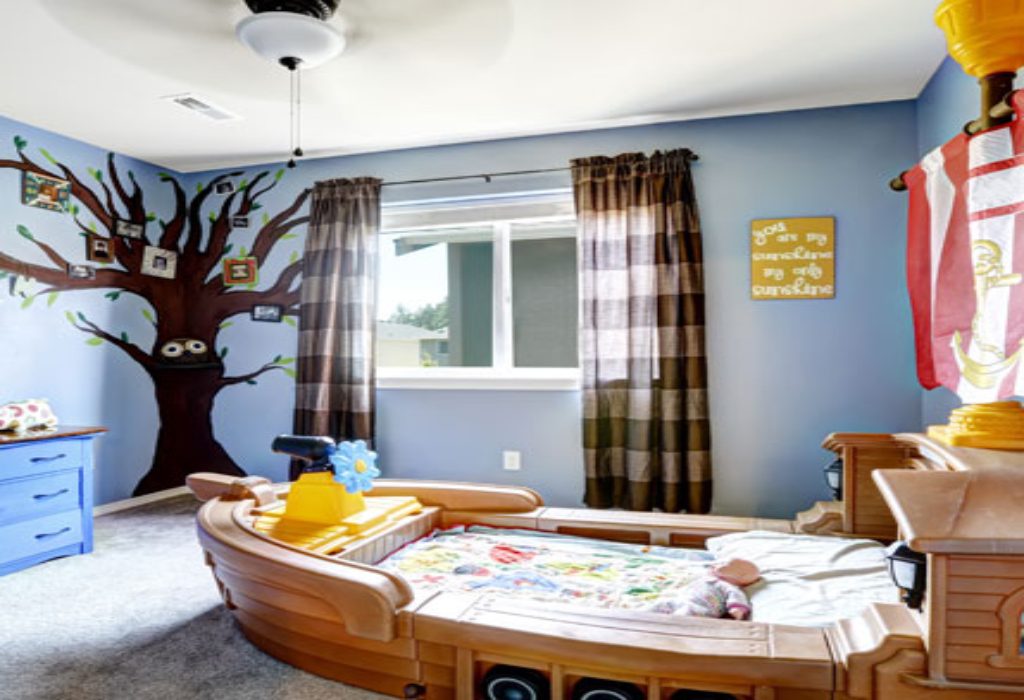 In this Article
The right colour combinations can soothe and stimulate the mind. It's not that easy to pick up the correct shade for kids' bedroom. Our kids' room paint ideas will make you eager to try them out and your children excited! Choose from pinks, blues, greens, greys, and yellows to create an environment that promotes curiosity and learning.
The right stimulation can promote brain development in children. And, what better way to start than by creating an environment that's conducive to this? Pick colour combinations for kids' rooms that are mood-enhancing and even educating.
For instance, parents who want to teach their kids to become more in tune with nature can opt for colours that mimic what we see in the natural world. Here's a look at a few top colour schemes you can choose.
Colours for Kids' Bedroom Walls
1. Boy's Bedrooms
Is your child energetic? Is he outgoing? A blue and yellow combination for the walls would be perfect. You can add pieces of red furniture for more of a pop, or pick unpainted stools and tables if he loves playing outdoors. Bright yellow and a paler green also combine well and are ideal for boys with calmer personalities.
White accents in the form of curtains and rugs, and bits of red for tabletops and cushions will add a dash of colour. Wall colours for kids' bedrooms can also have a three-colour scheme. Very young boys' rooms can be painted with yellow, sky blue and strawberry pink. The mood-enhancing tones can be played up with furniture in white or in shades darker than the walls.
2. Girl's Bedrooms
The most obvious choice when picking a colour for girls' bedrooms is pink. Though clichéd, it's still a popular one and is a favourite among many young girls. You can try a strawberry pink with white trimming for the walls and balance it with blue furniture. A couple of pouffes in dark green will keep the pink from looking too overwhelming.
Older children who are coming into their own identities love experimental looks. A lovely tangerine combined with light grey and pale lavender is a great colour scheme for girls' rooms. Bits of black and metallic in the form of mirrors,
table legs and clocks will lend a cool, funky edge. Off-white is one of the best wall colour for kids' rooms. It gives you the freedom to mix and match accent colours. You can go for tangerine wardrobes,multi-coloured shelves and a yellow bed. Printed bed linen and a variety of wall decorations will add to it.
Imbibe your children with curiosity and let them give flight to their imaginations with these kids' room paint ideas. If you really want to go all out, have a focus wall that's filled with fantasy- themed artwork. Encourage suggestions from your children too. You could be pleasantly surprised!