Chocolate Dipped Frozen Banana Pops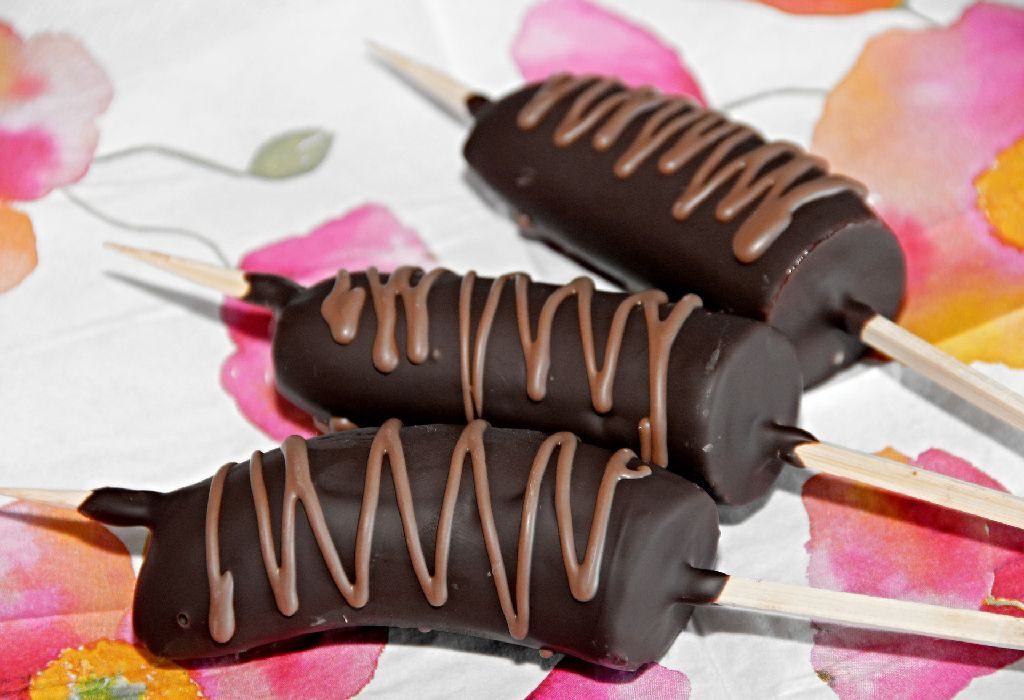 In this Article
The sweet flavour of frozen bananas caged in a chocolate coating is hard to resist. It is one of those recipes in which your kids can also get involved in the making. Just a few ingredients and you will be all set to create magic in the kitchen.
| | | |
| --- | --- | --- |
| Serves | Preparation Time | Cooking Time |
| 4 People | 10-15 Minutes | 5-10 Minutes |
Ingredients
2 large bananas
1 cup semi-sweet chocolate, coarsely chopped
4 wooden sticks
Assorted Toppings
Method
Step 1
Peel the bananas and cut each banana into two so that you have 4 banana pieces.
Step 2
Insert the wooden skewer from the cut end and place the bananas in a tray lined with parchment paper. Keep it in the fridge for an hour for the bananas to firm up.
Step 3
Add the chopped chocolate in a microwave safe bowl. Microwave the chocolate for 1-2 minutes in 30-second increments. Stir the chocolate to get smooth melted chocolate.
Step 4
Keep the topping ready. Dip the banana skewer into the melted chocolate such that it is coated nicely. Quickly move the banana over another bowl and sprinkle the topping. Place the banana back on the parchment lined tray.
Step 5
Repeat the same with rest of the banana skewer. Serve immediately.
Step 6
If you are not serving them immediately, store them in a zip-lock plastic bag in the freezer. When serving, let them sit at room temperature for 10minutes.
Nutritional Information
| | |
| --- | --- |
| Calories | 381 Kcal |
| Proteins | 4.7 g |
| Fat | 16.2 g |
| Carbohydrates | 55.4 g |
| Cholesterol | 0 mg |
| Sodium | 1 mg |
| Potassium | 243 mg |