Chocolate Dipped Face Cookies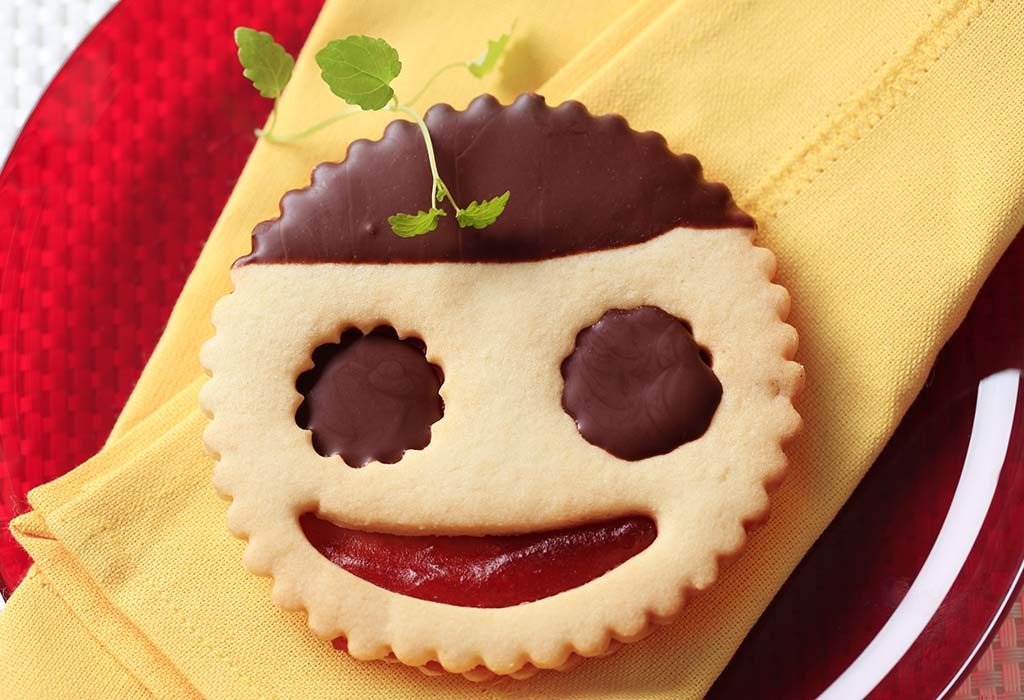 In this Article
These chocolate dipped cookies are a crowd pleaser and with the faces drawn on it, kids will love it even more. Pair 2-3 of these cookies with a glass of milk and watch the fussiest of the kids gulp down both in no time. The recipe we are sharing makes about 25-30 medium cookies, and when kept in an airtight container will stay good for up to a month. Well, only if they last that long!
| | | |
| --- | --- | --- |
| Serves | Preparation Time | Cooking Time |
| 8 People | 20-25 Minutes | 15 – 20 Minutes |
Ingredients
100 gm plain flour or maida
50 gm wheat flour or atta
75 gm powdered sugar
100 gm soft butter
1 tsp vanilla extract
2-3 tbsp milk
75 gm chopped chocolate
Method
Step 1
In a large powder, sieve all the dry ingredients.
Step 2
Make a hole in the center and add the butter. Using a hand blended, mix it till you get a crumbly cookie dough.
Step 3
Add 1 tablespoon milk at a time and keep mixing such that the dough comes together.
Step 4
Using your hands bring together the dough. Set aside for 5 minutes.
Step 5
Preheat the oven at 180 C and line two large baking trays with parchment paper.
Step 6
Now, make 25 to 30 equal sized balls using the cookie dough and place them on the prepared baking tray. Do not flatten them. They will spread on their own while baking.
Step 7
Keep a gap of about one inch between each cookie ball, while placing them on the trays.
Step 8
Bake them in the preheated oven for 15 minutes. When they are done, you will see the edges of the cookies turning light golden.
Step 9
Once done, take them out of the oven and let them cool down to room temperature. It will take about 25-30 minutes.
Step 10
Once they are cooled, melt the chopped chocolate in microwave.
Step 11
Dip the cooled cookies half way into the melted chocolate. Place them back into the tray lined with parchment paper. Repeat it with all the cookies.
Step 12
Now take a toothpick and dip it in the melted chocolate and draw the eyes and mouth of the cookie faces. Give them different expressions for some extra fun!
Step 13
Keep the tray in the fridge for 5 minutes for the chocolate will set. Store the cookies in an airtight container.
Step 14
Let your kids enjoy 2-3 cookies with a glass of milk.
Nutritional Information
| | |
| --- | --- |
| Calories | 248 K cal |
| Proteins | 2.9 g |
| Total Fat | 13.2 g |
| Total Carbohydrates | 29.5 g |
| Cholesterol | 29 mg |
| Sodium | 82 mg |
| Potassium | 61 mg |
Tip: Instead of using plain flour, use whole wheat flour for a healthier version.