Chikoo milkshake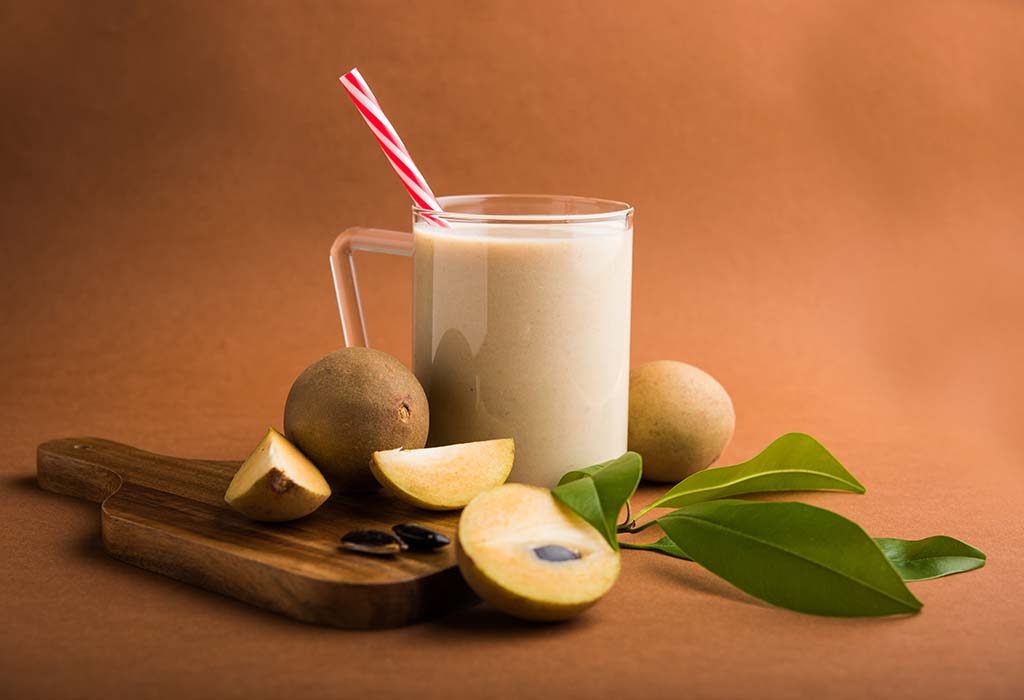 In this Article
Sapota (or chikoo), is a popular tropical fruit. It is soft, has an easily digestible pulp which is rich in simple sugars. Hence, don't add sugar to the milkshake and allow your child to relish the authentic sweet taste of sapota. It's a good source of calories, vitamins, minerals and fibre for your baby. Presenting a delicious and healthy recipe for all the kids out there.
| | | |
| --- | --- | --- |
| Serves | Preparation Time | Cooking Time |
| 2 People | 10 Minutes | 00 Minutes |
Ingredients
(Measuring cup used, 1cup = 250ml)
2 or 2 1/2 cups rinsed, peeled, chopped and deseeded chikoo (sapota)
2 1/2 or 3 cups formula milk or breast milk (Avoid cow's milk for babies aged <1 year)
Sugar– as per taste–preferably avoid for babie
Method
Step 1
Add all ingredients to the blender.
Step 2
Blend everything till smooth.
Step 3
Serve the chickoo milkshake immediately.
Nutritional Information
Calories
129
Sodium
90 mg
Total Fat
4 g
Potassium
0 mg
Saturated
0 g
Total Carbs
17 g
Polyunsaturated
0 g
Dietary Fiber
0 g
Monounsaturated
0 g
Sugars
0 g
Trans
0 g
Protein
6 g
Cholesterol
0 mg
Vitamin A
0%
Calcium
0%
Vitamin C
0%
Iron
0%
*Percent Daily Values are based on a 2000 calorie diet.
Your daily values may be higher or lower depending on your calorie needs.
Tip: For older kids or adults, prepare milkshake using cow's milk or coconut milk or soy milk. Add sugar or jaggery as per taste. Serve chilled by adding ice cubes to the blender.