Check Out Some of the Best Looks of Indias Most Beautiful Woman at Cannes Over the Years!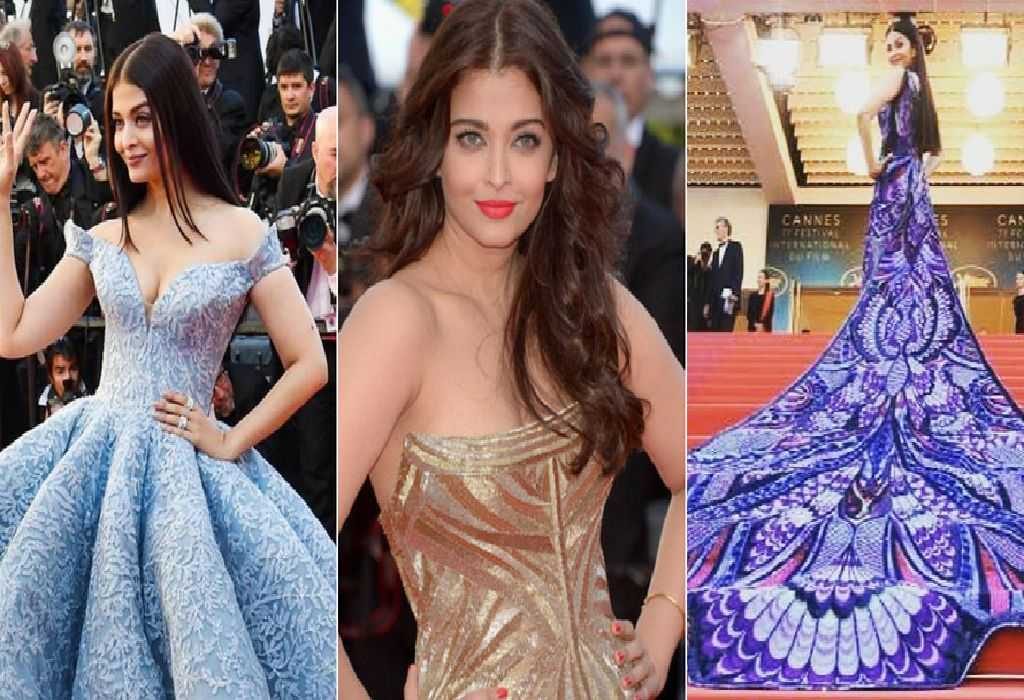 In this Article
Curating some of our favourite looks of Aishwarya Rai over the years at Cannes!
Aishwarya Rai Bachchan is an epitome of elegance and grace and she proves it every time! We have seen the blue-eyed beauty grace the red carpets every year at the Cannes Film Festival, looking like she stepped right out of a fairy-tale and killing it with her gorgeous outfits too. Aishwarya's style game has been on a rise and we have seen her looks evolve over time, becoming more beautiful and edgy too. And Aaradhya was back again at Cannes this year, stealing mommy's limelight from time to time with her adorable expressions and princess-like outfits!
Here's taking a look at some of Aishwarya's looks over the last couple of years – you can see how the ageless beauty has definitely slayed with much aplomb on the red carpet!
Traditional Indian Beauty
Going absolutely desi in a yellow sari and traditional ornaments, this is how Aishwarya marked her very first Cannes appearance.
Florals Galore
Dainty, pretty, classic!
Snow-White!
Keeping it super classy and simple, dressed in this ethereal gown and accentuating it with simple accessories.
Elegance Personified
A romantic pastel gown and a dramatic hairdo is all the Queen needed to look like a million bucks!
Sari, Not Sorry!
Back to Indian roots with this gorgeous sari and her man by her side!
Owning Every Bit of Who She is!
Aishwarya faced a lot of criticism for looking like someone who had just given birth – which was the reality. The brickbats thrown at her were brutal – but that wouldn't stop this beauty from owning her look and making her appearance as Aishwarya Rai Bachchan – actress, beauty queen, new mother!
S'teal'ing the Show
Look who came back shutting down haters in this amazing one-shouldered teal gown by Gucci and a coiffed updo!
Upping Her Style Game!
A stunner of a dress, made better only by Aishwarya wearing it!
A Designer's Dream
Ruffles and a cinched waist, all the way!
Unconventional; Unique!
She had jaws dropping with this extremely edgy look she pulled off in 2016 – who can ever forget this lavender lipstick!
Giving Disney Princesses Unbeatable Competition
Cinderella and Princess Elsa, you can all step back. The true queen is here to claim her crown and throne!
Aishwarya's Looks at the Cannes Film Festival – 2018
This year was no different, with Aishwarya rocking every single look that she brought to Cannes! And with her debut on Instagram right on time, you can catch all the looks she has graced us with this year. Whether it was her peacock-esque dress or twinning with Aaradhya (who is setting #FashionGoals herself, by the way!), here are the gorgeous pictures from the 2018 Cannes Film Festival.
Aren't these outfits an absolute treat to the eyes? And little Aaradhya seems no less of a star with her excitement at the event!
Wrapping up yet another eventful and gorgeous trip to the Cannes Film Festival, we can't wait to see what Aishwarya has in store for us next year!
?>