Carrot Corn Pasta in Creamy Cashew Sauce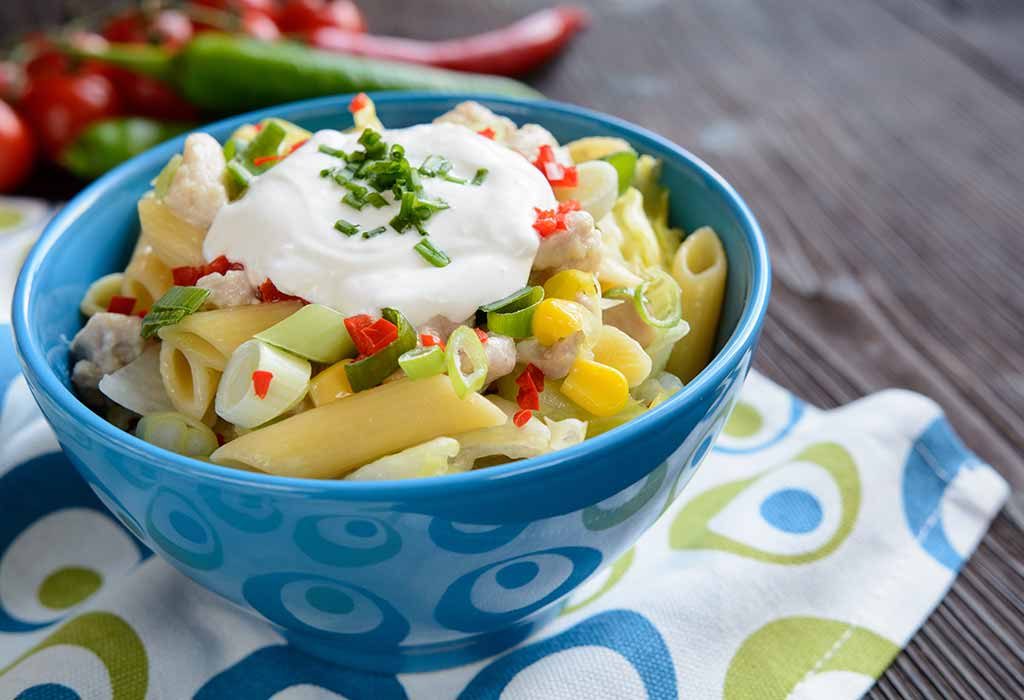 In this Article
As a mom you have to keep innovating and trying out new recipes to please the young fussy eaters. Here is a quick pasta recipe for your kid's lunch box which will assure that he licks off his tiffin clean. You can add other veggies of your choice too – peas, broccoli, mushrooms, etc., depending on what your kid likes. It also has the nutrition from cashew sauce we've prepared here.
| | | |
| --- | --- | --- |
| Serves | Preparation Time | Cooking Time |
| 2 People | 10-15 Minutes | 15-20 Minutes |
Ingredients
¼ cups cashew nuts, chopped
2 tbsp cornflour
100 g macaroni pasta
1 onion, finely chopped
2 garlic clove, finely minced
3 tbsp capsicum, chopped
1 tsp dried Italian basil
1 tsp lemon juice
Salt and pepper to taste
2 tbsp oil
½ cup carrots, chopped
½ cup sweetcorn, boiled
Method
Step 1
Soak cashew in water overnight. For quick soaking, soak the cashews in water in a microwave-safe bowl. Microwave it for 2 minutes on high; set aside to cool.
Step 2
To make the sauce, in a mixer jar, add the drained cashews, lemon juice, cornstarch, 1 tbsp oil and ½ cup water. Blend it into a smooth sauce.
Step 3
Boil the pasta as per the package instructions. When cooked, reserve 1 cup of the pasta water and drain the pasta.
Step 4
In a large pan, add with some oil, sauté onions on medium heat for about 2-3 minutes. Add garlic and sauté for a couple of minutes. Add carrots; cook till the carrots are tender. Add the prepared sauce and seasoning. Stir.
Step 5
At this point, if the sauce is too thick, stir in some of the reserved pasta water, as needed.
Step 6
Now, add the cooked pasta and boiled sweetcorn and stir to combine. The sauce should coat the veggies and pasta. Check seasoning and adjust as per taste.Pack it into your kid's lunch box.
Nutritional Information
| | |
| --- | --- |
| Calories | 466 K cal |
| Proteins | 10.9 g |
| Fat | 23.4 g |
| Carbohydrates | 56.2 g |
| Cholesterol | 37 mg |
| Sodium | 58mg |
| Potassium | 565 mg |
Tip: Use whole wheat pasta for increased fiber content. Increase the quantity of veggies to increase its nutrition quotient.