Calcium-Rich Foods for Kids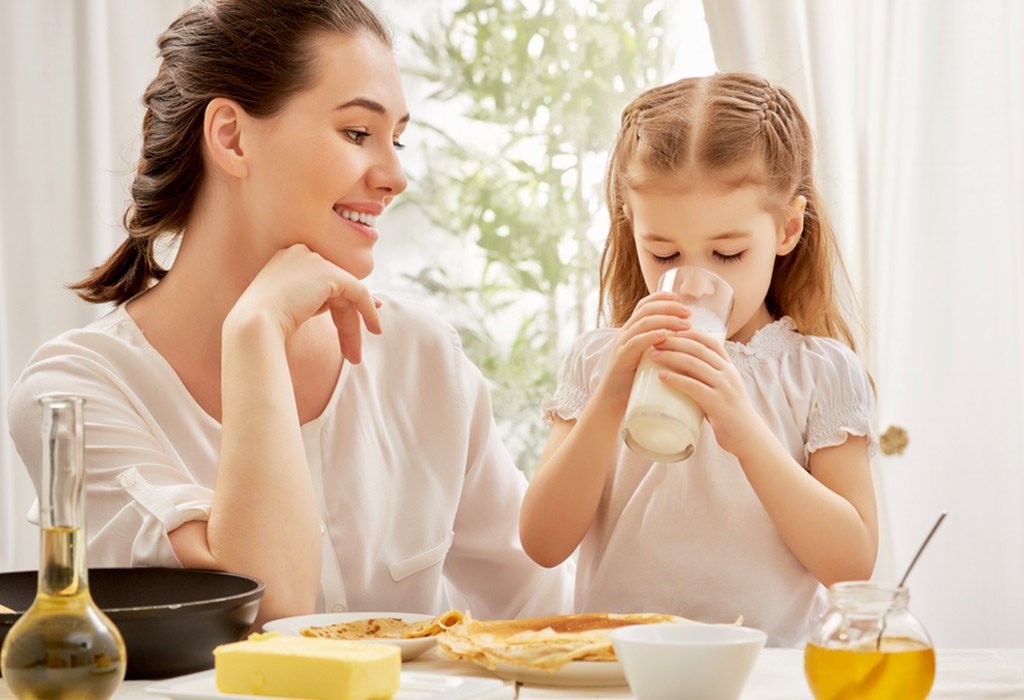 It is very important for a mother to be careful about her kid's diet as the right amount of nutrition in the growing years ensures good health and fitness later in life. Calcium is among the most important nutrients for growing kids. It aids the formation and development of bones and teeth and helps maintain bone density and bone mass during adolescence.
Video : 10 Best Calcium-Rich Foods for Kids
So, if you are wondering which calcium-rich foods you can feed your kid, you are at the right place. Here, we'll explain why calcium is required for your child, and also provide information on the foods that have a considerable amount of calcium. We have also provided some delicious recipes you can prepare for your little one and give him his required dose of calcium. Let's first dive deep into why calcium-rich foods are important for kids.
Why Calcium-Rich Foods Are Important for Kids
Calcium is important for the formation of healthy teeth in babies and young children. It is useful for building muscles and helps in improving metabolism too. Maintaining adequate levels of calcium in the body during the formative years of your little one protects him against bone deformation, kidney disorders, and osteoporosis.
So, which foods are good sources of calcium for kids? Read on to know more.
10 Best Calcium-Rich Foods for Children
There are several calcium-rich foods available. We have provided a list of some of them for you to include in your child's diet:
1. Dairy Products
Dairy products such as cow's milk, yoghurt, and cheese are an excellent source of calcium. If your kid does not like milk, you may substitute it with yoghurt and cheese. It is recommended that you include at least one serving of dairy product every day in your little one's diet.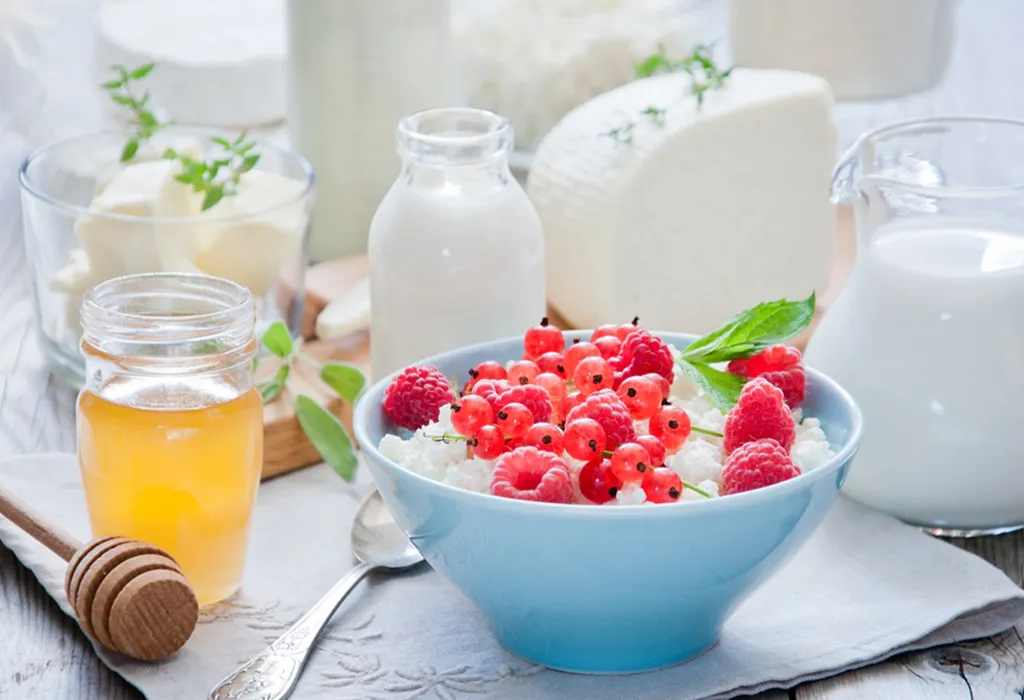 2. Oranges
You may give an orange fruit or orange juice to your kid as it is not only rich in calcium but also contains Vitamin C, Potassium, Magnesium, and Folate. A medium-sized orange can provide 50 mg of calcium to your little one. It is recommended that you give fresh orange juice instead of fortified juices. This way, you will be providing unprocessed food made from fresh ingredients.
3. Soy
Soy is another food rich in calcium that can be added to your kid's daily diet. You can use soy products like soy milk, soy yoghurt, and tofu to prepare delicious recipes suitable for your kid's age. Soy milk is also a good alternative for children who are lactose intolerant. Adding soy to your little one's diet also ensures you provide him with a healthy dose of iron, fibre, and minerals like phosphorus, magnesium and thiamin.
4. Almonds
Almonds are said to boost brain power and memory, but they are also a very good source of calcium. Around 110 mg of calcium can be obtained from one-third cup of almonds. If your little one can chew nuts, you may feed him a handful or so; however, if he cannot chew yet, you can feed almonds in the form of almond butter, almond milk, or milkshake.
5. Green Vegetables
Many green vegetables such as spinach, okra, broccoli, amaranth, French beans, cluster beans, green peas, etc. are also an excellent source of calcium. Moreover, these green vegetables provide fibre and other minerals required for your little one's growth. Some kids may develop an aversion to some vegetables like broccoli. In that case, you can disguise the vegetables and prepare interesting recipes like mixed stir-fried vegetables, curries, vegetable cutlets, baked vegetable patties, pizzas, wraps, etc. You can chop the vegetables fine enough to ensure your kid does not remove them.
6. Beans and Lentils
Beans and Lentils like white kidney beans, navy beans, chickpeas, and soybeans are excellent sources of calcium. They are easily available and can be cooked in different ways to provide the required nutrition to your little one. You may cook them in the form of curries or make interesting recipes like patties, cheesy bean quesadillas, hummus, black beans with rice, etc.
7. Cereals
Cereals are a good way of adding calcium to your child's diet. Ragi, bajra, brown rice, etc. contain high amounts of calcium. You can try different recipes like no-bake health bars or cookies for a crunchy treat for snack time.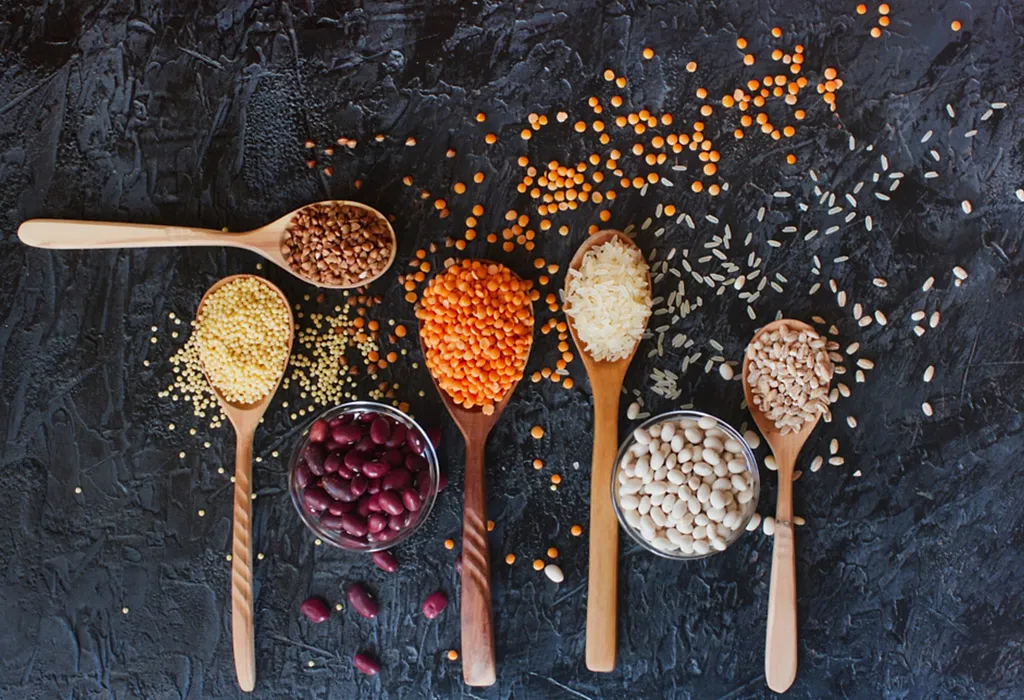 8. Fish and Meat
Fish such as Tuna, Trout, Shrimp, Cod, Salmon, and Sardines are excellent sources of calcium too. Red meat and chicken also provide ample quantities of calcium necessary in the growth years of your child. You can prepare fish and meat curries or feed them to your little one in the form of wraps or nuggets.
9. Sesame Seeds
This is another superfood rich in calcium. Sesame seeds are quite famous for their nutty taste and can be added to salads, pasta, soups, bread, etc. They can be used as the main ingredient in the recipe or as garnishing for your little one to enjoy with another nutritious recipe.
10. Eggs
Eggs are usually introduced to babies when they turn 9 months old. They provide high amounts of protein and vitamins, but they also have a considerable amount of calcium, which helps strengthen their bones and teeth. Having said that, every kid might not be able to eat eggs; some may develop allergies, while some might not like the taste. If the taste is a concern, you may prepare different recipes, but if your little one develops an allergy, it is better to avoid eggs. If you are still unsure about feeding eggs to your child, you may speak to a paediatrician.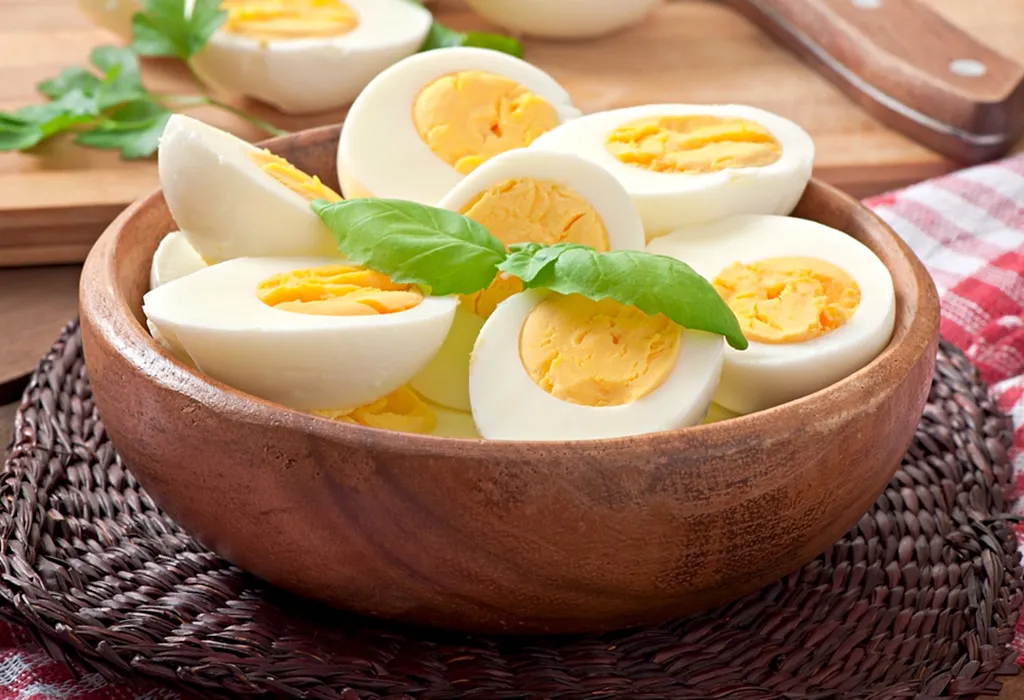 Calcium Content in Foods
The following chart shows the approximate amounts of calcium in various food items:
| | | |
| --- | --- | --- |
| Food Item | Serving Size | Calcium Content |
| Whole milk | 1 cup | 276 mg |
| Low-fat yogurt | 1 cup | 311 mg |
| Cottage cheese | 1/2 cup | 125 mg |
| Soybean | 1 cup | 515 mg |
| Almond | ¼ cup | 115 mg |
| Cooked Spinach | 1 cup | 245 mg |
| Dried Figs | 1 cup | 241 mg |
| White wheat bread | 1 slice | 192 mg |
| Sesame seeds | 1 ounce | 280 mg |
| Cooked green mustard | 1 cup | 165 mg |
| Cooked green turnip | 1 cup | 249 mg |
| Chia seeds | 1 ounce | 179 mg |
*mg = milligrams
Now that you know which foods have the most amount of calcium, you must also know much of this nutrient your child needs.
Amount of Calcium Required for Different Age Groups
Your kid will require different amounts of calcium at different stages of his age. The ideal way of consuming it is in the form of food; however, if your child's calcium requirements are not getting met from food, then your paediatrician may prescribe calcium supplements to your child.
Following are the estimated amounts of calcium required by different age groups:
Babies less than six months require 200 milligrams of calcium per day. It is recommended that babies below six months of age be exclusively breastfed even for their calcium requirement.
Kids from 1 to 3 years of age require 700 milligrams of calcium per day.
Kids from 4 to 8 years of age require 1000 milligrams of calcium per day.
Kids from 9 to 18 years of age require a daily intake of 1300 milligrams of calcium.
Our bodies need Vitamin D for better absorption of calcium, so it is important that there is an adequate amount of Vitamin D in the body. Sunlight aids the conversion of cholesterol in the body into Vitamin D. Therefore, it is essential to expose your baby to sunlight. Foods like fish and eggs are also good sources of Vitamin D. If your kid lacks adequate amounts of the vitamin, a paediatrician may prescribe supplements for the same.
Now, let's check out some recipes that you can make to meet your little one's calcium requirement in his meals.
Calcium-Rich Food Recipes
Here are some yummy calcium-rich food recipes to tickle the taste buds of your kids:
1. Creamy Broccoli Soup
Ingredients:
1 cup of grated Broccoli.
1/2 cup of cashew nuts.
Herbs and spices as required.
Method:
Take some broccoli florets along with the stem and grate them.
Sprinkle some herbs and spices of your choice over the grated broccoli and give it a good mix.
Soak cashew nuts in warm water for 15 minutes and blend them into a smooth paste.
Boil the broccoli and cashew milk together.
Add some water and spices if needed to balance its consistency and taste.
Serve the soup with some garlic bread or cheese crackers.
For variation, you can add some more vegetables to the soup.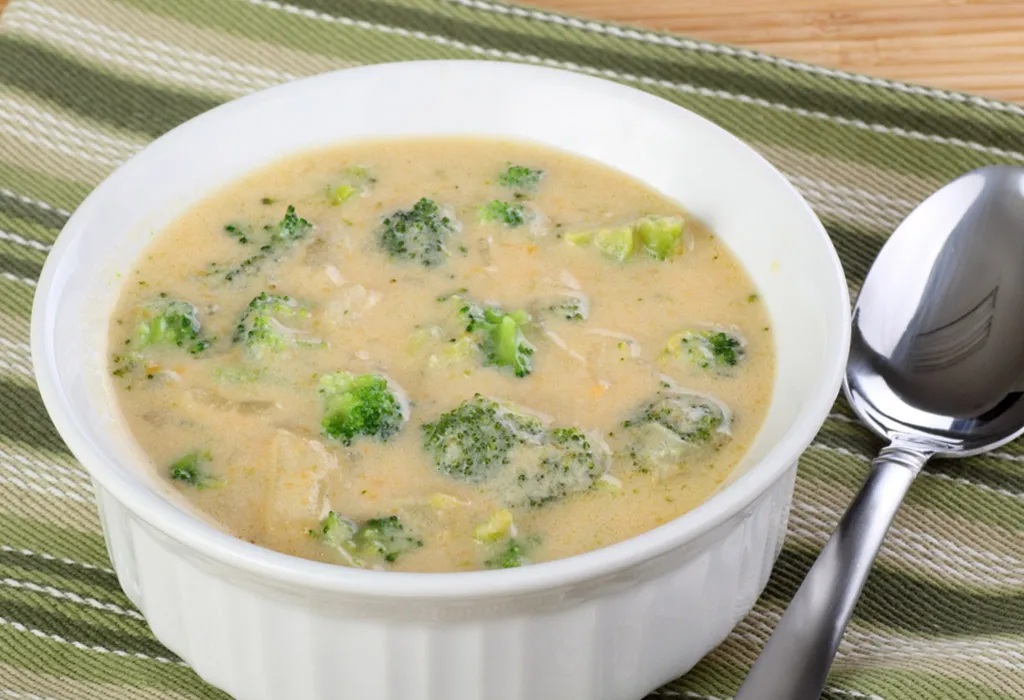 2. Cottage Cheese Wraps
Ingredients:
1 cup shredded cottage cheese
1 medium-sized tomato, chopped
I medium-sized onion, chopped
1 green chilly, finely chopped (optional)
Spices as per choice
Chapati for the wrap
Coriander chutney or sauces as per preference
1 to 2 teaspoon oil
Method:
Sauté the finely chopped onions, green chillies, and tomatoes in the oil.
Stir them and let them cook for a while or till they start leaving oil.
Sprinkle the spices of your choice, and mix again.
Add the shredded cottage cheese, and give it a mix.
Let the cheese melt. Stir it for a minute or so, and then turn off the gas stove.
Take a thin chapati and spread some green chutney or your kid's favourite sauce over it.
Keep the cottage cheese mixture in the centre of the chapati and carefully make wrap it.
This is an ideal lunch box option for your child. You may also sneak in some veggies along with the cottage cheese in the wrap.
3. Spinach in Roasted Sesame Seeds
Ingredients:
3 to 4 cups of clean and finely chopped spinach leaves
About 1.5 tablespoons of sesame seeds
1/2 tablespoon of ginger-garlic paste
1 tablespoon of sesame oil or refined oil
Method:
Take some oil in a pan and heat it.
Add the ginger-garlic paste. Fry it till it turns golden.
Add the sesame seeds and roast them for about 20 seconds. Keep stirring continuously.
Then, add the spinach and give it a good mix.
Cook the spinach on medium heat for another 5 to 8 minutes.
Serve this dish warm all by itself or with a slice of bread toasted in some butter.
Since there are lots of natural sources of calcium, you can keep experimenting with the ingredients and cook delicious recipes for your kid to fulfil his calcium requirements. Giving a twist to a boring recipe is an interesting way to make your child eat a particular food item. However, if you feel your child is eating poorly or is not getting enough calcium, you should consult your doctor and get supplements prescribed for him. Therefore, it is recommended not to go overboard when it comes to feeding calcium-rich foods to your kid.
Also Read: List of 12 Healthy Weight Gain Foods for Babies & Kids
?>