Broth and fresh vegetables soup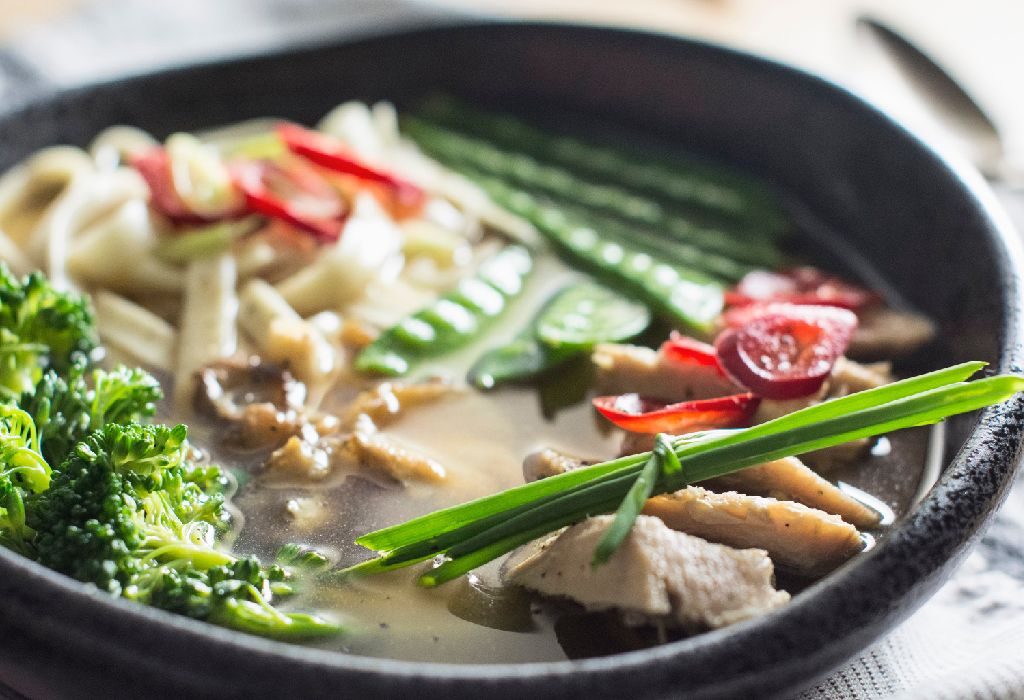 In this Article
Turn forgotten produce and herbs loitering in the fridge into this easy, quick soup. Prepare the broth in advance and use this rich, savory broth with fresh vegetables each time to accentuate soups, braises or stews like in the recipe below. You can use commercial vegetable broths but they take away the preparation with their strangely sweet or acidic aftertaste.
| | | |
| --- | --- | --- |
| Serves | Preparation Time | Cooking Time |
| 2 People | 30 Minutes | 1 Hour 45 Minutes |
Ingredients
For the broth (for 12 serves)
1 tbsp (tablespoon) olive oil
1 large onion
2 stalks celery, including some leaves
2 large carrots
1 bunch green onions (scallions)
8 cloves garlic, minced
8 sprigs fresh parsley
6 sprigs fresh thyme
2 bay leaves
1 tsp (teaspoon) salt
2 quarts water
For the vegetable soup
1 tsp olive oil
1 onion, chopped lengthwise
2 carrots, shredded
4 cloves garlic, finely chopped
4-5 celery leaves
1 cup cabbage, finely cut lengthwise
4-5 fennel leaves
8-10 asparagus spears
1/2 cup green peas
1 bay leaf
2-3 sprigs fresh thyme
4 cups vegetable broth
Salt to taste
1 tsp pepper for seasoning
Method
For the vegetable stock/broth
Step 1
Scrub and chop vegetables into 1-inch chunks. Greater the surface area, the more quickly vegetables will yield their flavor.
Step 2
Heat oil in a soup pot.
Step 3
Add onion, celery, carrots, scallions, garlic, thyme, parsley, and bay leaves.
Step 4
Cook over high heat for 5 to 10 minutes, stirring frequently.
Step 5
Add salt, water and allow to boil.
Step 6
Skim and discard any foam from the surface.
Step 7
Simmer, uncovered, for 30 minutes or more until the vegetables are soft, and the stock is flavorful.
Step 8
Remove from heat.
Step 9
Strain the liquid through a fine-mesh strainer set over a large saucepan.
Step 10
Discard the solid vegetables.
Step 11
Stir in the salt if required. Use immediately.
Step 12
For later use, refrigerate in airtight container, for up to 3 days or freeze in small containers for up to 1 month.
For the vegetable soup
Step 13
Heat olive oil in a large saucepan over medium-high heat.
Step 14
Add the onion, season with salt and pepper.
Step 15
Cook, until translucent, about 5 minutes with occasional stirring.
Step 16
Insert the carrots and garlic, season with salt and pepper, and cook.
Step 17
Stir occasionally, until the garlic is fragrant, about 2 minutes.
Step 18
Add the celery and other hearty vegetables of your choice such as cabbage and fennel and the bay leaf and thyme.
Step 19
Season again with salt and pepper and cook for an additional 5 minutes.
Step 20
Add the broth and any faster-cooking vegetables such as asparagus and peas.
Step 21
Let the soup come to a boil.
Step 22
Reduce the heat to low and gently simmer, uncovered until the vegetables are thoroughly cooked, about 15 to 25 minutes.
Step 23
Taste and season with additional salt and pepper as needed.
Nutritional Information
Calories
50
Sodium
71 mg
Total Fat
1 g
Potassium
0 mg
Saturated
0 g
Total Carbs
9 g
Polyunsaturated
0 g
Dietary Fiber
2 g
Monounsaturated
0 g
Sugars
0 g
Trans
0 g
Protein
3 g
Cholesterol
0 mg
Vitamin A
0%
Calcium
0%
Vitamin C
0%
Iron
0%
*Percent Daily Values are based on a 2000 calorie diet. Your daily values may be higher or lower depending on your calories