Bonding over Mealtime and Making it Fun for Kids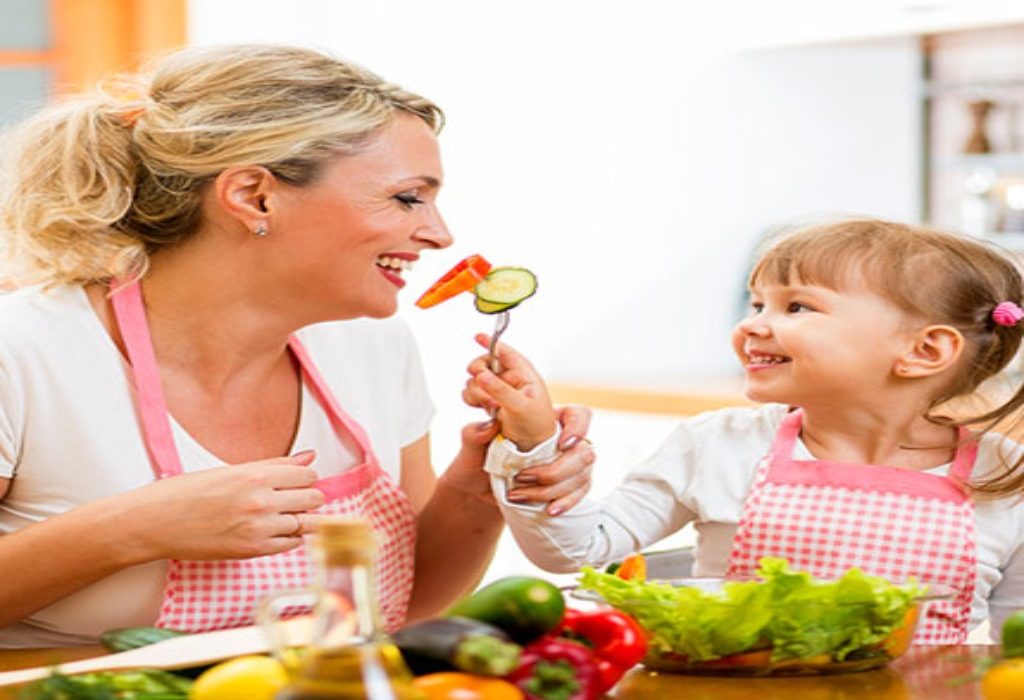 Make your family meals fun-filled by fixing regular mealtimes, and by helping each other in preparing meals. Going out on a picnic with the whole family can sometimes help with light and fun conversations at the dining table.
When your family has some young picky eaters who rarely make it to the dining table, it can get difficult to share meals as a family. As a family, bonding over meals is an important aspect of sharing and caring for each other. It is also a good time for your child to learn some early table manners, and develop interest in eating by, observing other family members.
So connect with each other, and make your family dinner exciting by following some tips:
1. Set Fixed Timings
Setting up a fixed schedule for eating together is important for spending quality time as a family. Even if you plan to dine together at least three to four times a week, it can be great for bonding with each other. Make sure the television and phone are switched off, so that you can communicate well with your family.
2. Avoid the Rush
Allow enough time for your family to finish their food. Make children try new food items and develop good eating habits. Giving half an hour to your mealtime is the best way to relax, share, chat and enjoy with your family.
3. Involve the Whole Family at Mealtime
Ask family members what they would like to have for dinner, and prepare those dishes. This increases the chances of them eating well together. You can also ask for their help while preparing meals- it is also a great way of bonding sharing together.
4. Add your Creativity while Preparing Meals
Have some fun with the dishes you make. Prepare pancakes for breakfast, or go on a picnic with your family. This is a relaxing way to connect with your children and other members in the family. You can also give add creative themes to your meals, just to make mealtime with your family more interactive and fun.
5. Good Behavior Bonus at Mealtime
When you see your toddler eating properly using the right table manners, reward him with some praise. When they are making an effort to try new foods, appreciate them with all your heart. You can also use a chart to reward their behavior with 'please' and 'thank you' on the table.

6. Use Mealtime to Engage Kids
Dining with family is a great way to catch up with what everyone's up to. Ask your children about their day at school and make it a point to share your side of the story too. This interaction should not sound like an interrogation.
7. Ask for Help
Though your toddler does not like to participate in the kitchen chores, he would find mixing ingredients great fun. When he helps you in making a dish, he is more likely to enjoy eating it as well.
8. Give Fun Shapes to Food
Children usually refuse to eat a dish that looks plain and unexciting. Give your food a creative touch by presenting it in different shapes such as triangles, circles and hearts. Prepare your ginger man, aeroplanes and ships creatively to engage the interest of your toddler. Your toddler is definitely going to enjoy eating food presented in different shapes.
9. Food Naming
Giving funny names to food is one way to enjoy a meal with your kids. Names such as 'bunny the carrot' or 'squeaky spinach' will make your toddler finish eating food while making up stories about the vegetables.
10. Table Games
Take short breaks between meals and involve your toddler in small activities like singing nursery rhymes, or singing his favorite song. A relaxing yet fun environment will help in making mealtimes more interactive.
11. Change the Scene
Create a new setting for your toddler. A new place to eat might change the mealtime experience of your toddler. He will enjoy meals in a small tent in your house, the backyard or even in the kitchen.
12. Provide Small Servings
Serve mini foods such as mini burgers or mini muffins to your toddler so that he enjoys gorging on the small servings. Make it creative, but in small quantities so that he can eat more in small servings. Let him decide how much he wants to eat.
13. Say No to Bribes
Asking your child to finish food quickly and promising him to buy a new crayon box in return is not a good way to deal with your toddler's eating habits. Avoid categorizing food in 'good' and 'bad' sections as these give negative messages about food.
14. Talk Time
Share your childhood memories on the dinner table. This is the best way to keep your toddler stay at the table for longer durations, and make him finish food easily. Start telling stories about vegetables and their benefits just to make your toddler aware about the benefits of various food items.
With some of these consistent efforts, your mealtime can become something the whole family will look forward to.