Black bean Burrito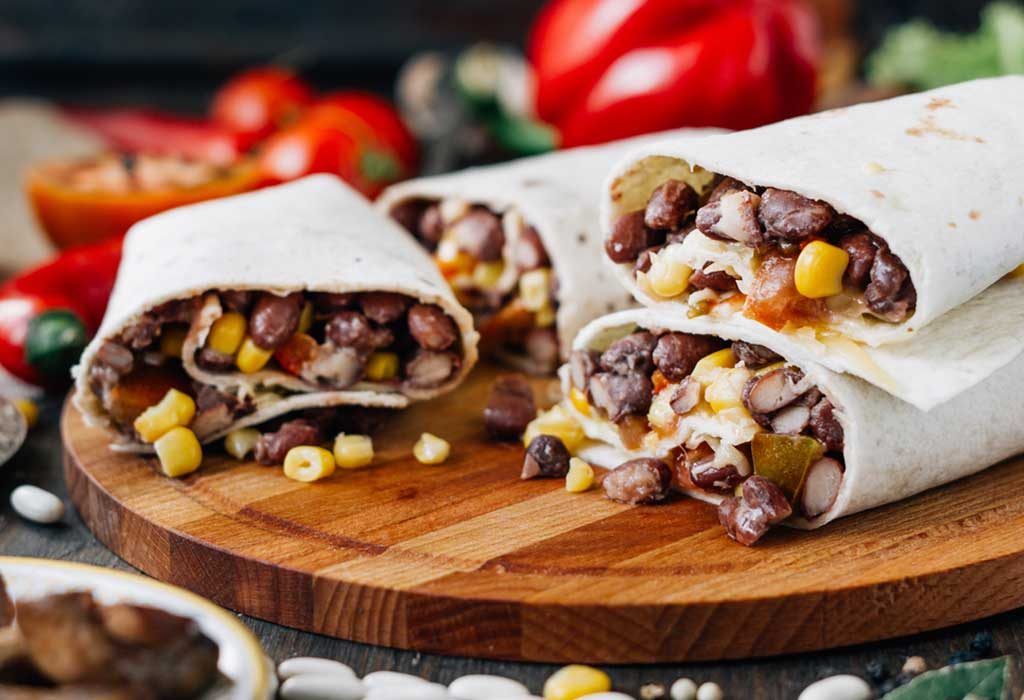 In this Article
A burrito consists of a wheat flour tortilla rolled to completely enclose the filling. The flour tortilla is usually lightly grilled or steamed, to soften it and make it more pliable.
This black bean burrito is a tasty Mexican dish of tortilla filled in with veggies and favourite beans. You can be as creative in making this recipe as you decide on the choice of veggies…. probably you want to sneak in the ones your child dislikes. Give it a trial with this easy and quick recipe.
| | | |
| --- | --- | --- |
| Serves | Preparation Time | Cooking Time |
| 4 People | 3 Minutes | 10 Minutes |
Ingredients
2 tbsp(tablespoons) (30 ml) oil
1 small sized onion, chopped
2/3 cup ([160 ml.) canned black beans
1/4 cup [60 ml] grated feta cheese
4 wheat tortillas or taco shells or pita breads
For The Filling
1 cup (250 ml.) shredded cabbage
3 to 4 sliced radish (mooli) or sliced cucumber
3 to 4 black olives, thinly sliced
1/3 cup (80 ml) chunky salsa ( hot or mild)
Method
Step 1
Saute onions in a frying pan for 4 to 5 minutes.
Step 2
Mix in black beans; cook for 1 to 2 minutes more.
Step 3
Mix in grated feta cheese.
Step 4
As soon as cheese has completely melted, spread it, warm, over tortillas; cool.
Step 5
Garnish with mixed filling; roll, as you would a jelly roll.
Step 6
Serve cold or reheated, in oven or microwave.
For The Filling
Delicately mix lettuce, radishes or cucumber, black olives and chunky salsa.
Nutritional Information
| | | | |
| --- | --- | --- | --- |
| Calories | 280 | Calories from Fat | 72 |
| Total Fat | 8g 12% | Saturated Fat | 2.6g 13% |
| Cholesterol | 5mg 2% | Sodium | 630mg 26% |
| Carbohydrates | 44g 15% | Dietary Fiber | 5g 20% |
| Sugars | 4 g | Protein | 5 g |
| Vitamin A | 6% | Calcium | 4% |
| Vitamin C | 0% | Iron | 15% |