15 Best TV Shows For Babies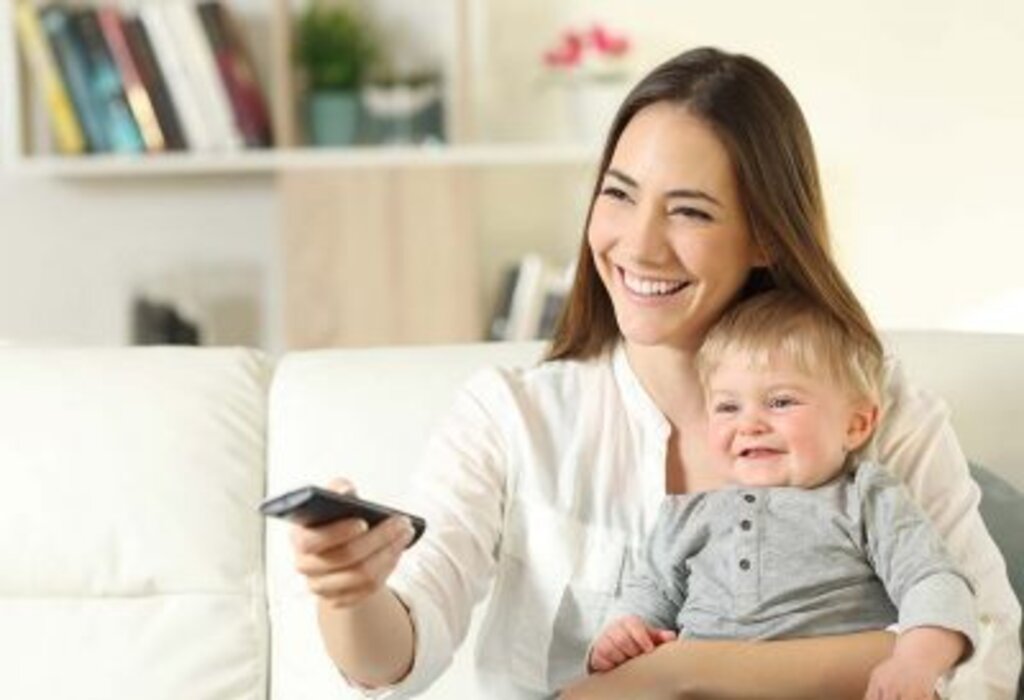 In this Article
TV can sometimes be a double-edged sword. When kids are at an age when they can't distinguish between pretend-play and reality, picking TV shows for babies can seem like a daunting task. But ultimately, you know what is best for your child, and if you're looking for TV show ideas or suggestions, our post is here to help. Remember – the simpler and easier, the better. You can also help your infant make connections to real-life concepts from these shows by sitting down with them and mimicking the actions and scenes you see on TV. It'll be loads of fun.
Baby-Friendly TV Shows for Your Infant
Children learn best through visual demonstration. The problem is that they can be picky learners, so choosing TV shows that hold their curiosity and aren't too lengthy are key. If you are looking for a list of educational TV shows, you will be in for a treat since we have plenty of recommendations. We also have themes ranging from cartoon movies to puppets, dinosaurs, trucks, and more. The diversity of these shows is what will give your children a natural learning experience as they pick up new words, concepts, and ideas. By the time they are done with this list, you'd be surprised how smarter and intelligent they've become for their ages. So take your time and browse through our list of curated titles below.
1. Sesame Street
Sesame Street is one of those classics you can't go wrong with. With funny characters like Kermit the Frog and Cookie Monster making appearances throughout every episode, it's hours of fun (and learning!)
Why Babies Should Watch It
There's incredible music, engaging moments, and interactive learning lessons. This show is one of the old babies shows released around 1969, and even older kids don't get bored watching it because it's hilarious.
2. Super Simple Songs
Super Simple Songs is a popular YouTube series for kids with music videos blended with lots of engaging preschool learning lessons.
Why Babies Should Watch It
It's one of the most popular baby television shows since infants can sing along to the nursery rhymes they see on screen and work on their speaking skills. Some lessons include counting, letter recognition, and identifying various colours. This is an incredible show for babies under one year of age.
3. Tayo The Little Bus
Tayo, The Little Bus, is available on Hulu, and if your kids are into trucks and vehicles, this show will delight them.
Why Babies Should Watch It
It has lessons that teach infants the importance and meaning of friendship, moral values, trust, and more. It's a show we recommend to nurture the young mind and build good character.
4. Word Party
Want diaper-wearing baby animals to teach your kids how to pronounce new words and have fun doing it? Try out Word Party, a popular kids' show collaboration between Netflix and the Jim Henson Company.
Why Babies Should Watch It
The lessons are easy to digest, and kids are encouraged to follow along and recite what they see. It helps build vocabulary, learn how to short and simple sentences, and much more.
5. Pete The Cat
There are a lot of toddler TV shows that are educational and downright boring. And then there is Pete The Cat. The show is about how a cat and his friend. They sing along about their daily lives along with any problems that come their way.
Why Babies Should Watch It
It keeps infants entertained for hours, and the nursery rhymes go along so well with its various themes. Your toddler will be picking up new words for sure.
6. Daniel Tiger's Neighborhood
Daniel Tiger's Neighborhood is a show that teaches kids new words through the form of jingles. It also stars the main character Daniel and showcases his adventures. The show also teaches toddlers how to deal with their feelings and express them, thus making it one of the top baby girl TV shows.
Why Babies Should Watch It
This show is perfect if you're trying to get your kids to learn new words through repetition.
7. Tumble Leaf
Follow Fin the Fox on his journey towards scientific exploration and discovery through Tumble Leaf. The gorgeous stop-motion animation, music, and fun adventures with simple science experiments win the hearts of parents and kids alike.
Why Babies Should Watch It
What's interesting about this show is how it's set in fantasy-themed environments and covers various science experiments. It teaches your kids vital problem-solving skills and how to think critically. This show is considered a great baby development TV show.
8. Dinosaur Train
Kids love dinosaurs, and that's a fact. If you'd like your kids to go on an adventure with Pteranodons and explore new dinosaur species every episode, welcome to the Dinosaur Train. Kids love to bounce and move around with their dinosaur friends on-screen as soon as the opening theme starts.
Why Babies Should Watch It
It's a show about an adopted dinosaur and his family of Pteranodons going on adventures together. They hop on a train and travel to new places in search of new dinosaur species. It's also among the best learning shows out there since it covers a lot about dinosaurs, their behaviours, and lifestyles.
9. The Stinky and Dirty Show
Stinky the Garbage truck tags and Dirty the backhoe loader to go on different adventures. The show revolves around trucks, and the characters are good role models for kids. The stories are taken from Jim and Kate McMullan's books.
Why Babies Should Watch It
Critical thinking skills are taught through the videos. It shows kids that sometimes when things don't work out, asking what-if and taking a different approach can make a breakthrough.
10. Timmy Time
A mischievous young lamb is let loose and causing trouble on-screen. But his journey doesn't end there. He works on fixing his mistakes and mends his relationships with friends and those he has gotten in trouble with.
Why Babies Should Watch It
It teaches kids essential but valuable social lessons that last a lifetime. There's just so much it covers that you'll be amazed by how good it is.
11. Beat Bugs
Beatles' music will inspire your kids and teach them about different melodies. The songs covered in this series talk about friendship and teamwork and have special meanings hidden in them.
Why Babies Should Watch It
The songs on this TV are shown based on The Beatles. There are bugs teaching kids lessons which makes watching it fun.
12. Nina's World
It is an entertaining TV show that uses elements of sign language, American English and Spanish to teach valuable lessons about friendship, culture, and family. Kids build up their vocabulary and learn new phrases.
Why Babies Should Watch It
Toddlers pick up new words in a natural way when Nina is serving up meals on the table and interacting with her surroundings and people daily.
13. Alphablocks
In this show, a group of 26 pals (letters) fall from the sky onto a white world; they learn that magic and a variety of new adventures can occur in Alphaland if they join hands. A new word is formed when the characters band together and come to life.
Why Babies Should Watch It
With the aid of this television programme, your child will be able to read stories, play games, and listen to music while also learning the alphabet, phonics, and spelling. For instance, if they construct the word "kite," it creates a flying kite. This way, they will not only learn words but also recognise them visually, i.e. how the word looks in the real world.
14. Doc McStuffins
In this show, Dottie, a little girl, wants to practise medicine like her mother. When Dottie puts on her stethoscope, magic happens, and the toys come to life. Dottie converses with her toys. By sewing or adding batteries, she restores life to broken stuffed animals and broken toys.
Why Babies Should Watch It
This programme will encourage creativity, problem-solving abilities, and the formation of positive habits in your youngster.
15. Dragon Tales
Through an enchanted dragon scale, Emmy and Max are introduced to the fantasy realm known as "Dragon Land." They set out on various tasks in Dragon Land after befriending four amiable, talkative, and colourful dragons named Ord, Cassie, Zak, and Wheezie.
Why Babies Should Watch It
This programme will motivate your child to take on new challenges, improve their problem-solving abilities, and learn the value of perseverance. It is also a fantastic programme for teaching your kids about shapes, numbers, new words, and alphabets.
These shows are a terrific way to get your child's mind into education, music, art, and creativity. They have plenty of variety, and every lesson is bite-sized enough to be easily digestible. We highly recommend them for that reason. And kids learn best through cartoons and animation, which is why we think the eye-catching visuals coupled with the music and simple lessons are what make them so much fun. So sit down with your kids and feel free to tag along because even you'll enjoy it.
FAQ
Which Is the best educational TV show for babies?
Some popular educational TV shows for babies include Word Party, Beat Bugs, Alphablocks, etc.
Also Read:
Screen Time and Your Baby
Babies Watching TV – Effects and Safety Tips