9 Best Face Washes of 2023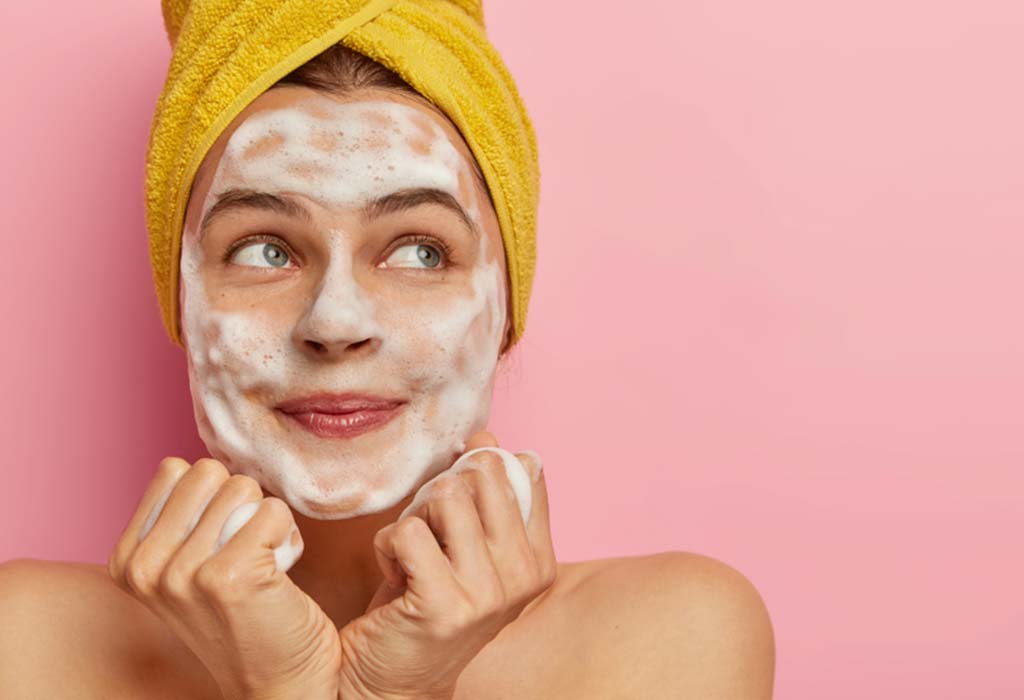 In this Article
Cleansing plays an important role in a solid and effective skincare routine. It goes without saying that if your face is clean and devoid of any dirt, grime, and other impurities, the skincare products you use will sink deeper into your skin and work more efficiently.
Picking the right face wash or cleanser that suits your skin type and its specific needs is as important as the act of cleansing itself. But, among all the different types of face cleansers available in the market, picking one that will suit your skin the best can be an intimidating task. Worry no more, because we have listed the different types of face washes and their properties so that you can pick the right one for your skin type!
List of Top 9 Best Face Brands Available in India
Whether you have dry, oily, acne-prone, sensitive, or combination skin, and no matter what type of formula you prefer, these are the best face washes and cleansers for all skin types.
1. Cetaphil Gentle Skin Cleanser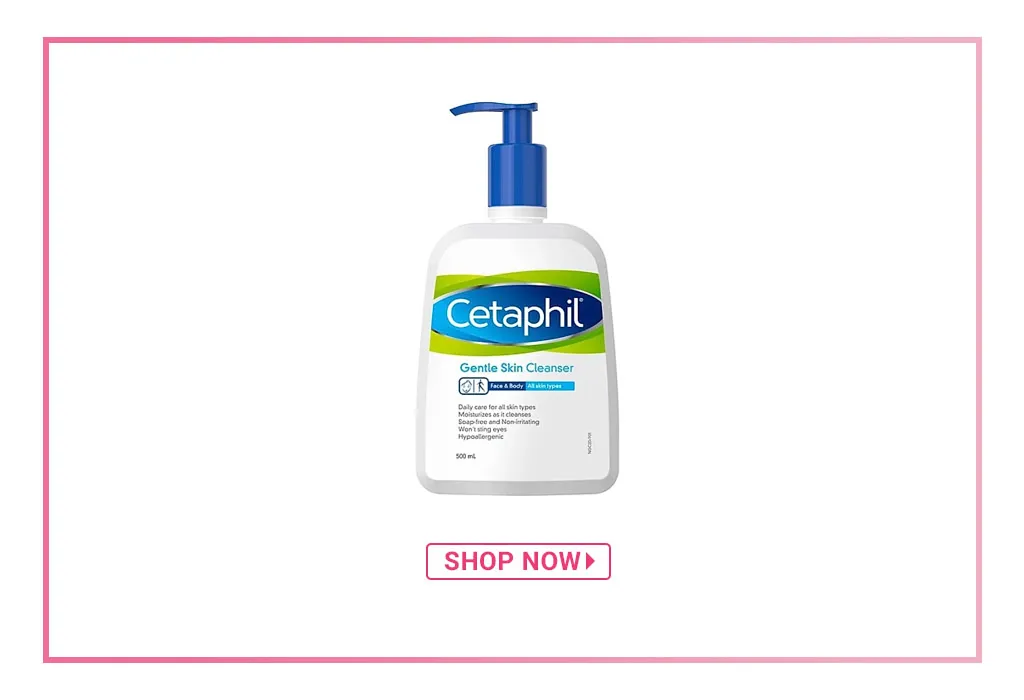 An affordable and easy choice for a basic face wash that does the job well!
Why You'll Like This
The Cetaphil cleanser works well on every skin type, including sensitive skin! If you're struggling with acne or other skin conditions like eczema and rosacea, then this cleanser is for you. Now, no more worrying about your skin turning dry after washing, as this cleanser leaves the skin clean yet supple due to its moisturising glycerin content.
2. Sebamed Clear Face Foam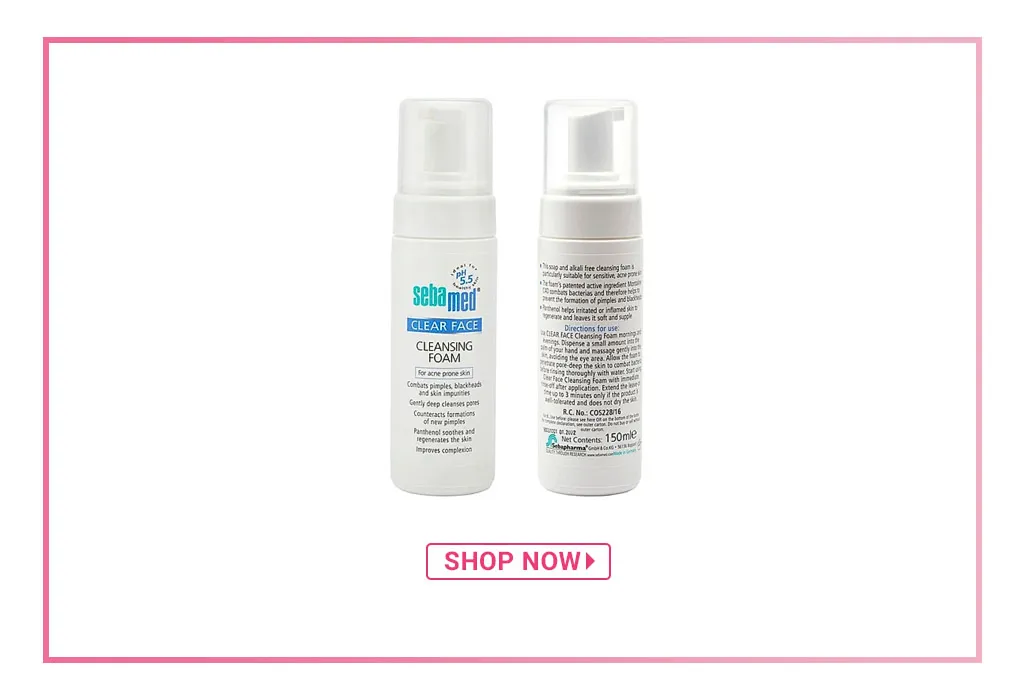 The Sebamed clear face foam gently cleanses your skin and leaves it with a noticeable glow!
Why You'll Like This
As the name suggests, this is a foam-based face wash. It works by balancing your skin's pH levels while gently cleansing it of impurities. The cleanser's soft, foamy texture gently cleans the skin and gets rid of blackheads and whiteheads. This is one of the best face washes to try if you have sensitive skin with blackheads.
3. The Moms Co. Natural Vita Rich Day Hydration Bundle (Face wash and Face Cream)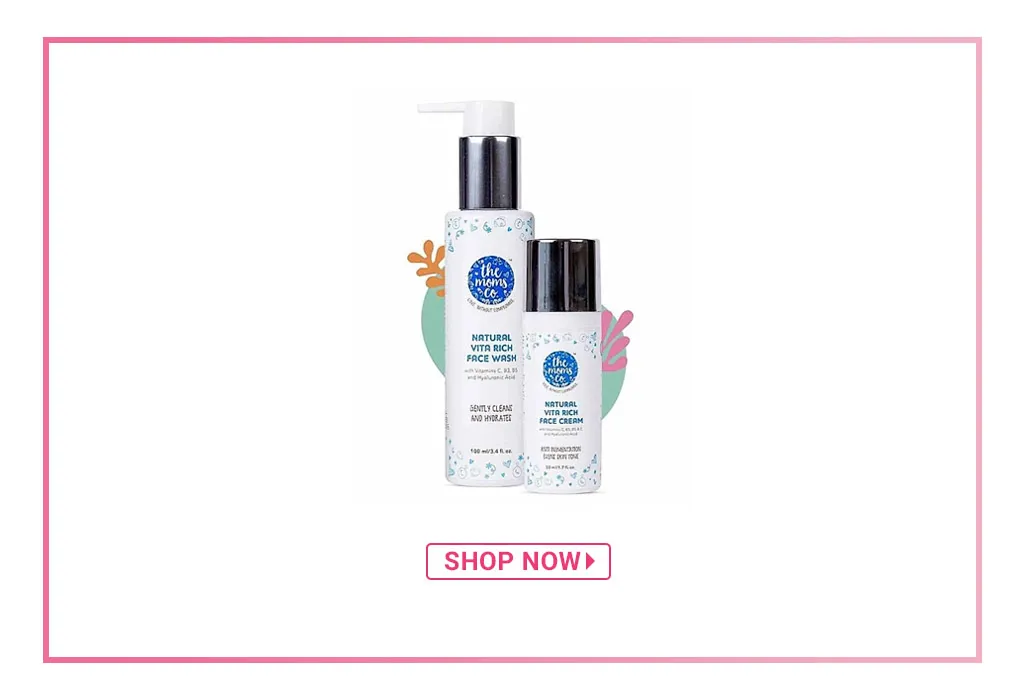 A gentle and non-drying soap-free cleanser that's enriched with skin-restoring vitamins.
Why You'll Like This
Pollution, hormone changes, and daily stress can cause dull skin, leading to blemishes, pigmentation, and uneven skin tone. The Daily Hydration bundle by The Moms Co., which is made of the Natural Vita Rich face cream and the Natural Vita Rich face wash, works to gently clean and hydrate the skin. What you'll see is reduced pigmentation and a brighter, younger-looking you!
4. Mamaearth Vitamin C Foaming Face Wash With Turmeric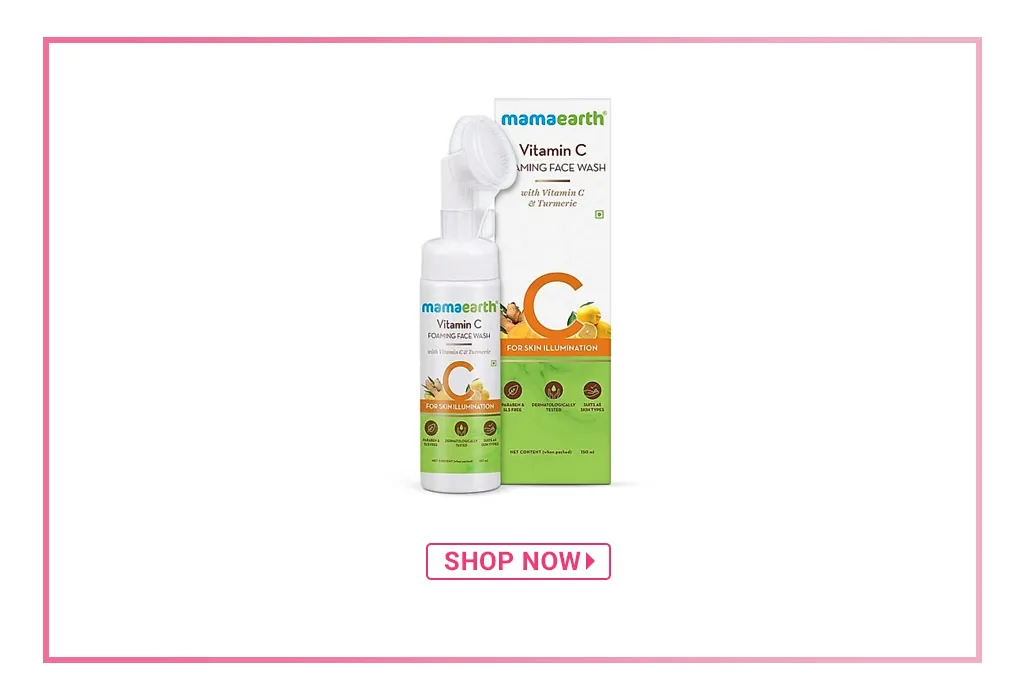 Soft clouds of foams filled with the goodness of turmeric and Vitamin C – that's the Mamaearth Vitamin C Foaming Face Wash for you!
Why You'll Like This
Fresh and effective, this foaming face wash is loaded with antioxidants, and brightening and acne-preventing properties. This foaming face wash provides a much-needed shot of freshness with the cooling benefits of aloe vera and cucumber. You can use it in the morning to prepare your skin or to wash off the toils of the day before you go to sleep at night. Plus, it comes with a highly efficient built-in brush that gently massages the skin while cleansing!
5. Mamaearth Ubtan Natural Face Wash With Turmeric & Saffron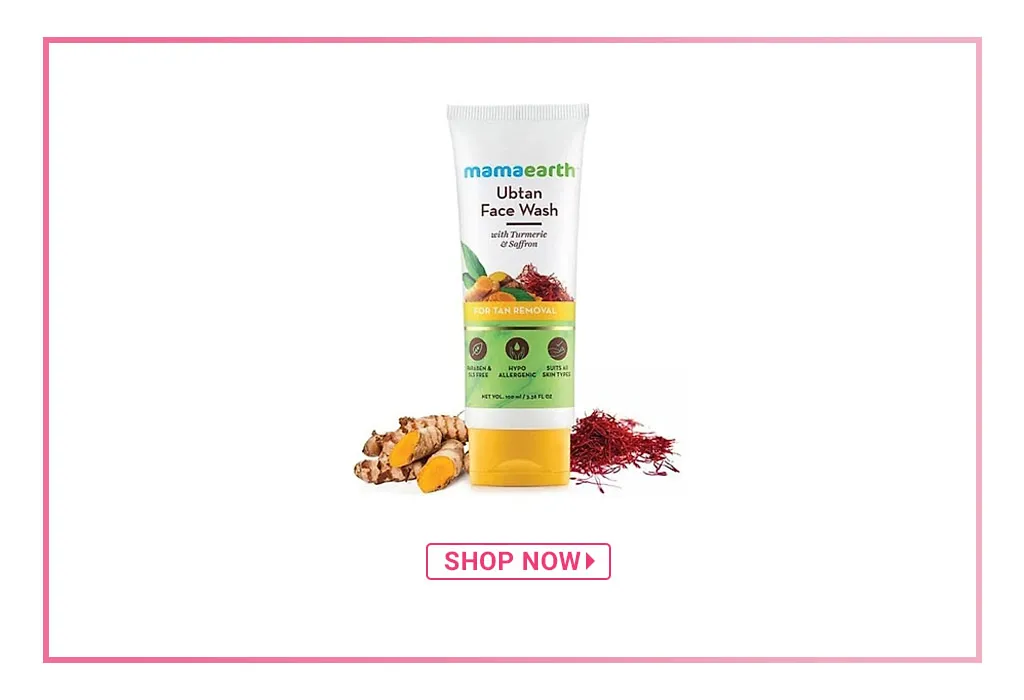 Mamaearth's ubtan face wash takes the best care of your skin in a gentle manner. It not only cleanses the skin but also leaves it soft, smooth, and naturally glowing.
Why You'll Like This
This face wash from the house of Mamaearth is your best bet against sun damage and tans during the harsh summer months. The walnut beads in the face wash softly exfoliate the skin, leaving it squeaky clean. The turmeric content helps to lighten and brighten your skin, while the carrot seed oil works to remove tan from deep within. Use this every day for tan-free glowing skin!
6. Mother Sparsh Turmeric Healing Face Wash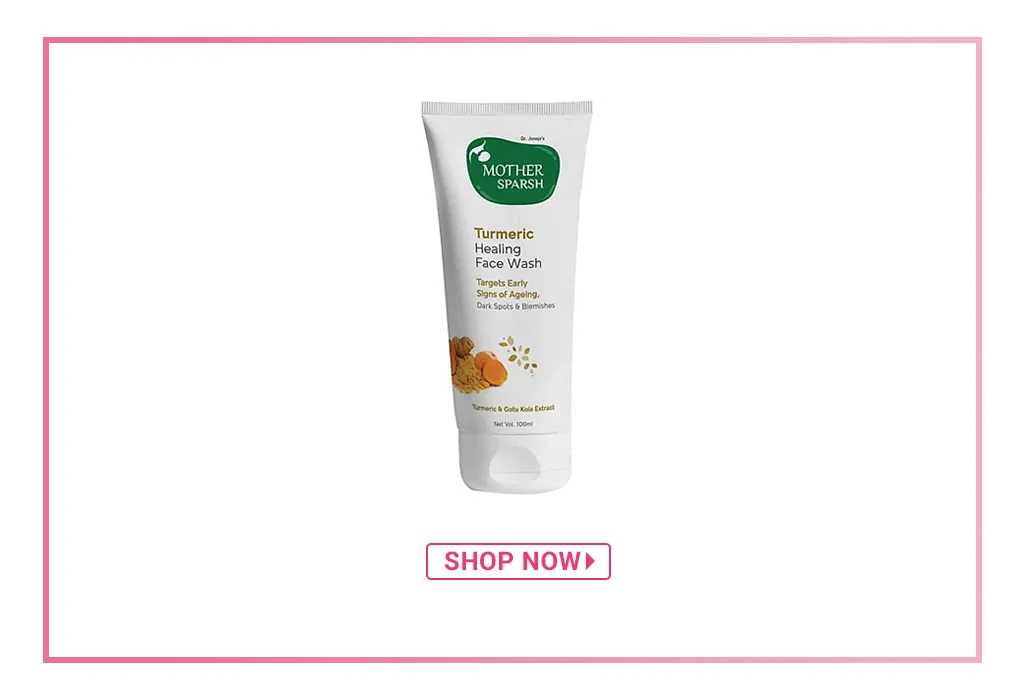 A good skincare regimen begins with a thorough cleansing of the skin, and there's no better way than going all-natural with this face wash!
Why You'll Like This
The Mother Sparsh Turmeric Healing Face Wash has been specially formulated to prevent early signs of aging such as age spots, dark spots, and skin pigmentation. Also, it helps close your pores with intense cleansing and nutrition. The face wash is enhanced with turmeric and gotu kola extract, which is well-known for its ancient healing properties. It is packed with high levels of antioxidants, and its antibacterial formula will leave you with clean, clear, and glowing skin.
7. Biotique Bio Papaya Face Wash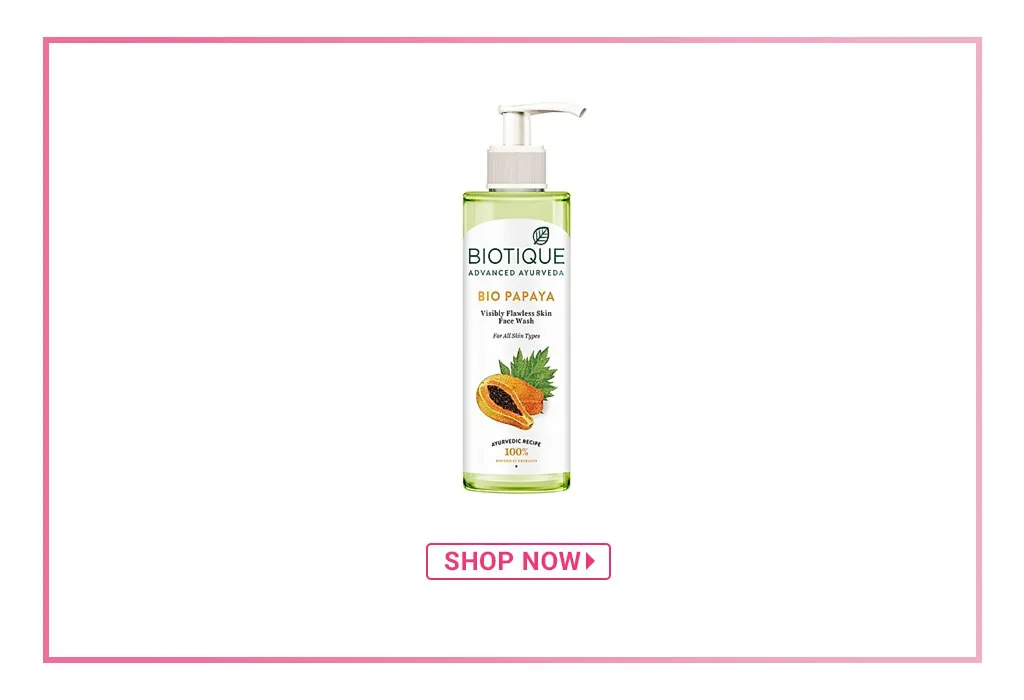 Now, scrub away dull skin, and enjoy lighter and brighter skin with the Biotique Bio Papaya face wash!
Why You'll Like This
Formulated to uncover your skin's natural brightness, this face wash is infused with the goodness of papaya, turmeric, and neem that will give you a flawless and youthful complexion. The papaya dissolves dead skin cells, unclogs pore openings, and opens the way for clear skin to surface. Use twice daily for best results!
8. The Moms Co Natural Vita Rich Face Wash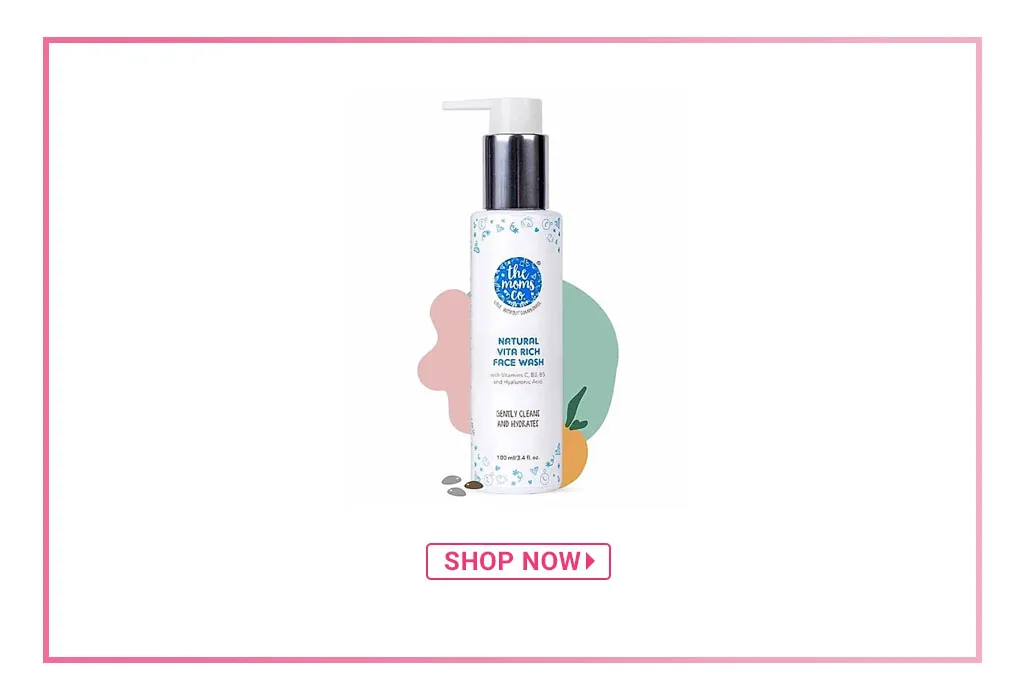 Enriched with Vitamin B3, pro-Vitamin B5, and Vitamin C, this face wash gently cleanses the skin, leaving it supple, glowing, and hydrated without stripping it or causing irritation.
Why You'll Like This
If you're looking for a face wash that offers a mild cleansing formula, then look no further with The Moms Co. Natural Vita Rich face wash! As it is suitable for everyday cleansing, it makes for the best face wash, even for the most sensitive skin!
9. Mamaearth Tea Tree Natural Face Wash for Acne & Pimples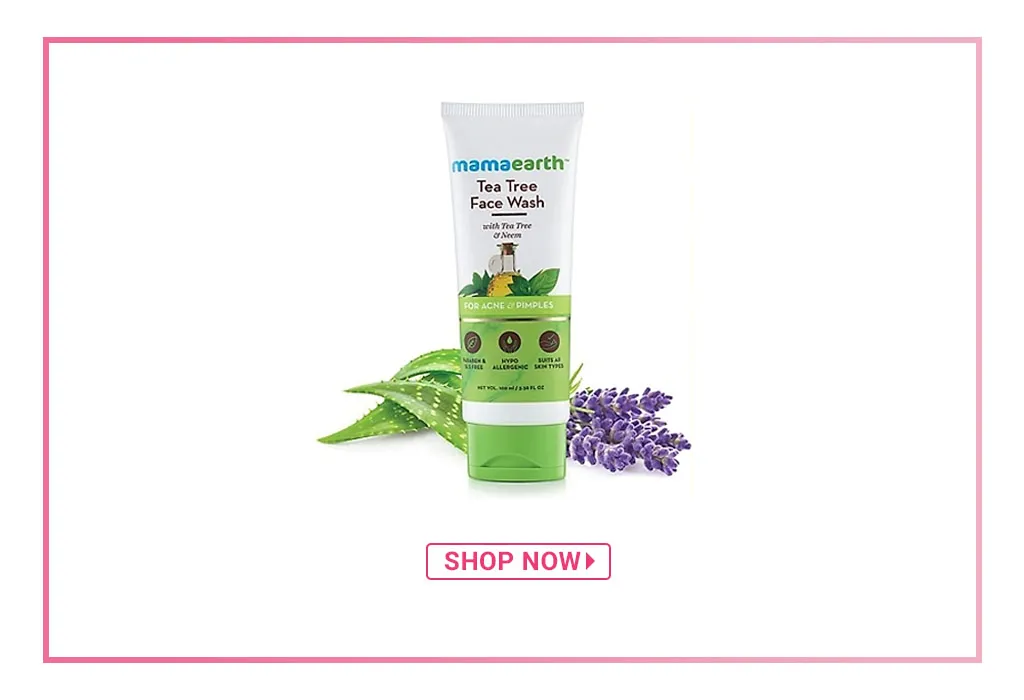 Keep stubborn acne at bay with this tea-tree oil-based face wash from Mamaearth!
Why You'll Like This
This face wash is a natural blend of neem and tea tree oil and is free from SLS, parabens, and artificial fragrances. It deeply cleanses the skin, fights bacteria, and controls excess oil secretion. All this, without stripping your skin of its natural oils! Plus, the aloe vera in the face wash helps effectively reduce redness and inflammation. Use twice a day for healthy and glowing skin!
FAQs
1. What are the most important parts of a skincare routine?
Along with following the cleansing, toning, and moisturising skincare routine, you will also need to protect your skin from the harmful rays of the sun. Skin damage can lead to dark spots, wrinkles, and an increased risk of skin cancer. You can choose a broad-spectrum sunscreen lotion or spray to protect your skin.
2. How do I find out my skin type?
The best way to understand your skin type would be to wash your face gently and leave it for a couple of hours without applying any product. Observe your skin to see if it dries out, turns oily, or if it gets irritated.
3. How do I choose the right face wash?
Your skin type should be the first and most important criteria to choose the right face wash. Look out for ingredients in the product that tackle a particular skin issue.
4. Why is face wash better than soap?
Face washes work much better than soap as they tend to be less heavy-handed, do not dry out the skin, and contain additional medicinal features that most soaps do not.
5. How often should I use face wash?
It is recommended to use face wash twice daily: once in the morning, and then before you go to bed. Sleeping without washing your face is a huge no-no! If you exercise regularly, remember to wash your face after the workout session as well.
6. Can I use face wash before removing makeup?
We don't recommend using face wash for removing makeup. You can use a makeup remover or even a good moisturizer to take off your makeup. You can then clean your face with face wash.
7. What could happen if I over- or under-wash my face?
If you don't cleanse your face properly, it can lead to pore-clogging, which can further result in blackheads, whiteheads, and severe acne breakouts. That being said, it is also possible to wash too much. Tightness, irritation, and dryness are classic signs of over-cleansing. Your skin may also turn oily, as it tries to compensate for the drying.
Pampering your skin begins with taking good care of it. And the first step in a good skincare routine is cleansing with a good face wash. While it may be tempting to seek a face wash with attractive packaging, do keep in mind that the face wash type and ingredients are of utmost importance. Likewise, avoid trying out multiple face washes at a time, as it may do more harm than good. We hope our list of the best face washes helps make your decision to choose the right face wash much easier!
Also Read:
Homemade Face Bleaching Packs for Skin Lightening
How to Do Facial Clean Up at Home
How to Do Facial at Home with Natural Ingredients
?>